CORPORATE EXPERIENCES
Loosen that tie and leave those spreadsheets behind – put your team or clients to the test with exhilarating and fun team building activities that create an unforgettable experience. Forget the boring convention centre, we've got breathtaking venues in central, unique locations across New Zealand!

See our venues for hire:
QUEENSTOWN
TAUPŌ
AUCKLAND
DAZZLE YOUR DELEGATES
Be transported to a world of jaw-dropping thrills and excitement. We offer iconic team building experiences that showcase the best of New Zealand from simply stunning locations. Be dazzled by the lights of Auckland City at dusk as you drink in the view from the SkyWalk path at the top of the Sky Tower or feel as though you have stepped into middle earth at our Kawarau Bungy Centre with an impressive fireworks display shooting high up into the air. With over 20 years' experience, you can trust us to create a memorable event.
Our professional conference & incentive staff know that organisation is the key to any successful corporate function, and they are there to guide you all the way through from early planning to on-site support for your event. With their vast experience they are unflappable and can handle last minute changes to the run sheet with ease.
Stunning, world class locations
Unique, iconic team building experiences
Supersized fun activities
Over 20 years conference and incentive experience
Easy access from both Queenstown and Auckland
STYLES
SERVICES
ACTIVITIES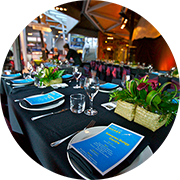 GALA
DINNER
Treat your team to a full sit down dinner of locally inspired dishes made with fresh produce while being entertained with aerial performers, local band or DJ. Our digital display systems are perfect for that all important annual award ceremony presentation. Plus no one will forget the CEO Bungying in his suave tuxedo.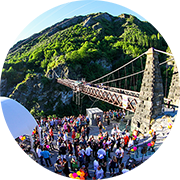 COCKTAIL
PARTY
Enjoy a night where you can be anything from super casual with gourmet BBQ to a glamourous corporate evening event where we roll out the red carpet. We can cater to a wide range of group sizes and have access to a large selection of menu options.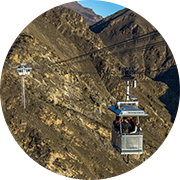 INCENTIVE
GROUPS
Give your high performers the experience of a lifetime. Explore Auckland from the top of two iconic structures or truly test themselves amidst the natural beauty of the rugged Otago landscape. The Auckland Harbour Bridge and all Queenstown sites are accessible via helicopter, an option that lifts the wow factor even higher.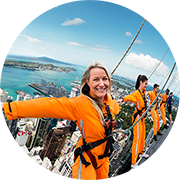 TEAM
BUILDING
Nothing says team building like a challenging shared experience. Our activities are all based around height and you can go as soft adventure or extreme as you like, including Bridge Climb, Swing, Bungy, Zipride, Skywalk/SkyJump and Catapult. These team building challenges are designed to foster teamwork and group cohesion among colleagues.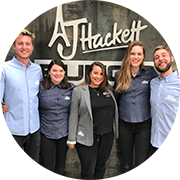 Our specialised conference and incentive staff will work with you and your team to make sure that everything goes to plan. Our staff know our venues and capabilities inside and out so you can rest easy, you are in great hands.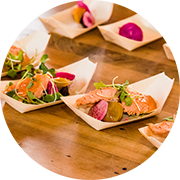 We have a variety of food and beverage options that differ based on venue location. But one thing that all our sites have in common is that we work with reputable caterers that specialise in their craft and have long-term satisfied customers.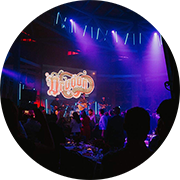 Need some music to liven up the party? We have a range of entertainment options. Some of our locations can even be set up with everything from Kapa Haka groups, aerial performers to a stunning fireworks display.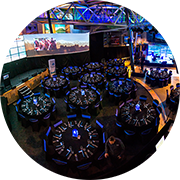 There are a variety of additional services available depending on the nature and scale of your event. Some of these are able to be provided by our partner and include; security, technical services, lighting & audio visual. From corporate team building weekends to executive team building events, we provide exceptional service and support to ensure your event succeeds.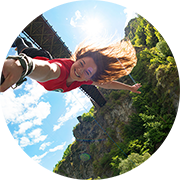 Back in 1988 two pioneers jumped into the world spotlight by launching the world's first commercially operated bungy jumping site. Today we have five bungy jumps: three in Queenstown, one in Taupō and one at Auckland Harbour Bridge (offering NZ's only ocean touch). Each jump site offers a different experience. In Queenstown, the Kawarau Bridge is the original and arguably still our most popular jump. The Ledge is our freestyle bungy where you can do a running jump and the Nevis Bungy is the highest in Australasia at 134 metres (439ft). At 47m (154ft) Taupō Bungy is Aotearoa's highest water-touch bungy jump.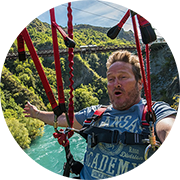 With a bit less fear and a bit more fun, the zipride is an excellent option for conference and incentive groups. Comprised of 3x 130m (426ft) zip lines the zipride can take up to six people at once, allowing for solo or tandem rides and with a variety of ride styles, you can take your pick as you race against friends and colleagues reaching speeds of up to 60kph (37mph).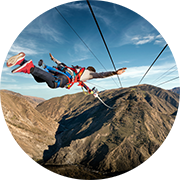 Get ready to ride the biggest and most extreme catapult in the world. You'll be propelled 150m (492ft) up and out across the Nevis Valley, experiencing up to 3Gs of force as you reach speeds of almost 100kms (62mph) an hour in 1.5 seconds flat. A hair-raising drop will have your teams blood pumping and they'll be screaming for another hit.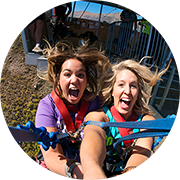 Queenstown is the home of two exciting swings. The Ledge Swing, located at the top of the Skyline Gondola provides stunning views over Queenstown with Lake Wakatipu and the rugged mountains beyond. Ride tandem on the Nevis swing for double the fun and try out the different ride styles truck'n trailer, yin and yang, back2back, honeymoon and much more. The North Island's Taupō Swing will have you freefalling at speeds of 70 kph from 44m (144ft) above the mighty Waikato River, either solo or tandem, and soaking in the views as you make your way back to the top.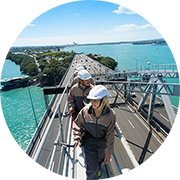 With unparalleled access to the Auckland Harbour Bridge, this is not just the most unique Auckland attraction; this is the only Bridge Climb in all of New Zealand. Brave the climb up and you'll be rewarded with unparalleled views, and your very own tour guide will share with you the Bridge's colourful secrets and amazing architectural features.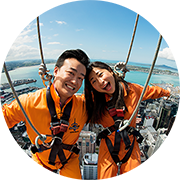 Inch along a narrow walkway around the Sky Tower, high above Auckland. No handrail, with nothing but thin air and the city 192 metres (629ft) below, SkyWalk is an exhilarating challenge you'll never forget. Our guides point out Auckland attractions, tell you stories and challenge you to daredevil tricks. It's a big New Zealand adventure, with the best view of the city you can find. Plus it also includes a FREE Sky Tower pass (you have to get back down, after all).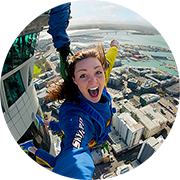 SkyJump is an incredible adrenaline rush in the heart of Auckland and New Zealand's highest jump. It can be described as Base jumping by wire. You'll plummet 192 metres (629ft) off the Sky Tower at 85km (52mph) an hour! Completely safe yet utterly unforgettable. If you're looking for corporate outdoor activities to do in Auckland, don't miss SkyJump. It also includes a FREE Sky Tower pass.
VENUE HIRE
Looking to design your own corporate event? Our events team can work with you to create an unforgettable night at one of our world-class venues.
Enquire now about booking a venue for your event
Reviews
Spend the day with us and you'll never be the same! Read what these legends had to say about their experience.
The 'Adventure- Metaphor for life' workshop was highly insightful and inspiring. Being a young woman managing a growing company can be extremely daunting. Often, I find myself focusing on the negative 'what-ifs' rather than the positives. The workshop has inspired me to think more positively on the challenges that arise and to push myself outside of my comfort zone. Be that professionally or in my personal life. I would highly recommend it to other companies!
Bees Homes
We always have the best feedback and most exciting stories from our clients when they have come back from an AJ Hackett Bungy experience or hosted event. The Kawarau Bungy Centre is a venue unlike anywhere else, our American clients are always blown away!
Chris - IDNZ
If you want a REAL personal development course, then look no further than AJ Hackett Bungy. The crew are amazing and never let us down!
Rachel - HQNZ
LET'S CHAT
Looking to design your own corporate event? Our events team can work with you to create an unforgettable night at one of our world-class venues.