EDUCATION
The best lessons in life come from real experiences. That's why we're always keen to speak to groups from schools, universities and tourism students.
We are committed to inspiring the next generation!
Below you will find some additional resources and options to help you achieve this for your students. We offer educational presentations on a variety of topics at all our locations across New Zealand. Our crew love to share our 'Live More, Fear Less' philosophy. If you are after something a little more specific, then let us know, but the below should have you covered. All presentations are followed by a Q&A, if your group have been paying attention there may even be prizes up for grabs!
BOOKING INFO
Get in touch with our team to find out what we can do for your group!
Bungy talks
We can deliver Bungy Talks for your education group when you visit any of our locations. Below are examples of just some of the presentations we can offer. We love coming up with unique additions to make your experience truly valuable so if there's something you want to hear just let us know.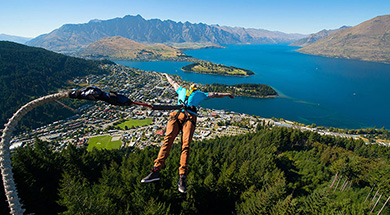 The History of Bungy
Most Popular
Go back to where it all started. Henry and AJ may have popularised Bungy Jumping in 1988, but the origin of the sport has been traced back to Vanuatu. Learn about all this and more! Most Popular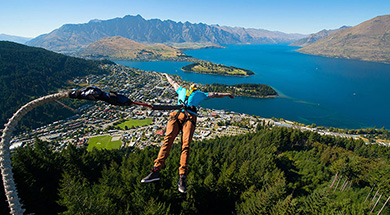 Crew Culture
Learn about why culture is such an important part of business success, including: how culture begins, tips for nurturing, growing and measuring culture, and other insights into how AJ Hackett Bungy has become known for our work culture.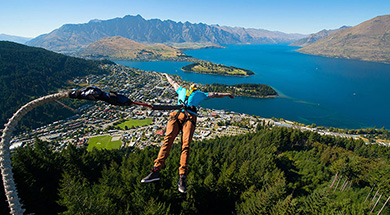 The AJ Hackett Bungy Brand
To us, Live More Fear Less is a state of mind. It's an attitude that embraces breaking barriers and living life to the fullest. Hear from our marketing team and discover what it takes to not just build an iconic brand, but keep it relevant, across decades.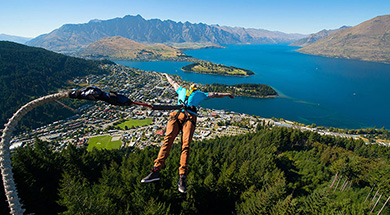 Tourism 101
Learn about NZ's largest export industry – Tourism! Delve into our key visitor markets, their reasons for choosing NZ as their travel destination and the challenges faced by tourism businesses.
Reviews
Spend the day with us and you'll never be the same! Read what these legends had to say about their experience.
Our tourism students have been visiting AJ Hackett for years and it's always the highlight of their study. The team are always engaging and provide some fantastic insight into the crazy world of Bungy!
Queenstown Resort College
We travel from the other side of the world every with over 100 students every year to hear about the History of Bungy! The excitement and experiences AJ Hackett offer are a must do in New Zealand.
Danish Study Group
Our students always leave AJ Hackett with much more than an adrenaline rush, they leave with a life experience that stays with them forever.
New Zealand Educational
An amazing opportunity for my students… with amazing staff who are polite, relatable and very patient. Thank you all sooo much.
Reporoa College
I just want to again express my thanks to you and your team for your efforts with my camp group on Tuesday. What an amazing experience for these young lads, an absolute highlight for so many that will never have that opportunity again. Your staff was so patient and exceptional with them as well!
Tauranga Boys College
LET'S CHAT
Take education beyond the classroom. Get in touch with our team to learn how we can design a day that specifically suits your educational needs.