Looking for things to do in Queenstown in winter? Check out our Top 12 activities as recommended by our Bungy crew members.
In winter, Queenstown is transformed from a pretty lakeside town into something out of a fairytale. Dusted with snow and nestled beside the epic Lake Wakatipu, Queenstown truly sparkles in the colder months.
Winter in New Zealand runs from June to September with the ski season running all the way through, often into October, depending on the conditions. The average temperature 16°C (61°F) and the coldest month is June at 4°C (39°F).
1) Night Skiing
As night falls, the trails of the ski-fields flicker back into life. Enjoy the glorious sunset, then wind your way down the trails under the epic night sky. Replete with twinkling stars and flood-lights to guide your way, Coronet Peak lights up the M1, Shirtfront, Big Easy Trails and Magic Carpet on Friday and Saturday nights, 4pm to 9pm, from early July to mid-September.

The restaurant and bar rock well into the night, too, providing live entertainment on the mountain until the wee, small hours. Even if you're not hitting the slopes, this is a mighty fun night out.
2) Night Time Bungy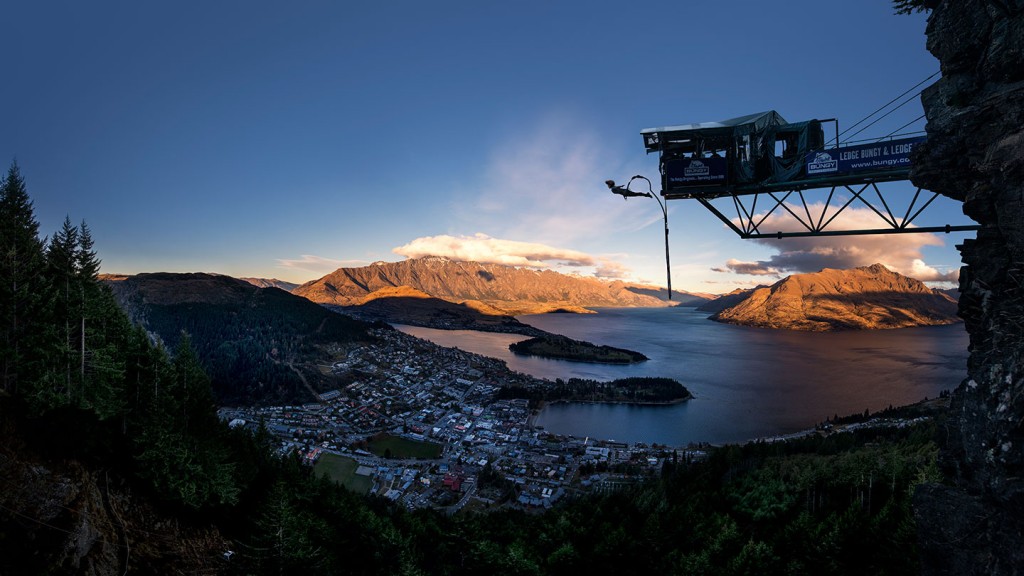 Time for a leap into the unknown. Yep – night-time bungy!
AJ Hackett Bungy are the Kiwi pioneers of adrenaline pumping excitement and now offer the added thrill of a dive into the darkness. When you take a leap from The Ledge, you'll experience fantastic views of the flickering lights of Queenstown far below, so be sure to keep your eyes wide open!  AJ Hackett's specially designed harnesses make this one of the most versatile Bungys in the world and offers the choice of a flip or a dive.
After you've experienced the thrills on the slopes, this life-changing leap will prove a spectacular end to your day.
3) Ice Skating – Check Out A Local Hockey Match – Southern Stampedes! (Wrap up warm!)
Ice skating is great fun for all the family, and best of all, the Ice Arena is only five minutes walk from the town centre. The arena is covered, so come rain or shine, you can enjoy unlimited skate time under a state-of-the-art LED lighting system.
The area is also a safe environment for kids. Feel free to drop them off while you go out for a bite to eat or to do some shopping.
Depending on when you visit, you might also catch a game of the local ice hockey league. Go The Southern Stampede!
4) Bowling – They Offer A Free Bus
Bowling is another fun activity for the family and Strike Bowling offers a free shuttle from the city centre. Besides ten pin bowling, you'll also find a fully licensed bar, pool tables, arcade games and giant Jenga.
Strike are located on Arthur's Point Road.
5) LUMA Light Festival
LUMA is an award-winning light festival based in central Queenstown. On Queens Birthday Weekend, around the 4th of June each year, Queenstown is comes alive with a dazzling display of glowing art, light sculptures and family entertainment.
The colourful LUMA is staged in the Queenstown Gardens.
6) Winter Festival
A major event on the Queenstown calendar of fun is the world-famous Winter Festival.
This winter extravaganza happens around Thursday 21st – Sunday 24th each year and features vibrant street parties, epic firework displays, international and local acts, comedy, massive family fun, and plenty of mountain events.
It's jam-packed with people. Don't miss it.
7) Winter Games
The Winter Games is one of New Zealand's premier sporting events and the only winter games in the Southern hemisphere, giving you a chance to see the world's best compete in freeskiing, snowboarding, alpine ski racing, cross-country skiing and curling.
The Winter Games is not just about sport. There is an on-mountain music festival, too, featuring some of NZ's top acts. It's one huge winter party and free to watch!
8) Gay Ski Week
Celebrate the rich cultural diversity of Queenstown at Gay Ski Week.

It's an event for everyone, featuring cabaret nights, massive dance parties and night skiing. The community is accepting, supportive and fun and welcomes tourists and locals, alike.
"Gay Ski Week Queenstown is how we imagine a perfect society to be: everyone is welcome, just as they are. It'd be great to not need to have gay ski weeks, but until then, we'll carry on promoting an all-inclusive society until everyone is accepted." – Sally Whitewoods, Gay Ski Week Queenstown Organiser.
9) Hot Pools – Even Better At Night
When you really want to unwind, head on over to the Onsen Hot Pools where each tub is in its own pool room with a retractable roof. You will enjoy the spectacular alpine views no matter what the weather. They also offer sublime massages and facials at this magnificent boutique spa. Total relaxation.
Onsen Hot Pools offer a complimentary shuttle which takes you from Queenstown to the pools.
10) Dog Sledding
Mush, mush!
Underdog New Zealand will take you on guided tours through some truly spectacular mountain scenery. Check out the "Basket Ride" option which gives you the opportunity drive your own team of enthusiastic Huskies across the rugged high country trails.

Sure beats walking!
11) Mulled Wine From The Ballarat Bar Pre-Dance Sesh
Grab a glass of spiced, mulled wine and nestle in front of a cosy fire at Bardeux or Barmuda. Then have another!
Once you slide into a comfy armchair in one of Queenstown's many friendly bars, it can be very difficult to leave. There is a wealth of choice, from stylish wine bars, upmarket clubs, lakefront pubs, craft beer bars, and most places are open well past your bedtime.
12) Build A Snowman. Have A Snow Fight
There is plenty of the white stuff laying about in winter, so go for gold.
Here are a few snowman building tips to get you and the kids started. Best of all, it is free!  
Still Looking For Great Things To Do In Queenstown?
Great Cheap Or Free Things To Do In Queenstown
Great Places To Eat In Queenstown
What To Do In Queenstown When It Rains
What To Do In Queenstown In The Summer
How To Ski Queenstown Like A Local
What to do in Wanaka in Winter