Searching for the top things to do in Queenstown?
We've come up with some fun ideas that will appeal to everyone from the leisurely hiker to the adrenaline junkies! Queenstown is the adventure capital of New Zealand surrounded by some of the most spectacular scenery in the world and there is something for everyone.
Summertime In Queenstown

The months of December through to February are summer in the Southern Hemisphere. With daytime temperatures between 20°C and 30°C, summer is the perfect time for getting outdoors and taking in the wonderful southern landscapes.

Summer is also peak season. This idyllic lakeside town buzzes with activity as people from all over the world experience all Queenstown has to offer.
So let's go exploring!
1) Go for a Swim at Wilson Bay Or Moke Lake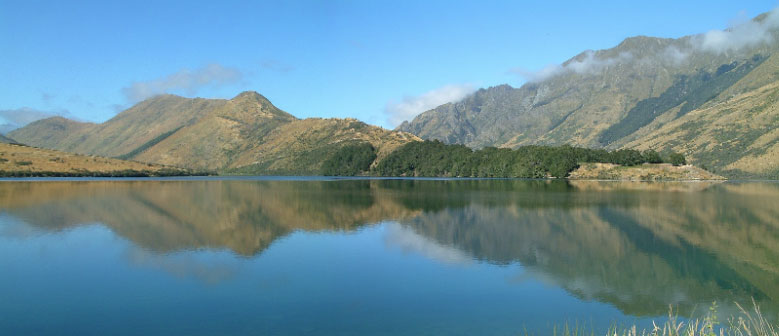 After a busy day sightseeing, there's no better way to rejuvenate the mind, body and spirit than taking a bracing dip in Wilson Bay. This crystal clear bay is surrounded by absolutely breathtaking mountain scenery.
You can camp overnight at the DOC Site at Moke Lake. Be sure to take a stroll into the high country farmland where sightings of fluffy sheep are 100% guaranteed.
2) Find Local Produce At The Saturday Farmers Market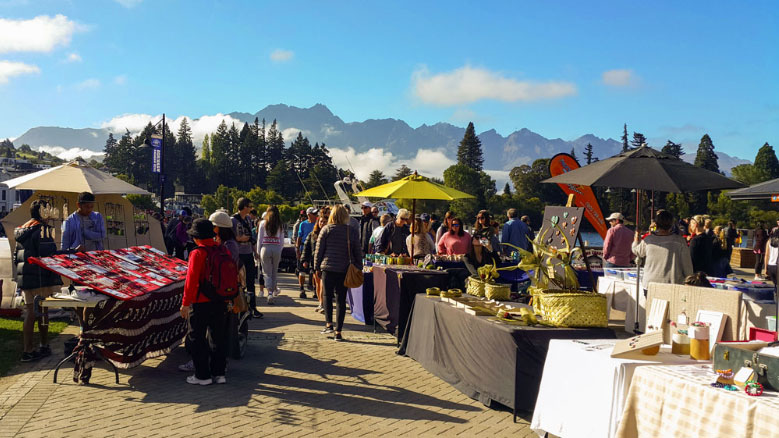 Popular with both locals and tourists alike, the Remarkables Farmers Market is a place where local artisans sell crafts, gifts and a scrumptious selection of local produce. Gorgeous mountain scenery and cool kiwi grooves provide the perfect background for a coffee and brunch. The Market is open every Saturday from 9am to 2pm from 21 October 2017 to 14 April 2018.
You can also head to Queenstown Arts and Craft Market in Earnslaw Park. The market runs throughout the year and offers handcrafted soaps, local bone carving, sculpture, pottery, and more.
3) Get An Ice Cream From Patagonia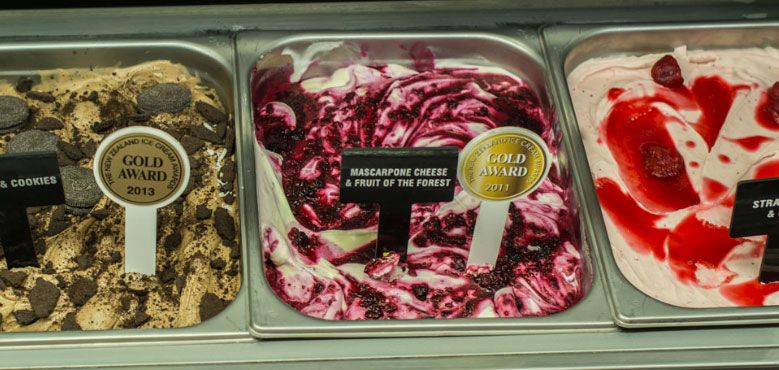 Try their award-winning artisan ice cream, sorbet and frozen yoghurt.

Alex Gimenez and Lorena Giallonardo established Patagonia Chocolates so they could produce the very best artisan delicacies while keeping true to their South American roots. Patagonia Chocolates are chocolatiers, ice cream makers and coffee roasters with four cafes located in the Southern Lakes of New Zealand.
4) Fruit Picking In Cromwell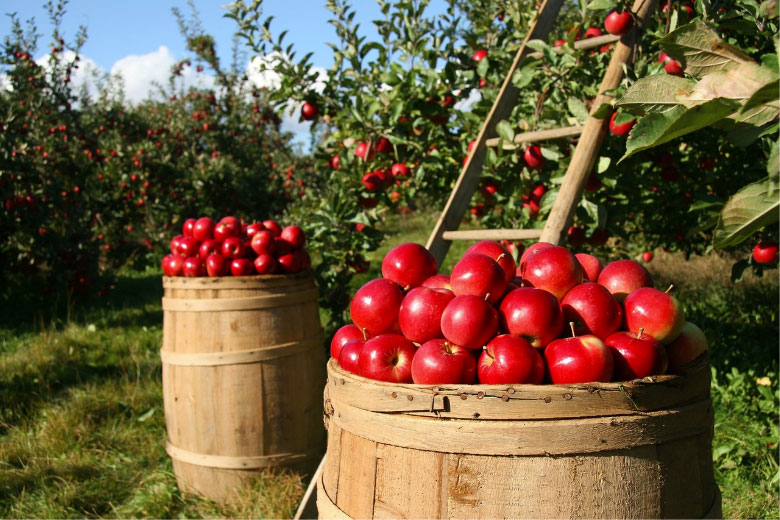 Summer is fruit picking and packing time, so head on out to Cromwell and pick your own. Look out for the Jones Family Fruit Stall and try their delicious fresh fruit ice cream and frozen yoghurt.
5) Biking The Local Trails
Queenstown is blessed with some of the best cycle trails and mountain bike tracks in the country.
The Lake Wakatipu track is rated easy and is a great track for beginner and intermediate riders. The trail starts in town next to the Queenstown gardens, is 15 kilometres one way and the views are superb. On a hot day take a picnic and enjoy a swim to cool down as you take in the breathtaking scenery. 
There are plenty of other cycle trails around Lake Hayes, Arrowtown, and the Gibbstone Valley so you can create your own journey using the helpful information on the Queenstown Trails website.
If you're after something a little more hardcore, however, then check out Corotown, a bike trail that winds all the way from the top of Coronet Peak down to Arrowtown. The track is rugged, challenging steep and suited to advanced riders.
For the full list of summer trail riding options in Queenstown check out the Queenstown Mountain Bike Club
6) Bungy Jumping
Experience the massive adrenaline rush as you take the plunge. If you want to be tied up & thrown off with a friend, then we offer Queenstown's only Tandem Bungy Jump. Each one of our sites features two activities, so why not combo up? You can also choose to get dunked in the Kawarau River – it's the best way to Bungy on a hot summer's day!
After your jump, be sure to go reward yourself with a calming glass of wine and some local cheese at Gibbston Valley, or one the many other great wineries scattered throughout the area.
Local Hike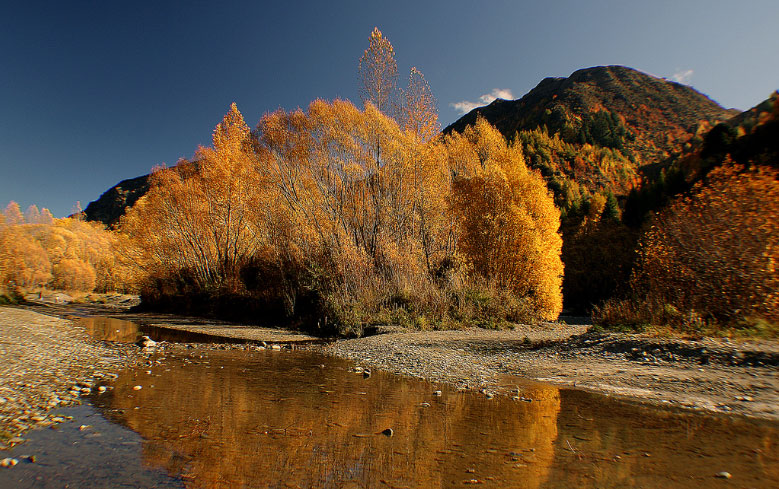 If you want to get away from the crowds, take a leisurely hike around Sawpit Gully in Arrowtown. This is a scenic loop through a rich variety of scenery, from pockets of beech forest to tussock covered slopes. You get a great view of the stunning Lake Hayes as you amble down to Arrowtown towards the end of the track.
Wanaka Lavender Farm
Queenstown is the home of Bungy Jumping and you can take your pick from 3 awesome jump sites whether it is your first time or your 14th!
Kawarau Bridge Bungy Centre – The original home of Bungy where it all started. Choose from the 43 metre bungy jump or race your friends and family on the side by side ziplines!
Nevis Playground – If you really want to test yourself this is where you should head. Choose from the 143 metre Nevis Bungy, the 300m Nevis Swing or go from 0-100kph in 1.5seconds on the world's first Nevis Catapult.
The Ledge Bungy & Swing – Perched 400m above Queenstown with stunning views over Lake Wakatipu and the Remarkables sits the Ledge Bungy and Swing. Access is up the Gondola next to the Luge.
7) Wanaka Lavender Farm
Check out the lavender, farm animals and outside games. Sample the Lakes Honey and the lavender products that are produced on site. Entry only costs a few dollars and your visit will prove popular with the whole family. They also have the best cake around!
Fancy Staying Somewhere A Little Different?
Camp Glenorchy  is New Zealand's first Net Zero Energy certified campground. 40minutes away from Queenstown, it provides views to die for, and you sleep easy knowing you're minimising your footprint whilst on NZ soil!
The site features a campground for tents and campervans. You can also choose from a range of inexpensive bunk cabins and bunk rooms.
Climate In Queenstown During The Summer
Here are the climate conditions you can expect in Queenstown during the summer months (source: Wikipedia):

Month

Dec

Jan

Feb

Average high °C (°F)

19.7




(67.5)

21.8




(71.2)

21.8




(71.2)

Daily mean °C (°F)

14.0




(57.2)

15.8




(60.4)

15.6




(60.1)

Average low °C (°F)

8.3




(46.9)

9.8




(49.6)

9.4




(48.9)

Average precipitation mm (inches)

75.3




(2.965)

64.7




(2.547)

50.3




(1.98)

Average precipitation days (≥ 1.0 mm)

9.6

7.2

6.2

Average relative humidity (%)

69.4

70.2

74.3

Mean monthly sunshine hours

223.5

230.3

207.3
You can also check local Queenstown weather forecasts on the MetService site.
Enjoy the long summer days and all the fantastic activities Queenstown has to offer!
Still Looking For Great Queenstown Activities?
Best Cheap Or Free Things To Do In Queenstown
Great Places To Eat In Queenstown
What To Do In Queenstown On A Rainy Day