So, the family is spending a weekend away and you've landed on Queenstown as your destination but your google search results for 'things to do in Queenstown' was super overwhelming. The planning pressure is on and the brain muscles are flexing. How do I spend a weekend in Queenstown? How many days are enough in Queenstown? In our humble opinion, you can never have enough time in Queenstown, but we know that's not the answer you're looking for! Here is the best family-friendly itinerary for a weekend in Queenstown with a great mix of adventure activities and downtime. 
Day 1
Breakfast: Fuel up for the day with a hearty kiwi breakfast and tasty coffee at Joe's Garage. They've got the perfect big breakfast menu and kids options like pikelets or tasty eggs on toast, all served in an awesome atmosphere. 
Nature Walk: Let that morning meal settle as you pop on your walking shoes and make your way to Arrowtown to embark on the stunning Arrow River Trail. This is one nature trail that will keep the kids entertained as, along this easy one hour return track, you'll be accompanied by crisp mountain air, wildflowers and birdsong. The trail begins at the Butlers Green notice board where you'll turn left towards the footbridge over Bush Creek. Turn right, then follow the track around to the left until you see the Arrow Irrigation Pipeline. The track follows the pipeline most of the way and rises above the Arrow River. Turn around and retrace your steps back to Arrowtown when you reach the Norman Smith footbridge or when your snacks run out, whichever comes first!
Lunch: When Arrowtown comes back into view, I assure you a good lunch is only a few extra steps away. Head up to Slow Cuts to experience a perfect harmony of slow cooked meats and the classic pub burger. With sides like Mac n' Cheese or a lunch like Buttermilk Fried Chicken, the kids will stay the quietest they've been all holiday while they replenish their energy. It would be rude not to try out their infamous fried smashed potatoes; be warned, between you and the kid's sly fingers, the bowl won't stay full for long. Stuffed with fried smashed potatoes? Good! Also ready to jump on a bike and have the ride of your life? Great!
Bike Ride: Better By Bike is located in the centre of Arrowtown and can easily sort you out with the perfect rental bike for each family member. We recommend riding The Arrowtown 5 Bridges trail if you're looking for an easy way to keep the kids outdoors while also getting photo opportunities, swimming holes and idyllic rest stops along the rivers' edge. The trail is suitable for all skill and fitness levels with the best view on two wheels as you make your way to Gibbston, so take your time and enjoy the journey. You'll ride alongside the Arrow River, cross five amazing suspension bridges and finally arrive at the historic Kawarau Bridge, The World Home of Bungy.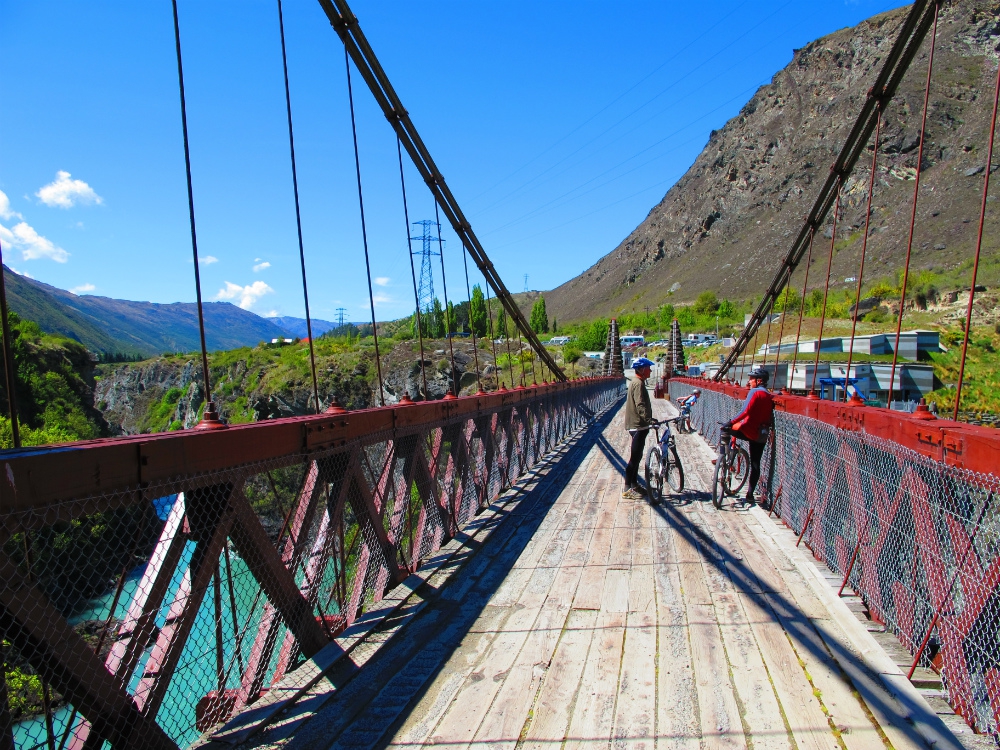 Zipline: If you're at the World Home of Bungy, you can't expect to obey the laws of gravity! The Kawarau Zipride is absolutely ideal for kids to get their adrenaline pumping and test their limits. You and the kids can get geared up to race side-by-side down the 130 metre Zipride, rocketing over the Kawarau River. Are the kids pretty brave already? They can ride the zipride backwards, upside down or, our personal favorite, in the 'Superman' position! If you're really keen for the kids to show you up, upgrades to the Kawarau Bungy Jump are also available on-site. If you'd rather watch the action unfold with your feet planted firmly on the ground, there's still plenty to keep you busy! We have our cafe serving Ferg Baker and coffees to keep you fed as well as our liquid courage bar to keep you watered (with no water involved). The Kawarau Bungy centre in general is the perfect rest stop after a while on the bike so take your time to relax here. Once you complete your journey to Gibbston, you can either return the way you came on your bike or give Better By Bikes a call to transport you back to Arrowtown (we wouldn't blame you; what a day!).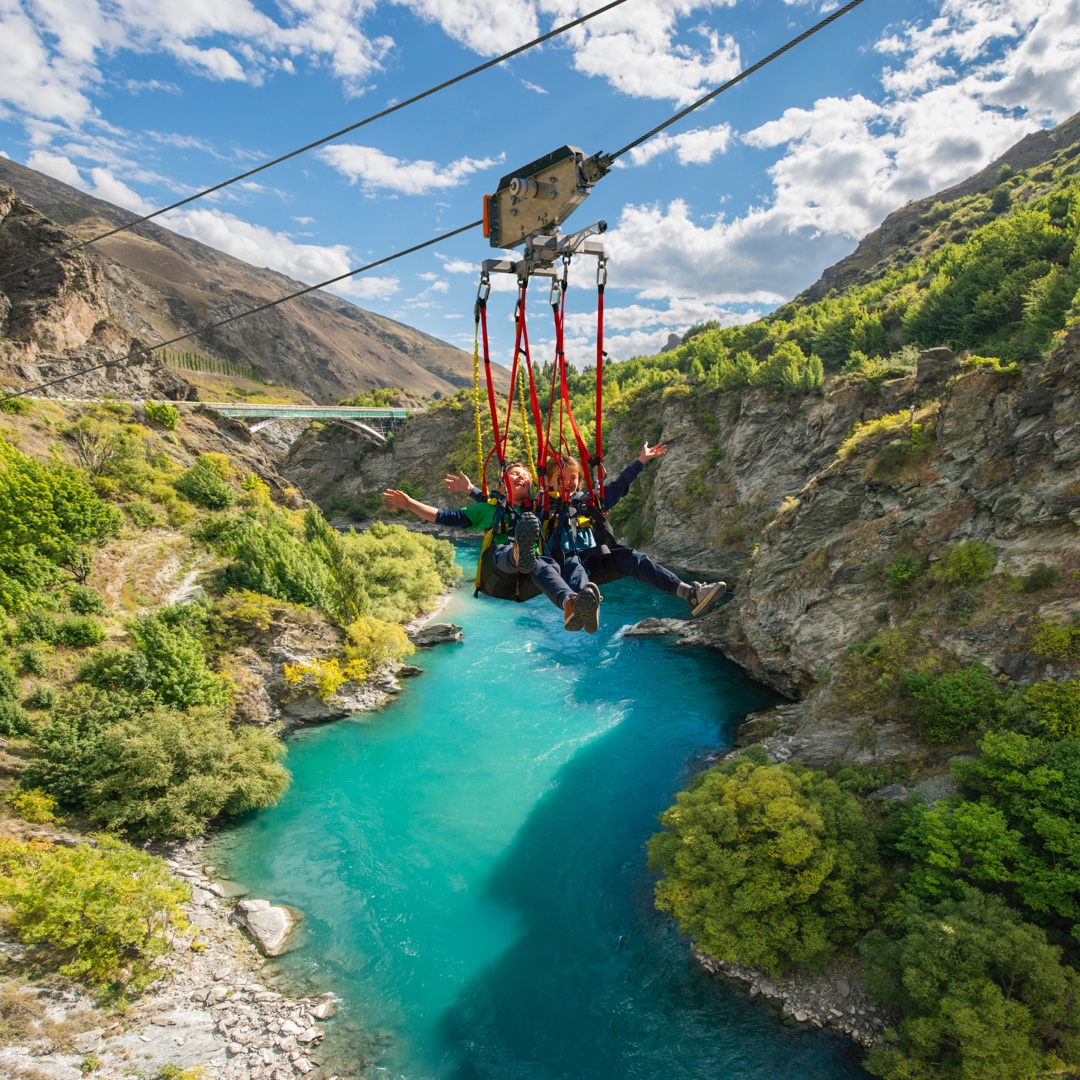 Dinner: At this time of the day, we would prescribe you a well-deserved nap before dinner. Don't sleep in too long though, because the deliciously seasoned wood-fired pizzas at The Cow won't order themselves. Well-made pizzas may be one of the best family-friendly meal ideas in Queenstown; pop a few circles of goodness in the middle and let everyone go nuts. 
Day 2
Breakfast: If you want a breakfast full of goodness, Bespoke Kitchen has a delicious selection like Chai Spiced porridge or Seasonal Greens Vegan Benedict to pair with an Allpress Organic Blend Coffee. For the kids, there's a variety of healthy smoothies to choose from and their own kids menu options. 
Gondola and Luge: The recommendation for breakfast was expertly planned to lead you in the right direction for a seriously good time. You're already halfway to catching a Skyline Gondola! After buying your tickets at the base, make that classic one-footed hop into the moving gondola and then relax while you climb 480 metres above Queenstown and Lake Wakatipu with stunning views. We're going to assume that once you see the awesomeness of a Gondola + Luke package you're going for it but, just in case, we're going to make a hard recommendation so you have no excuse. There are multiple Gondola + Luge packages suitable for those wanting a few furious laps or a more lengthened luge experience. Once you make that classic one-footed hop OUT of the gondola, grab a luge cart each (small children must ride with you) and barrel down the hill on a course of corners, tunnels and bumps. These gravity propelled carts are such a fun time and if your kids can ride alone, it gives them the independence to race down the track and live out their video game dreams. Will you let them beat you?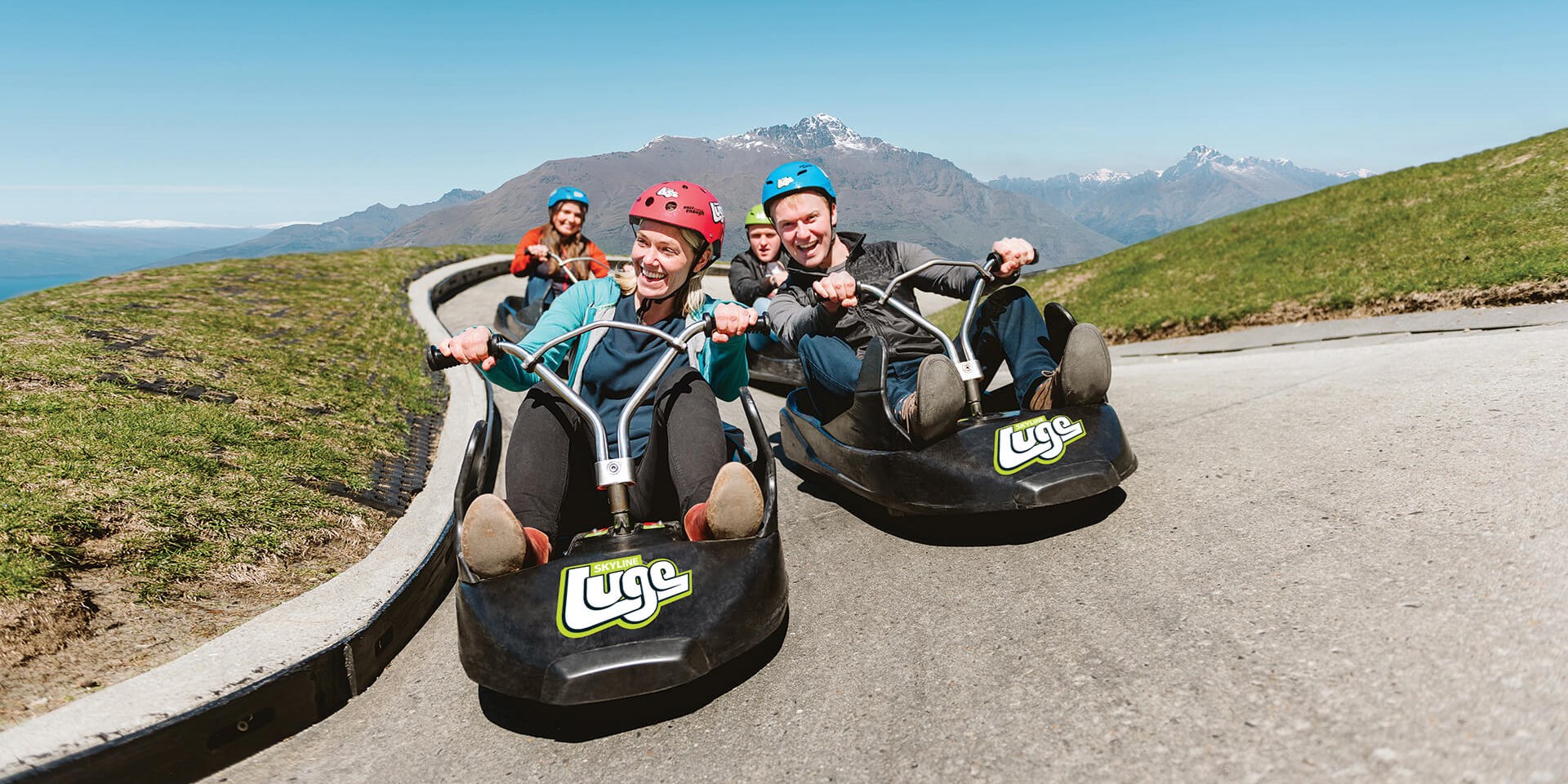 The Ledge Swing: If you rushed off to book your Skyline packages already, then we have great news. There is yet another action-packed activity waiting for you atop the gondola that will ensure the kids never forget this getaway! The Ledge Swing is perched on the hillside ready to safely show you a good time if you're over 10 years old. We recommend a heated game of paper, scissors, rock to see who goes first. Keep your camera close as this is one of the best spots in Queenstown to get your Instagram photo of the year. Test your mettle by upgrading to a Bungy on-site. Book your Ledge Swing here.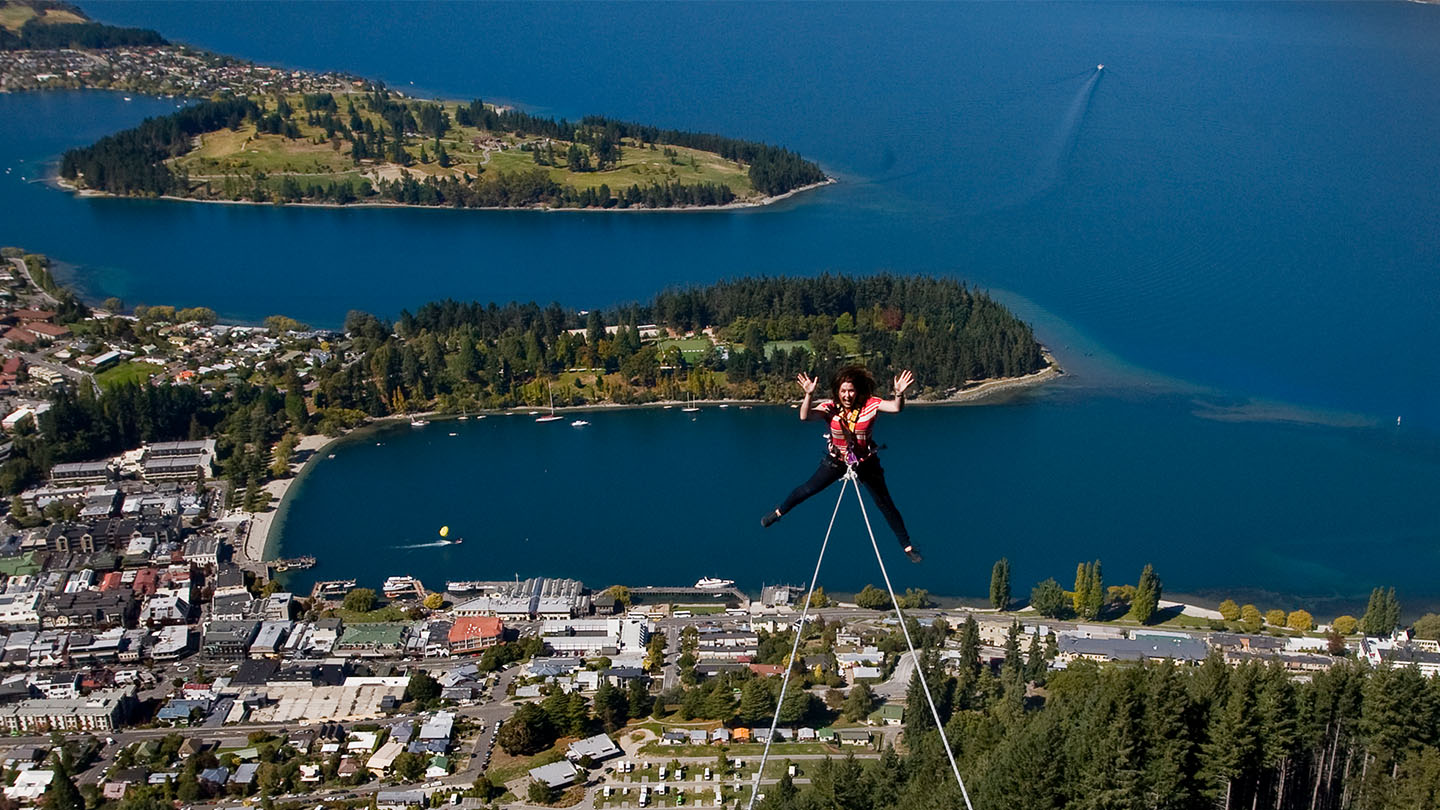 Lunch: Immerse yourself in those striking views a little while longer and enjoy lunch at Skyline's Market Kitchen Cafe. There's seemingly no end to the selection of lunch options; gourmet pizzas, spectacular curries, classic fish and chips and even freshly made pastries that are all baked on site by their experienced pastry chefs. Anything your family orders is sure to be appetizing and served with a generous side of mountain views. 
Alpine Aqualand: We promised there would be a touch of relaxation here too! Let the kids burn off any remaining adrenaline in Alpine Aqualand's leisure pool and two hydro slides while you relax in the adult's only hot pool, making it a truly family-friendly activity. There's a lazy river which is always fun for everyone! If you get your timing right and are in Queenstown for the school holidays, Alpine Aqualand often brings out a selection of pool toys and paddle boats. 
Dinner: No holiday in Queenstown would be complete without a trip to Fergburger (how many times have you heard that?). Choose from a few heavenly meat choices in either an XXL adult sized burger or from the kids menu; there is no in-between. After you've eaten you can congratulate yourself for truly having been to Queenstown. 
Other Activities
With any weekend getaway, there may be a day where your time for Queenstown activities is limited due to being in transit. While full day excursions may not be possible, there are many things to do in Queenstown central that will take no more than two hours, making them ideal for filling the time around arrival or departure and avoiding your family growing bored. 
Choosing Queenstown for your fun family getaway is an obvious choice; boredom here is almost as rare as fish without chips! Though the variety of activities can be astounding, we hope this itinerary for the best family-friendly weekend in Queenstown has given you a solid start to your planning.