Many visitors may be surprised to learn that, without snow gracing the slopes of Queenstown and Wanaka, these mountain towns don't actually slow down outside of the ski season, they speed up. The pace quickens with each pump of the handlebars and press on the pedals as locals and visitors alike race down the never-ending mountain bike trails among the summer mountainscape. 
New Zealand is one of the best places in the world for mountain biking. Queenstown and Wanaka are home to world-renowned bike parks and top downhill MTB tracks that anyone, from beginner to pro, can enjoy. As summer grows closer and the snow starts to melt, we want to give away our local secrets to reveal where you can find the best mountain biking trails in Queenstown. Spot your skill level as you read on – we've ranked these epic spots based on difficulty and thrill on a scale from one to bungy jumping (and also their actual track grades). 
Leisure – Grade 2
It doesn't get more leisurely than cruising through idyllic vineyards on an e-bike, stopping to taste some of the best wine in this corner of the world. The Gibbston River Wine Trail begins at the Kawarau Bungy Centre; don't ride off so fast! A destination in itself, the World Home of Bungy has a cafe where you can fuel up for your journey, partake in good wholesome fun on the Kawarau Zipride, or tackle a Bungy to get your adrenaline pumping for the ride ahead. 
When you do begin the trail, you will be treated to stunning scenery deep within wine country with the Kawarau River as your tour guide, winding and flowing through the landscape. True to its name, the Gibbston River Wine Trail offers convenient stops or short detours to vineyards and breweries. Appreciate architecture at the Peregrine Winery, soak in the sun at Gibbston Tavern, and support a family-owned vineyard at Kinross Cottages. 
The trail will take you between three to five hours depending on your winery stops and detours. As you near the end of the trail and you've consumed all the wine and cheese boards possible, take the Arrow River Trail to Arrowtown or head down the Twin Rivers Trail towards Queenstown and Frankton.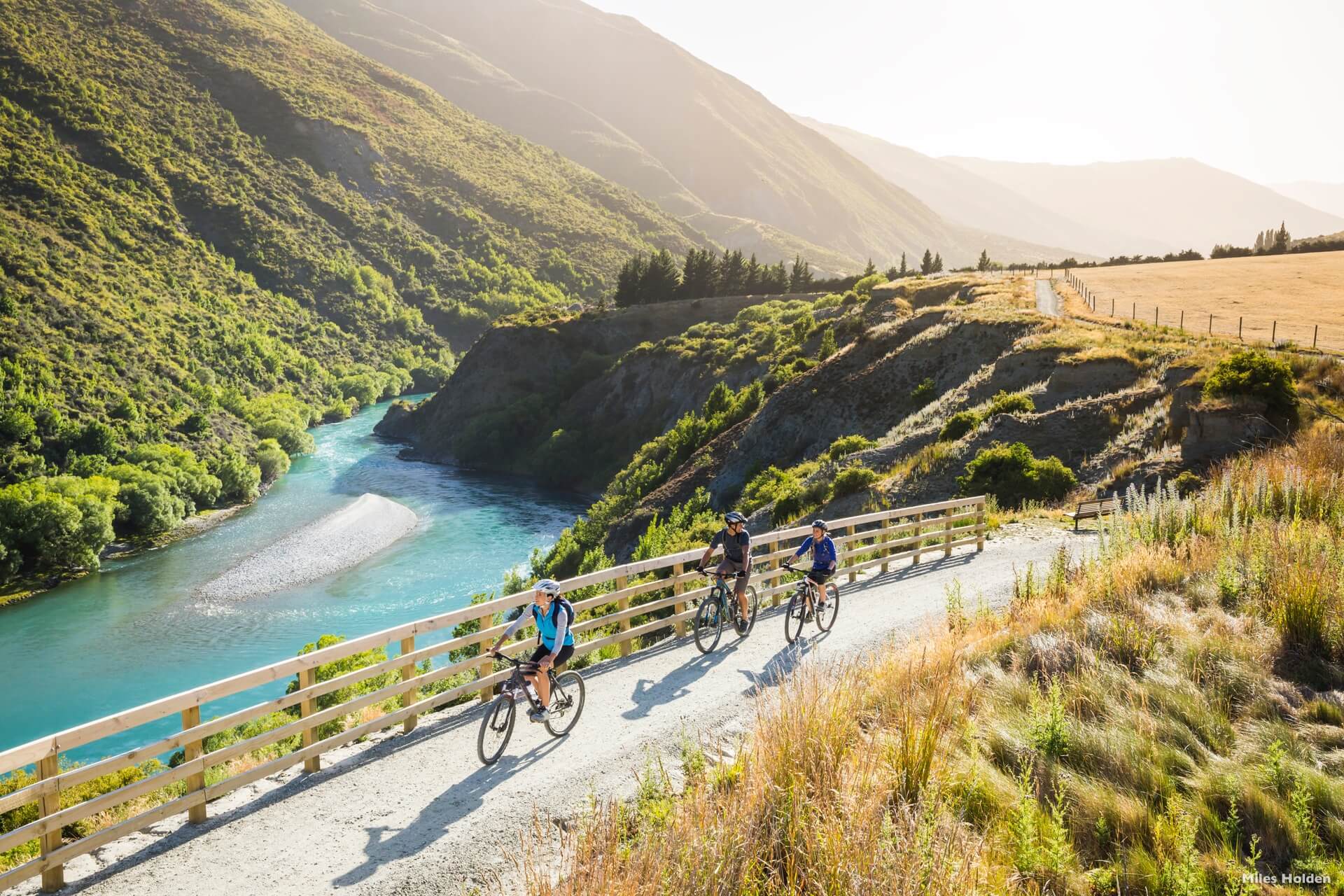 Frankton Track and Kelvin Peninsula Trail
Leisure – Grade 2
If you're not a big wine lover, the Frankton Track and Kelvin Peninsula Trail could be considered the biking coffee tour of Queenstown and Frankton. If you have two or three hours to spare on a sunny summer morning, check out the lakefront sights and delicious roasts along the way as you cruise one of the best e-bike trails in Queenstown.
Begin this trail in the heart of Queenstown at the entrance to Queenstown Gardens. Alternatively, if you don't already have a bike available, hire an e-bike from Better By Bike located at the Hilton Hotel. From there, head back towards Queenstown so you don't miss out on the section with all the best coffee spots. If you do reach the Queenstown Golf Club, the Kelvin Heights Sculpture Trail is a loop around the golf course where you can see many large, whimsical sculptures. See how many you can spot amongst the trees! 
The Frankton Track and Kelvin Peninsula Trail is great for all biking abilities and can be a great family activity to start the day in an active way! You'll be exploring lakefront views and eateries well-loved by locals and visitors alike. The Boatshed Cafe offers a delectable combination of good brews and lake views while Altitude Brewing provides local craft beer tastings and the perfect 'mountain town' atmosphere all year round. You never have to venture far off this trail to find your coffee fix and perfect brunch.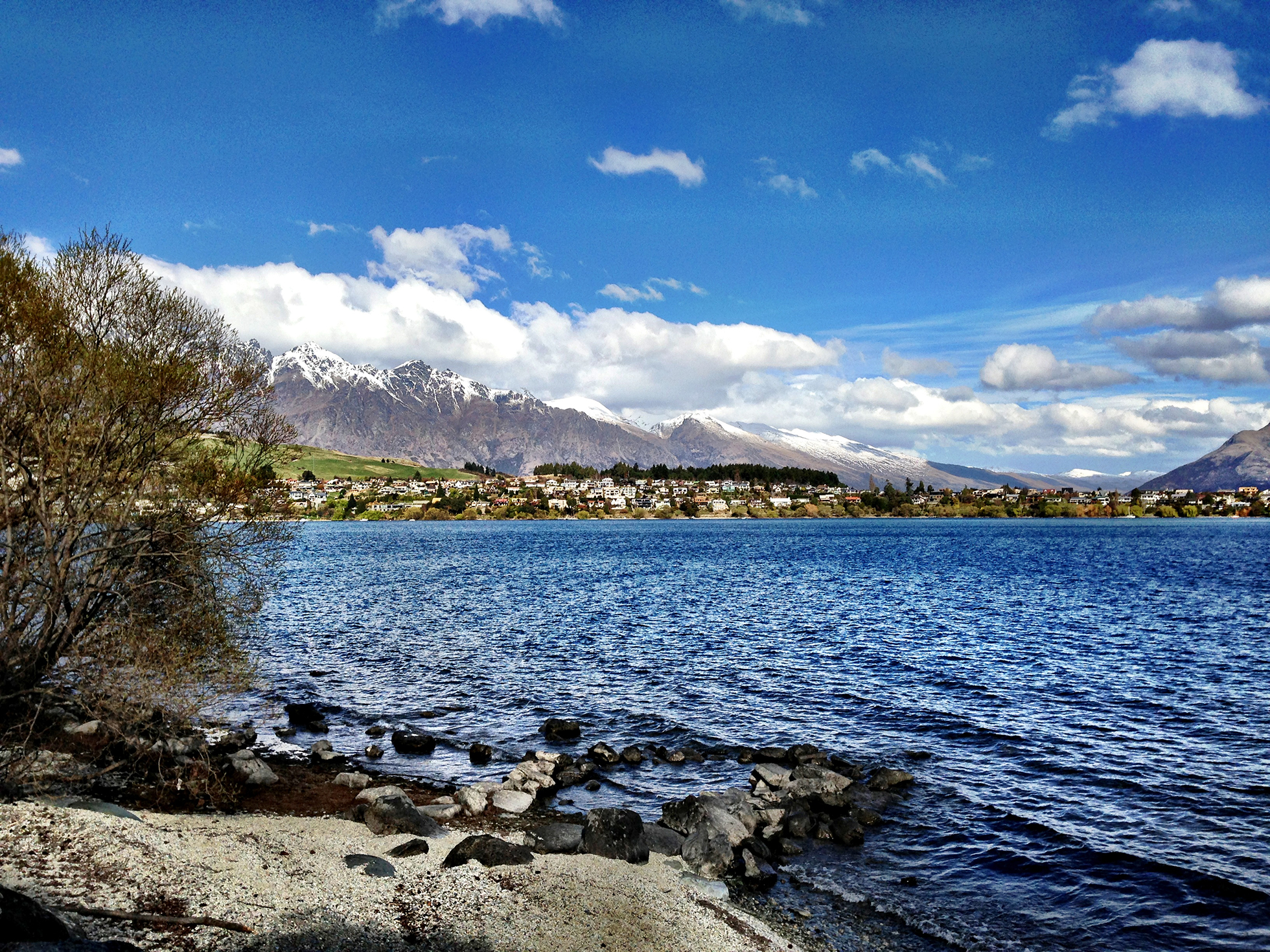 Cyclorama E-bike Festival Arrowtown
Mixed Bag – Grades 2-4
Cyclorama is putting Arrowtown E-bike trails on the map this Labor Weekend with New Zealand's very first e-bike festival. On the 22nd-23rd October 2022, you can ride with fellow bikers of all ages and fitness levels for the ultimate adventurous social event. Bring along your own e-bike or hire one from the many local retailers in Arrowtown. 
Cyclorama will run various mountain bike rides ranging from easy to advanced (grades 2-4) focusing on various activities. If your ideal morning is to e-bike, bird-watch, then brunch, you're in luck with the Awake With The Birds ride. Or wraps the Tour de Gourmet is more your taste, featuring delicious locally sourced food with matched beverages at four very special locations around Arrowtown, Lake Hayes and Dalefield. 
Sharing your favourite activities with like minded bikers sounds like the perfect way to spend a long-weekend in Arrowtown. Tickets are limited for each ride so don't miss out! 
Mixed Bag – Grades 2-6
Cardrona Bike Park has ensured it caters to all skills levels and interests, from family friendly trails to double-black beasts; whether you're keen for a leisurely pace through the tussocks or want to drop straight down a rock shelf, Cardrona is the place for you. The chairlift gives you easy access to the best trails for maximum fun with minimum fatigue to make the most out of your time on the mountain. You can bring your own full suspension bike, standard or e-bike, or take full advantage of their bike hire that includes kids bikes for 8yrs+, full-face helmets, and safety pads. New to riding? Book a general introductory lesson or hone your skills with specific technical lessons. 
If you're a confident rider and fancy a beer with your biking, check out the Cardron a Peak to Pub trail. Ride the lower Cardrona trails before joining the historical "Percussion Road" for 10km of backcountry freeriding, eventually ending up at the Cardrona Hotel for a crisp drink; a perfect way to end your day or catch their shuttle back to the top for more laps!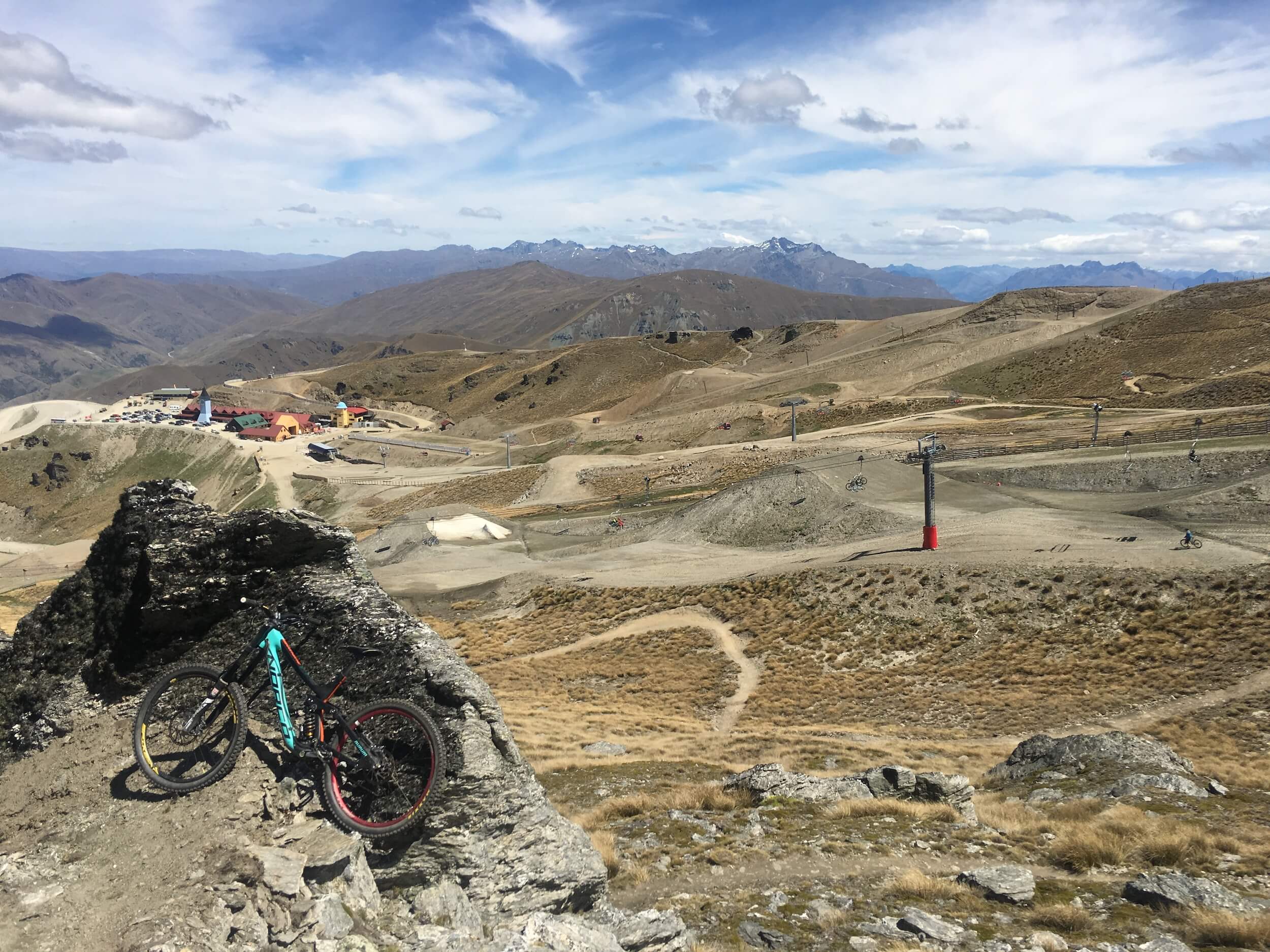 Mixed Bag – Grades 2-6
Opening in 2020, Bike Glendhu is a brand new bike park located just 10 minutes from Wanaka. This all-round bike park was born from the founder's shared passion for the outdoors, all things sustainable and a vision to create Wanaka's first purpose-built mountain bike park. 
With over 20+ MTB trails, Bike Glendhu includes a good amount of jumps and exposed sections with a few green trails and gentle ascents thrown in for those less experienced. This mountain bike park offers epic mountain vistas with endless rolling hills in front of you; it may even convince you to pump the brakes long enough to check out the view. 
Intermediate – Grade 3
The Coronet Loop Trail travels through Arrowtown's rich mining history and stunning backcountry scenery before riding full circle back to the Chinese Settlement by the Arrow River. On this epic 50km single track trail you can expect to ride straight into the tranquil rolling hills of Arrowtown, passing mining ruins, unmatched views of the Wakatipu Basin, and stop for lunch at the aptly named Picnic Rock. 
The multiple shallow river crossings (keep this in mind if you have an e-bike), undulating terrain, and narrow, exposed sections contribute to the grade three rating. Trails like this really evoke those rugged and adventurous feelings that define mountain biking.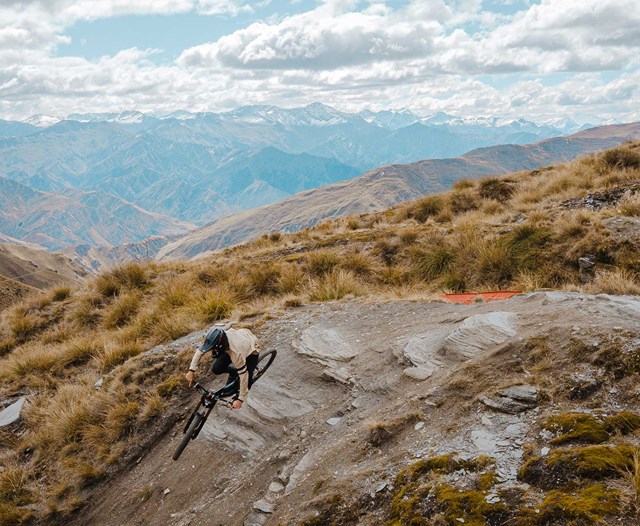 7 Mile Scenic Reserve Bike Park 
Intermediate – Grades 3-5
7 Mile Scenic Reserve Bike Park, located between Queenstown and Glenorchy, is a great place to both progress existing mountain biking skills and also challenge more advanced riders. The park includes plenty of fun options for capable riders, with most tails offering lines for less technical riders as alternatives to the more challenging routes. The trails do begin at grade 3, so beginner riders are best to find a more mellow park. Rocky trails, jumps, and banked corners add challenge for expert riders so there's never a dull day among the pines. 7 Mile Reserve is very close to Wilson Bay, the ideal location for a refreshing dip in Lake Wakatipu after a hot summer ride. 
Advanced – Grade 3+
Coronet Peak Bike Park utilizes the best of the South Island's natural terrain and ensures those with intermediate mountain biking skills (and above) are well taken care of; this park is a place to go extreme vertical and send it to the very bottom. Make the most of the chairlift access so you can get higher, faster for more ride time. Make Coronet Peak high on your list this summer so you can ride the new Upper Rude Rock and say you've started from the very top. If you want to ride like the pros, Hot Rod track is gnarly enough to feature in the super DH series as part of the MTBNZ National Event Series held at Coronet Peak in February. 
If you love to spend those long summer nights hitting the trails, Coronet Peak is welcoming those after-work sessions with late night Thursdays, where you and the sun can ride down together. 
Advanced – 70% Grades 3-6
Queenstown Bike Park really puts the 'down' in downhill mountain biking; by accessing the park via the Skyline Gondola, you will always start your ride full of energy 500 metres above central Queenstown, ready to send it all the way to the bottom. With over 30+ tracks scattered throughout the southern shadow of Bob's Peak and winding through native forest, this bike park is one of the most exhilarating and convenient advanced bike parks in Queenstown. 
Queenstown Bike Park is most suitable for intermediate to advanced riders, with over 70% of the park's trails marked as grade three or above. There are two beginner level tracks, Hammy's Track and Thunder Goat, but even these can throw up a few good challenges for those still finding their feet in the pedals. If you do have some fresh brake pads and hardened nerves, steer yourself down over 30km+ of short drops, rock gardens, and old school gnarly trails.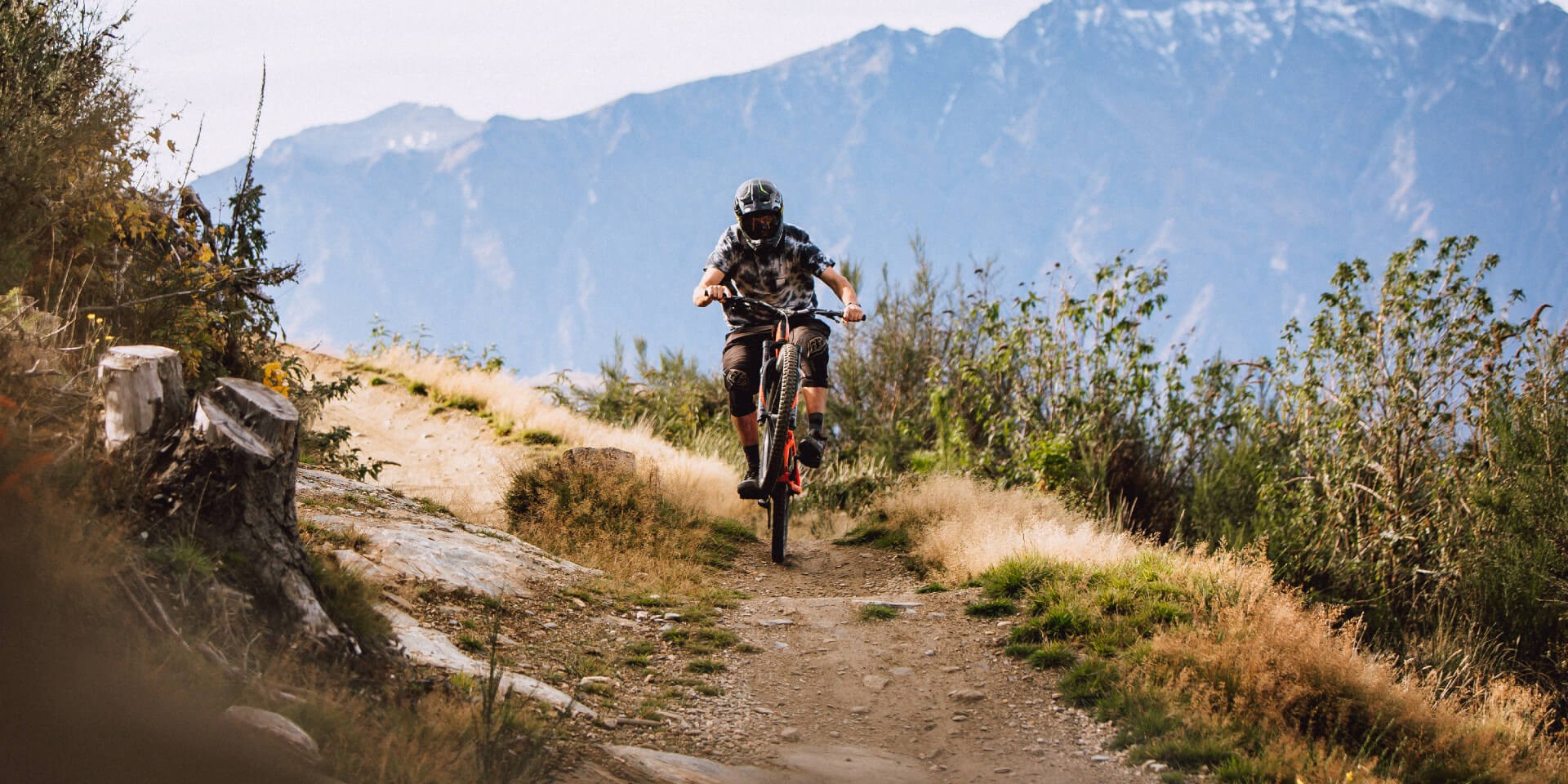 Where to rent a mountain bike in Queenstown
Vertigo Bikes, located two minutes from the Skyline gondola, has everything you need for an epic day at Queenstown Bike Park. With full bike hire services including full suspension e-bikes, kids bikes, and performance mountain bikes AND the option to combine your hire with a gondola lift pass, you can't look past this Queenstown bike rental option. 
Queenstown Bike Hire lets you have your cake and eat it too, providing standard or e-bike hire as well as shuttles and tour services to unlock your dream ride without limitations. Their packages range from one day bike hire all the way up to a full five day bike touring trip with your shuttle taken care of. 
Bikeaholic MTB rental is all about providing the bike that best suits you for the highest performance possible. Whether you're heading out to tackle cross Country riding, extreme downhill trails or just a leisurely ride around Queenstown's gorgeous lakes, Bikeaholic is ready to provide premium standard bikes. 
Around the Basin is nestled in the heart of Queenstown, conveniently located for all of your bike rental needs. They have standard bikes, e-bikes and bikes for the whole family with the option to extend your hire for multi-day trips. Combine your bike hire with one of their various tour packages so you can ride in style, both on your bike with a support vehicle and in their shuttle back to town. 
Know exactly where you're going? Going Blue can drop your rental bikes directly to your door so you can hit the trails faster. With a whole family friendly fleet of mountain bikes, including e-bikes, you can get the whole family out the door and on a ride. 
With locations in both Queenstown and Arrowtown, Better By Bike are ready to help you explore the region's breathtaking views; their Queenstown storefront is also conveniently located on the Frankton Track and Kelvin Peninsula Trail. Peace of mind is included in your bike hire; if anything goes wrong during your self-guided ride (such as a puncture) Better By Bike is happy to assist after a quick phone call! 
With some of the top must-ride terrain in the country, Queenstown and Wanaka need to be on your trail map this summer! Charge your e-bike, pack up your spare tires, or book your rental because this summer is going to be the most fun on two wheels.