Queenstown and its surrounding area has some of the most diverse and unique natural beauty in the world and what better way to experience it than finding some of the most unique accommodation options to match. Whether you're looking for peak luxury to enjoy your South Island holiday or something more rural and off-grid for a staycation (or somewhere in between!), we've scoured the short-term rental market to find some of the best unique winter accommodation options in and around Queenstown. 
Queenstown Accommodation
Pacific Gem Luxury Yacht, Queenstown 
We know what you're thinking… a yacht-stay on Lake Wakatipu?! Pacific Jemm offers the ultimate in luxury onboard the 80-foot Falcon-S, the ONLY premium yacht in Queenstown. Enjoy overnight luxury accommodation docked at O'Regan's Wharf in Queenstown Bay just footsteps from Queenstown's cafes, restaurants and bars. Relax in a stylish King cabin, watch night fall over Queenstown's snow capped mountains on the top deck, celebrate in town and wake up to a daily a la carte breakfast at Eichardt's Grille (included in your stay!). 
Luxury Tent, Queenstown
Take your off-grid camping experience to a new level by booking this Luxury Tent that has everything you need to enjoy a stress-free stay. Typical of glamping, you'll enjoy a comfortable queen sized bed as well as games to enjoy, a picnic basket with a thermos, camp chairs, and picnic rug to enjoy outside or take on day adventures. This accommodation ensures you wake up slowly with a homemade breakfast, tea and coffee kindly provided and there is an outdoor kitchen for lunches and dinners. Luxury Tent is the perfect blend of rustic camping and modern conveniences.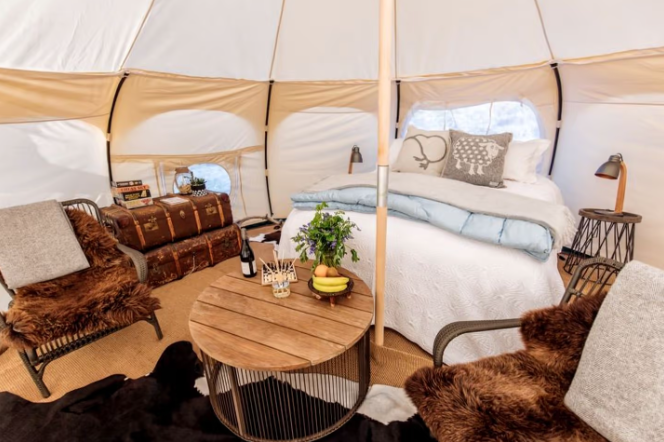 Gibbston Valley Accommodation
Park your campervan at Kawarau Bungy, Gibbston Valley
If you're sporting a self-contained campervan, you're more than welcome to add the Kawarau Bungy Centre car park on SH6 to your overnight options. We can't think of a better way to wake yourself up in the morning than stepping outside your door and walking straight onto a bungy platform, 43m over the rushing Kawarau River. If you're really wanting to replace your morning coffee and tenfold the effects, opt for a dip into the river to start your day off with an electric experience! The Kawarau Bungy Centre is located just under an hour's drive to ALL of the local Ski Fields – Coronet Peak, The Remarkables Ski Field, Cardrona Ski Field, and Snow Farm.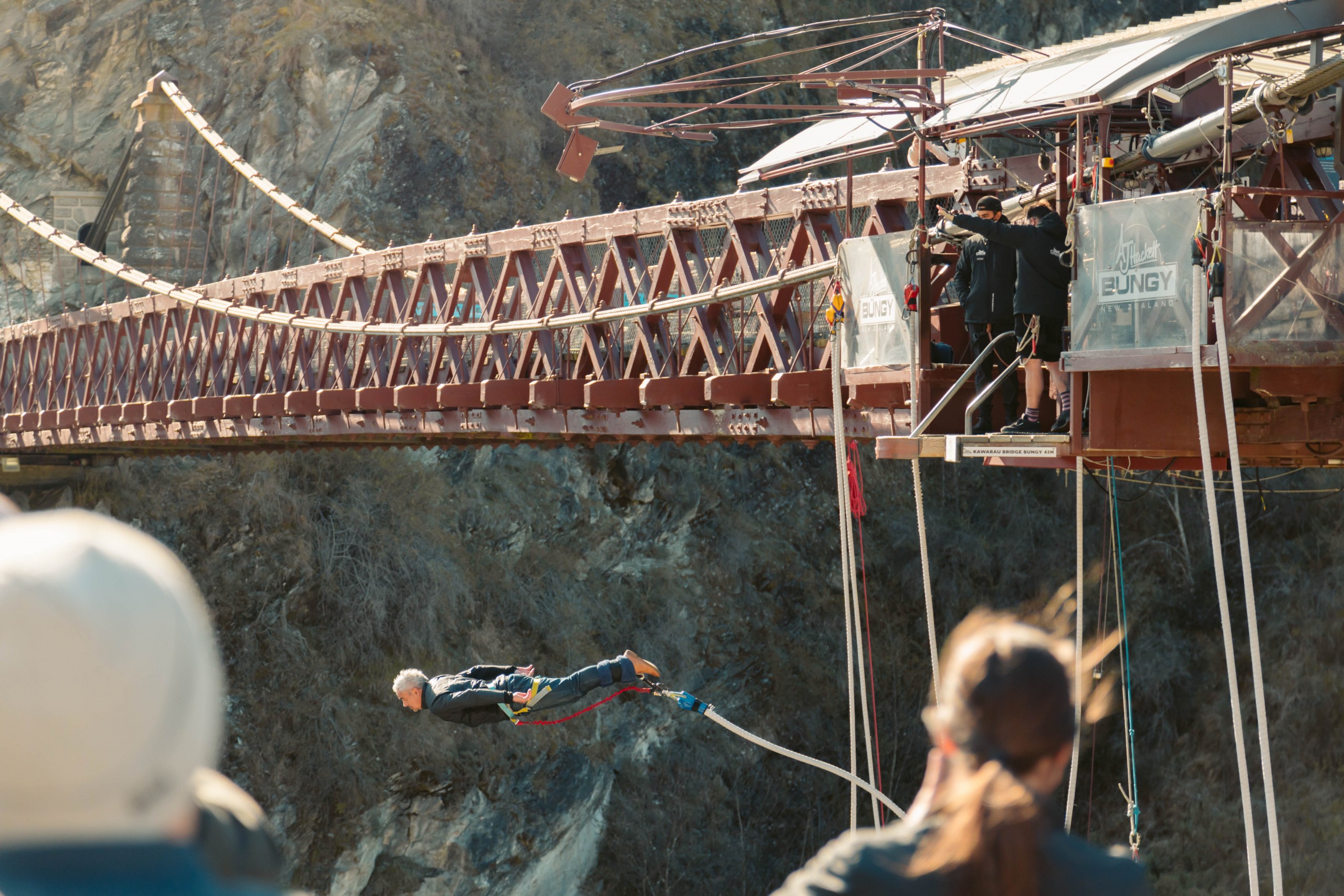 Glenorchy Accommodation
Recapture the memories of school camp crossed with the luxury of private chalet accommodation when you stay with The Headwaters Eco Lodge at Camp Glenorchy. These private chalets are set against a dramatic mountainscape and subtly themed like a summer camp. These lodges have sustainable eco credentials at the heart of the property as they're designed to be net positive in energy output so you can enjoy the rustic vibes of Camp Gelnorchy while also enjoying a clean conscience when it comes to sustainable travel!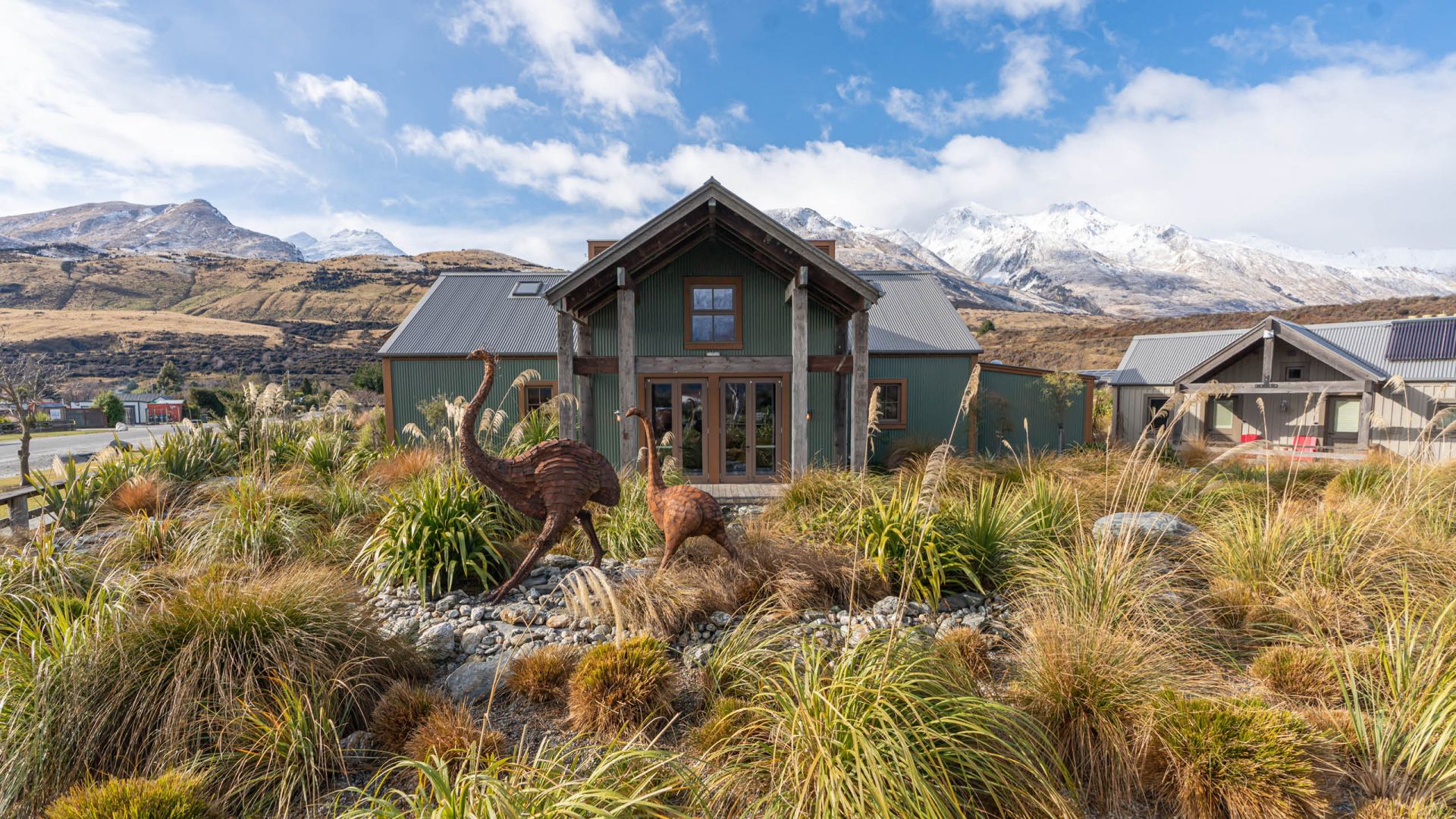 Really feel like you're sleeping IN the landscape at Ecoscapes Glenorchy when you look out from your bed, through the huge window and see the top of Lake Wakatipu framed by stunning peaks. When you can finally drag yourself out of bed and away from the view, you have full use of their bikes, fishing rods, and spa with an equally stunning view. The Kinloch Lodge restaurant is just next door for delicious meals and there is also the option to enjoy a breakfast from them in the comfort of your eco-lodge. If you're wanting an accommodation option that is mindful and intertwines itself with the landscape around you, Ecoscapes is a great choice. And did we mention that both Pods have built-in projector screens for the ultimate movie night experience?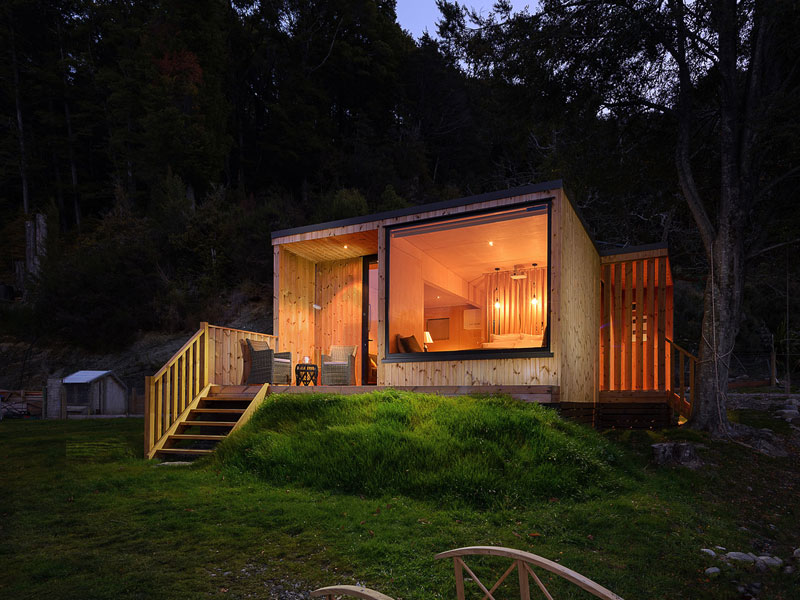 Backcountry Hut, Glenorchy 
Embrace the rugged and basic lifestyle that exists in backcountry huts all over New Zealand and is ingrained into the outdoorsy kiwi culture. When you book this Backcountry Hut, a helicopter ride there and back is included in your stay, providing an amazing experience in itself. When you reach the hut you can choose to explore and hike the surrounding areas or simply sit and watch the stars come out before settling into the bunks by candlelight. This stay is so truly unique and provides the perfect combination of a luxurious helicopter ride with off-grid accommodation in the depth of the mountains. 
Wanaka Accommodation
Black Peak Chalet, Wanaka
The perfect combination of a cozy private retreat with the convenience of still being near Wanaka. Black Peak Chalet is a gorgeous, stand alone accommodation just 5 minutes from Wanaka with the most stunning deck that overlooks lake Wanaka and surrounding mountains. We can see that view being the perfect backdrop for sipping a morning coffee! Take some time out to be nestled among native bush with great company or some solo seclusion at this amazing cedar clad chalet. The best part is – it's only a 45 minute drive to the base of Cardrona Ski Field and Snow Farm.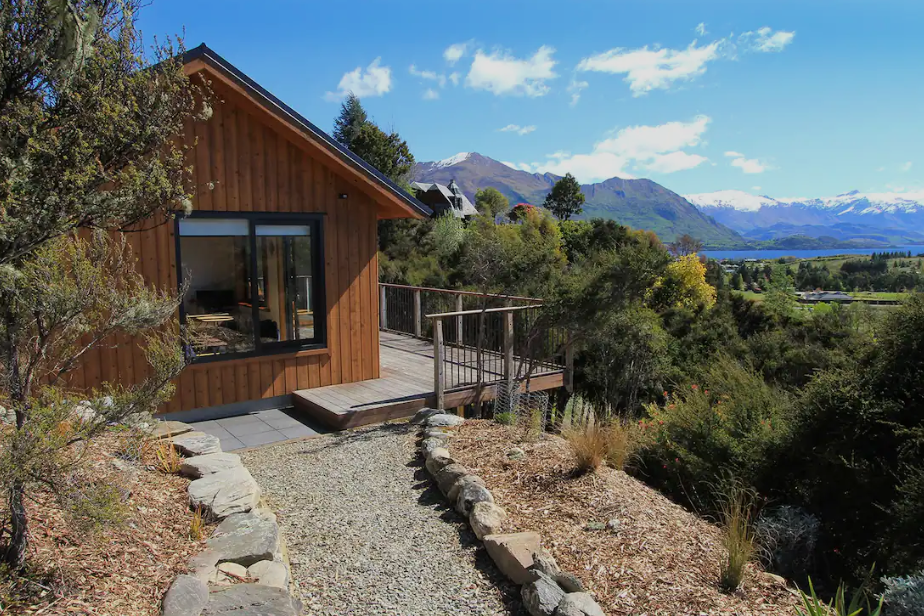 Oasis, Wanaka 
Hosting a group getaway in Queenstown? Book out your own private yurt accommodation at Oasis and live the ultimate off-grid life while still hanging out with your friends and family in the common kitchen and lounge area. Surrounded by stunning scenery and providing a bespoke opportunity to reconnect with loved ones and our natural environment, Oasis is the perfect yurt getaway for groups or couples alike. Oasis isn't your typical camping experience; it offers luxury amongst nature for a truly unique accommodation. 
The Lake Hawea Domes have the decor and convenience of a hotel room. You may almost be fooled until you glance at the walls and realize you're in a glamping dome. These domes offer floor to ceiling windows on your curved cabin to be surrounded by the night sky as well as expansive views of the exclusive views during the day. Relax at the main lodge which has an outdoor hot tub, a BBQ, an undercover outdoor deck for dining, an indoor dining and lounge room, a whiskey room, and a massage room before returning to your own dome to continue your secluded and romantic getaway.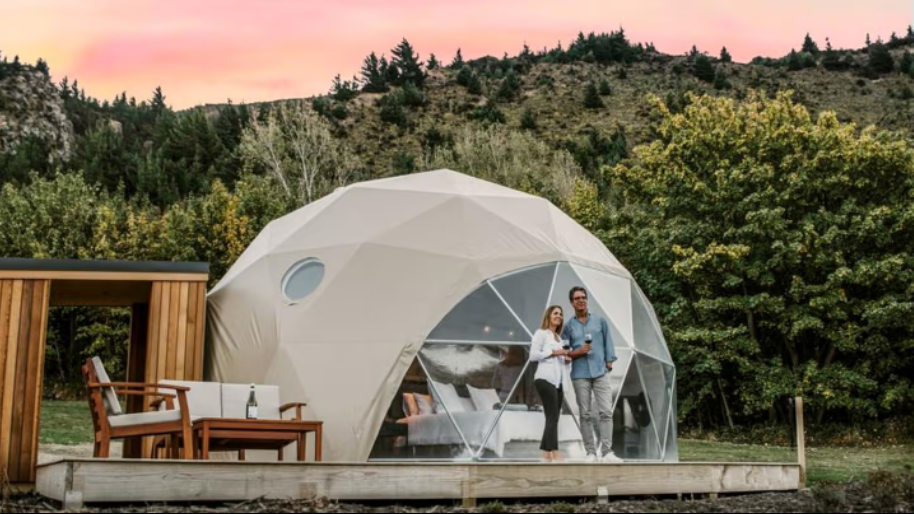 This is one of the most secluded and exclusive luxury lodges in the world. With only four private chalets located high in an alpine meadow at 3,000ft and surrounded by incredible mountain views, Minaret Station is the peak of off-grid accommodation. There are no roads leading to this incredible lodge so you need to reach Minaret Station via helicopter. Each chalet has incredible amenities including a private deck and hot tub overlooking the valley. When the sun goes down, the night sky stretches over the entire lodge to show off the best of New Zealand's natural wonders. If you're looking for peak luxury during your stay in the South Island, you can't look past Minaret Station.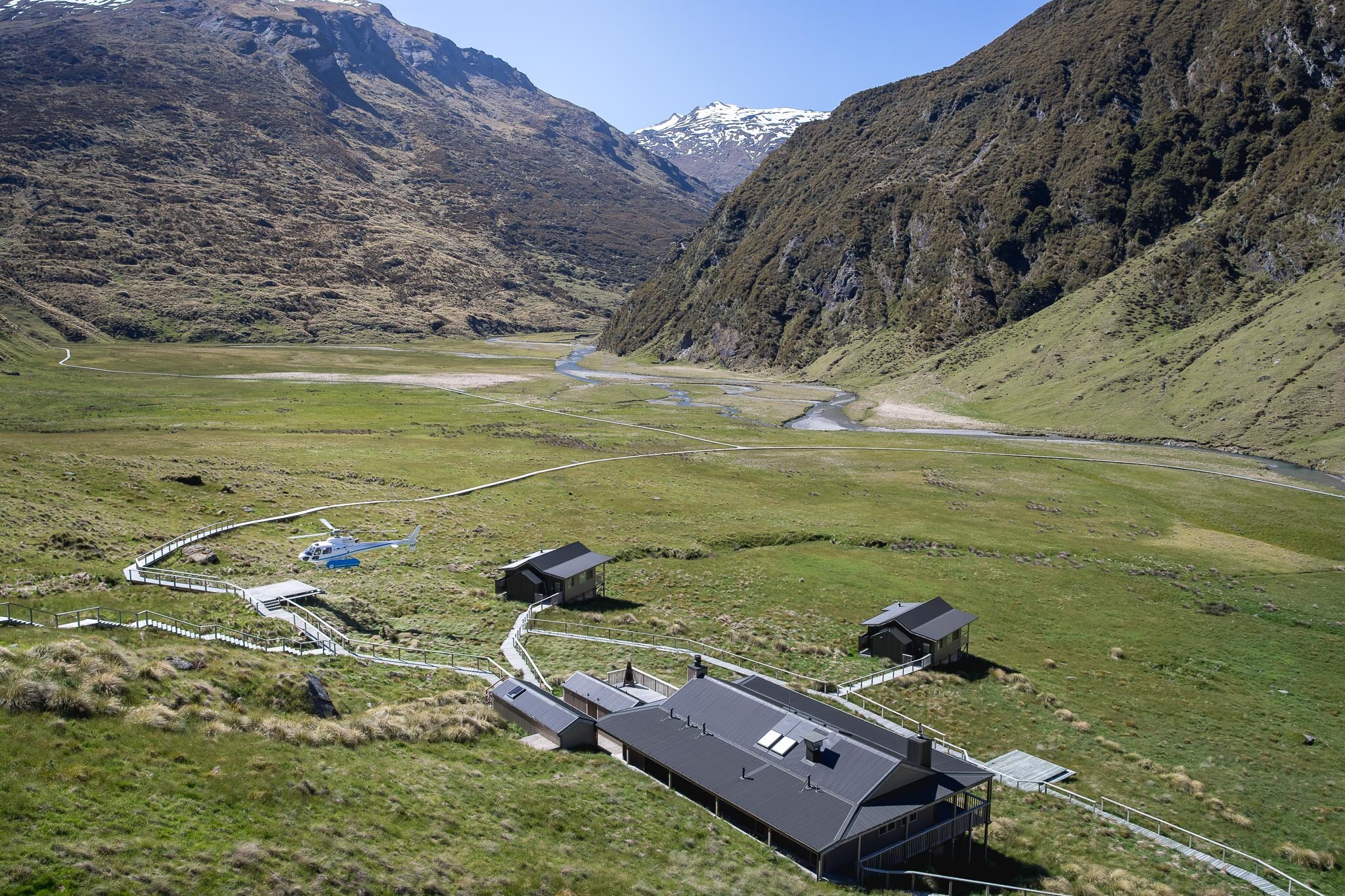 Central Otago Accommodation
Pisa Cabin, Bendigo
High up on a rocky outcrop at the foothills of the Dunstan Ranges sits Central Otago's best kept off-grid secret when it comes to unique accommodation. Only 30 minutes from Wanaka,  the cabin is architecturally designed to have a small environmental footprint and sit in harmony with the natural landscape. Venture out for the day to nearby skiing or stay completely immersed in the Clutha Basin as you soak in the outdoor hot tub. This is your chance to live like a luxurious mountain goat!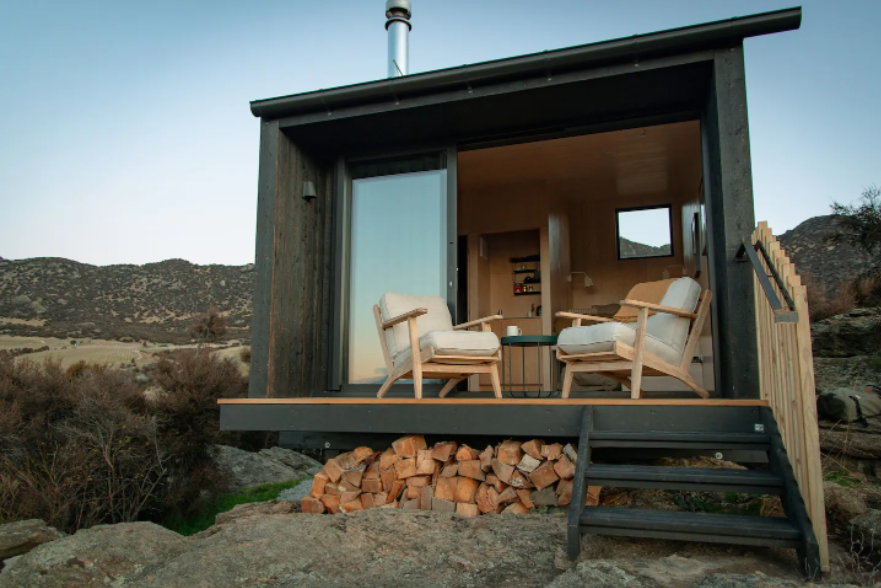 Milford Accommodation 
When you're exploring the grandiose landscapes of Milford Sound you'll think to yourself that a day is far too short; and you'd be right. Extend your stay in Milford Sound by spending the night with the Cleddau River as your soundtrack or the uninterrupted mountain views as your movie night.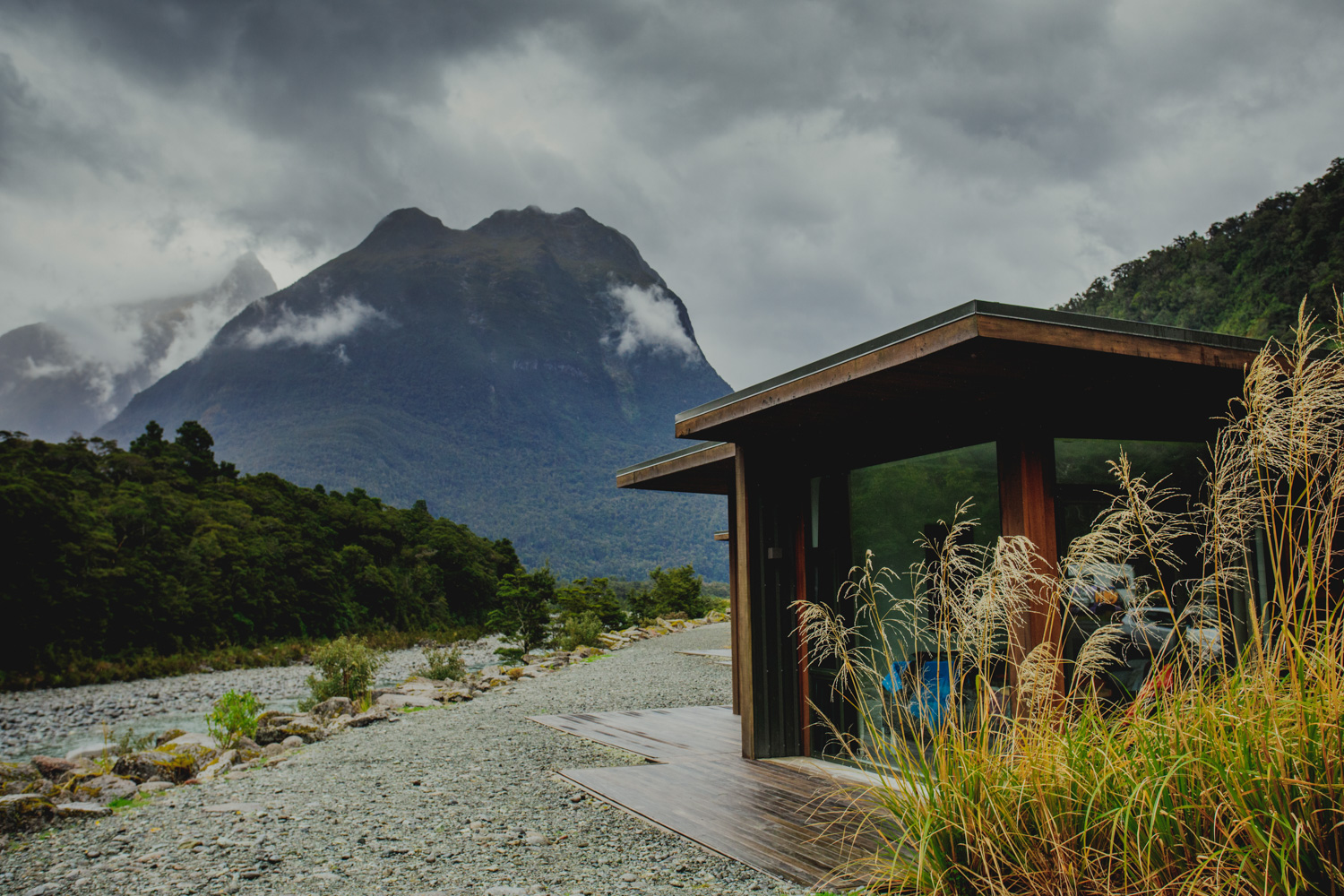 If you're exploring one of the most iconic natural landscapes in New Zealand via campervan, you can still experience Milford Lodge by booking a spot in their Rainforest Campervan Park. It is the only place to park overnight in Milford Sound and a complete campervan must-do when you're traveling around the South Island. 
Pack your bags and book your stay at one of these incredible and diverse options! The scenery and activities on offer in Queenstown, Wanaka, and the surrounding area are some of the highest quality in the world for both locals and travelers alike. We hope these epic accomodation options complement your fantastic daytime experiences to really complete your holiday or staycation!