Queenstown is home to some of the best ski fields in the Southern Hemisphere making it the perfect destination for the ultimate winter weekend. We've got your guide to the perfect ski getaway to pack your trip full of fun, whether you're carving it up on the mountains, seeing the incredible natural sights of New Zealand's South Island or chasing adrenaline with a weekend of action-packed activities in the 'World Home of Adventure'!
Hit the Mountain!
Season Opening Day: June 11, 2022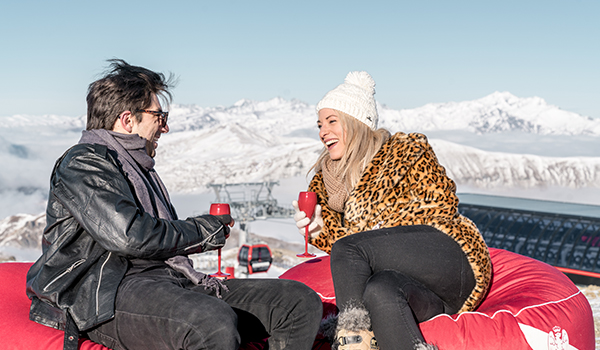 Just a 45 minute drive from Queenstown is the infamous Cardrona Valley and ski area. With over 400 hectares of pristine powder, there's a fairly even split of beginner, intermediate, advanced and expert grade runs so you'll absolutely find your people on the slopes. It's no problem getting to those various runs, just get yourself swept up by one of the seven different chair lifts crawling all over the mountain! 
If you can't ski to save yourself, there's a cozy corner and hot chocolate waiting for you at any of Cardona's eight cafe, bars and restaurants. 
Sightseers listen up! Take the McDougall's Chondola, 8-seater comfy gondola cabins, to the top and visit the biggest Caronda must-do: the Vista Bar! Chill out on a beanbag with a glass of Mumm high up among the snow-covered mountains looking out over the Wakatipu Basin. 
Season Opening Day: June 26, 2022
Treble Cone Ski Area is the largest ski area in NZ's South Island with a huge array of long, uncrowded runs. It is a massive 550 hectares of glorious groomed snow with a 700m lift serviced vertical drop. It is also home to the longest trail around at a huge 4km! This terrain has a large percentage of runs geared towards intermediate and advanced terrain, likely because of their huge off-piste terrain that makes for some of the steepest and most challenging terrain within the boundaries of a patrolled and protected ski area.
The beginner area is a unique and comfortable experience right next to the rental equipment shop, base lodge and cafe where you have everything you need to put a toe in the snow if you're new to the mountain! 
If the kids aren't quite old enough to start shredding the slopes alongside you, we've got you covered for an equally fun day among the Southern Alps! Snow Farm's Fun Zone is specifically for family fun with plenty of room to throw snowballs (don't go easy on them), make snowmen and watch the kids take in all the wonder of snow-capped peaks.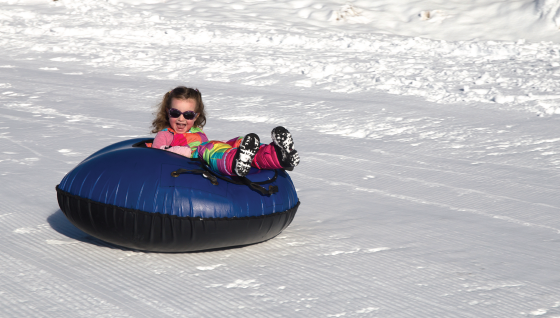 Snow Farm also has a tubing hill to create a fun and safe environment for kids to slide down the slope at their own confidence level on awesome inflatable tubes provided by Snow Farm. This must-do winter family activity in Queenstown is only $15!
This epic winter playground also has groomed ski trails and snowshoeing options to really explore the Pisa Range. As the first cross-country ski area in New Zealand, Snow Farm has sped miles ahead with 55km of standard trails and 24km of snowshoe trails. 
These expansive trail options are plenty of fun for beginners and trailblazers alike with three backcountry huts waiting at the end to continue the good times with a great bunch of mates. For those that love the snow so much they don't want to leave, Snow Farm's backcountry huts each feature a gas cooker, log burner, firewood, and a range of basic cooking equipment. In the mountains, all you need is the necessities and above-average banter to make it feel like a five-star getaway. 
Season Opening Day: June 17, 2022
Coronet Peak prides itself on being the first commercial ski area in New Zealand, first opened in 1947, and home to the local snow-carving community of Queenstown. Whether you're a seasoned local or first-timer, Coronet Peak has amazing facilities, rental equipment and sightseeing opportunities. 
Cruise around 280 hectares of fantastically fun runs aided by three chairlifts and a T-bar. Coronet Peak is home to five bars, restaurants and cafes to warm you up after sliding face first or, fingers crossed, shredding away all day!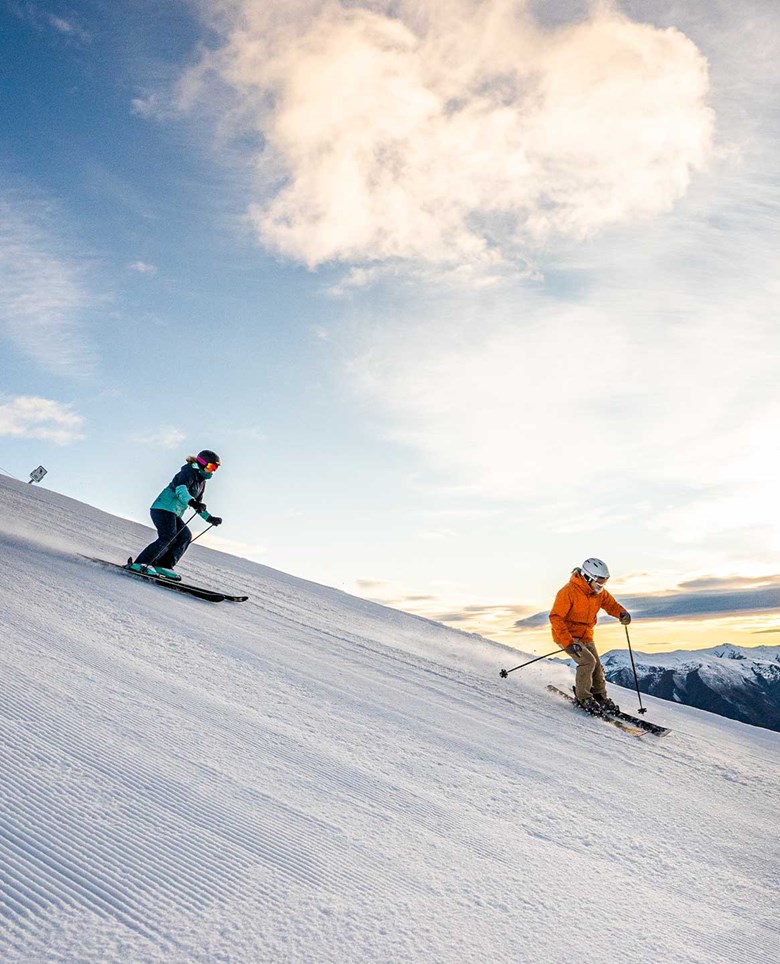 We think the best parts of Coronet Peak are their First Tracks Pass and Night Ski options. 
The allure for any skier or snowboarder is to make their mark on the mountain by carving the first tracks of the morning. Coronet Peak offers First Tracks Pass with exclusive access so you can do just that. Take to the snow first thing in the morning then enjoy a steaming hot breakfast on the mountain. 
Fast forward to the other end of the day, you can grab a Night Ski pass to explore Coronet Peak in twilight between 4-9pm. Slow down and take in the sunset over mountain peaks before you speed down wide-open floodlight trails. With the ski in darkness and the snow lit up, it will be like you're high up in another world. This is definitely a bucket list winter activity in Queenstown and we recommend ticking it off before you leave.
Season Opening Day: June 18, 2022
The Remarkables Mountains have remained true to their name since it was given to them in 1857. Explorer Alexander Garvie was so astonished by these mountains, especially as he noticed that they ran directly North to South (one of two mountain ranges in the world that do this), that he named them The Remarkables. 
Nestled in this mountain range is a stunning 385 hectare ski area. They dub themselves 'Queenstown's Big Mountain' with a massive 468m vertical drop. With four chairlifts, four conveyor lifts, and four places to grab a bite perfectly placed all over the mountain, the Remarkables Ski Area is definitely worth a visit. 
There's something for everyone at this Ski area, from lessons for all skill levels, kids and adults rental equipment, tobogganing fun, and much more!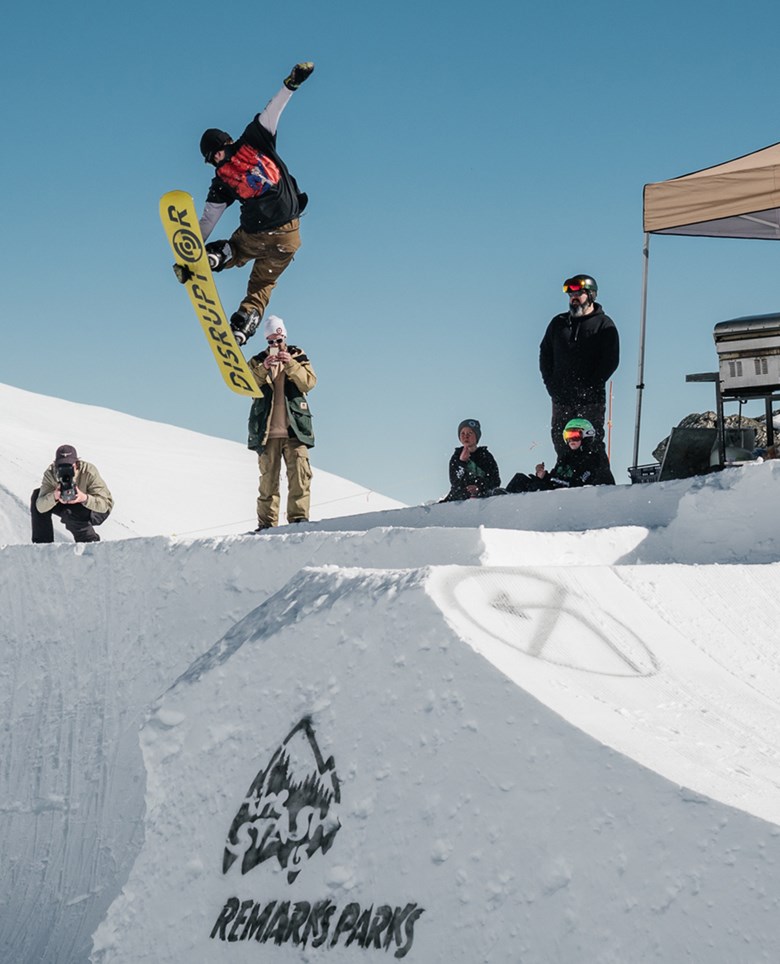 If you're a proficient skier or snowboarding, a clear highlight of The Remarkables is their fun park run that combines trees, features, jumps and transitions to create a perfect mix of freestyle and all mountain riding. It's called The Stash. Jake Burton Carpenter, founder of Burton, collaborated with The Remarkables to bring his dream to life with the only run of its kind in the southern hemisphere. 
Looking to get the most out of your ski or snowboard trip to Queenstown? An NZ Superpass is automatically issued to you when you buy a one-day lift pass for either Coronet Peak or The Remarkables. A Superpass gives you access to both ski areas but also gives you full flexibility in case the weather is less than ideal or you decide to take a day off from skiing. Just use your Superpass as credit towards an equally incredible Queenstown experience to still have the best winter weekend in Queenstown. There is an epic list of local eateries, bars, shops, spas, and activities to choose from. 
Snowed Under?
If you have an NZ Superpass in your hot little hand and you're needing to switch to an off-mountain activity, we've made a list of our top recommendations that you can use your pass credit towards!
AJ Hackett Bungy Kawarau Bridge
Skiing and Queenstown pair together like Fish and Chips, but if the weather on the mountains is crummy then visiting our AJ Hackett Bungy site at the Kawarau Bridge is another way to experience an infamous piece of Queenstown. This site is known as the World Home of Bungy as it's the birthplace of commercial bungy jumping for the entire world.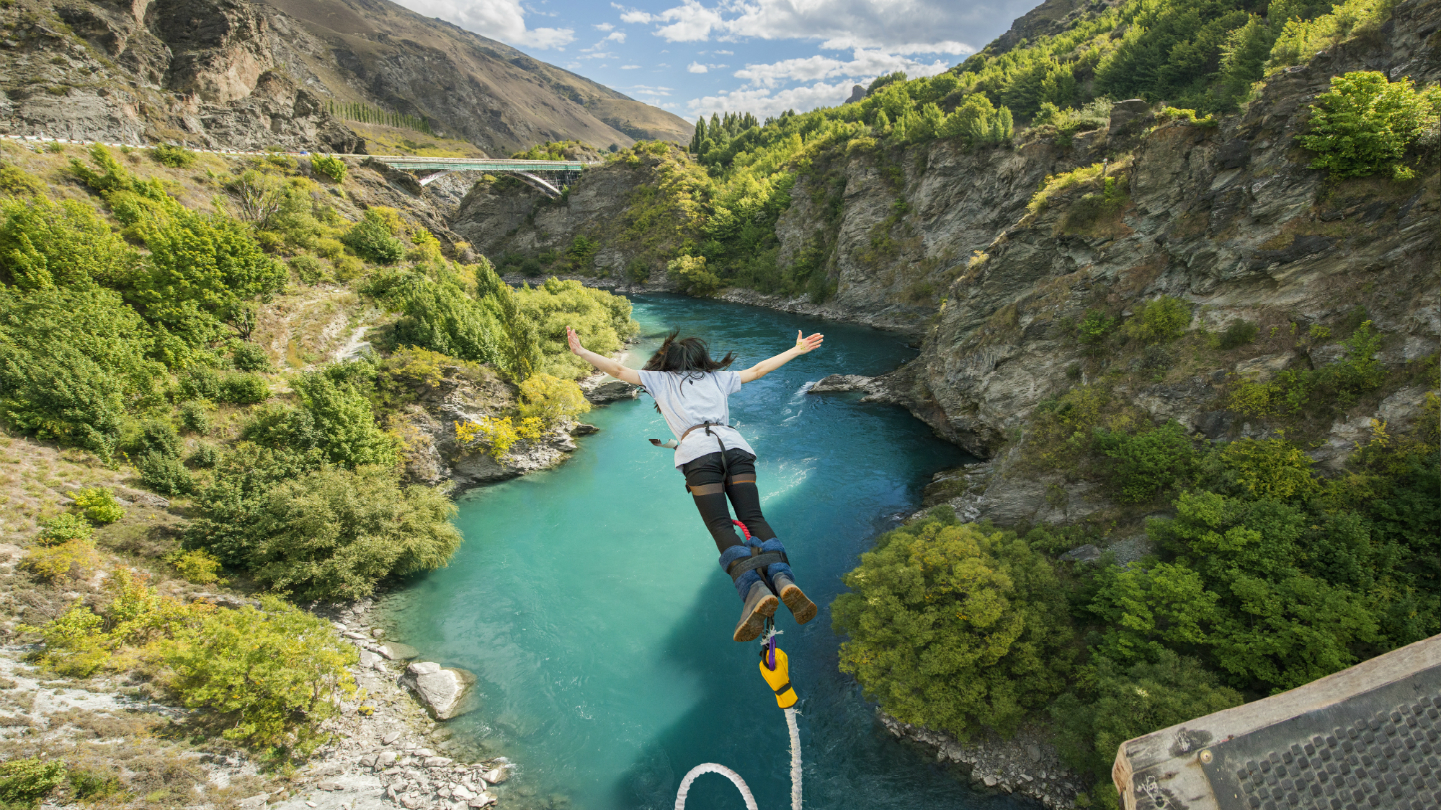 There's something for everyone in the family to still have an awesome off-mountain day! You and the kids can get geared up to race side-by-side down the 130 metre Zipride, rocketing over the Kawarau River. Or you can stare down at the river beyond your toes on the Kawarau Bungy platform with your heart pounding and the cold air melting away, knowing you're about to have the experience of a lifetime living more and fearing less. 
If you'd rather watch the action unfold with your feet planted firmly on the ground, there's still plenty to keep you busy! With a huge spectator platform, our cafe serves Ferg Baker to keep you fed, coffees to warm your soul, and our liquid courage bar to keep you watered (with no water involved). No matter what you choose to do at the World Home of Bungy, from chill to courageous, you can bundle up and really experience a classic Queenstown must-do. 
Strapping yourself in to a Kawarau Jet gives the perfect combination of sightseeing and serious thrills. Explore three different waterways, Lake Wakatipu, the Kawarau River and Shotover River, on a jet boat that reaches an exciting 95kph. When you're not racing at dizzying speeds or holding on for dear life during 360 spins, your driver takes it slow to appreciate the gorgeous river banks and crystal clear water.
Don't let the whipping wind hold you back from this ripper of a ride. Grab your warm jacket, a cozy beanie and take on the Kawarau Jet! 
Altitude Tours – Mt Cook Scenic Tour
Explore Aoraki Mount Cook, the highest mountain in New Zealand, with a huge day of touring with Altitude Tours. You'll be able to marvel at sculptures in Cromwell, the incredible Lindis Pass, and Lake Pukaki's bright turquoise waters (and that's just on the way to Aoraki Mount Cook National Park!). When you arrive you can take a walk to Lake Mueller for a close-up view of Mt Sefton's glaciers. If you want an intimate view of Mt Cook from the air there's a huge amount of options. Choose to Heli Hike on the Tasman Glacier, a scenic ski plane or helicopter flight, Glacier Explorer boat trip on the Tasman Glacier Lake or hike the Hooker Valley track for incredible views of Aoraki. These monster alps wear the snow like a glistening hat and never fail to disappoint, making it an epic way to get immersed in the mountains even if it's not on your skis or snowboard. 
Southern Discoveries Milford Sound Coach & Nature Cruise
Milford Sound is a stunning place that seemingly transports you back in time, to an age when nature runs wild, rugged and untamed. Unlike the ski fields, the sights of Milford Sound thrive in adverse weather with hidden waterfalls and moody mist only enhancing your experience. 
Southern Discoveries will show you the Mirror Lakes, Te Anau, and the amazing sweeping sights outside your bus window on your journey. Once you arrive you will board a cruise to travel the incredible steep cliffs and waterfalls of Milford Sound; if you're lucky you can spot some amazing wildlife from the deck!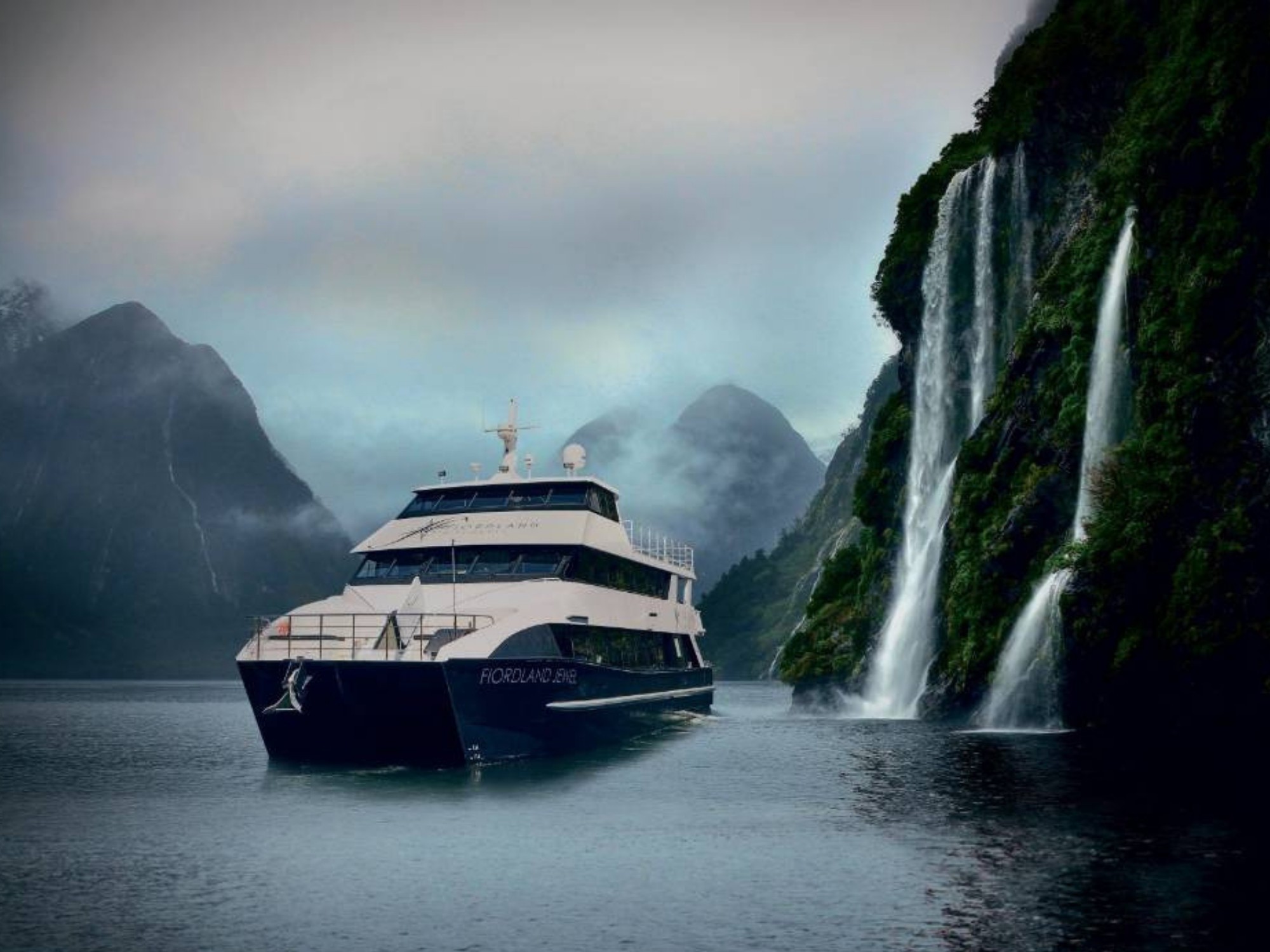 Your return bus will deliver you into the heart of Queenstown; don't be afraid to snooze on the trip back!
What Else?
Even if you've exhausted your NZ Superpass, there's still much to be explored if you're short on snow or the weather is worsening. 
Escape the cold but embrace the wildest of winds by heading to IFLY and soaring like a bird inside their tunnel. It's indoor skydiving! Flying, flipping and twisting in the air is the perfect way for anyone to spend an afternoon in Queenstown. 
Take flying one step further by strapping in with your flight instructor and taking to the skies over Queenstown. Experience the thrill and beauty of paragliding amongst the snow-capped mountains, taking off from the top of the Skyline Gondola. 
While you're at the top of the Skyline Gondola, why not lace up your hiking boots and let your own two feet take you to one of the most stunning views that rivals the famous Roys Peak! The track will take the energy out of you but give tons more back in memories, stunning vistas and the feeling of a challenge well conquered.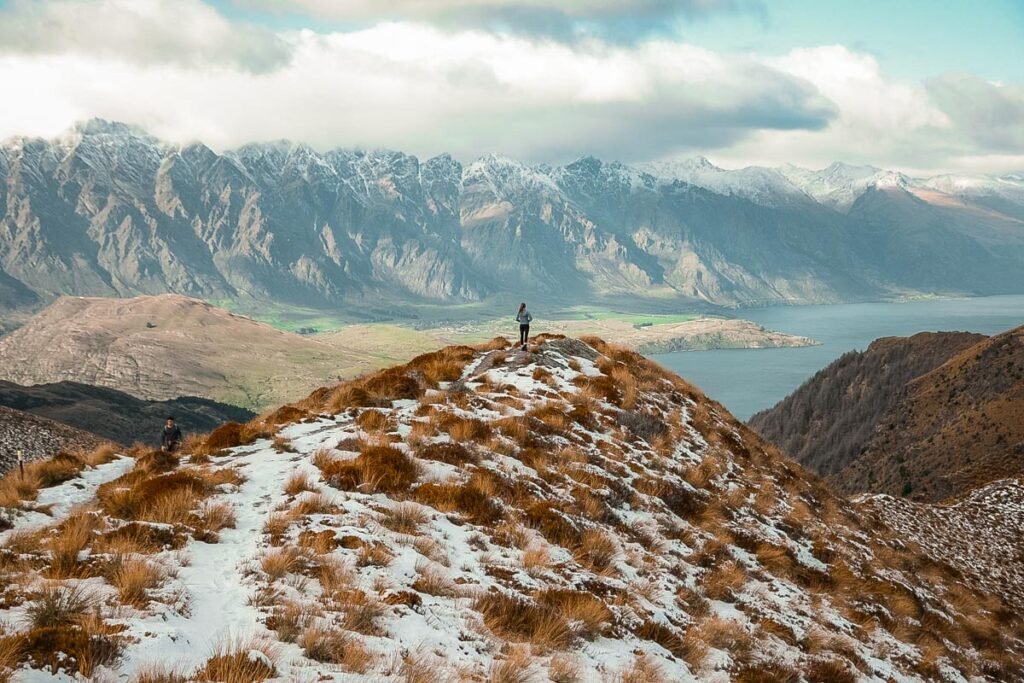 If you don't have the time or pure energy to tackle the Ben Lomond Track, Queenstown Hill Track gives a great intimate view of the Remarkables, Cecil Peak, parts of Lake Wakatipu and the Kawarau river.
Now that you've got your ultimate list of must-dos for a winter weekend in Queenstown, get your family or a group of mates on-board, pack up your skis or snowboards, puffer jackets and hiking boots, and get ready to go! We'll see you this winter!