New Zealand's South Island in summer is a never-ending exploration of sparkling bays, glowing mountain terrain and vast galaxies decorating the night sky. Nothing gets you closer to these views and the great outdoors like a campervan road trip. Planning your summer road trip to some of the South Island's most sought after locations? We've got you covered with all of the must-walk, must-stay and must-see locations to put on your itinerary immediately!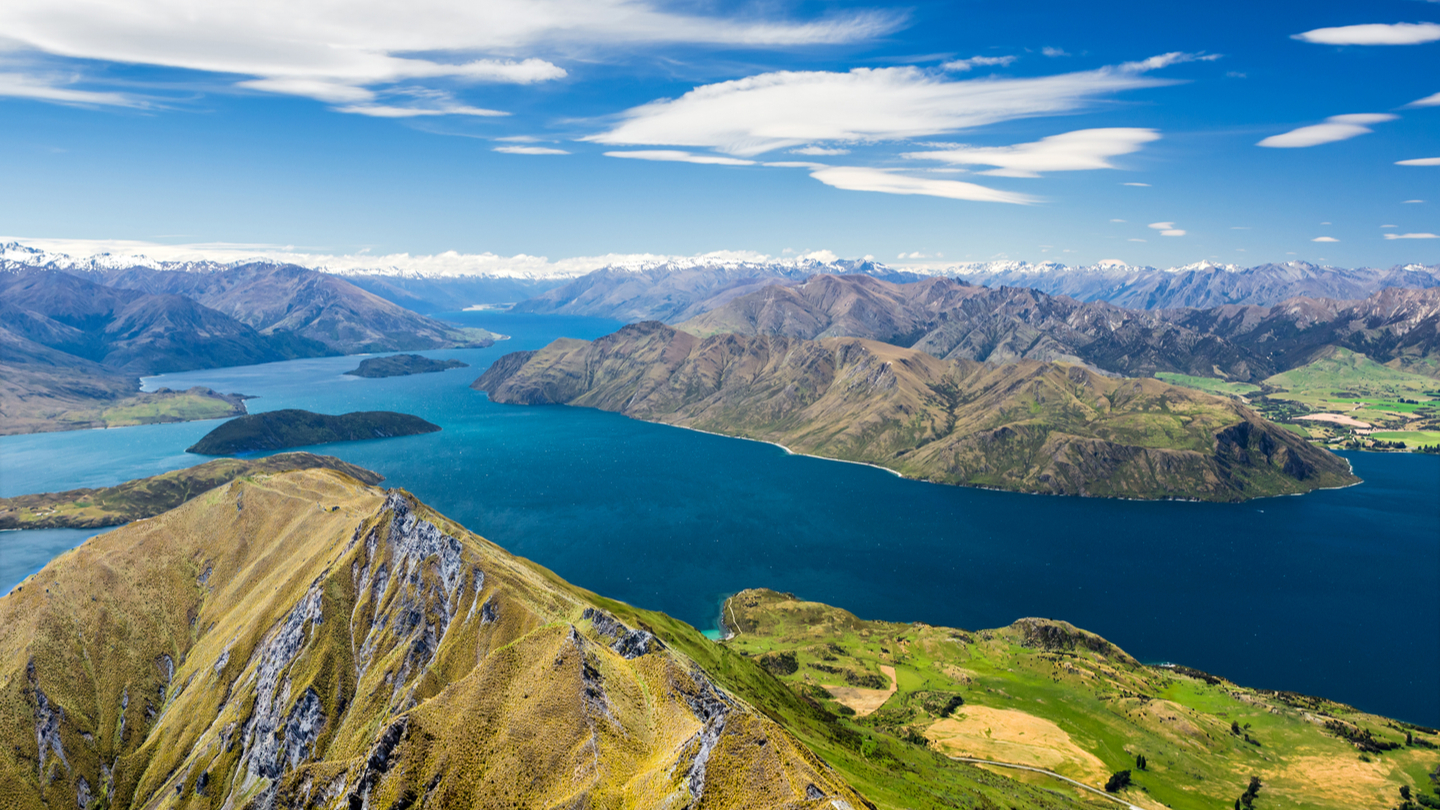 Glenorchy 
Glenorchy is home to some of the most stunning landscapes in New Zealand, and that's saying something! Only 45 minutes away from Queenstown, it has the benefit of an off-the-grid feeling as well as the convenience of all your major comforts nearby so you can choose your vibe. Glenorchy's wonder isn't exactly a well kept secret; you'll see its splendor throughout the Lord of the Rings trilogy and in Narnia. However, visiting the Beauty of Glenorchy isn't like visiting a commercial film set, but more like stepping into a different world.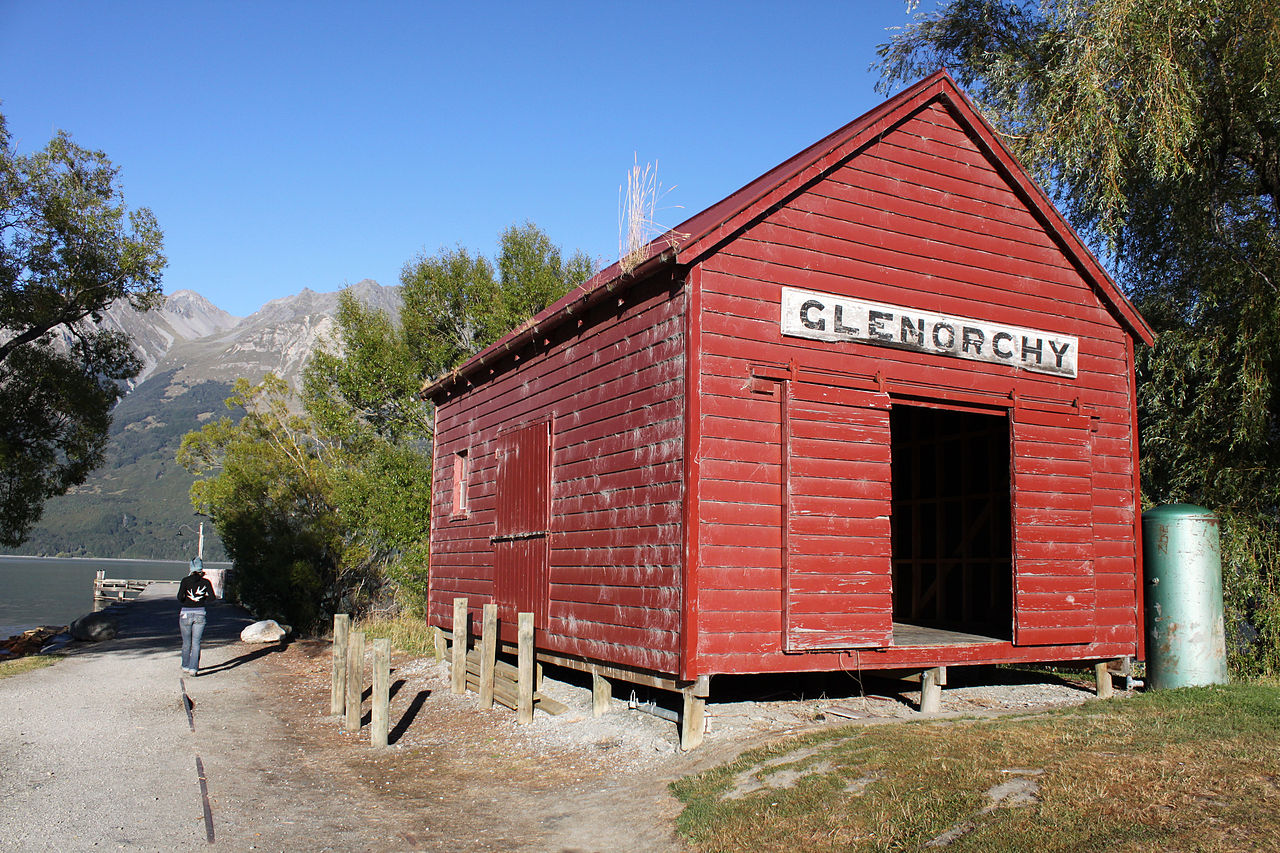 Short walk in Glenorchy: If you're looking for an easy walk to immerse yourself in Middle-earth, the Glenorchy Walkway is an amazing 1-2 hour track. Raised above wetlands on a boardwalk, this track is surrounded by birdlife and has great views of Mount Earnslaw / Pikirakatahi on a fine day. It's recommended by the Department of Conservation that you don't park or access the track from the Glenorchy Paradise Road for your safety, instead  start at the Lake Wakatipu parking lot near the Glenorchy jetty. 
Where to park your campervan: While it may be a drive from the Glenorchy Walkway (but a stunning drive at that), Kinloch Campsite is worth it for the best unplugged place to park your campervan in Glenorchy. This stunning, lakefront campground has 15 unpowered sites surrounded by mountains. Park your campervan on the shores of Lake Wakatipu and have the northern tip of New Zealand's longest lake just a few steps from your home on wheels!  
A must-see lookout: Remember when we said sightseeing the Hollywood locations wasn't going to be commercial. Now you get to see why! The Isengard Lookout is the perfect place to view the location that featured the Tower of Orthanc in the Lord of the Rings films without sending your campervan down gravel roads and 4WD tracks; simply pull off the main road at a picturesque bridge crossing the Dart River to arrive at the lookout location. 
Queenstown
Queenstown is one of the most well-known holiday destinations in New Zealand and it's perfect for a summer campervan road trip. With all the views, activities, and rip-roaring good vibes in this town, your camper windscreen won't be big enough to take it all in unless you stay for the full experience.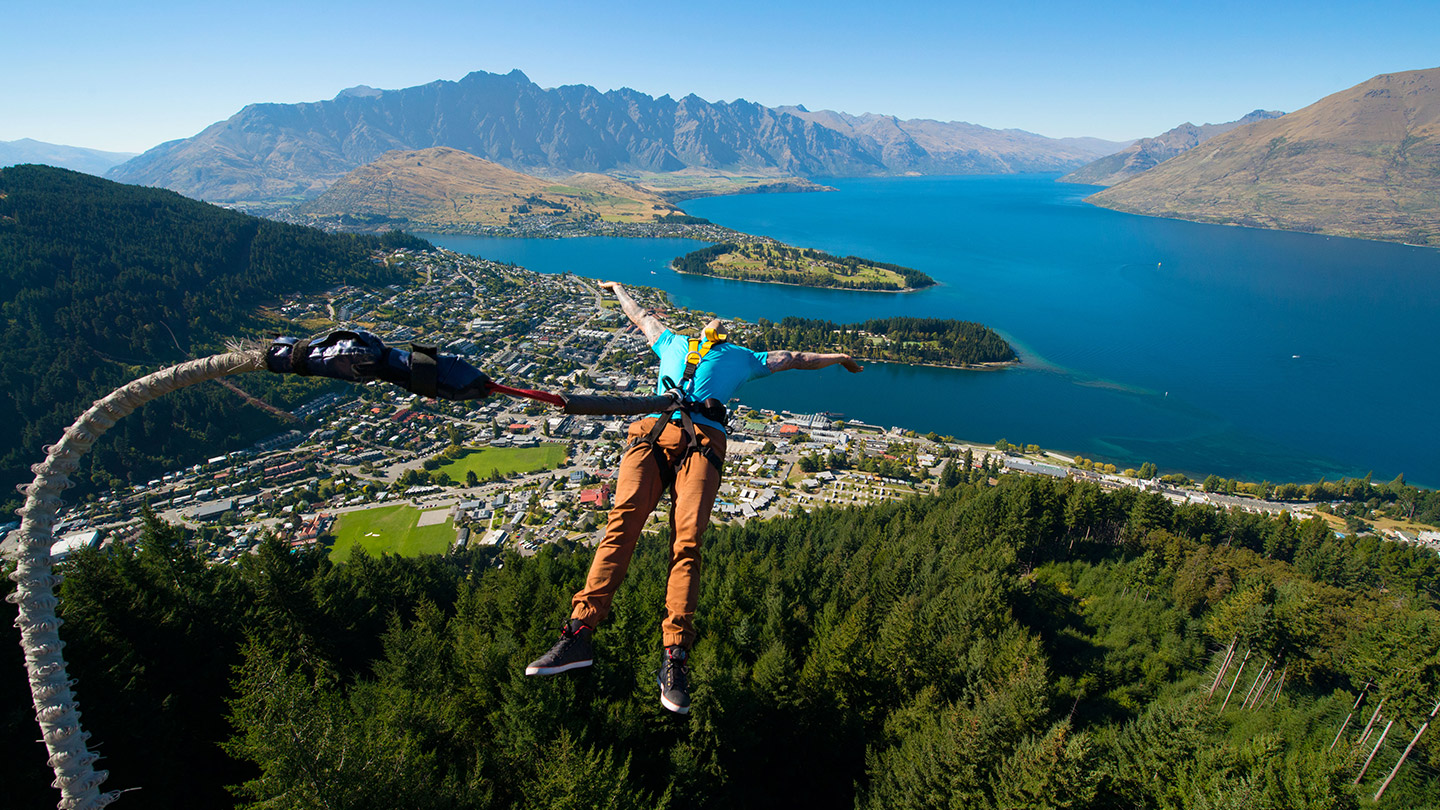 Short walk in Queenstown: If you're looking for one of the best short hikes in Queenstown, Bob's Cove has it all; brilliant views, slight elevation and the ultimate crystal clear swimming spot! You'll begin the track by exploring mossy, luscious trees that the South Island is known for before finding the lake pretty quickly. The hardest part of this loop track will be choosing which part of the lake to cool off in! A small jetty provides a great photo opportunity and a remaining historic lime kiln from the 1800s will give a glimpse into the area's past. Bob's Cove is a short walk in Queenstown that you can't miss on your summer road trip. 
Where to park your campervan in Queenstown: Queenstown is a campervan friendly area but by far the most exciting and unique experience in your campervan will be parking up at the Kawarau Bungy Centre for the night. The World Home of Bungy welcomes self-contained campervans to spend the night in their car park. Since you're only a few steps away, why not leave your comfortable bed and plunge yourself into the uncomfortable feeling of leaping off an historic bridge; there is no better wake up alarm than a Bungy jump! 
If you'd prefer a normal morning routine, pop in and see our delicious café for a coffee and breakfast while you're serenaded with screams of terror…relaxing! We won't lie to you, the World Home of Bungy is anything but normal and relaxing but that's what makes it a bucket-list spot to stay on anyone's South Island campervan tour!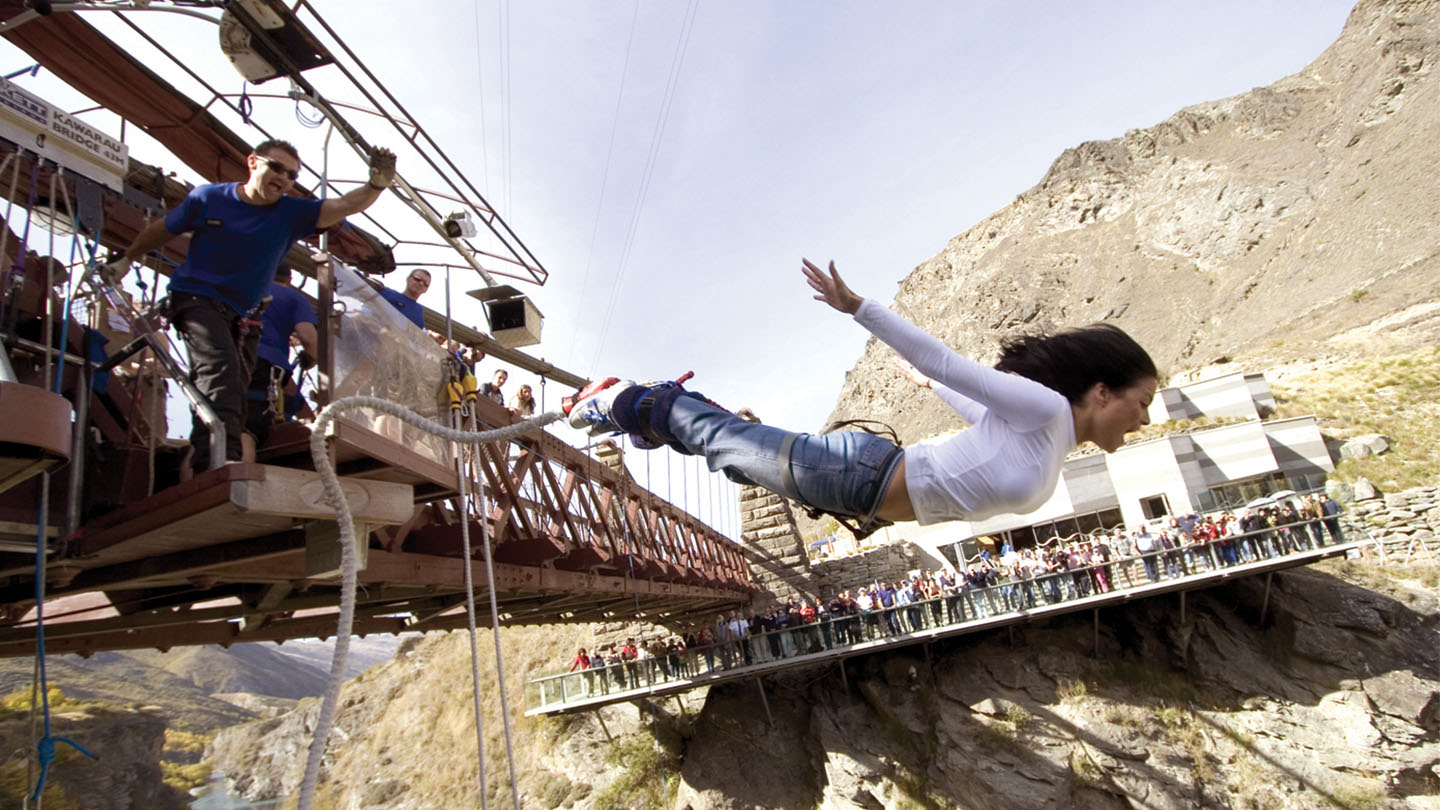 A must-see lookout: Campervan trips are all about getting out of your comfortable, convenient lifestyle and having the world at your steering wheel. Our top must-see view in Queenstown is the edge of the Kawarau Bungy platform as you stare down at the water, toes on the edge ready to soar. You're out seeking adventure and this where you'll find it! More of a sit back and relax type of camper? Perch up for a good show on our spectator platform to watch the river flow and the Bungys bouncing all afternoon. 
The Catlins 
The Catlins remains a rugged and untouched southeastern corner of the South Island, making it the perfect place to include on your campervan road trip. Just outside your door, discover blowholes, caves, and a petrified forest, native forests, stunning beaches, cascading waterfalls, and hidden lakes.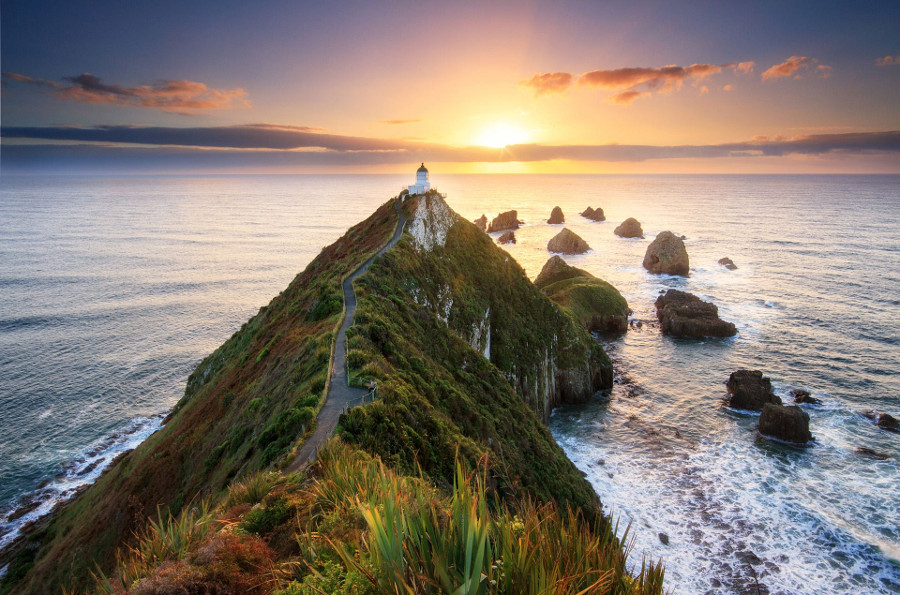 Short walk: One of the best short walks in The Catlins is a trip to Nugget Point / Tokata. This 10-20 minute return walk will feel like you're standing on the edge of the world. You'll see sweeping seascapes, one of New Zealand's oldest lighthouses, the Tokata Lighthouse, and various birdlife, sea lions and other wildlife that may pop up. The carpark at Nuggets point/ Tokata is also campervan friendly, making it easy to park up for a sunrise or sunset walk. 
Where to park your campervan in The Catlins: Fill your windows with expansive views of the rugged West Cast at Purakaunui Bay Campsite. 40 unpowered campsites offer views of towering cliffs and the bay's sea spray to compliment your morning coffee. One of the most photographed waterfalls in Otago, Purakaunui Falls, is also nearby nestled in the middle of a stunning mature beech forest. 
A must-see lookout: Park up at Florence Hill Lookout and take in the wide open view of Tautuku Bay sparkling in the summer sun. The bay is flanked by forest that has yielded to the West Coast wind in a lean and the sand contains a high amount of quartz. If you're lucky you may see whales as this bay was home to a whaling station from 1839 to 1846. 
Milford Sound
Often hailed as the 'eighth wonder of the world', Milford Sound and the journey to get there is an intimate encounter with the raw power of nature. As a fiord, Milford Sound was formed by a process of glaciation over millions of years and now attracts almost one million visitors per year, yet the size of the Sound makes it feel like you're the only person witnessing it. Not only can you visit Milford Sound, you can also spend a few nights here in your campervan.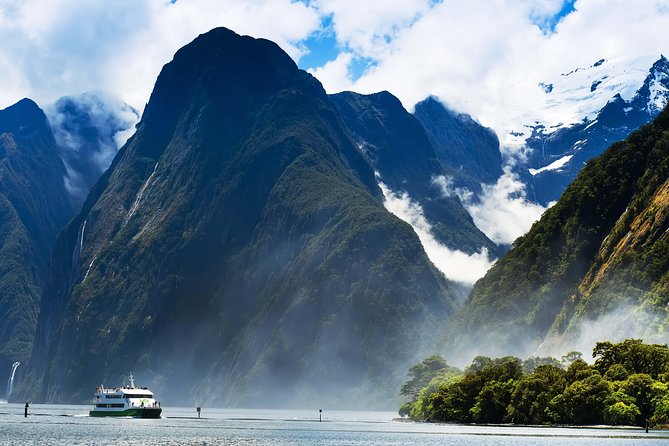 Short walk: We recommend experiencing Milford Sound on a boat tour but you can also escape from the hustle and bustle to explore the views the old fashioned way…on foot! The Milford Foreshore Walk is an easy 30 minute loop beginning at the main car park in Milford Sound. Some of the best views of Mitre Peak/ Rahotu, a 1,690 m grandiose mountain, are from this track. 
Camping in Milford Sound: The drive into Milford Sound isn't exactly short, so it's worthwhile to extend your stay for a few nights in your campervan. After all of the day-trippers leave, Milford Lodge Powered Campervan sites provide the perfect opportunity to relax in the calm, stillness of Fiordland. The stargazing from this remote area is unbelievable. This is Milford Sound's only campsite for campervan only, so you need to book well in advance to avoid disappointment and an unexpected long drive home. 
A must-see lookout: Realistically, the whole area! The drive into Milford Sound really offers an experience in itself and you'll be wanting to pull over your rig constantly! But if we had to choose just one, Hollyford Valley Lookout is a great place to stop your campervan on the way into Milford Sound. Discover more pit stops in Milford Sound here. 
Lake Tekapo 
Lake Tekapo is the second-largest lake in the gorgeous Mackenzie Country and home to the small town of the same name. The pure turquoise of the lake's water, caused by glacial silt from the Southern Alp where the water source originates, is a sight to see.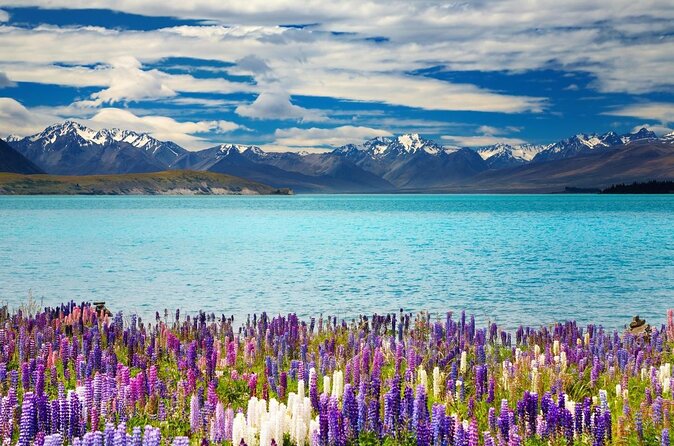 Short walk: Absorb the views of lake Tekapo surrounded by classic South Island tussock on one of Lake Tekapo's best short hikes. The three hour Tekapo Mt John Walkway Track. Begin this track next to the Tekapo Springs complex which also makes for a great follow up visit when the loop brings you back to the start. Alternatively, you can drive up to the top of Mount John and opt for a 30-45 minutes walk on the Summit Circuit Track. On either walk you'll be treated to 360 degree views of the mountains and Mackenzie Basin. 
Where to stay: Lake Tekapo Holiday Park is the perfect place to stay lakeside if you book quickly. A limited number of powered sites are available on the lake's edge for the ideal views and quick dips in the lake to cool off. Tekapo Springs and the Tekapo Mt John Walkway Track are nearby so you can minimize driving time and maximize lakeside relaxation for this leg of the summer road trip. 
A must-see lookout: The night sky in this area is a lookout you can't miss. Lake Tekapo is part of a UNESCO Dark Sky Reserve, making it the perfect spot for stargazing. Pull out your folding chairs at your campsite, lay out by the lake, and appreciate the milky way. You could also treat yourself and choose glamping for the night when you stargaze in a Tekapo Stargazing hot tub! 
Handy apps to download – keep your road trip moving:
Alltrails is the perfect app for a South Island road trip. Search over 200,000 trails with trail info, maps, detailed reviews, personal tips and photos curated by fellow hikers, mountain bikers, and adventurers. 
Now available on Google Play, the NZ Department of Conservation Campsite Finder App makes it easy to find the best places to park your campervan and caravan this summer. The app contains the GPS coordinates for the 200+ Department of Conservation (DOC) campsites, organized by Island, Region, Area, and camp. Find your next hidden gem campsite!
Google Maps
We're not here to suggest that Google Maps is an unknown app you should discover in 2022, but many experienced travelers are yet to take full advantage of a helpful Google Maps feature. You can download maps to guide you when your travels take you offline. You can let your mind wander in the outdoors but never get literally lost again! This is how to download offline maps. 
While not an app, this light pollution map is handy to check in on light pollution hot spots to plan your stargazing. The map uses NOAA/EOG VIIRS, World Atlas 2015, Aurora prediction, observatories, clouds and SQM/SQC overlay options to predict light pollution. The South Island of New Zealand has been recognised as 'one of the best stargazing sites on earth' and will want to fully experience this. 
This map can be a handy tool so you know where to avoid, as light pollution diminishes the contrast between the dark sky and light from the stars, which makes it harder to see the milky way and constellations in all their glory. You can add this link to your phone's home screen so it functions like an app and opens with one touch.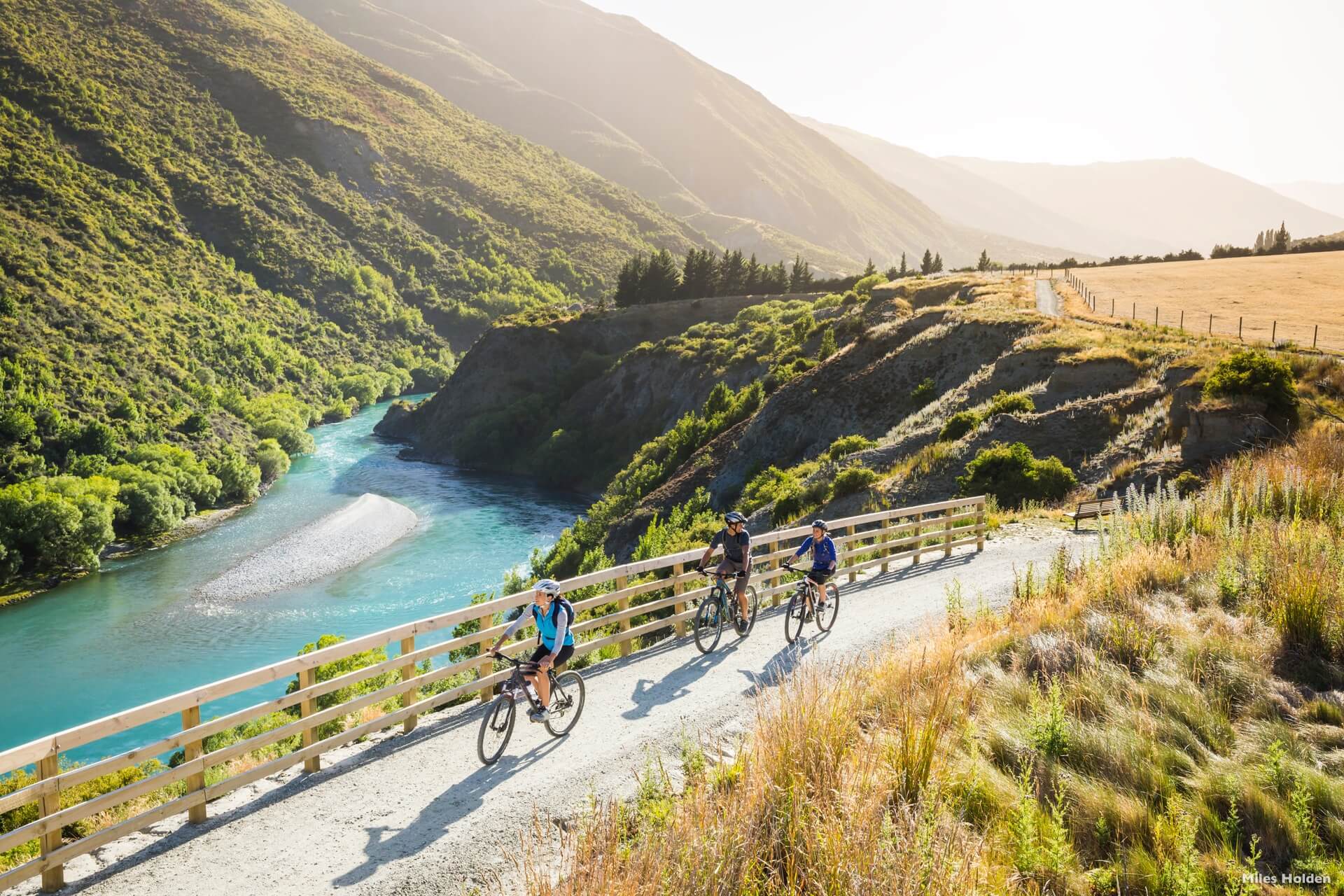 The South Island is truly a place of magic. Experiencing some of the best views in the world with your bed in the backseat is a classic New Zealand local AND visitor right of passage. The views will appear in your itinerary, then your windscreen, and finally your rear view mirror but will always remain in your memories of summer 2022. Save these destinations to your Google Maps and have the time of your life on a South Island road trip this summer!