The Nevis Playground is a place to renew your sense of adventure with three activities of a lifetime. Once you step on the Bungy Bus, prepare for the day ahead to challenge you, terrify you, and ultimately thrill you.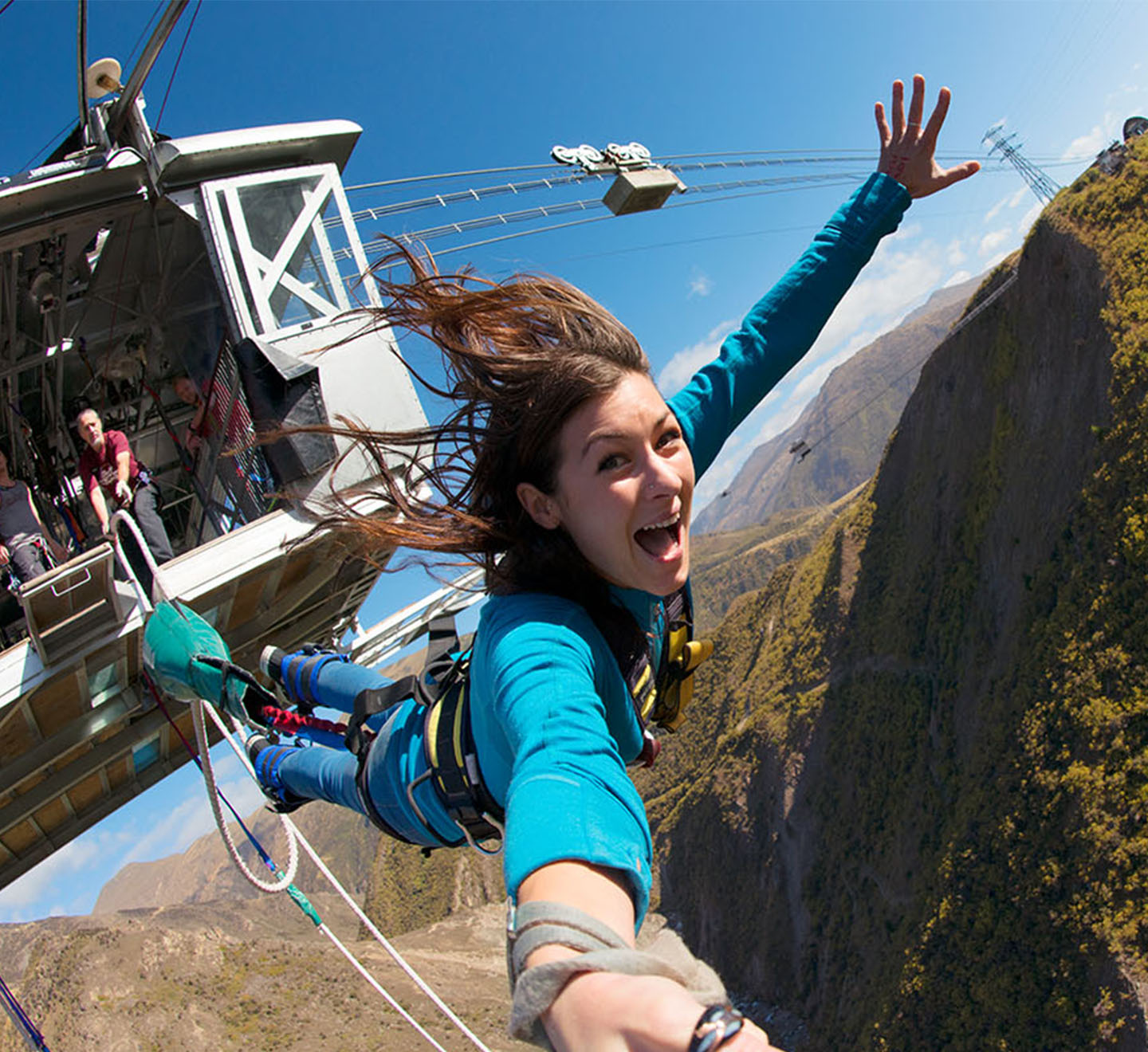 The Nevis Thrillogy combines the best and biggest adrenaline activities in Queenstown, suitable for any thrill-seeker. You will leap into 8-seconds of freefall on the Nevis Bungy, swoosh through a 300m arc on the Nevis Swing, and hit 3Gs of force on the Nevis Catapult. 
This huge combo deal NEEDS to be on your New Zealand bucket list and we've pulled together everything you need to know. This convenient guide to AJ Hackett Bungy's Nevis Thrillogy can be your go-to rundown, saving you some mental space for envisioning your bungy jump form! 
"The Nevis Thrillogy is an awesome bucket list experience! Bungy, Swing, Catapult, then I finished it off with a second bungy!"  You heard it here from Pete first, the Nevis Thrillogy is the ultimate day out in Queenstown. 
Getting there
All three of the Nevis activities are nestled in the hills surrounding the Nevis River, a slight drive outside of the Queenstown's CBD. You can't drive to the site yourself as the journey crosses private land, but luckily catching the epic 4WD Bungy Bus allows you to sit back and multiply your nerves (did you think we were going to say relax?!). The bus conveniently departs from the Queenstown Bungy Center and provides breathtaking views as you climb and climb and climb to your dizzying destination.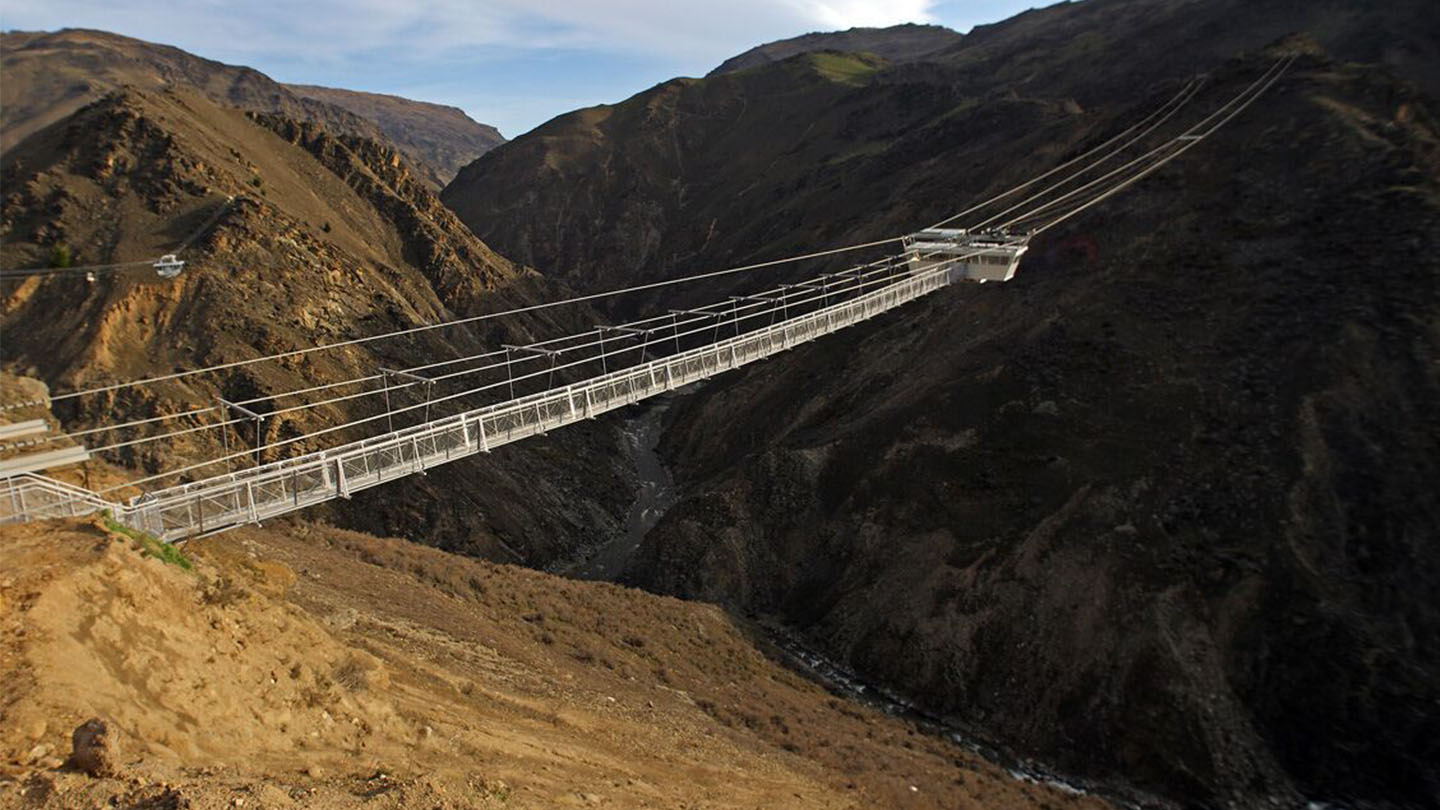 If you're bringing a witness to back up your claims that you completed the Thrillogy, their seat on the Bungy bus will need to be booked with yours ahead of time. We don't let spectators off lightly though. If they would like to face a challenge of their own, spectators can ride a cable car to the highwire Bungy pod before walking across a suspended bridge to hang out in the Swing and Catapult pod. If they prefer their feet to stay on solid ground, there's plenty of beanbags, spectacular views, and outdoor games at the main hub for them to make the most of their experience. 
Nevis Bungy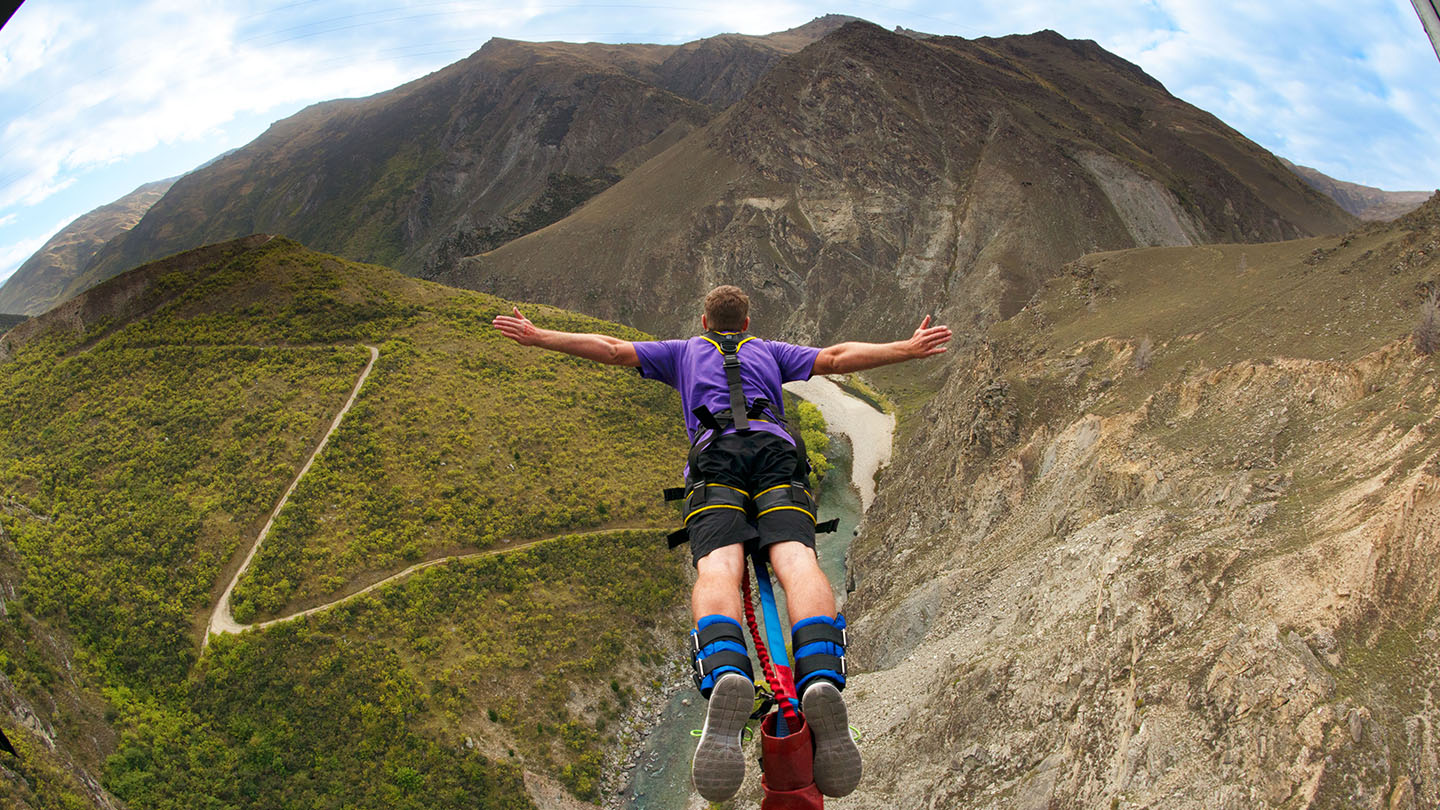 Your Thrillogy starts with the ultimate test of will. Can you make your limbs work when they're frozen in fear on the edge? 
At 134m, the Nevis Bungy is the highest bungy in New Zealand with the highest adrenaline payoff. However, to reach the edge you first have to ride our open-air cable car to the Bungy pod. As the land slips away behind you and the cable car inches out over the valley, the excitement will build along with the pumping music volume reverberating from the pod's speakers. Complete with glass floors, the pod is a suspended hub of energy. 
The time will come when your gear has been triple checked, your toes are on the edge and your raw courage will propel you off the platform. The sheer speed of this 8-second freefall will blow your socks off. The valley is often filled with shouts of triumph and unfiltered elation. 
While you do begin the jump upside down, your crew will show you how to pull your foot release so you can comfortably sit in your harness while you return to the same pod via a winch system. 
Your crew will always encourage and cheer you on during your journey, but it is ultimately you who takes the leap. Walking away from a successful Nevis Bungy means you can take on any challenge. You also take away a complimentary certificate and t-shirt to relive that feeling again and again. 
"It is, undoubtedly, one of the greatest and definitely the scariest experiences in my life (I mean bungy). It cannot be described in words but should be lived through. Stunning!" – Helen
"A must-do in Queenstown regardless of if you're a local or international tourist. This is an iconic, modern-day Kiwi extreme activity on your doorstep. It's worth every cent, the staff are super professional, the location is breathtaking, and you will not be disappointed. The jump itself is different for everyone. I swan-dived and left all my cares behind. For me it was a leap of faith in myself about the next step in my life – my dad calls it rolling the dice, so I did – I've got this." -Nadia 
Nevis Swing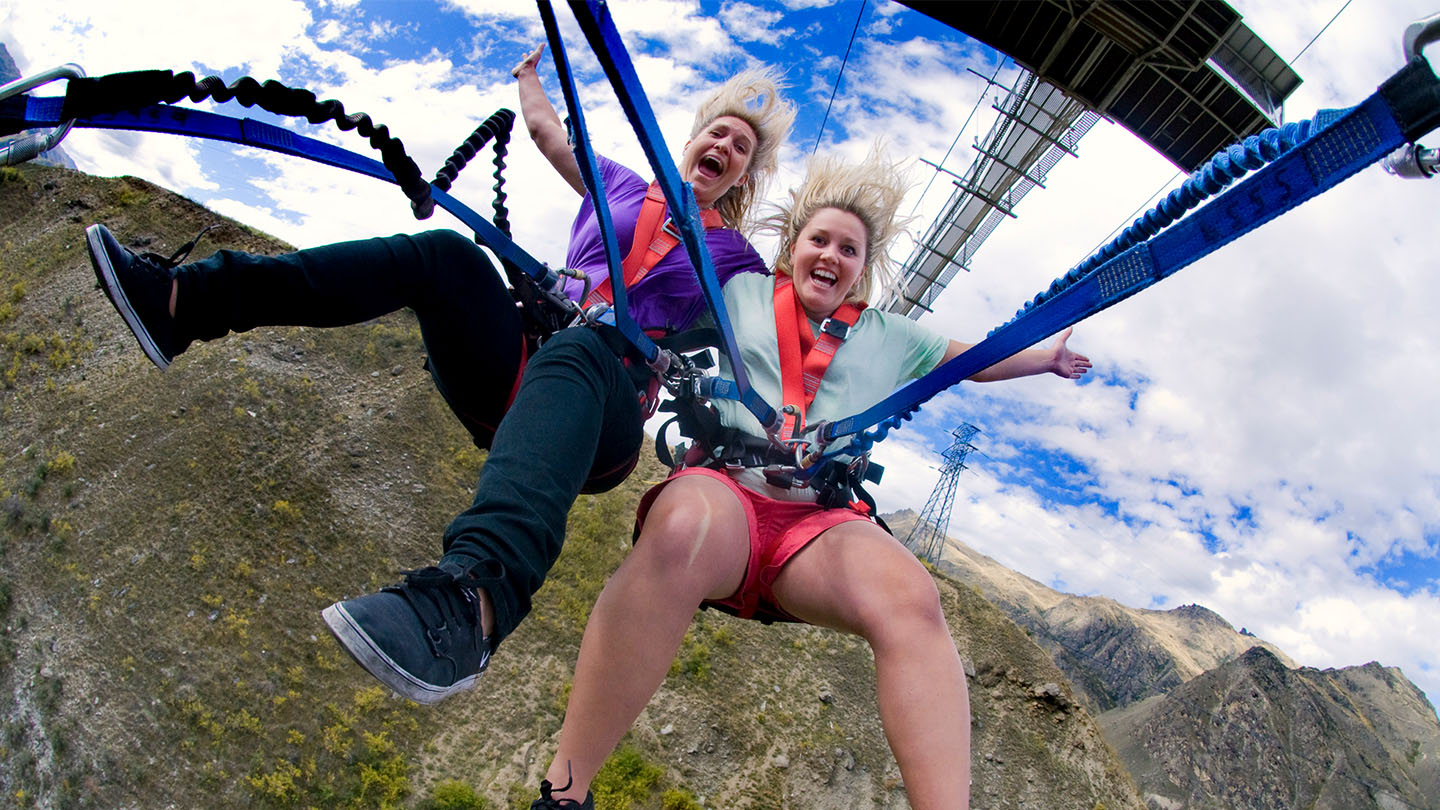 The Nevis Swing plummets you into a massive 300m arc across the valley where your lungs will run out of scream long before the momentum does. This is the only Nevis activity that has a tandem option; bring a mate or upgrade your spectator! 
This suspended pod is located at the end of a harrowing bridge that provides great views for photos! If you have spectators, they can easily join you in the pod as this bridge requires no crew assistance to walk safely back and forth. 
When you're all geared up in your full-body harness, you can let your crew know if you'd like to swing forwards, backwards, or upside down…a choice you may soon regret when you're dangling over the edge. Another choice you can make is whether you'd like your crew to give you a countdown or a surprise release. A quick push of a button from your operator will send you swinging into ecstasy. 
The laws of physics will eventually slow your swings (but not your heart rate) and you will then be returned to the same platform via a winch system. If you have any burning curiosity about how those other positions feel, add on a second swing straight away by notifying the crew that you're just crazy enough to go again! 
"Amazing experience! Staff were so friendly and helpful. The Nevis swing was absolutely insane and one of the best things I have ever done." – Natalie 
"I am 10 years old and personally I really enjoyed everything about the swing. All the crew were very helpful and kind. Even if I was super scared, all the crew still helped me and supported me to do it, but they didn't force me and I really appreciated it. The swing was a very good experience and I hope I will come back," says Sienna. Ten years old and already conquering our giant Nevis Swing!
Nevis Catapult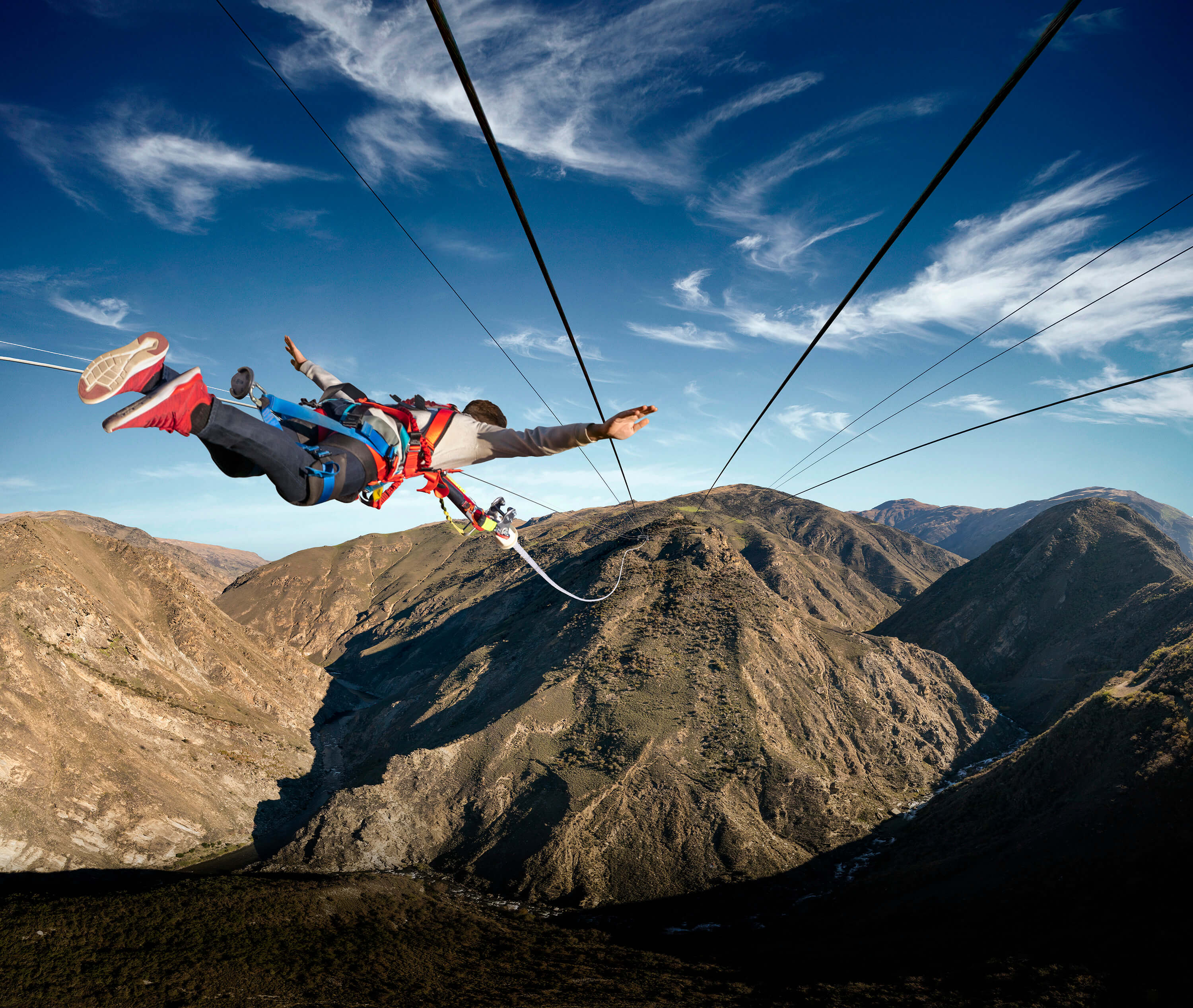 The kiwis have done it again. You can't say you've experienced ALL that Queesntown has to offer until you tackle the world's biggest human catapult; the Nevis Catapult. By enhancing the alluring pull of gravity with our horizontal catapult system, you'll be flung 150m over the valley with an enormous 3Gs of force. 
Located in the same pod as the Nevis Swing, there will be no time to catch your breathe or reconsider your life choices between these two one-of-a-kind activities. This same pod is where you will once again be winched back to. 
As you lay suspended in the superman position awaiting the final countdown, take one last look at the valley beyond before it all becomes a motion blur. The cord above will slowly be stretching out in anticipation. When that tension is released and you launch from the platform, the epic adrenaline rush you get from soaring through the air is indescribable. 
If the initial catapult wasn't enough, the rebounds high above the Nevis River bring the view back into sharp focus and hone your perspective; you just completed the Nevis Thrillogy. 
"Catapult is a very adrenaline-filled activity. The pull was crazy & so was the force. Loved hanging in the valley for a bit […] Go for it!" – Parichay
"From the time to strap on your gear excitement builds. But once your body gets launched from the catapult at 2X the force of gravity, and you reach the other side of the canyon in less than 5 seconds, and your brain wonders what just happened, can you fully appreciate this amazing experience!!" – Lou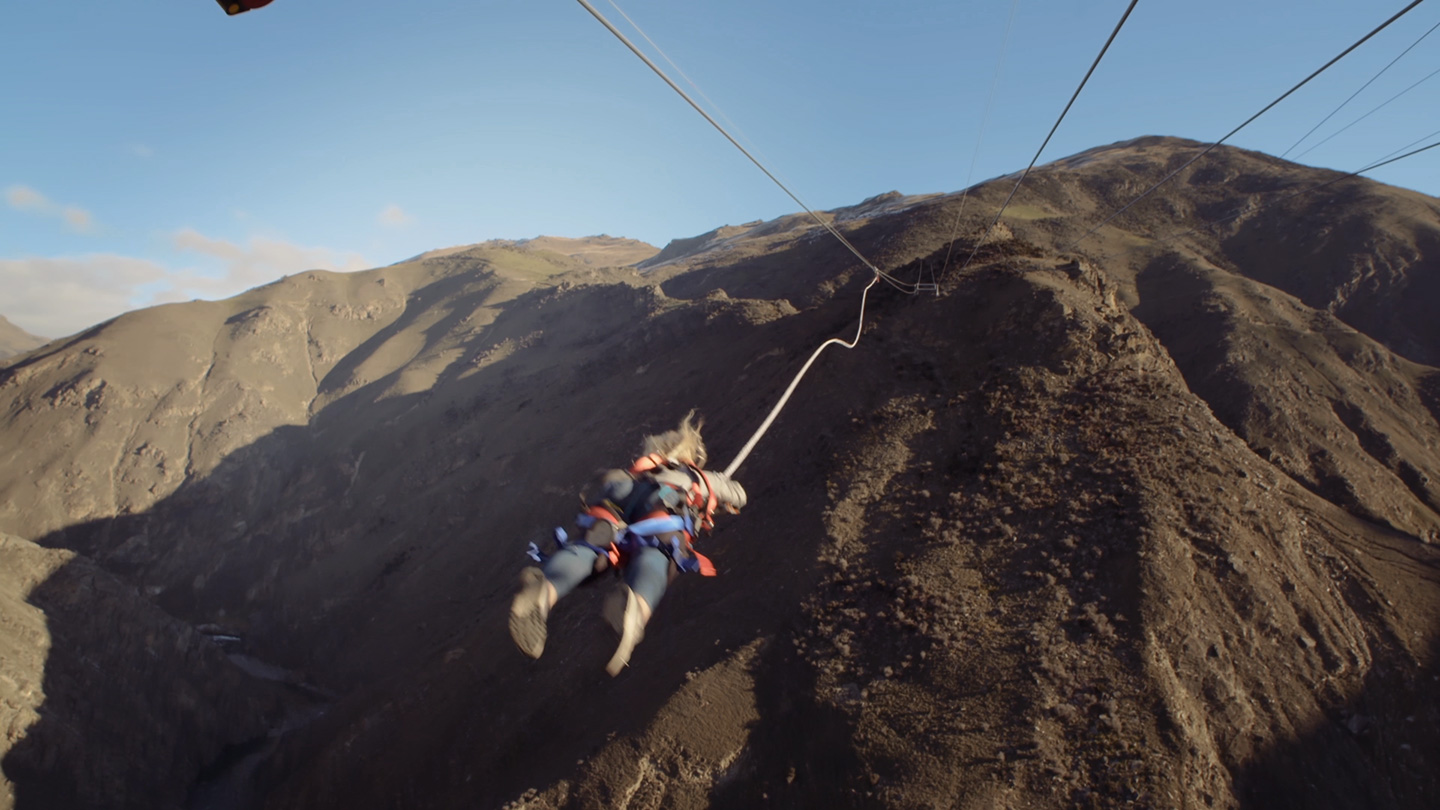 Crew tips:
Since the Nevis Bungy is HUGE, you're going to want to release your feet as you're bouncing around to avoid dangling upside down for longer than you need to. The best time to release your ankle cuffs is at the top of a bounce so there's slack on the Bungy cord.

Keep your arms straight out to the side when you leap off the Nevis Bungy platform; you'll look even more fearless in your photos.

Always choose the surprise drop on the Nevis Swing!

The Nevis Playground is the site of our Bungy cord-making specialists. All AJ Hackett Bungy New Zealand cords are hand-made by our Jump Masters with decades of experience. If you're lucky, you may spot a cord in progress as the Bungy Bus pulls into the carpark. 
This full day out stretches the concept of 'gravity-defying' and your own adrenaline-junkie tolerance to their limits. After jumping, swinging, and catapulting across some of the most stunning scenery in Queenstown, you can walk away with your photos to brag about, your loot of free merch, certificates from each activity, and your invaluable collection of epic memories. 
Do you have more burning questions? Let's chat!
Ready to test your mettle? Book a Nevis Thrillogy here.