We're stoked to see our big cousins again as we welcome back Aussie travellers to New Zealand shores. I'm sure you haven't forgotten that Queenstown is the ultimate adventure destination for adrenaline junkies, with activities to entertain solo travellers, rowdy groups of Aussies, and those travelling with little joeys as well. 
For those itching to return to the stunning South Island, we've put together the ultimate activity guide for Aussies crossing the ditch to explore Queenstown, NZ!
For Aussies flying across the Pacific, why not take it one step further and fly 150m across the Nevis Canyon on New Zealand's only human catapult experience! Strap in to the Nevis Catapult and test yourself, accelerating 100kph in just 1.5 seconds high across the rugged landscape and river below. Since you've travelled all the way here, get more treasures for your travel and complete the ultimate Nevis Thrillogy; Catapult, Bungy, AND Swing. Combine your Catapult experience with the Nevis Bungy and Nevis Swing to not only be flung through the crisp mountain air, but also jump and swing through it as well.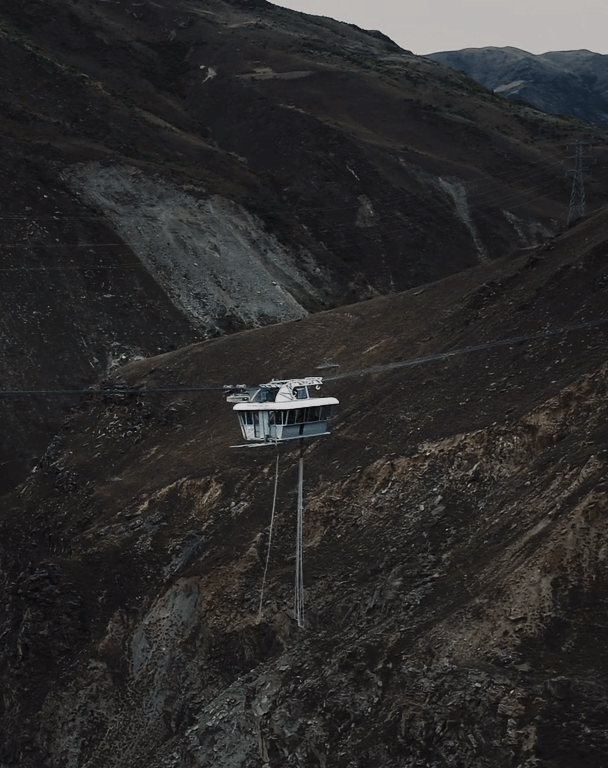 As you look down from the Bungy platform, your toes dangling over the edge at 134m up, you'll realise why they call Queenstown the adventure capital of New Zealand. Travelling with a mate? You can tandem on the Nevis Swing and bond while you drop 70m then swing in a 300m arc. Get your ultimate NZ adrenaline fix at the Nevis Playground. 
Keep up the excitement and dizzying pace of your Queenstown adventure by strapping yourself into a Kawarau Jet. When you're travelling from Aussie, you need to cram in all the unique NZ sights. The KJet provides the perfect combination of sightseeing and serious thrills. Explore three different waterways, Lake Wakatipu, the Kawarau River, and Shotover River, on a jet boat that reaches an epic 95kph. Use one hand for a good hold on your favourite cork hat and the other to hold on for dear life during 360 spins and huge acceleration.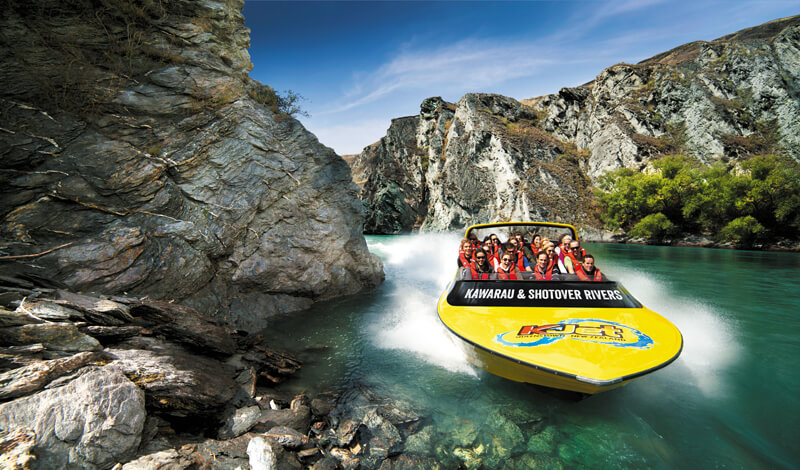 Atop the Skyline Gondolas, a classic downhill activity elevates the stunning views: a luge! You can find this awesome activity within walking distance of Queenstown central. The 900m of winding tracks have a mixture of adventurous sharp turns and long relaxed runs, making it the perfect gravity-powered activity to race your mates or take the family on a leisurely ride.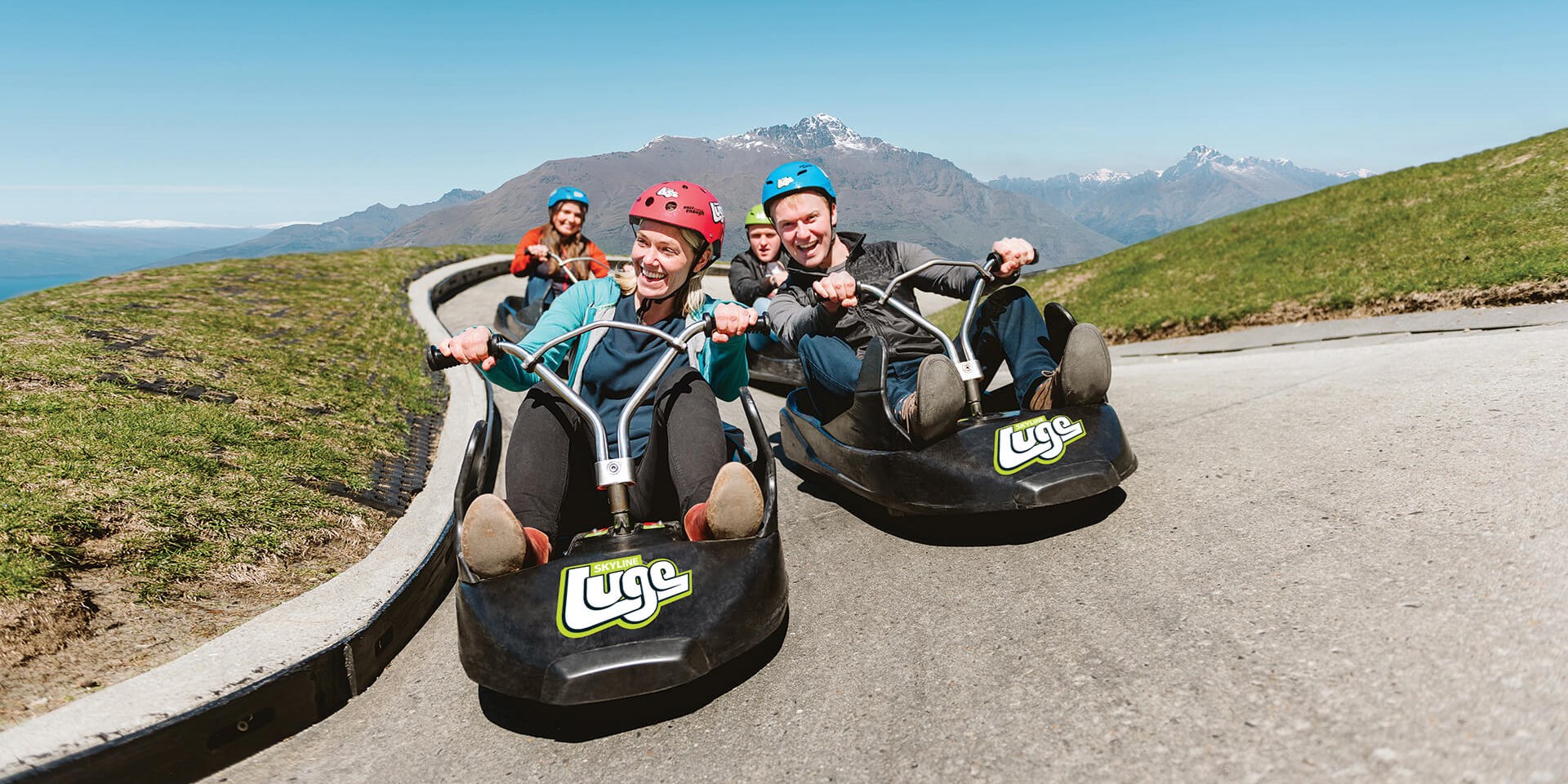 Scorching your way to the finish line will feel like you're sending it straight into the mountainous landscape itself. Your luge passes include the chairlift so you can ride again and again! When the excitement wears you out, refuel at the huge restaurant, bar, and cafe facilities while you're still among the mountaintops. 
Mountain Activities 
The mountains are calling your name in an Australian accent, and they're yelling the limitless mountain activities on offer. No matter if you're exploring Queenstown in winter or summer, you can shred the slopes all year round. In winter, explore the infamous runs on skis or snowboard at Cardrona, Treble Cone, or The Remarkables with over 380 hectares and terrain for all levels no matter which ski field you choose. 
However, when the snow melts in summer the fun doesn't get washed away with it. Explore Queenstown's huge variety of bike parks and gondola / lift-assisted tracks. Take on swooping corners on mountain terrain or more mellow trails for the most fun you can have on two wheels. The mountains in Queenstown are a year-round adventure destination! 
If you're set to explore Queenstown during the epic NZ summer, you've surely got to check out Mountain Carting on the hills of Cardrona. When the snow's away, the dirt carts come out to play! Hoon down the bare ski slopes on gravity-propelled carts that you have total control over. It can be a great pace for family fun or you can let out that competitive Aussie spirit and beat your mates to the bottom. As well as the wind flowing through your helmet, you'll also be treated to stunning mountain views usually reserved for the ski fields; the view will be the only thing worth braking for. 
To wash away the taste of rogue dust clouds, check out the Lounge for coffee, drinks, and great food with a side of alpine scenes. This is definitely an adventurous and fast-paced Queenstown must-do!
Hiking Ben Lomond, Queenstown Hill and Lake Alta
Explore a little of our Kiwi tramping spirit and take on some of Queenstown's best day hikes. Queenstown Hill Track is a lovely walk close to central Queenstown that winds through the pine forest before the views of central Queenstown and Lake Wakatipu reveal themselves at the summit. While it is a short 1.5km walk, it is mostly uphill and will take around 2-2.5 hours return. 

Ben Lomond Track is a demanding uphill track that begins atop the Skyline Gondola in central Queenstown. It is a full-day hike taking around 3-4 hours return to reach the saddle and 4-6 hours return to reach the summit. However, what the Ben Lomond Track takes in time and energy, it gives back tenfold in 360 views and a huge sense of accomplishment. In winter, book a guide if you don't have ice equipment experience since, although accessible from town,  it is still a serious alpine environment. 
Lake Alta Track is a half-day walk that's very popular with locals and visitors alike. This 1.5 hour walk will take you through from The Remarkables ski field base building to a gorgeous glacial lake; Lake Alta. The lake is a stunning natural turquoise in good weather, topped off with views of the surrounding mountains.
If you're not riding your skis or a mountain bike, your feet can still take you to some wonderful places close to Queenstown Central so make the most of our hiking tracks! 
We know things can get competitive with Australia, but there's no denying that New Zealand's Kawarau Bridge is the World Home of Bungy. As the first commercial bungy site in the world, we know a thing or two about having a hell of a good time. Test your mettle as you stare past your toes on the bungy platform, staring 43m down into the river below.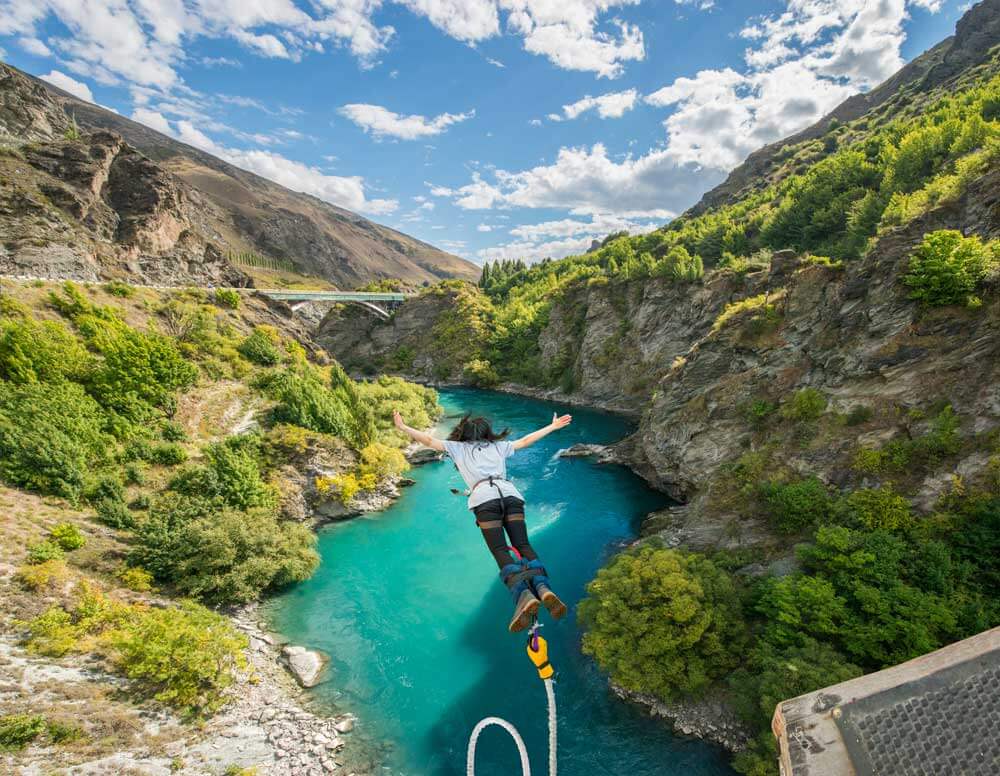 If a family-friendly Queenstown experience is more your speed, you can watch our Bungy Jump demonstrations with your feet firmly planted on the ground or enjoy racing side by side with the kids down our Zipride. With many different ride positions and tandem options, the Zipride is fun for everyone! Keep an eye out for Kawarau Summer Sessions where we host epic DJs and have local craft beer on offer to keep the good vibes flowing through the Gibbston Valley. 
Enjoy The Nightlife
If there's one thing we know about Aussie's, it's that you love a good party. Lucky for you, Queenstown's nightlife is filled with like minded locals and visitors who are all ready for a good time. Check out World Bar as it transitions from delicious lunches to great drinks with some occasional live music thrown in. If you're looking for a big night, we've got the perfect recommendation: Big Night Out Pub Crawl is sure to show you all the best brews and good vibes that Queesntown has to offer. Whether you're looking for a summer arvo beer or an authentic apres ski experience, it's easy to find a good drop and great bites simply walking around the heart of Queenstown.
One thing you can't miss out on in Kiwi land is seeing the '8th wonder of the world', Milford Sound. Catch a Milford Sound Cruise with Southern Discoveries and enjoy a full-day adventure all taken care of. With buses leaving daily from Queenstown and cruise packages available, discovering the immense, natural spectacle of this fiord is easy peasy. You can expect towering cliffs, rushing waterfalls and (fingers crossed) wildlife sightings as you ride and cruise through the best of the South Island.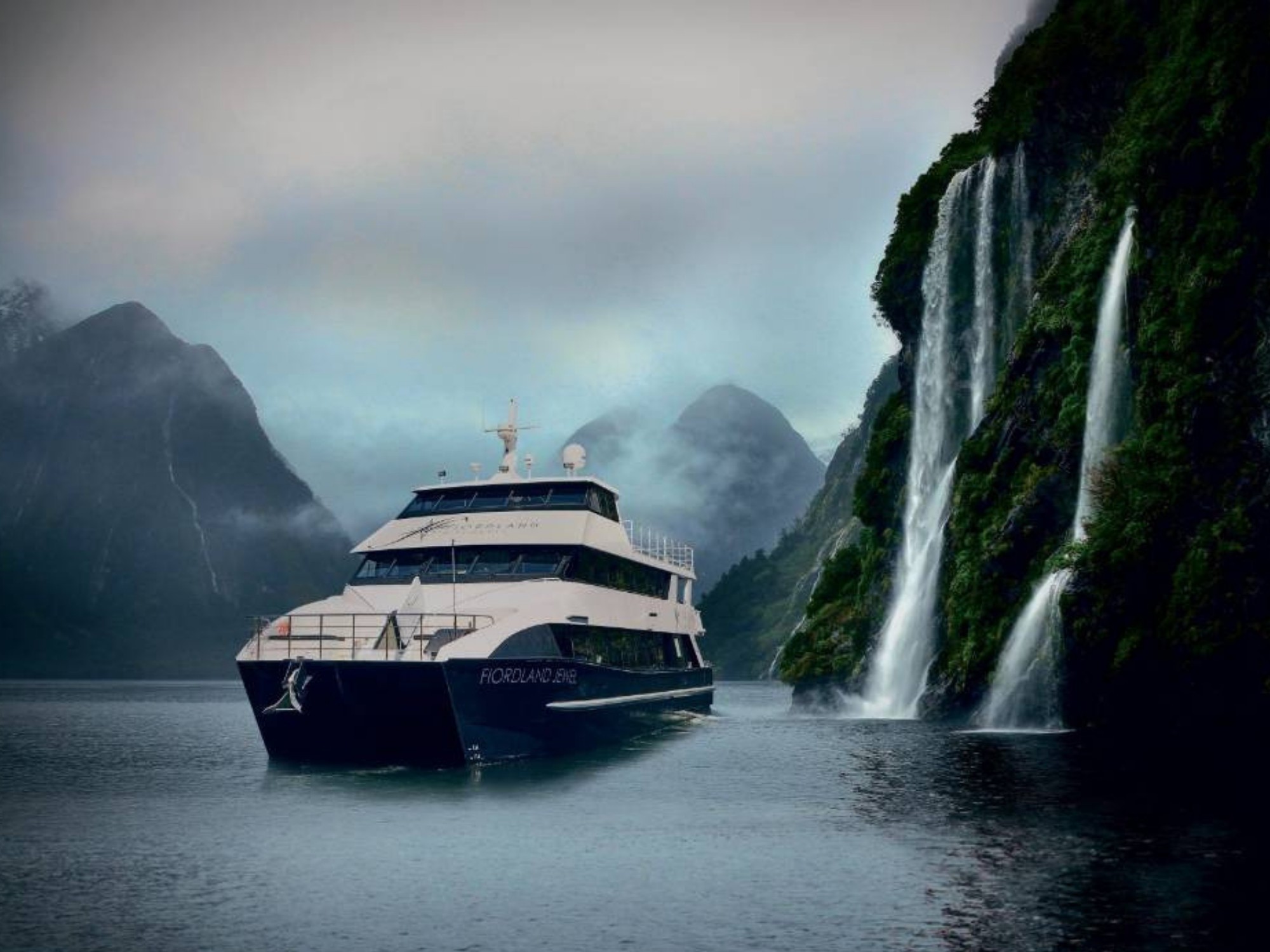 There's no better way to experience some classic Kiwi bush and waterfalls than to swim, slide, jump and abseil right into the scenery! Canyoning New Zealand will guide you down some of the most stunning and off-the-grid spots with options ranging from family friendly to adrenaline junkie. The half-day canyoning tour conveniently leaves right from Queenstown or get stuck into the more challenging full-day adventure leaving from Queenstown or Wanaka. If the path less travelled has always seemed more appealing to you, there's no track more remote than straight down the barrel of the river geared up with a wetsuit, abseil equipment, and a crash helmet. 
Queenstown's stunning rivers and hectic rapids are too good not to hurtle down in a raft. Combine tranquil river sightseeing with grade 4-5 rapids and it sounds like the classic Queenstown adrenaline experience. White Water Rafting Queenstown offers trips down the infamous Kawarau River, which includes a spooky jaunt through the 170 metre long Oxenbridge Tunnel in darkness. If you're really keen to milk the river for all it's got, choose the Kawarau Jet To Raft combo that starts with jet boat ride then finishes by harnessing the sheer power of the river aline; with this option you'll also head down the longest commercially rafted rapid in New Zealand, the 400m long Dog Leg Rapid.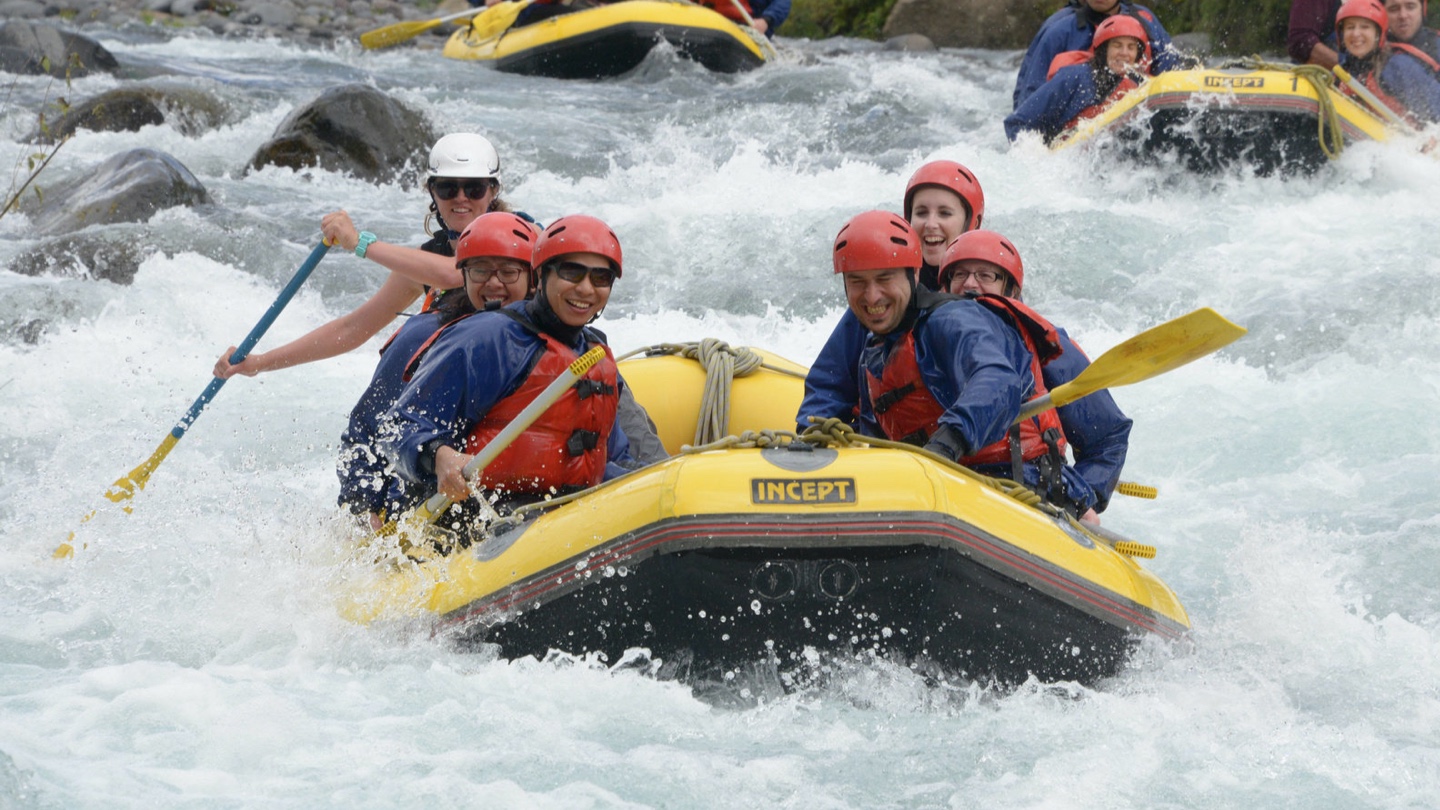 We know whispers of great Kiwi adventures have crossed the Tasman Sea and reached thrill-seeking Aussie ears! Take this list of ultimate Queenstown must-dos and leave no stone unturned as you discover (or re-discover) what it means to experience New Zealand.