Planning a trip to Wanaka and wondering what to do there over your stay?
With its crisp lakes and snowy peaks, Wanaka is a place of tranquil beauty. Located a short one hour drive across the Crown Range from Queenstown International Airport, this gem of a town is the perfect winter weekend getaway.
Whether your trip is for thrill seeking, relaxation or quality family time, there's definitely plenty of things to do in Wanaka during winter.
We've rustled up a list of the best things to do in Wanaka when the winter chills set in.
1) Skiing in Wanaka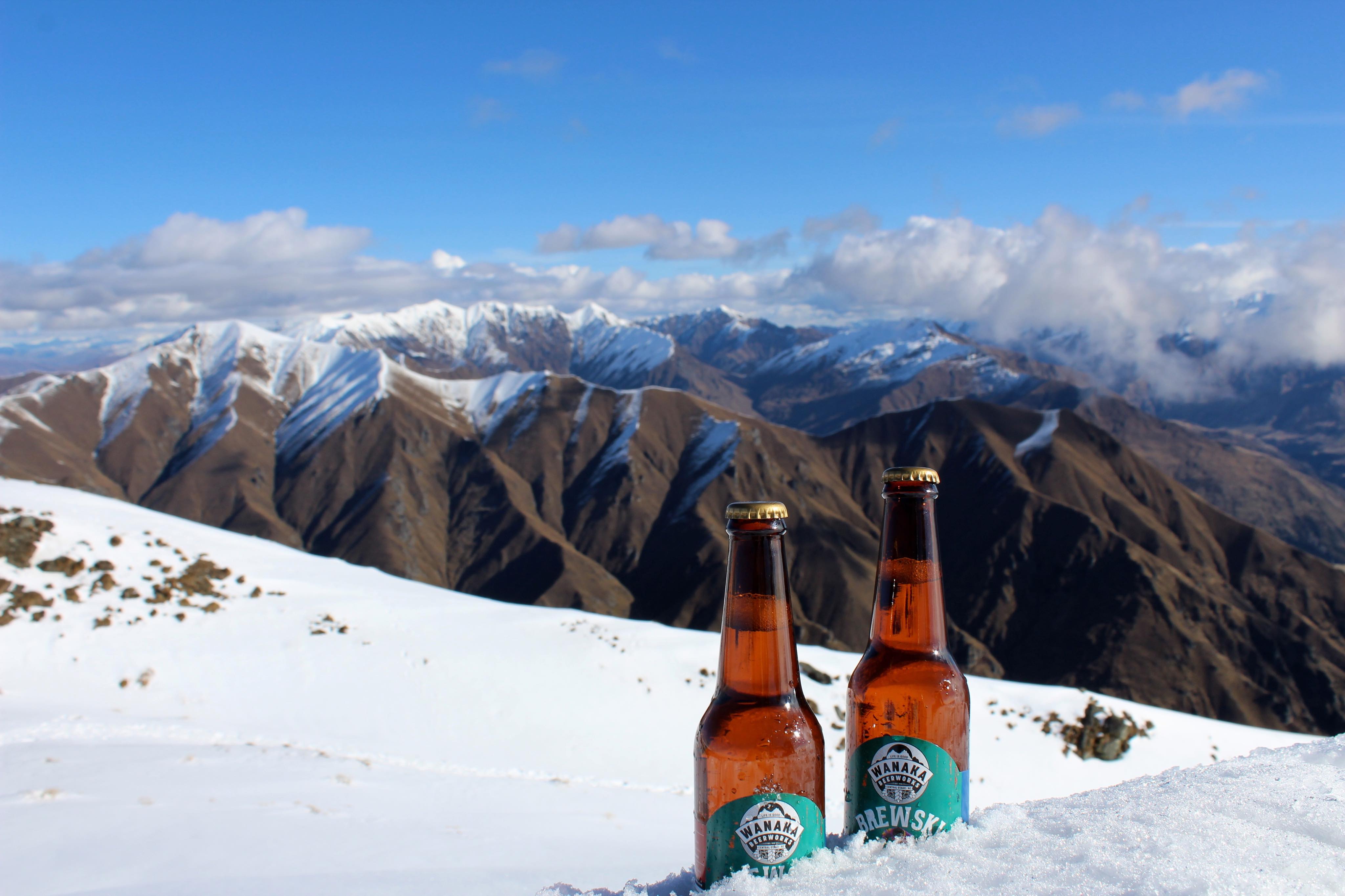 Cardrona
It's a no brainer – when it comes to ski fields in New Zealand, you can't get much better than Cardrona Valley. The weather is reliable, the snowfall season is the longest in the South Island and the terrain is vast and varied.
Cardrona Valley offers a safe space for family ski trips, complete with wide beginner trails, easy to use ski-lifts and New Zealand's only enclosed gondola style ski-lift – great for keeping the kids warm on a frosty winter's day! For the advanced skier or snowboarder, fear not. There's Arcadia – the run for those who love a thrilling cliff drop or snow drift.
Only a 35 minute drive from Wanaka, Cardrona makes for a great day trip. Need more than one day to get your fill of fresh powder? There's also the option of on-mountain accommodation. For parents wanting to hit the slopes without the little ones, take advantage of the fully licensed kid's centre.
Treble Cone
If you want to dodge the crowds, then Treble Cone is the place for you! Spread over 550 hectares, Treble Cone is New Zealand's largest ski field, offering long, groomed runs and stunning lake views from the chair lifts. Treble Cone is definitely not to be missed.   
Snow Farm
Snow Farm Wanaka offers New Zealand's only Nordic style skiing experience. Come winter time, the vast green landscape transforms into a blanket of snow, hosting a fun range of winter activities. Try your hand (or foot) at snow-shoeing or ski skating. If you've ever dreamed of becoming an intrepid winter adventurer, why not comandeer your own team of sled dogs and head off on overnight tour? You can choose to drive the sled yourself or snuggle up in the basket while a professional takes the reins.
As well as having plenty for the adults, there's also a kids fun zone to keep the little ones busy.  The kids can enjoy riding tubes or toboggans down the gentle hill slope. It's a great introduction to the cold stuff for the very young or very new.
There's so much to see and do at Snow Farm that you might want to take advantage of the 30 room alpine lodge and stay overnight. There are also cafes and restaurants onsite to keep you fed and watered.
2) Puzzling World
Is your body aching after a few days of skiing? Head to Puzzling World to give your mind a workout instead. Puzzling World is an illusionary extravaganza, sure to muddle minds of any age. Peruse the exhibits and feel your brain begin to boggle.
Ever get the feeling you're being watched? Well, there's nowhere to hide inside the Hall of Following Faces. Thanks to a clever illusion, created by Stuart Landsborough and sculptor Derek Ball, 168 famous faces appear to turn and gaze at you wherever you stand. We're not sure if its spectacular, or just down right spooky.
You'll feel like Alice in Wonderland when you enter the Forced Perspective room. In an instant kids can outgrow their parents, while Mum and Dad shrink into miniatures. You can even watch the magical transformation on video playback.
Get lost in The Great Maze, New Zealand's first 3D super-maze. Do your best to find each four corners of the maze without getting lost. The Great Maze is safe for all ages but be warned, it can take up to sixty minutes to complete – patience is a must!
3) Paradiso Cinema
For a movie going experience to remember, visit Paradiso Cinema. Order a pizza and kick back on their full sized sofas. Or, get in early and wrangle a seat in the old Morris Minor parked in the cinema – it's just like an American drive in!
As one of the only movie theatres in New Zealand to still have an intermission, Paradiso Cinema make it a treat by offering fresh baking and home made ice cream during half time. We're still drooling over the gooey chocolate chip cookie.
With its quirky charm and friendly staff, Paradiso Cinema is definitely one to visit for a film or even just for a great meal.
4) That Wanaka Tree
It's a tree. Growing in a lake! That Wanaka Tree is a famous wonky willow that grows on the banks of Roys Bay. Depending on the lake's water levels the tree becomes marooned, surrounded by sparkling blue water amid a backdrop of rolling green hills. This tree makes for some great holiday snaps. That's probably why its special hashtag, #thatwanakatree, has over 26,000 posts on Instagram.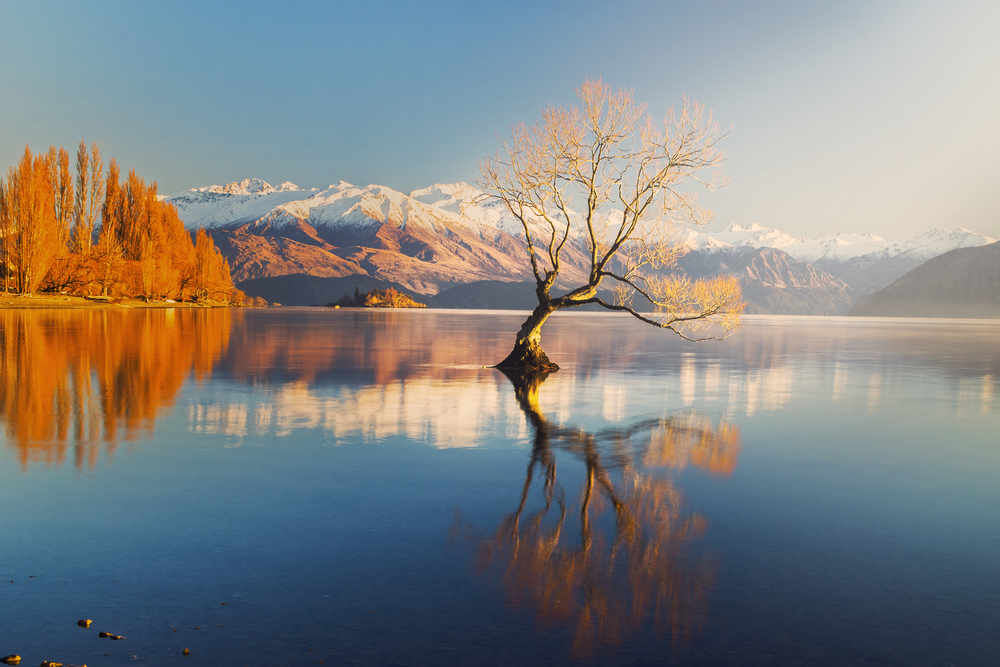 While it may be tempting to explore That Wanaka Tree up close, climbing is not advised. Known as a crack willow, the tree's branches are naturally brittle and prone to snapping, so it's definitely best to look and not touch.
5) Stargazing and Southern Lights
If stargazing is your thing, then Wanaka's night skies are your dream come true. Far away from the pollution of the large cities, Wanaka's skies share secrets not usually revealed. Pack a picnic dinner and feast your eyes on the Milky Way in all its glory.
When you're this far south you may catch a glimpse of the incredible Aurora Australis, known as the Southern Lights. This phenomenon is not always easy to catch, but your chances are far greater during winter.
For the dancing colours to appear in the sky, the weather conditions need to be just right. A crisp night with no cloud cover, as close as possible to the new moon is your best bet. If your heart is set on seeing the Aurora Australis, keep up to date with Aurora Service, a website that rates your current likelihood of seeing the lights in action.
6) Walks in Wanaka
Aspiring Hut
Wanaka is home to some amazing walking tracks, and Aspiring Hut is no exception. This 10k walk will lead you through the West Matukituki Valley and up to the historic Aspiring Hut. Take in the glacial views while spotting some of the 45 species of native birds that call this area home. Spend the night at the hut (if you're game to brave night-time temperatures) or return to the Raspberry Creek starting point in the same day.
Blue Pools
Starting from State Highway 6 near Makarora, this easy walk leads you through beech forest and over sandy beaches towards the famous blue pools. These incredibly clear pools of water appear blue due to light refraction on the water. Walk along the boardwalk, cross the swing bridges and spot the Rainbow Trout flitting through the clear, sapphire waters.
The Blue Pools Track takes approximately thirty minutes each way and is suited to all fitness levels and children. You can also continue on to Blue Young Link Track, which leads to the mouth of the Young River.  
Mt Iron
Mt Iron is a 4.5 km hike that beings through native Kanuka forest and then quickly ascends upwards over rocky, glacially carved terrain. This picturesque track is considered a short walk at just 1.5 hours return. It is fine for families but not for mountain biking.
The real payoff however is in the stunning panoramic views from the summit. Once you reach the top, give yourself a moment to take in 360 degrees of pure beauty. Feast your eyes on The Pisa Range, the Upper Clutha Basin, Lake Wanaka and the Southern Alps. Just remember to hold on to your jaw!
BONUS – Visit Queenstown
At just over an hour's drive from Wanaka, it's worth taking a day trip to Queenstown to experience the shopping, fine dining and of course, adrenalin!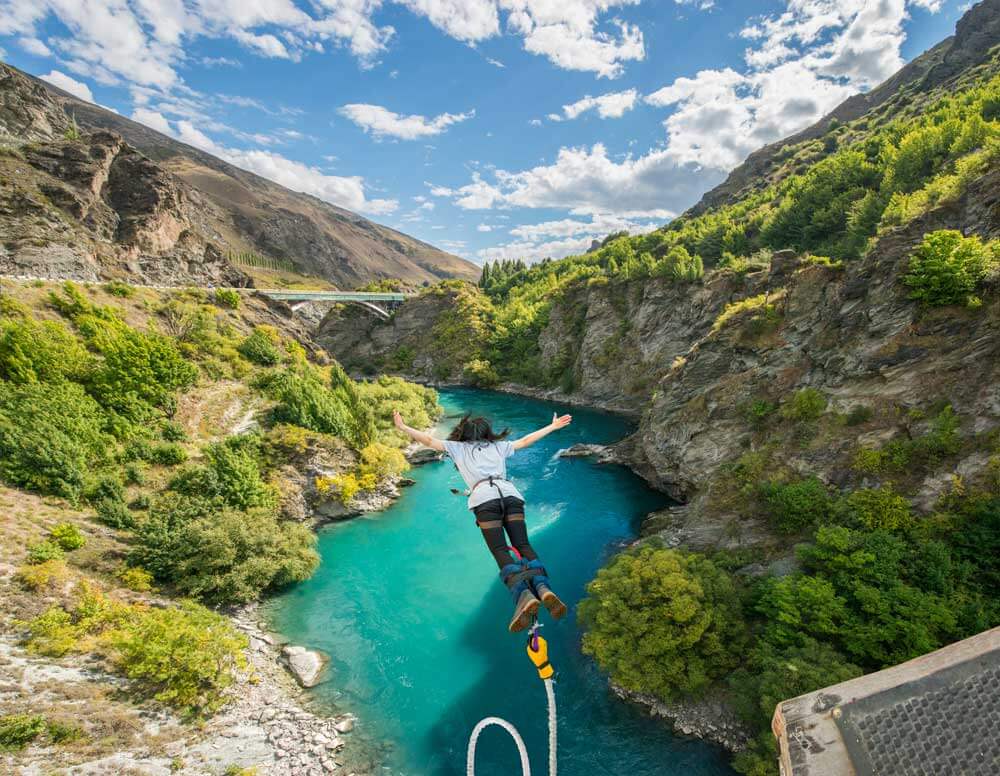 Bungy
If you've ever wanted to give Bungy jumping a go then Queenstown is a must visit!  Only a one hour drive from the city centre, is the world famous Kawarau Bridge Bungy – the home of the world's first ever Bungy Jump! This 43 meter bridge jump lets you skim the water with your finger tips at the bottom of your jump. There's even a tandem Bungy option available for those who need an wingman. You can either drive directly there yourself, or take the free Bungy Bus which departs regularly from the Queenstown Bungy Centre.
If you're looking to level up your Bungy game, then why not try the Nevis Bungy, the biggest jump in New Zealand. This 134 meter bungy provides a 8.5 second, adrenalin pumping free fall! Driving is not an option due to the rugged terrain, so you'll need to catch the free 4wd bungy bus, which departs from Shotover Street in Queenstown.
Swing
If diving into the abyss isn't your style then why not try the Nevis Swing? Release your loudest scream as you swing out in a 300 meter arc above luscious landscape. Tandem swing options are also available, but you might want to wear earplugs to drown out the screams of your swing buddy!
Kawarau Zipride
For an adrenaline rush that's suitable for the whole family, go for the Kawarau Zipride! Children eight and up can ride tandem with an adult and enjoy the 130 meter ride at 60mph. A great thrill for a family vacation!
Winter Climate In Wanaka
As Wanaka is a skiing town, it can get pretty chilly during the winter months.  The average July temperature is 10°C, with a low of -5°C and a high of 15°C. While the air is icy, it is usually still and dry in Wanaka during winter – you'll want to pack your thermals, but you're unlikely to need a raincoat.
So if you're unsure what to do in Wanaka during the winter months, pop on puffer and hit the slopes and hiking tracks, venture to Queenstown for an adrenaline hit, or simply rug up indoors at Wanaka's boutique cinema. Whatever the weather, we guarantee Wanaka won't disappoint!    
Helpful Links To Plan Your Stay In Wanaka
You know what they say – fail to plan, then prepare to fail! Check out these handy links for all your holiday planning needs:
Still looking for other awesome things to do in Wanaka?