We know that 'bungy jumping' sits scrawled on bucket lists all around the world. Thousands of mouse cursors meander around the booking button, yet haven't taken a left-click leap into the unknown…until now.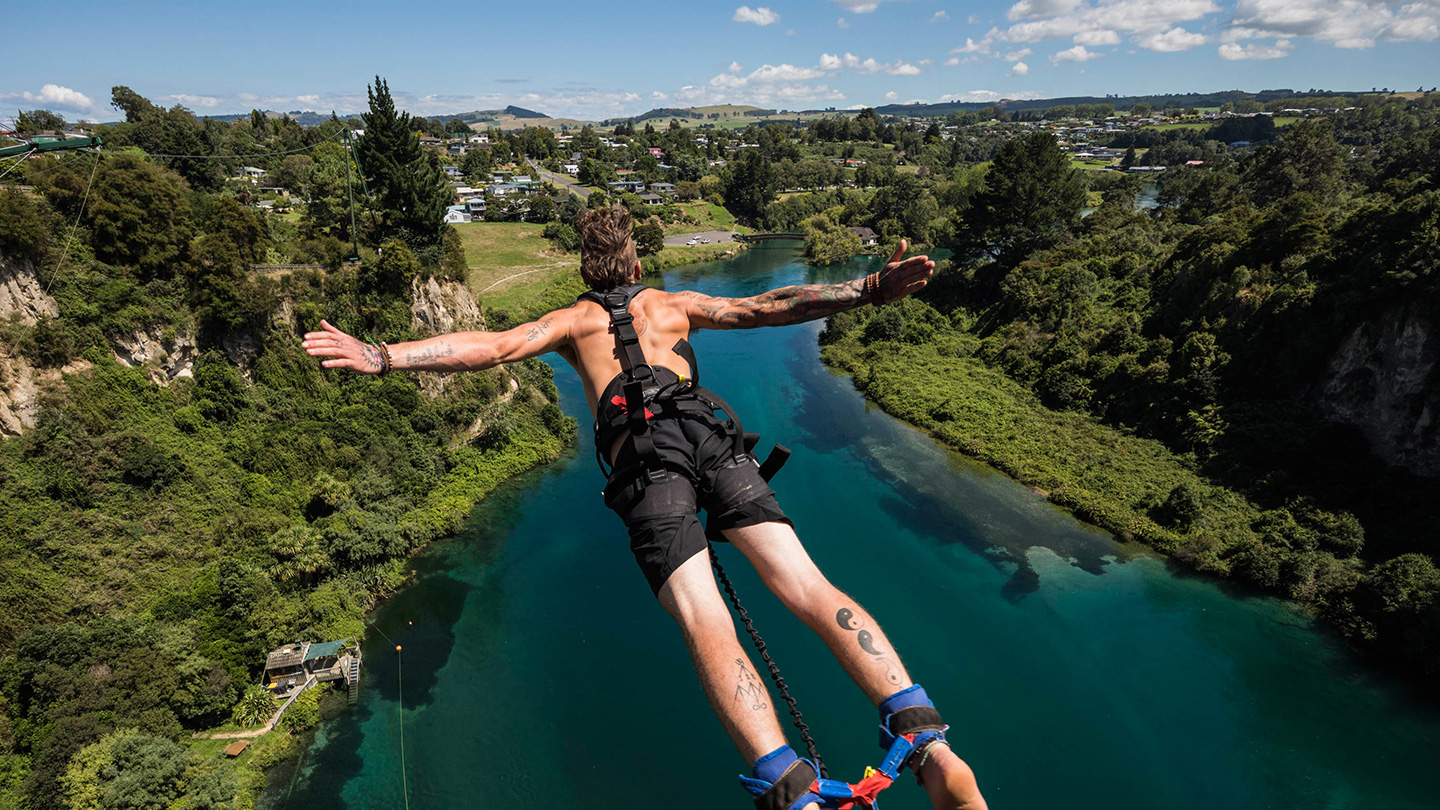 We're here to answer those nagging FAQs about bungy jumping that may be holding your feet glued to solid ground. If you're planning to tackle a Queenstown Bungy, Auckland Bungy, or Taupō Bungy jump in 2023, we have all the insider secrets, crew tips, and minor details covered to make your first AJ Hackett Bungy NZ experience run (fall) smoothly. 
To tandem or not to tandem? 
A tandem Bungy Jump includes the same process, freefall, and overall thrill as a solo Bungy however, you do it all with another person strapped to you! 
The choice between a solo or tandem Bungy Jump is a personal decision based on what you want to get out of the experience.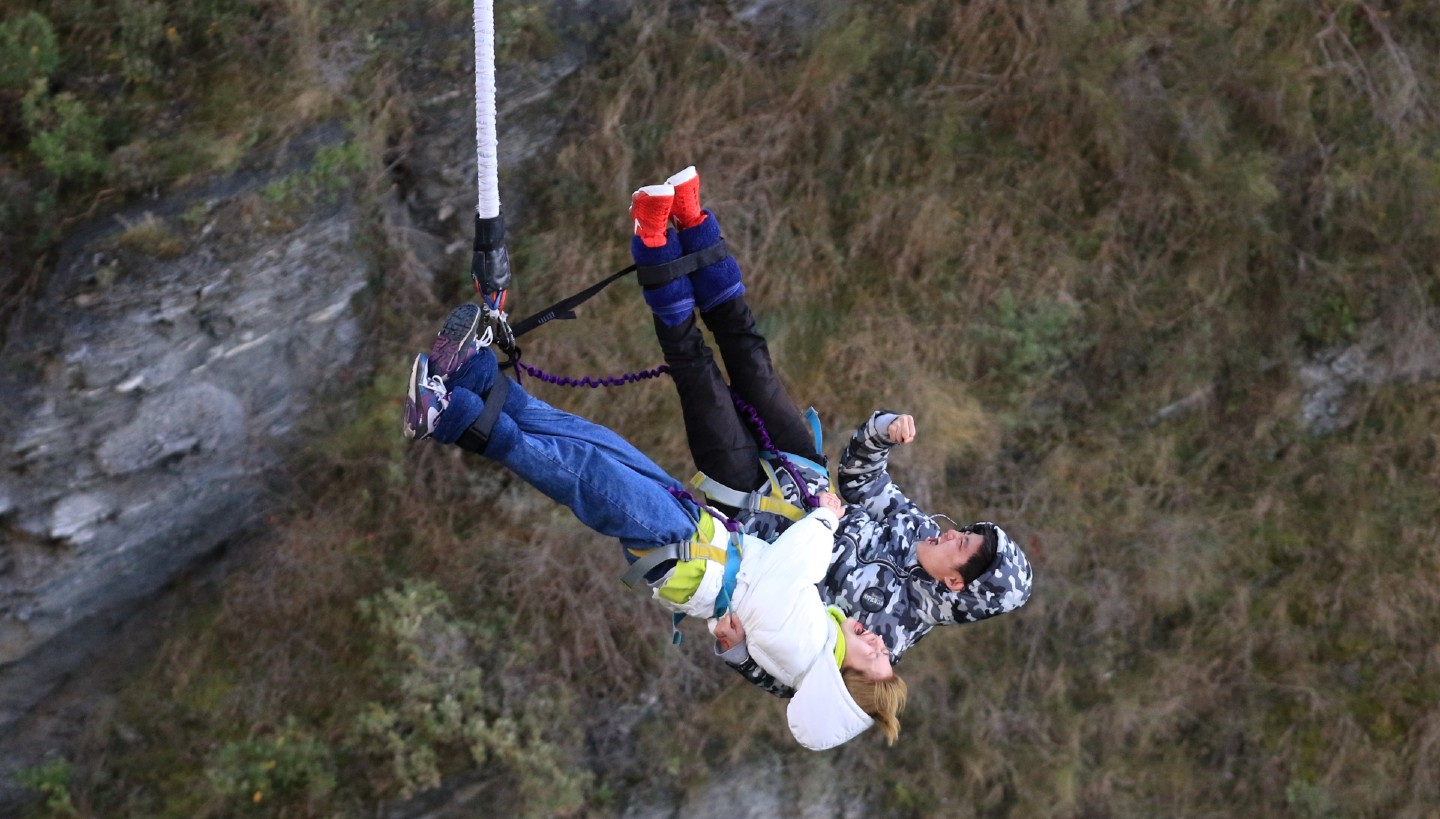 If your Bungy booking was born from a primal need to complete a personal challenge or individual bucket list dream, you may feel more inclined to take a lone leap. On the other hand, if you're keen for a bonding experience, possibly to celebrate a special occasion on your travels like a honeymoon, birthday, or friendaversary, a tandem bungy jump is the ultimate activity for the memory books. 
Sheree and her daughter needed some extra encouragement from each other to push through their fear:
"After watching a number of people jump, I read the quote on your wall outside. This inspired me to push through my fear. My daughter and I decided to do the tandem jump. She is 12 years old. We both said we couldn't do it without each other." – Sheree 
Water touch – should you go for it? 
If you're heading to the Auckland, Taupō, or Kawarau Bungy Jump sites in New Zealand, you have the option to ask for a dunk or hand-touch in the waters below.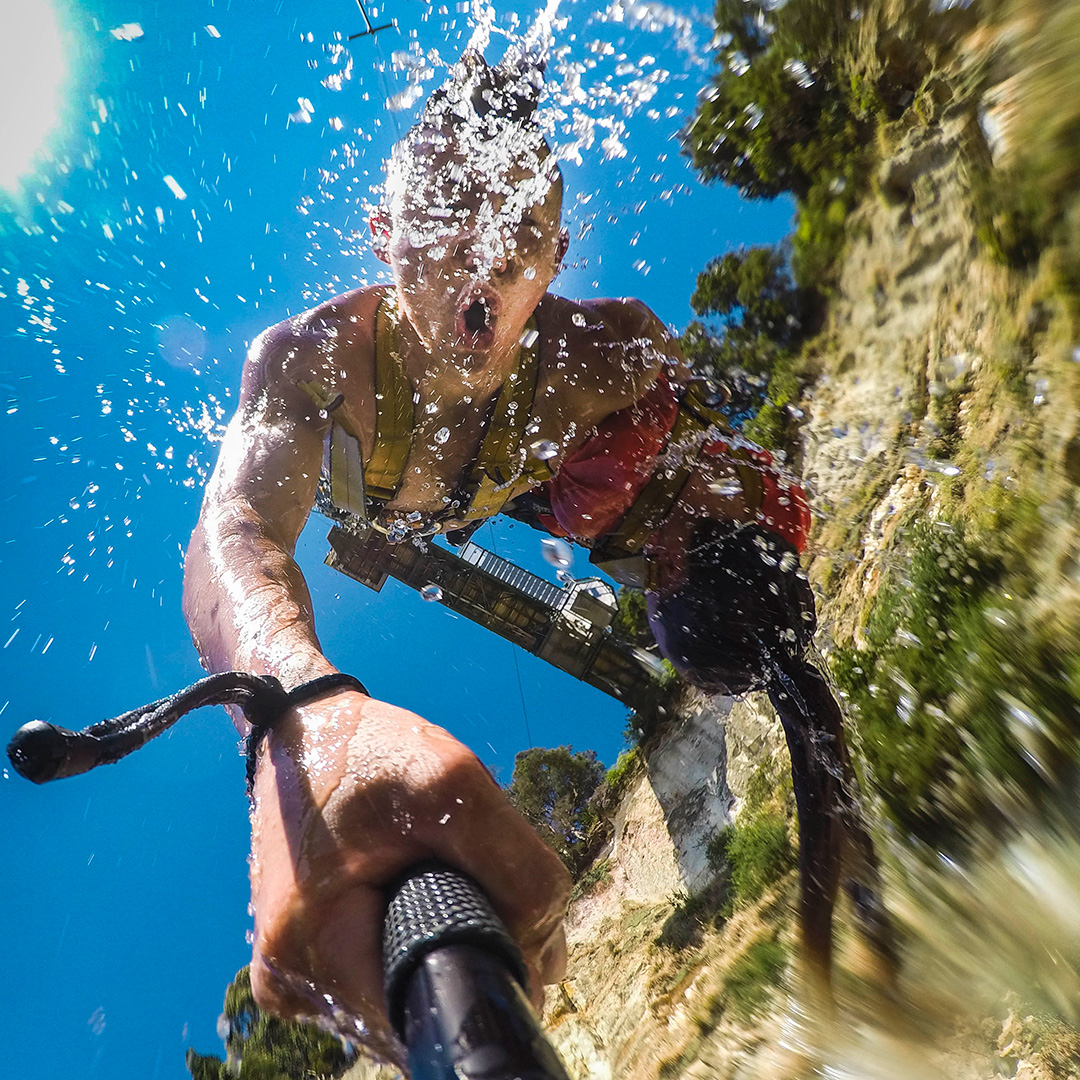 At our Taupō site, you will leap 47m leap towards the Waikato River with the possibility of an upside-down freshwater rinse. The blast of chilly water elevates the euphoria for many people and soaks you in adrenaline for hours! Luckily, your t-shirt doesn't have to stay soggy; collect your free t-shirt when you return to the office. 
The likelihood of a water touch does depend on your weight, the Bungy cord you're attached to, and the size of your horizontal leap from the platform. Ask your Jump Operators on the day if it's an option for you. 
Touching the water at the bottom of your Bungy will generally not hurt you. You enter the water at the very bottom of your bounce, after the stretch of your Bungy cord has already slowed you down. Your crew will give you all the best diving secrets to make it as comfy as possible! 
What do you wear for a bungy jump? 
It can get quite chilly in Queenstown & Taupō outside of the Summer months, dress warm! 
Safety tip: There are a few calculations that our crew makes when you bungy so before you jump, you will be weighed. Ensure you are weighed in the same clothing you're keen to jump in and don't add any big jackets to your outfit last minute (or if you do, no worries. Just let us know).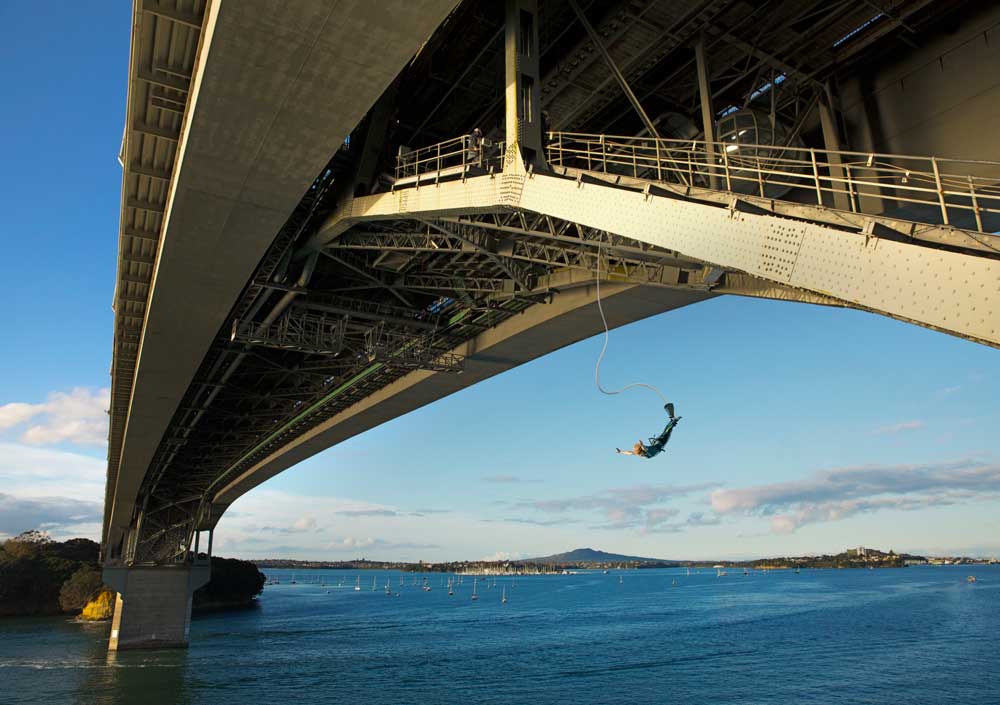 On the flip side, it's ideal that your summer shorts are long enough to sit under your harness so there's no uncomfortable rubbing that distracts from your experience.
Hear it from a recent jumper:
"It was a cold day when I did my bungy jump so really recommend dressing warm. Had a blast and will definitely be back to do it again thank you!" – Cali 
Get the shot
If you're bringing your own GoPro to capture the action up, close, and personal, you're likely holding it at arm's length on a small handle. Your natural reaction to freefalling is to grab the shoulder straps of your harness; we see it plenty of times! Make a conscious effort to keep your GoPro arm outstretched so you don't miss the shot.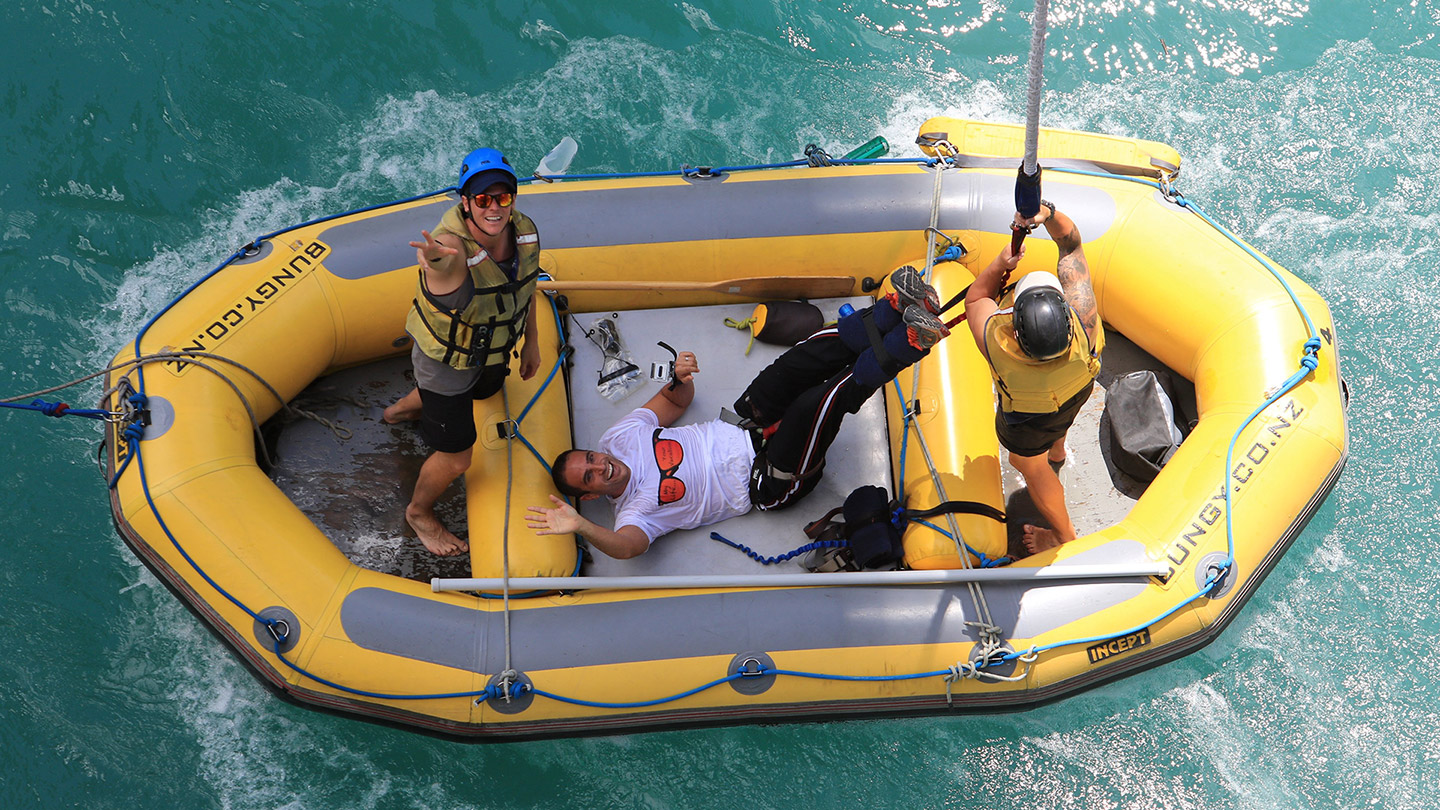 Safety tip: Long camera handles can be a safety hazard to our gear and/or you if they start swinging around mid-fall. Shorten your selfie stick as much as possible and then get it cleared by our crew at check-in. 
Hear it from our crew:
What is your number one piece of advice for first-time bungy jumpers? 
If you're nervous or scared, it means your body is feeling alive and that's a good thing – it's the only way you feel accomplished post-bungy, swing, etc.
Our Jump Crew are very good at what they do. When you're standing on the edge and they give you a countdown (5, 4, 3, 2, 1, bungy), try to jump when the Crew say 'bungy'.
The longer you stand on the edge, the more fear you let in and the harder it will be to jump. Try not to hesitate!
Everyone can find it in them to take on a bungy jump – it's a challenge from the neck up, not the neck down. Think of it as the ultimate test to conquer your fear!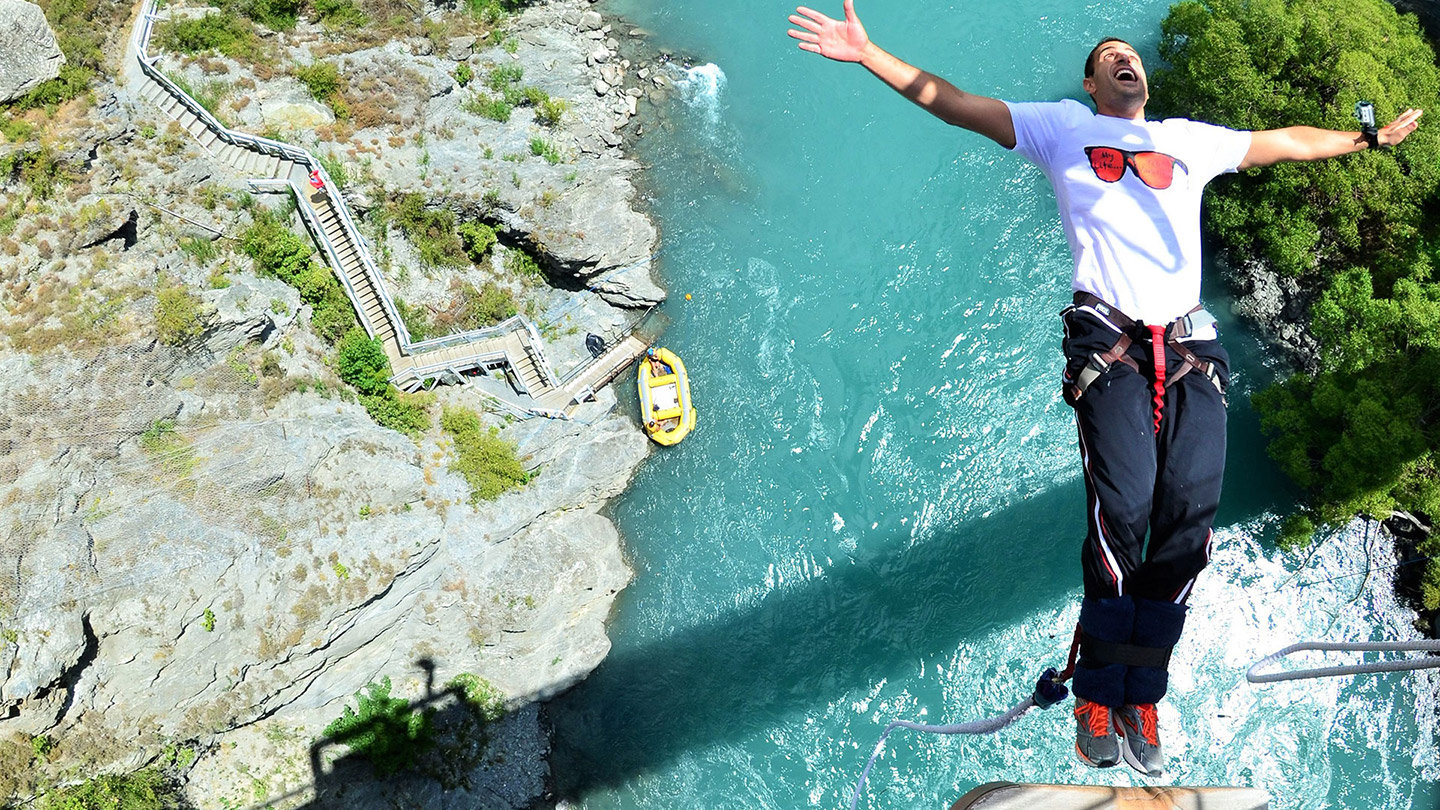 Best way to kick the nerves pre-jump?
Embrace the nerves. The more scared you are the more you'll get out of it.
Don't look down! Focus your gaze on the horizon and look out rather than below you.
Know that you're in safe hands. We're pretty good at what we do – the fear is only in your mind. The reality is that bungy jumping with AJ Hackett is very safe.
A bit of Liquid Courage can also help… If you're jumping at the Kawarau Bungy Centre, swing by our Liquid Courage bar.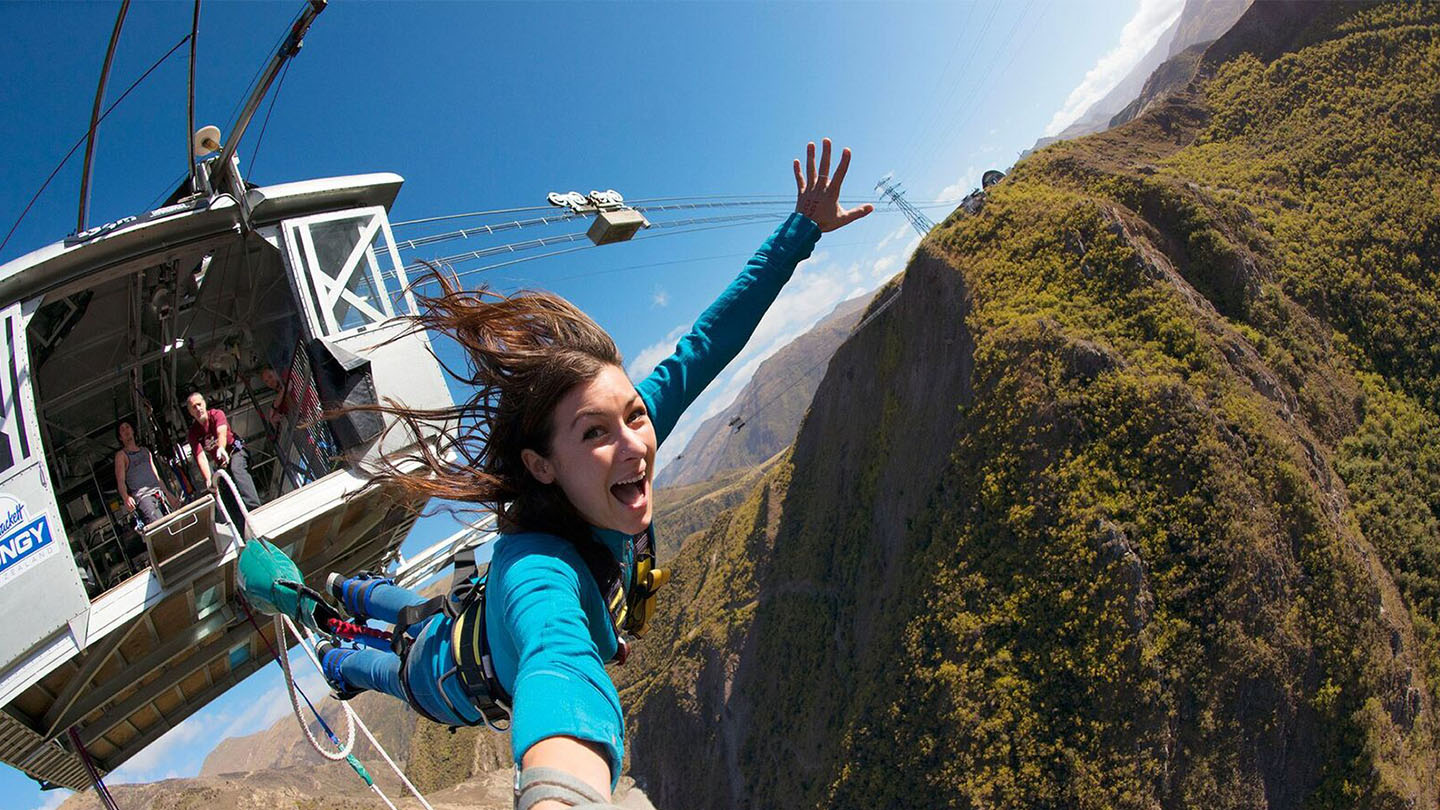 What happens if someone freezes on the edge? Do you push them?  
Bungy is meant to be a personal challenge – we never push people, as we want it to be something that each person achieves for themselves.
That little voice in the back of your head telling you to stop/freeze on the edge? Block it out, it's not in control. Listen to the voices that are behind you – our jump Crew with 34 years of experience. 
Try not to focus on the fear. Think about how great you'll feel after you jump. If you can do this, you can do anything!
Sometimes it can help to bring friends or family with you to cheer you on!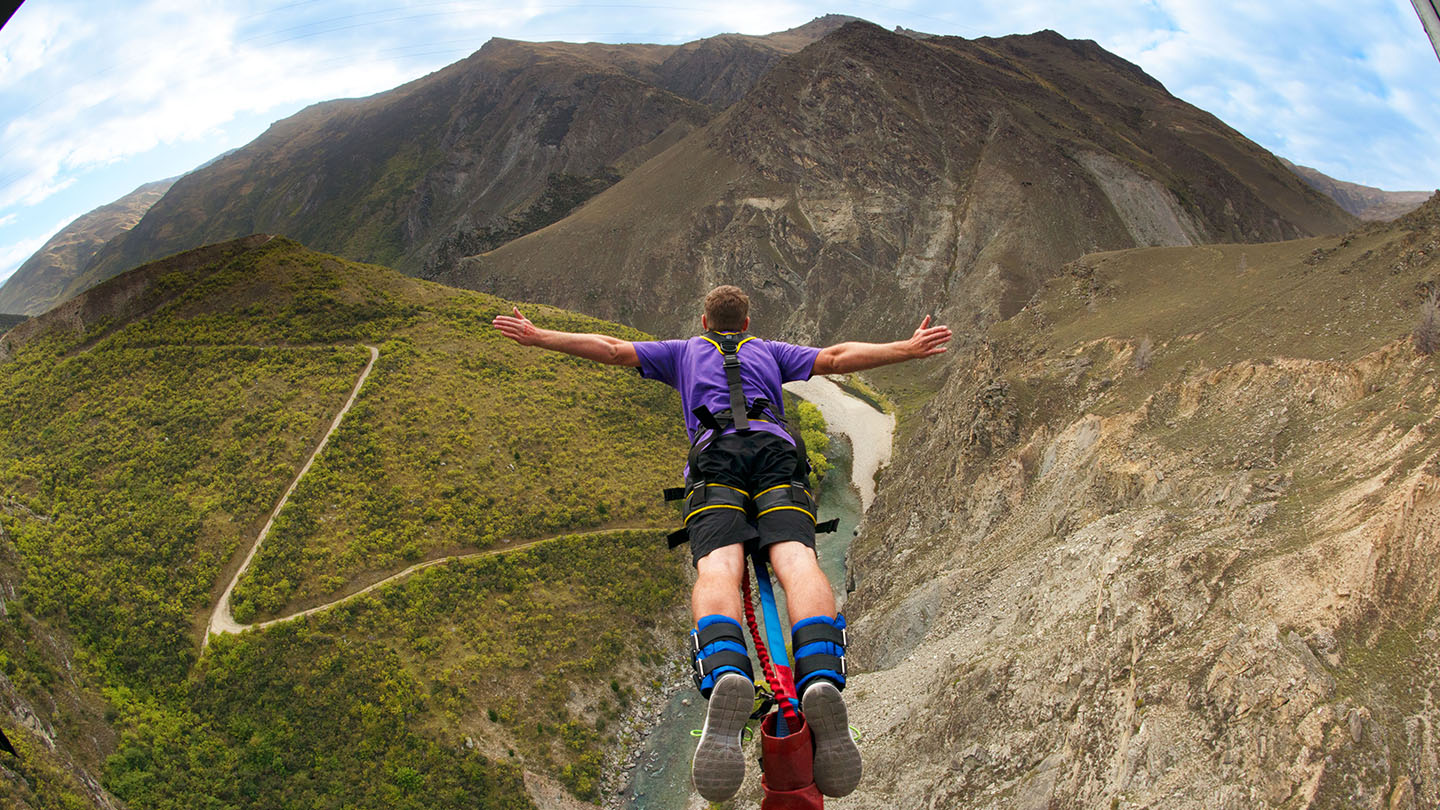 Best form/ positioning tips? 
We always recommend doing a big headfirst dive like you're going into a swimming pool. 
If you do end up jumping feet first, it's completely fine! However, it is most comfortable to go headfirst.
Go tandem for twice the fun!
If you've jumped before, ask our Crew about our freestyle bungy options. Fruit bat, anyone?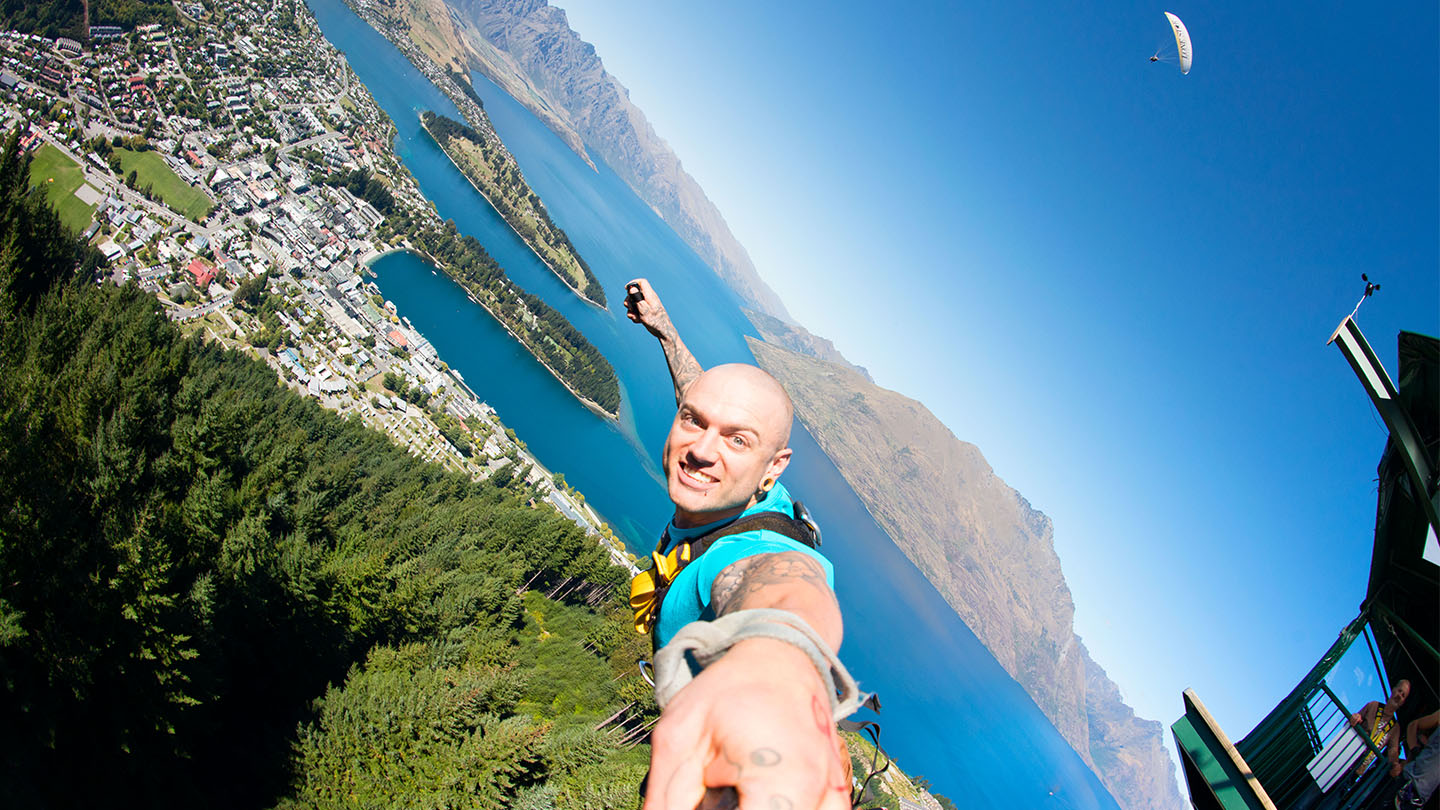 Have a question we didn't cover? Answers from our friendly crew are just a click away by phone or live chat on our website. If you're waiting for the nerves to disappear before booking, you'll be waiting forever! It's best to book your bungy in advance to avoid disappointment during our busiest times.