If you're exploring Auckland with young ones in tow, you're bound to be searching for some of the city's more family-friendly offerings. Fortunately, you'll never be too far from things to do in Auckland for kids.
From exciting activities that'll have everyone sleeping well at the end of the day, to experiences that might just trick your whānau into learning a little something on their trip, Auckland has it all covered. Take a look below to check out 11 of the best suggestions for what to do in Auckland with kids.
1. Let technology and vehicle nuts get their fix at MOTAT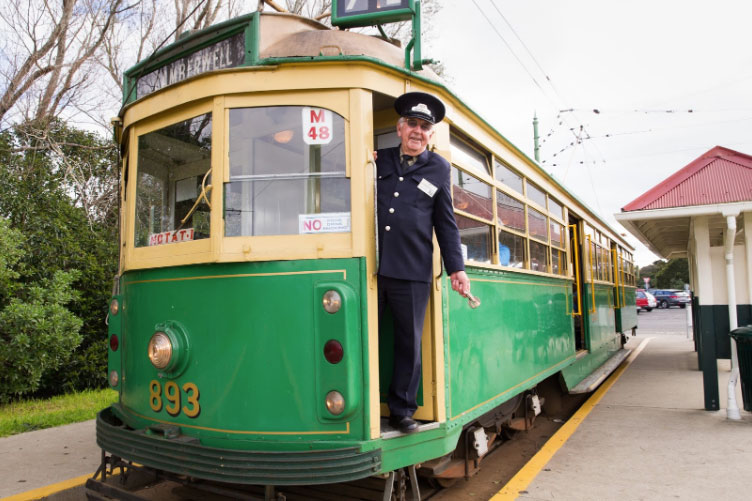 [Photo credit: MOTAT]
With something for visitors of any age, the museum of transport and technology (MOTAT) is a great choice for a family trip. MOTAT includes a huge collection of aircraft and land vehicles, and while there you'll also learn about the discoveries which have helped shape New Zealand. With a tram transporting you between the museum's two sites and a ton of hands-on experiences to keep younger visitors engaged, MOTAT is far from your bog standard stuffy museum. Located in Western Springs, MOTAT is just 10 minutes from the CBD. For information on entry prices and opening hours, check out their website.
2. Meet the locals at Auckland Zoo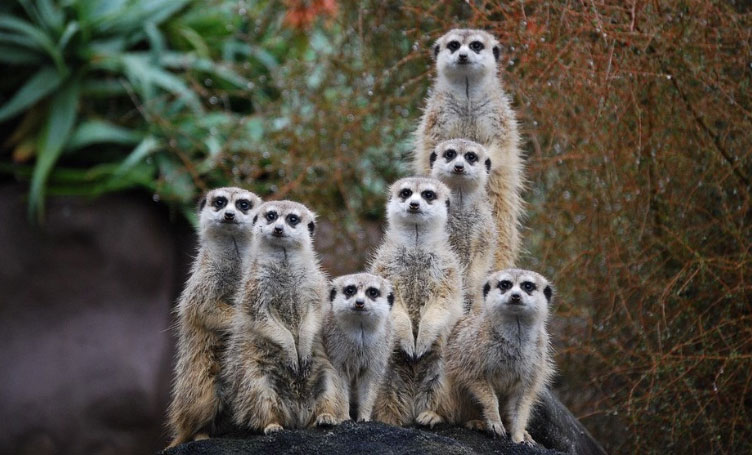 [Photo credit: Ashley Thompson/Wikicommons]
New Zealand is home to some unique animals, so why not get up close and personal with them at Auckland Zoo. With over 126 species and 1000 animals, the zoo is one of the best things to do in Auckland for kids (big kids included!), and you can easily turn a visit into a whole day trip. If you're interested in learning about New Zealand's birds, or if you've got kids dying to know more about their favourite animal, you can also plan your visit around the daily keeper talks on offer.
3. Climb the iconic Auckland Harbour Bridge
Arriving to Auckland, you'll likely catch a glimpse of the impressive Auckland Harbour Bridge, so while you're here why not learn more about it during the Auckland Bridge Climb. This unique tour takes your family up specially made walkways to give you 360-degree views of the city. As well as being able to watch the traffic whizzing by below and the bungy jumpers taking the plunge, along the way your tour guide will educate your family about Auckland and its famous bridge. The climb takes around two hours so it's a perfect half day activity, not to mention that with a minimum age of 7-years-old, it will give your young ones a heck of a story when they go back to school!
4. Enjoy New Zealand's own Jurassic Park at Butterfly Creek
Don't let the name fool you, while Butterfly Creek does have a huge butterfly house, it's also so much more! In addition to the butterflies, you can check out tropical fish, farm animals, and even try and find the two Kiwi living in the Kiwi Forest. Butterfly Creek is also home to New Zealand's only giant Saltwater crocodiles, Scar and Goldie. And for those dino-crazy visitors, the life-sized animatronic dinosaurs in the Dinosaur Kingdom will definitely be a highlight.
5. Feel the fear and do it anyway At Rainbow's End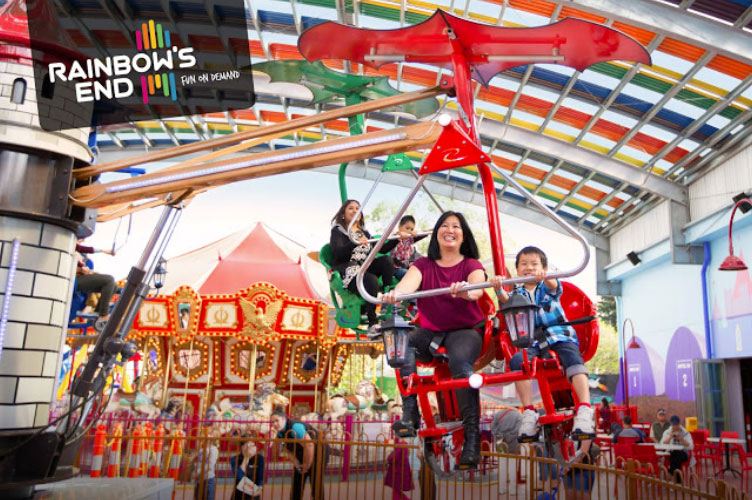 [Photo credit: Rainbow's End]
Although many of New Zealand's thrills can be found in the great outdoors, Rainbow's End offers up some good old fashioned theme park excitement. Those looking for an adrenaline rush can head to the park's Big 5 thrill rides, while younger guests can run rampant at Kidz Kingdom — and there's also a ton of rides for the whole family to enjoy together. For information on cost, rides and height restrictions, head to the Rainbow's End website.
6. Splash around at Mission Bay
View this post on Instagram
If you're visiting Auckland in the warmer months and need some downtime, Mission Bay is the perfect place to spend a chill afternoon. Whilst there you can enjoy a picnic, go swimming, paddle around in a rented kayak, or enjoy the nearby playground. After you've had your fill of the beach, be sure to grab an ice cream or a bite to eat at one of the nearby eateries.
7. Explore an underwater world at Kelly Tarlton's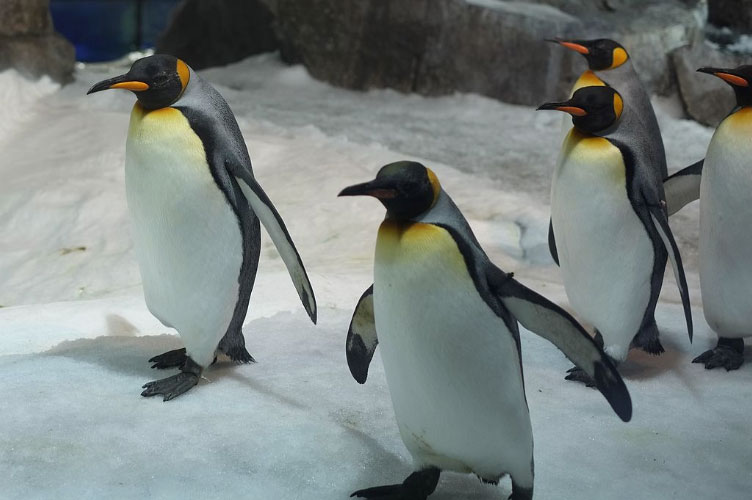 [Photo credit: Pseudopanax/Wikicommons]
One of Auckland's most popular attractions, Kelly Tarlton's SEA LIFE Aquarium has enthralled visitors for years. Inside the aquarium, the underwater glass viewing tunnels will bring you face to face with sharks, penguins, rays and more. You can also learn more about the animals at their scheduled feeding times – including watching the sharks being hand fed. To get the best deal on your Kelly Tarlton's tickets, be sure to book online before you visit.
8. Have a farmyard picnic at Ambury Farm
With all the excitement of a holiday, it's also important to have a few relaxing activities for days when everyone's a little tired. Thankfully one of the best things to do in Auckland for families is to chill out in one of the city's beautiful parks, with Ambury Farm being a particularly great spot for kids. Ambury is home to a ton of farm animals, has open pastures to run around in, as well as barbeques which are free to be used. If your family is keen to enjoy some kiwi farm life on your travels, make sure you come at milking or feeding time.
9. Chill out at Snow Planet
There's just something magical about snow — and it's even more magical when it's indoors. At Snowplanet the kids can enjoy themselves on the slopes no matter their level, with a terrain park for experienced riders, and the beginner's area for first timers. And if skiing and snowboarding holds no interest, the family can try out snow tubing instead! Snowplanet is open visitors of all ages, and with a restaurant and bar also onsight, it's got something for every member of the family.
10. Play a round of mini golf
If you're after a fun, outdoor activity then you can't go wrong with a round of miniature golf. There are lots of different courses all over Auckland, including Lilliput Mini Golf who run six different themed courses across the city. Whether you want to putt amongst the dinosaurs, hit a hole-in-one at a famous landmark or embark on a dragon quest, there's a course for you. Plus, with cheap Tuesdays offering a round for just $9, this is one activity that won't break the bank.
11. Become one with nature at Tree Adventures
If your kids love to push themselves to their limits, and you're eager to enjoy some of the beautiful nature New Zealand has to offer, Tree Adventures will definitely be a family pleaser. This adventure park has 10 high wire confidence courses and can be enjoyed by family members from five-years-old. Tree Adventures can be found in Woodhill forest, a 35-minute drive from Auckland central. And if you're looking for an accompanying activity to fill the day with, Muriwai beach is also in the area and a great place to catch a stunning west coast sunset.
Still Looking For Awesome Auckland Activities?
9 Exhilarating Outdoor Adventure Around Auckland
10 Free or Cheap Things To Do In Auckland
8 Fun Things To Do In Auckland At Night