With so many activities on offer in Auckland, it can be hard to pick what to do in New Zealand's biggest city. And just because you want to spare your budget, doesn't mean you have to limit your opportunities.
Thanks to the Auckland's many free and cheap activities, you'll be kept busy from dawn to dusk. Here are just a few great ideas to ensure you get the most bang for your buck while visiting the city of sails.
1. Walk Up Mt. Eden and Check Out the Impressive View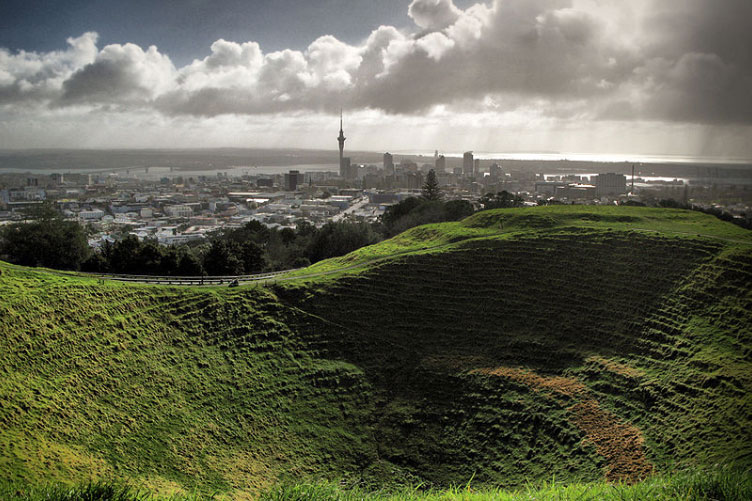 [Photo credit: Alan Collins/Wikicommons]
Not to scare you, but Auckland is a city built on over 50 dormant volcanoes, and they've left some pretty impressive landmarks in their wake! If you're feeling energetic, why not walk to the top of Maungawhau Mt. Eden — the highest natural point in Auckland — and drink in the impressive views from the top.
Mt. Eden is just outside of Auckland's CBD and its summit makes it the perfect place to snap some Insta-worthy pics of the city. While the walk is uphill, it only takes 15 or 20 minutes to reach the top. At the summit, you'll not only be able to take in some stunning views of the city, but you'll also see the 50m deep crater left by volcanic eruptions thousands of years ago.
A number of public transport options stop close to the Mt. Eden walkways, so search your journey on the Auckland Transport website for your best option.
2. Get Educated at Auckland Museum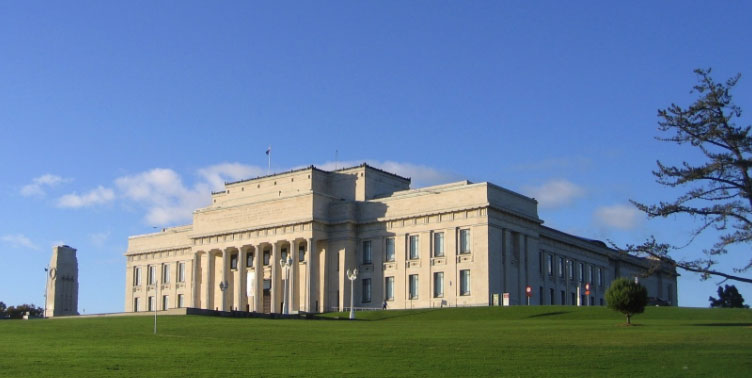 [Photo credit: Sids1/Flickr]
Whether you're interested in learning more about New Zealand history — or simply want an indoor activity out of the rain — Auckland Museum has got you covered. Doubling as both a museum and war memorial, the museum especially focuses on New Zealand history, natural history, and military history. Entry prices vary depending on whether you're an Auckland resident, New Zealand resident or an international visitor, so have a look on the Museum's admissions page for more information.
3. Flock to the Gannet Colony at Muriwai beach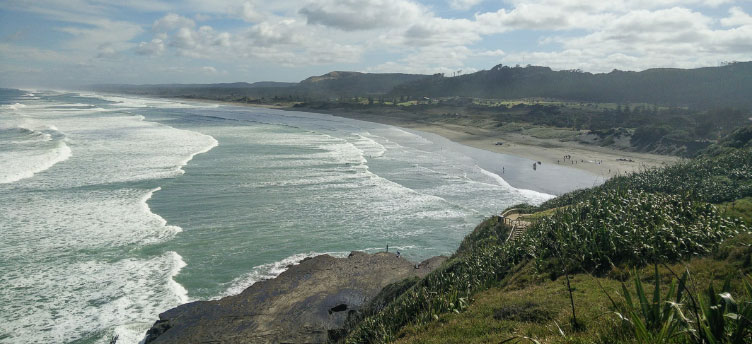 [Photo credit: Tim Bray/Wikicommons]
If you have access to a car while in Auckland then a day trip to Muriwai beach should be top of your list. Not only is Muriwai a stunner with its black sands and pumping surf, but from August to March the nearby cliffs are home to a large colony of gannets. For a little-added romance, plan your trip for the afternoon and pack a picnic to catch a stunning west coast sunset. Muriwai is 42 kilometers northwest of Auckland and can be reached in 40 minutes via State Highway 16.
4. Soak Up Some Culture at Auckland Art Gallery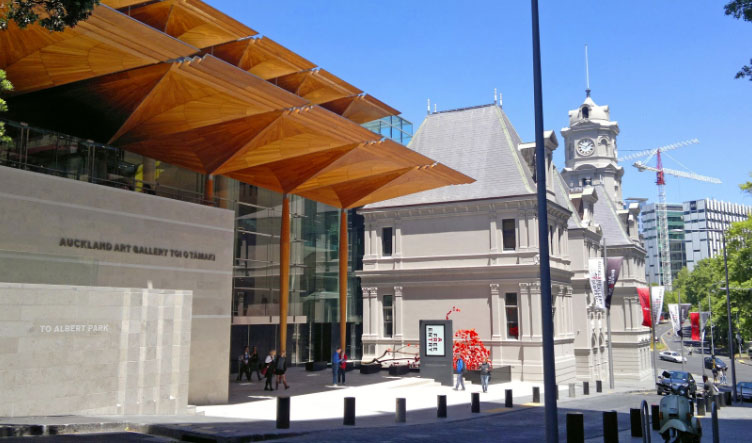 [Photo credit: ChewyPinapple/Wikicommons]
If you need a more sedate activity to balance out your trip, check out the masterpieces at Auckland Art Gallery. Located in the heart of Auckland at Albert Park, the gallery is free to enter, and offers some awesome exhibitions from both New Zealand and international artists. To check out what's on when you're in Auckland, have a look on their website.
5. Visit the French Market, La Cigale
Everyone's gotta eat, so why not grab a bite at the bustling La Cigale Market — Auckland's own little slice of France. Held every Saturday and Sunday until 1:30 pm, you can browse the stalls for grocery needs, or maybe just treat yourself to decadent weekend lunch. You'll find the market in two locations, 69 St Georges Bay Road in Parnell, or Takutai Square in Auckland's CBD (currently Saturdays only).
6. Relax in a Park and Watch a Free Movie
For a chill way to spend an evening during the warmer months, head to one of Auckland's beautiful parks to enjoy a free outdoor movie. Every Friday night in summer you can go along to Silo Park in Wynyard Quarter, where the movies are projected right onto the side of a 35m tall Silo — talk about a unique way to watch a film! There are also other opportunities to catch a free movie all across the city thanks to Auckland Council's Movies In Parks program. To see what's playing at Silo Park, check out their website, and click here for the Movie in Parks program and location details.
And if you're visiting Auckland in the colder months, one of the city's best kept secrets is Academy Cinemas $5 movie night held every Wednesday.
7. Enjoy a Picnic at Cornwall Park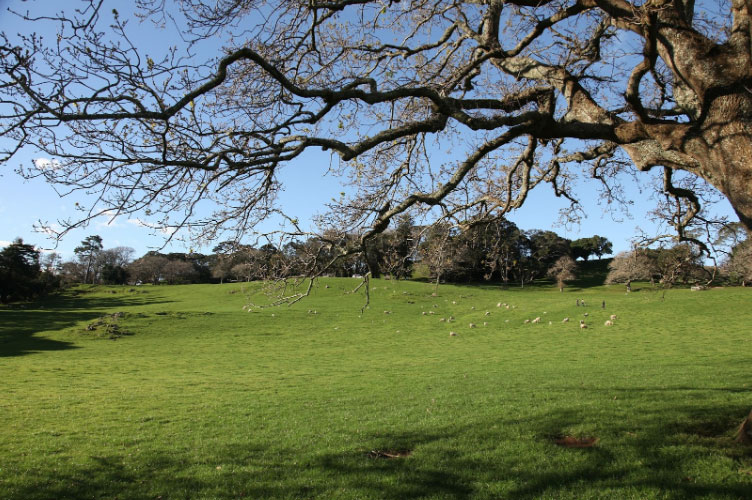 [Photo credit: Behyad/Pixabay]
It's hard to believe this tranquil oasis is in the middle of Auckland, but that's part of what makes Cornwall Park one of the best free things to do in Auckland. If you need a break from the city, head to this little slice of the country for a picnic. At Cornwall Park you'll find sheep and cows grazing, native New Zealand birds and a ton of walking paths to wander. And if you're planning a picnic it's worth noting that BBQs are available to be used for free — just bring your own matches or kindling. For information on the park opening times and information on how best to get there, refer to their website.
8. Enjoy a Beach Day at Mission Bay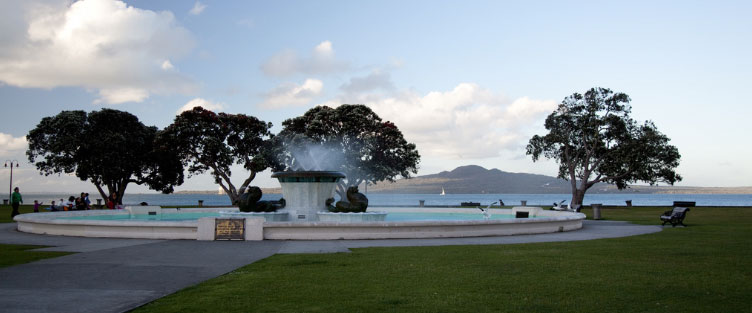 [Photo credit: russelstreet/Flickr]
If you're unable to make it all the way out to Muriwai but are still craving some sand between your toes, head to Mission Bay instead. The beach's golden sands and inviting water will prove hard to resist whether you're swimming, kayaking or paddleboarding. Not to mention that the Trevor Davis Memorial Fountain, beachside playground and fitness park mean there's even something for those who'd rather stay dry. Mission Bay is just 15 minutes by car or bus from Auckland CBD.
9. Jump on the ferry to Devonport and explore North Head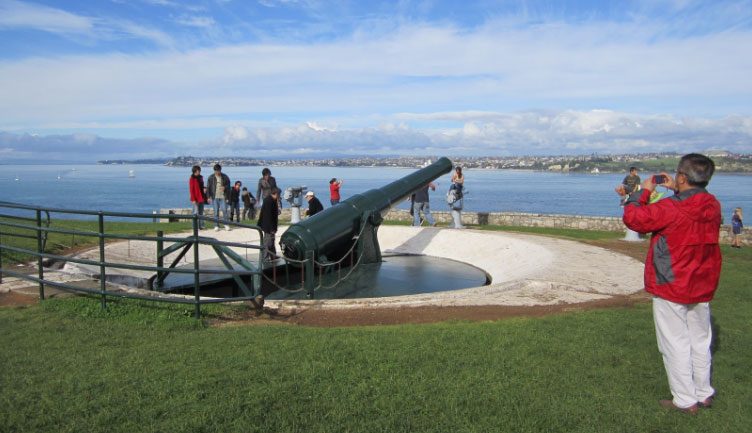 [Photo credits: Nick-D/Wikicommons]
If you're hungering for an Auckland adventure, the North Head Historic Reserve might sate your appetite. Located at the entrance to Auckland's harbour in Devonport, this mountain has been used as a defence fort since the late 1800s. However these days visitors are welcome to wander the military tunnels, and check out the guns, searchlights, and fortifications — all of which are signposted along on the historic walk track.
North Head is located 16 kilometers from Auckland CBD and is a great opportunity take the ferry. With adult return fares at just $12.50, this is a great cheap thing to do in Auckland. You can find the full timetable on the ferry website.
10. Take the Ferry to Rangitoto Island and Climb the Summit
A great option for an Auckland day trip is taking the ferry to Rangitoto, Auckland's youngest volcanic island. Although it's just a 25 minute trip from downtown, once you reach the island you'll quickly discover why it's one of the best places to visit in Auckland. There you'll find beautiful Pohutukawa trees (also known as the New Zealand Christmas tree), native birds and an interesting volcanic landscape. A walk to the summit is not only an hours worth of exercise, but it also offers stunning views over to the mainland.
Other Awesome Things To Do In Auckland
9 Outdoor Activities Around Auckland
Things To Do In Auckland With Kids
What's On In Auckland This Week?