We've got an Epic collab launching this month! AJ Hackett Bungy New Zealand have teamed up with our pals at Epic Beer to bring you our very own craft beer: IPAAHH. A New Zealand brew that dares you to live your life to the MAX.
We sat down with Luke, owner and chief brewer at Epic Beer to get all the juicy details…
So, tell us about the beer!
IPAAHH is an easy to drink and delicious IPA. We wanted to make a classic NZ IPA using the new Kohia Nelson hops. This was a great chance to do that and for two great Kiwi brands to come together.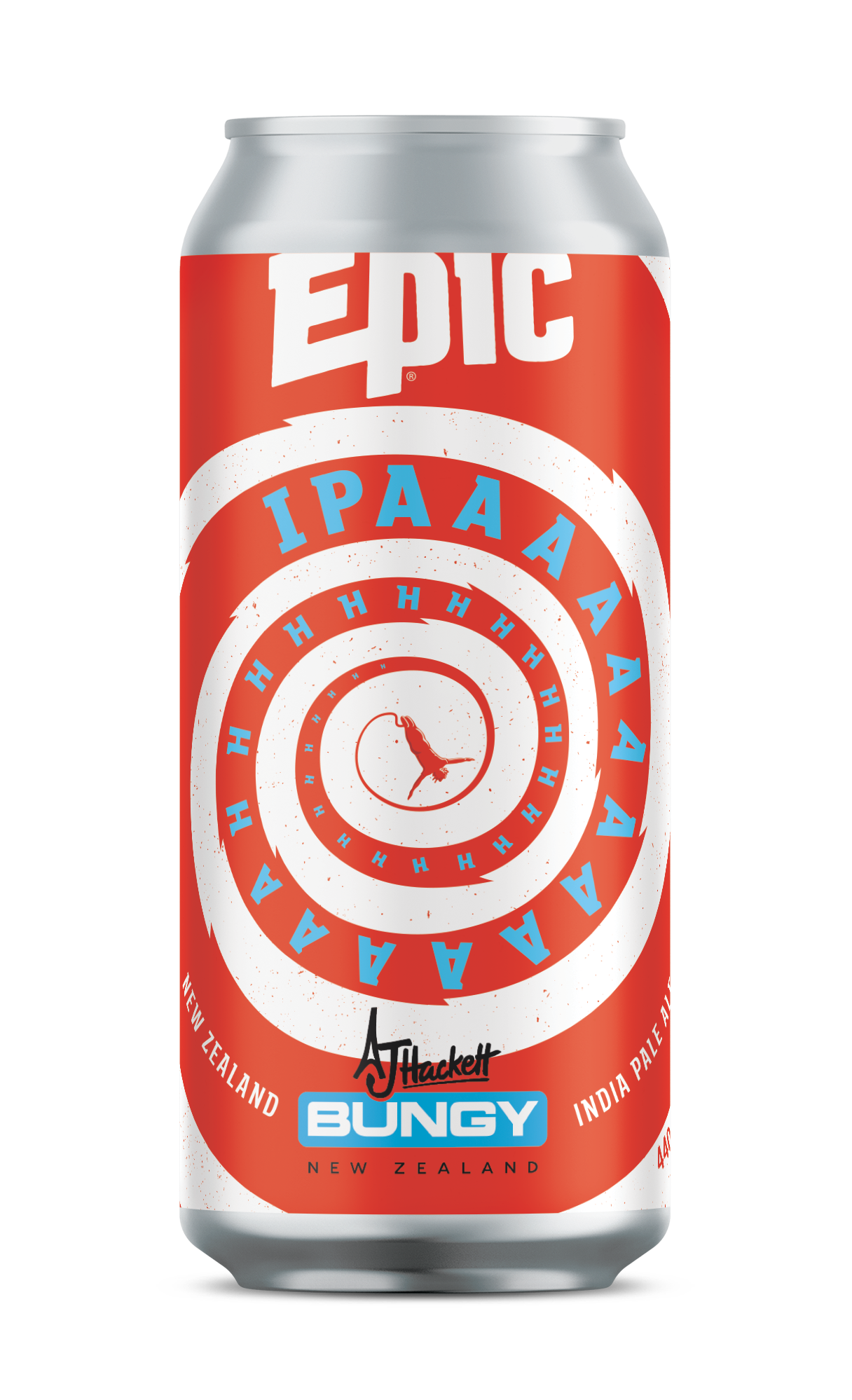 What's the difference between an IPA, Pilsner, Lager, etc.?
Pilsners are a style of Lager, originally created in the town of Pilsen. Lagers are a category of beer which is identified by its cool fermentation temperatures. Lager is German for cold storage. IPA's are a type of Ale. Historically stronger more hoppy Pale Ales that were sent from England to India in the 1800's acquired the term IPA (India Pale Ale).
The main difference between Lagers and IPAs is that Lagers are clean and have low flavour, and IPAs have noticeably more 'hop' aroma, flavour and are generally a bit stronger in alcohol content.
What are the core ingredients used in this IPA?
We used Canterbury grown malt from maltser Gladfield, and Nelson region grown hops from Freestyle Hops and Eggers Hops.
Tell us about the brewing process…
As with all great Epic beers the magic happens once the fermentation of the beer finishes and we add an Epic amount of hops to the tank in a process called dry hopping. We do this several times to give the beer maximum hop flavour and aroma.
Can you share any tasting notes for IPAAHH?
This IPA will draw you in with the most alluring vibrant golden glow, enticing you into lifting the glass and taking your first smell of the aroma. The amazing passionfruit, tropical, citrus aromas will surprise with their intensity.
On tasting, the sweet malt coats and cushions you palate, then the flavours of tropical, citrus notes expand to dominate and finally the bitterness arrives to bring that final stage of satisfaction. All this is married to a delicious sweet malt flavour that sits in the background. The perfect balance to flavours that linger just long enough, but delicious enough that it leaves you wanting more.
Why did you want to work with AJ Hackett Bungy NZ?
This beer was created for the highly anticipated New Zealand IPA Challenge which happens every year at Smiths Craft Beer bar in Queenstown. We wanted to collaborate with a renowned NZ brand which fits with the Epic life, and has a connection to Queenstown, the home of the NZ IPA Challenge.
What other cool projects does Epic Beer have in the works?
Top secret, sorry we always have some cool projects in development. But this project with AJ Hackett Bungy New Zealand will surely be one of the most talked about this year.
Where can people find the beer?
You can find IPAAHH in all good supermarkets and liquor stores around New Zealand! Some select bars will also have it on tap, including the Epic Taproom in Onehunga, Auckland and of course the Liquid Courage bar at the Kawarau Bungy Centre.