In winter, Queenstown and Wanaka are winter wonderlands with a good dusting of snow to shred. Yet, come Summer the Otago Region can heat up with the best of them, reaching temperatures in the late twenties and often gingerly knocking on the door of 30° C. 
While it is toasty, the area is not at all short of swimming holes, chilly lakes, and man-made must-dos to have you dusting off your speedo and keeping cool.
This list is just the beginning of Otago's most iconic hot sports to swim, dip and frolic this summer. 
Leaving the best for last is not in our nature! The Kawarau Bridge Bungy may sound like an odd choice of water activity, but there IS an option to make a splash in the Kawarau River below when you make the leap from our historic bridge. Adrenaline, cold plunge, adrenaline; it's a stacked combination as Kiwi as the club sandwich. 
While there's no guarantee you'll touch the water due to a few variables, including your own jump performance, our Jump Masters can chat to you about the likelihood and your options. Let your crew know on the day if you're keen to be dunked.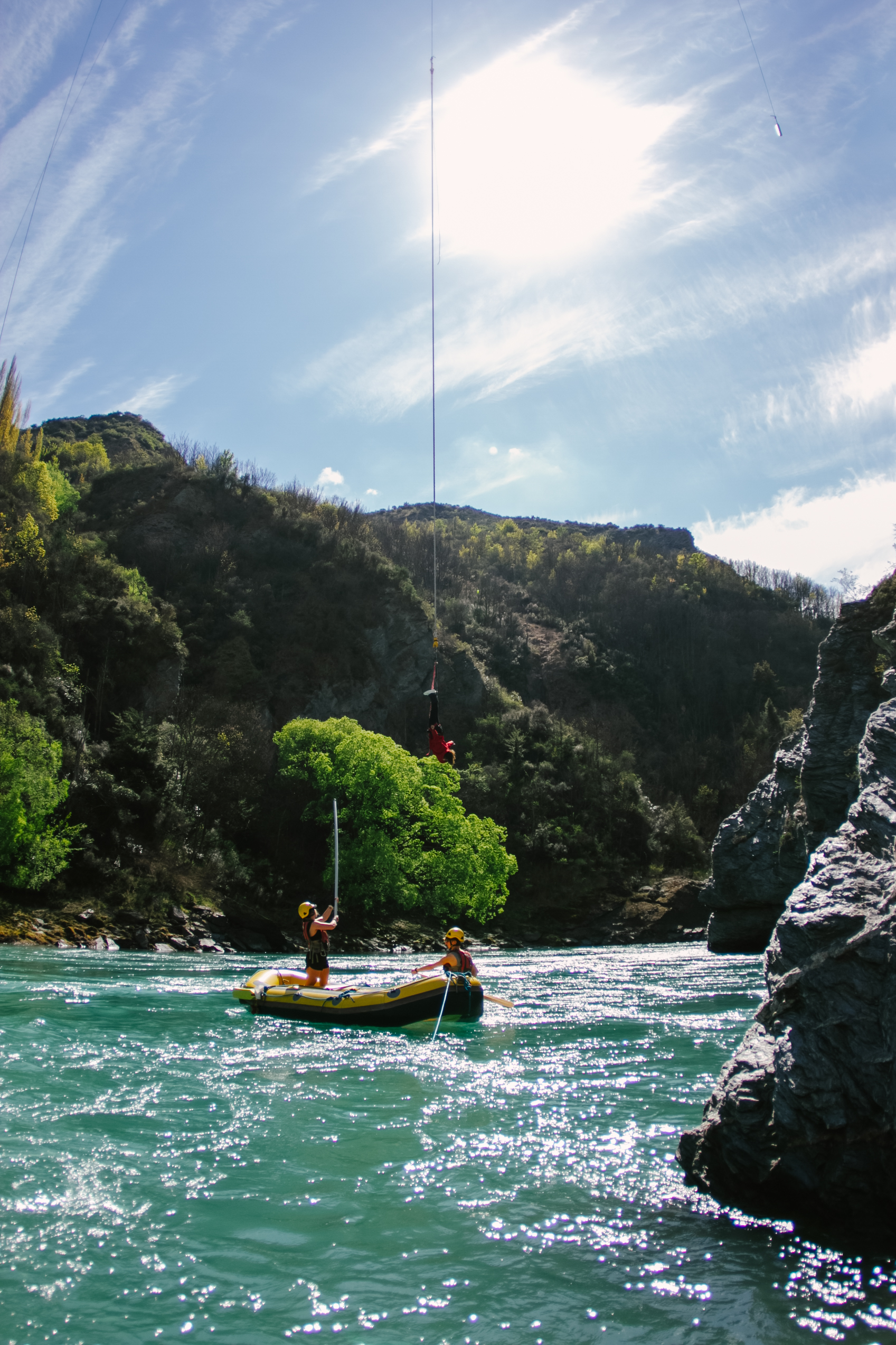 Pinned on the side of Glenorchy-Queenstown Road, a fun rock jump and popular swimming hole is waiting to be discovered. With various ledges on the cliff, you can tailor your jump height to your comfort levels. 
While we do love to push boundaries, we would recommend sticking to your confidence levels at this spot; it is not patrolled by lifeguards or any tourist operator and the water's cold temperature should be tackled in good preparedness, not scared out of your wits. To accomplish that, come and see us at the Kawarau Bridge Bungy!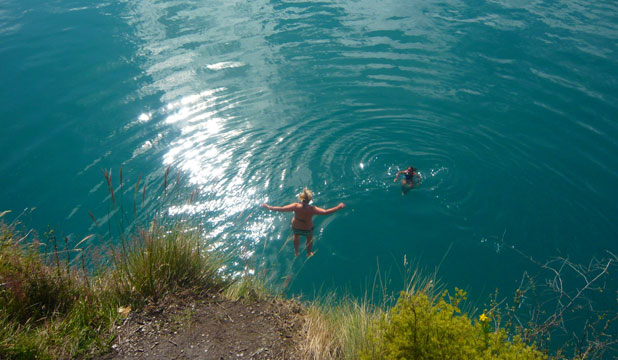 The South Island's epic new wave park located in Lake Hawea, just outside of Wanaka, is the grassiest place you'll ever shred a left hander, or right hander, or straight wave. YourWave is an epic new man-made surf park with a customisable wave face to suit any rider or ability. 
Book into a public group session for one hour or book out the wave for a group of friends to have full control. You're also able to bring your own board if you're already a keen surfer, or stick to the standard rental boards that are included in the session price. Don't miss this novelty opportunity to surf in the landlocked Central Otago region! 
Queenstown is spoiled for choice if you're looking for gorgeous lakes to swim in. Moke Lake is surrounded by stunning natural beauty, giving you the chance to swim amongst a backdrop of rugged mountains. Although only 20 minutes drive outside of Queenstown, Moke Lake can be a quieter and more peaceful swimming hole. If you're lucky, you might catch the mountains reflected on the lake's calm waters on a still day.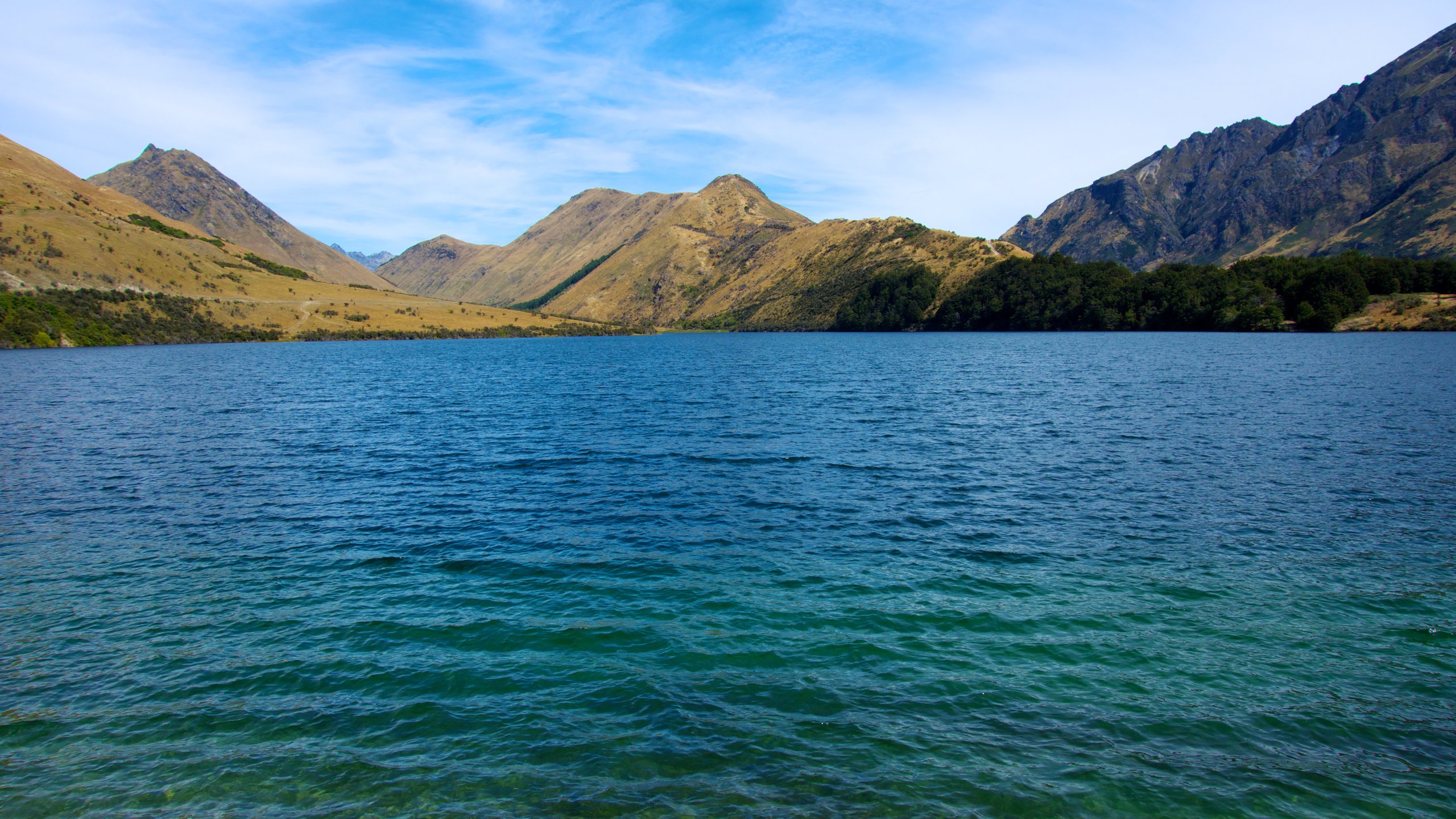 Sunshine Bay
Sunshine Bay is the perfect place to do exactly what you'd think; enjoy the summer sunshine! This lakeside oasis is a short drive from Queenstown and offers the best refreshing swim spots, sandy shores for your towel or picnic blanket, and the cruisy atmosphere of a typical Kiwi summer.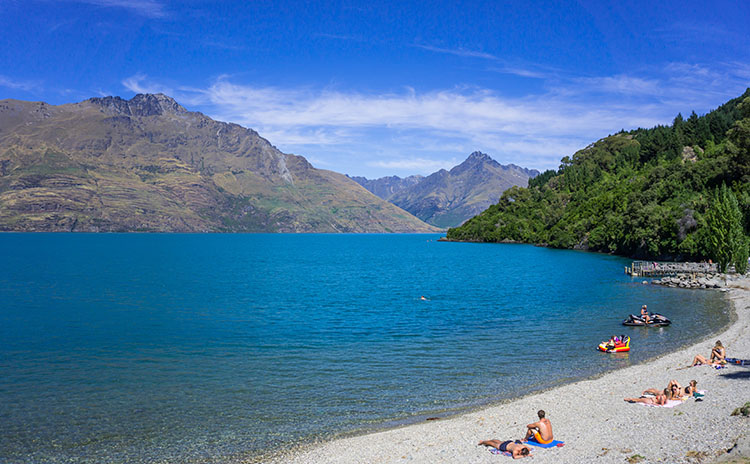 Image: https://seethesouthisland.com/sunshine-bay-queenstown-new-zealand/

You'll find Lake Alta at the end of a stunning yet steady alpine hike behind The remarkables ski field. This hike is best attempted in the hottest months of January and February to give you the best chance of avoiding snow on the track and also working up a sweat to make the freezing dip feel so much better. This lake is fed by glacier water, meaning it truly is nature's cold plunge. Head out to find this icy waters if you're brave enough!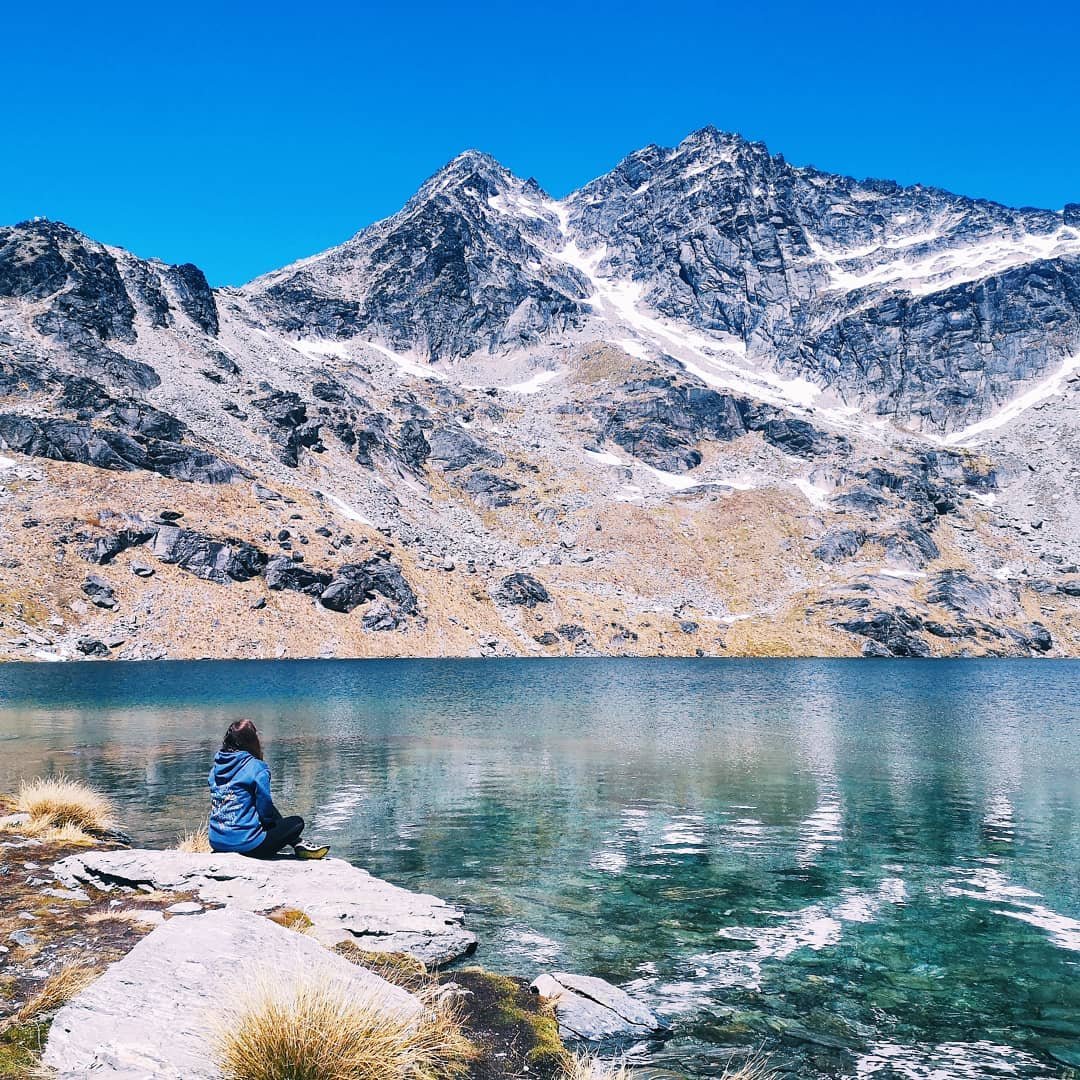 Arethusa Pool On Mou Waho Island
This is a one-of-a-kind dip; a lake on an island on a lake on the South Island in the ocean! Mou Who is an island in Lake Wanaka and is only one of three lakes of its kind (recursive lake) in the South Island. You can swim in the sizable pool with mountain ranges poking up behind lush greenery that borders the lake. If you don't have your own boat, consider these options to reach Mou Waho Island.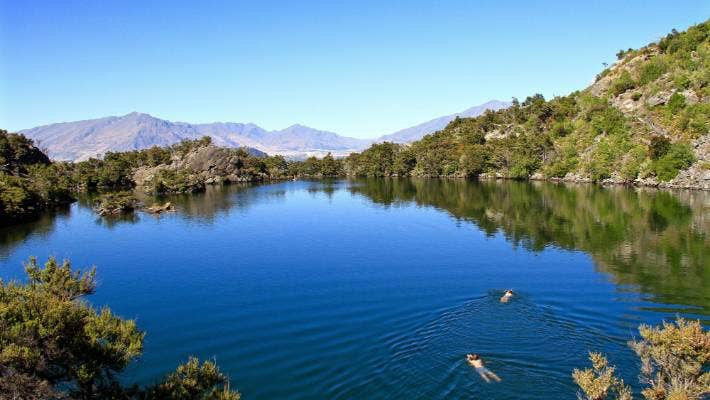 Omarama Hot tubs
Sit back, relax, and enjoy the view while soaking in pure New Zealand mountain water. Ōmarama Hot Tubs feature gorgeous tubs made of locally sourced wood with perfect views of the mountains in upper Waitaki/Mackenzie country. If it's a sweltering summer day, you can change the water temperature yourself by adding cool pure New Zealand water from the tap. A visit to these tubs pairs well with a hike to the Ōmarama clay cliffs for an epic day trip.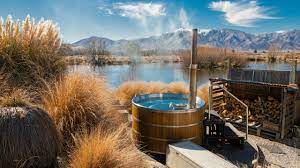 Glendhu Bay
Glendhu Bay isn't just a beach, it's a serene spot to slow down and enjoy nature! Take in the lapping lake waters and clouds passing by as you float, walk, or loaf on the hot shores. The Rotary Park has more than enough room to accommodate some backyard cricket or extend your time at the bay with an overnight stay at the nearby Hampshire Holiday Park. Perhaps you're hiking Roys Peak? Glendhu Bay is the de-sweat go-to! 
Whether you're looking for an adventure or serenity, hot tubs or glacier lakes, Central Otago is home to everyone's idea of the perfect summer dip.