Why go to Wanaka?
Located at the entry of Mount Aspiring National Park, Wanaka is one of the most spectacular alpine towns in all of New Zealand. Centred around Lake Wanaka, this township is full of activities, bursting with culinary delights, and is just a 1 hour drive over the hill from Queenstown Airport.
If you've made your way to Wanaka this winter, chances are you're in it for the slopes. Follow our guide to skiing like a local and make the most of your stay in Wanaka.
How To Ski Wanaka Like A Local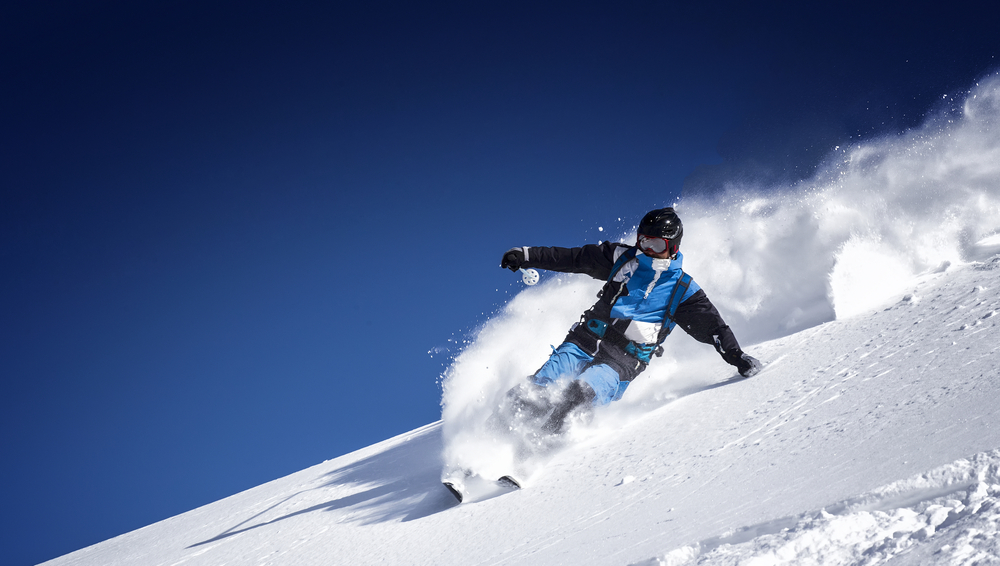 Treble Cone
Treble Cone is the closest ski area to Wanaka, and boasts the largest ski field in all of New Zealand. Made up of long, uncrowded groomed slopes, off-piste terrain, unrivalled views and challenging slopes, this is a must do for snow lovers. Treble Cone is also known for its spectacular views and some of the best, steep skiing terrain nationwide. From the top of the trail you can soak up one-of-a-kind views of Lake Wanaka, before shooting down to one of the cafes or bars on site.
Treble cone ski pass price
Depending on how long you're in Wanaka, for just a weekend or the whole season, there are a range of Treble Cone ski pass options for you.*
Single Day Pass – Adult $159 and Child $75

Multi Day Pass – The

full pricing options

can be found online

2019 Season Pass – The price will depend on whether you purchase the ski pass pre-season or in-season.

Whanau Pass – for those 18-22 years old you may be eligible for a Whanau (Family) Pass.  

Senior Pass – For ages 66+

Over 80 Pass – Free!

Snowsports School Packages

Backcountry Pass – This allows you to access the ski boundary gates at the Saddle Quad, Summit Slopes, and Sundance Ridge.
There are also special group passes and ski school passes available, so ask about your options when travelling as a group or if you're a learner skier/snowboarder.
*These prices are accurate as at 1 May 2019. Prices are updates season-to-season, so it's best to check out the Treble Cone website for details on lift passes and prices.
Getting to Treble Cone
Getting to Treble Cone from Wanaka is a short 23km scenic drive. If you're not used to driving in snow or ice, then we'd recommend getting one of the shuttle services running out of Wanaka.
Drive yourself
Treble Cone has a large car park, so if you're comfortable driving the mountain road then taking the 24 minute drive from downtown Wanaka is relatively straightforward. The gravel access road is maintained daily in the winter. You access from the Mt Aspiring Road turn-off, and drive 7 kilometres to the Base Building.
A four-wheel drive vehicle is always a great option, but isn't necessary – a two-wheel drive is fine to drive up the road. However you're required to carry chains and fit them when necessary if weather and snow conditions are poor. It's a good idea to note that many rental car hire companies exclude mountain roads from their insurance policies – check before you drive!
Shuttle
The Wanaka Treble Cone Express is a free bus that has four pick up and drop off locations in Wanaka. This service is free for Treble Cone lift pass holders, and departs for Treble Cone from Wanaka at 7.45am and 8.30am daily. Bookings are required for the shuttle, which can be easily sorted online or at the Treble Cone office in Wanaka. For a full schedule check out the Treble Cone Website.
Ski Lifts/Trail Map
Before you make your way to Treble Cone, check out the trail maps online or grab a booklet from one of the many ski shops in Wanaka. Keeping a hard copy in your ski jacket pocket is a handy tip – especially if visibility is particularly low (heading down a black run when you're aiming for a green won't be the highlight of a beginner skiers' day!)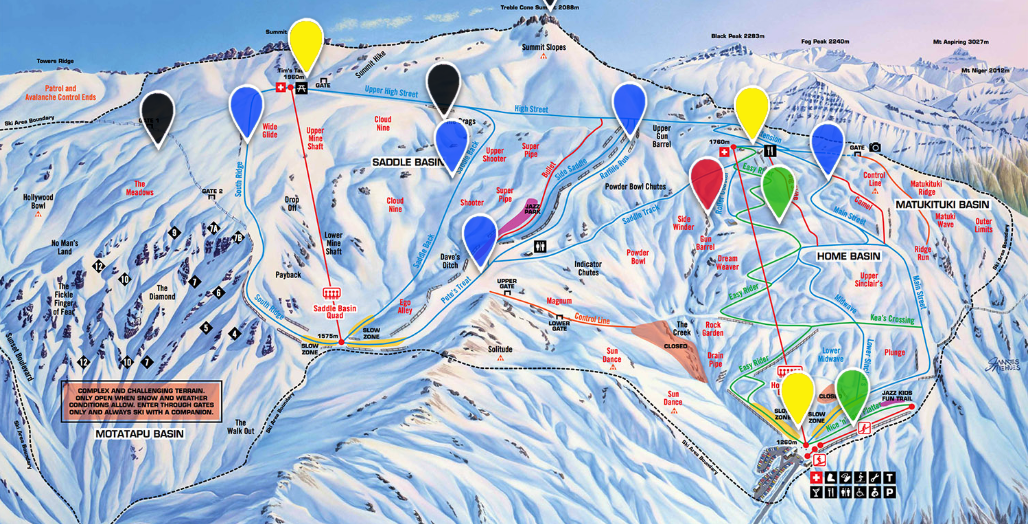 Image credit: Treble Cone Website
Cardrona
Cardrona is one of New Zealand's most popular ski areas. Nestled in the heart of the Southern Alps between Wanaka and Queenstown, it's also home to the Cardrona Adaptive Snow Sports programme.
Cardrona lift pass prices
Whether you're after a day pass, or sticking around Wanaka for the whole season, there are a range of Cardrona ski pass options to suit.*
And again, there are special group passes and ski school passes, so look into the available options if you're a beginner on the slopes or travelling as a group.
*These prices are accurate as at 1 May 2019. Prices are updates season-to-season, so it's best to check out the Cardrona website for details on lift passes and prices.
It's just a quick 34km drive from the heart of Wanaka to Cardrona. There are shuttle services which run out of Wanaka – a great option if you're not an experienced icy-road-driver!
Getting to Cardrona ski field
Drive yourself
Cardrona is located in a high alpine environment and the weather can change quickly – ensure you carry chains in the car and have practice putting them on! It's 34 kilometres from Wanaka and the unsealed mountain road up to the carpark is 14 kilometres long – keep left! If you're not comfortable driving yourself all the way to the top, then you can grab a shuttle service from the lower Pine Trees carpark, for a small fee.
Shuttle
With daily shuttles running from downtown Wanaka, getting up the mountain couldn't be easier. The Wanaka bus service has multiple pick up points around town. Make sure you pick up a shuttle pass from Cardrona Corner (20 Helwick Street) the day before.
Cardrona Trail Map
Before you make your way to Cardrona, check out the trail maps online or grab a booklet from one of the many ski shops in Wanaka.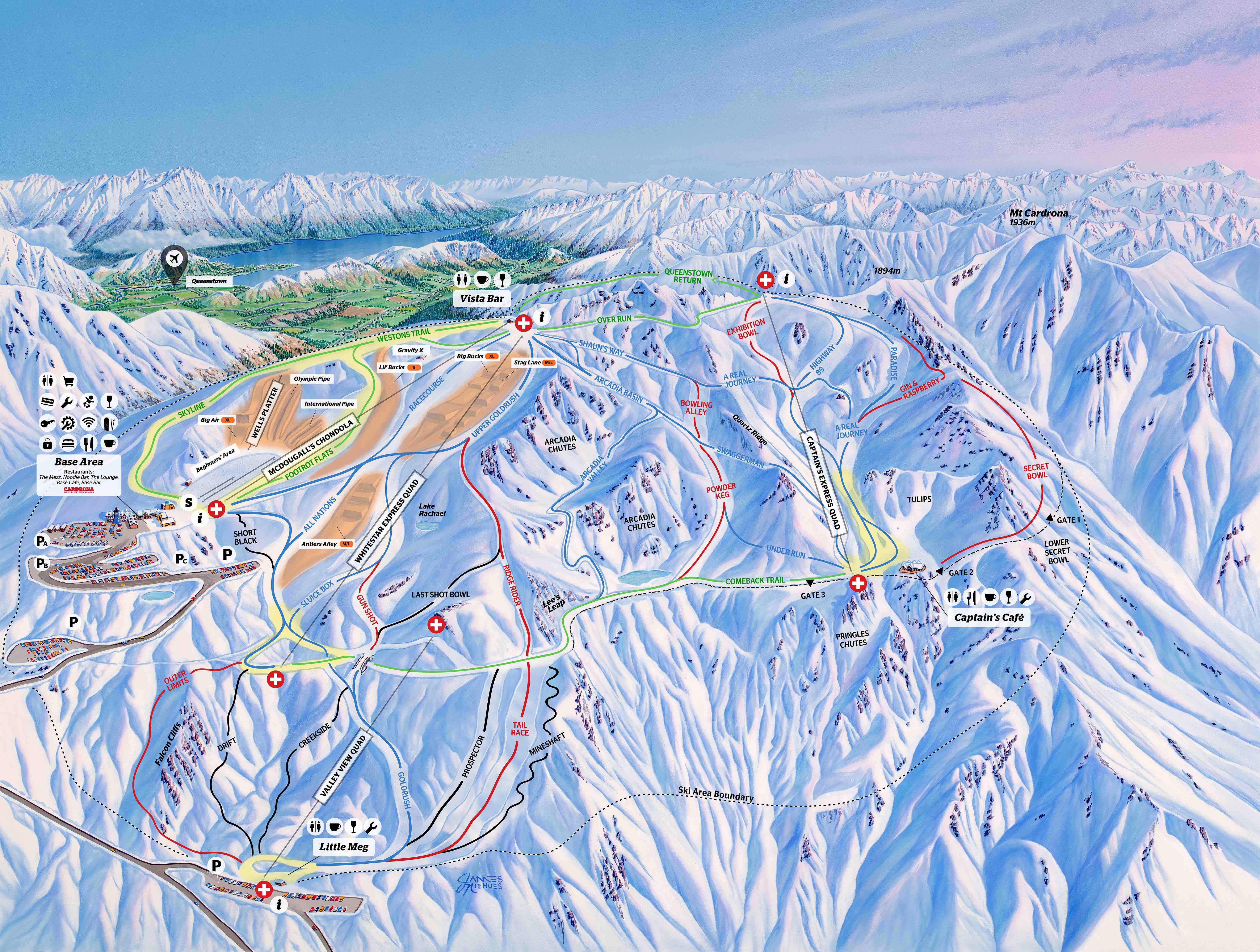 What Are The Best Months For Skiing In Wanaka?
The Wanaka Ski Season runs from early to mid June through to early October, depending on snow fall. The approximate opening dates for the ski fields in 2019 are:
Cardrona – 16th June – October 14th

Coronet Peak – 16th June – October 7th

The Remarkables – 9th June – October 7th

Treble Cone – 28th June – September 23rd
For accurate dates, check the ski field websites.
Hiring and renting ski gear
On mountain rentals
All of the ski fields in Wanaka offer on-mountain rentals and lift pass deals.
In town rentals
If you're staying in Wanaka and want to arrange your rental ski gear before you head up the mountain, there are a range of shops you can check out. Each of the ski fields have their own stores in town, making for easy returns, otherwise take a walk around town to find the perfect boots or jacket at a local ski hire shop.
Tips for when you're hiring ski and snowboard gear
Here are a few tips to make the hire process a little easier on your body (and the wallet!)
Socks: wear single layer sports socks that reach your upper calf, and protect your skin from the stiff tops of the ski or snowboard boots

Ski boots: finding the right ski boot can be tricky – but remember, it's better for ski boots to be a bit tighter than too loose. The people working in the hire shops will be able to help you find a good pair.

Cotton: avoid socks with a high cotton content or ribbing as they tend to create pressure points on your skin and feel rather uncomfortable after a day, let alone 2 days, on the mountain

Avoid chafing: keep extra clothing, like pant legs,

outside

the top of your boots

Layer Up: it's a much better idea to wear multiple layers so you can adjust if it gets warmer throughout the day.
Night Skiing in Wanaka
Night skiing isn't currently offered in Wanaka, but you're in luck as it's only a short drive to Coronet Peak in Queenstown, where there is night skiing.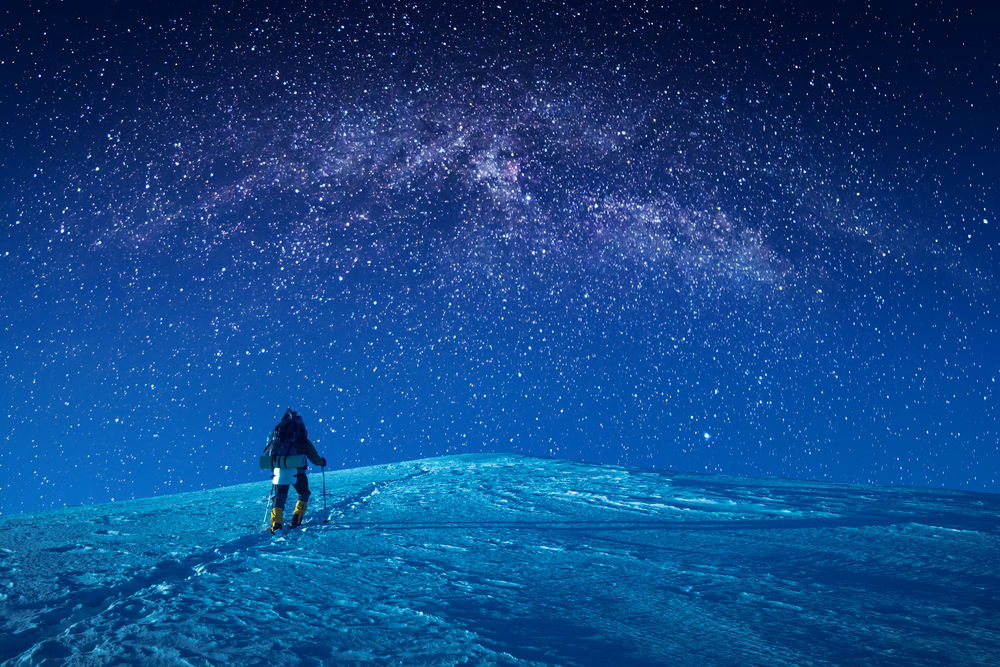 Coronet Peak offers night skiing 4pm – 9pm every Wednesday, Friday and Saturday night between 22 June and 31 August. Take in the gorgeous Southern Sky at sunset, and cruise into Apres Ski at one of the mountain's cafes or restaurants.
Cardona also offers stargazing, which could be a nice activity one night! Cardona is located in between Wanaka and Queenstown, so there's very little light pollution – giving the night sky the opportunity to shine.
Wanaka Snow Forecasts
Get familiar with the forecast apps and check them regularly before heading up the mountain. Don't just rely on one report – check the snow forecast, the weather forecast and the road reports before you make a call to head up.
Metservice reports for Wanaka region
New Zealand's meteorological service has the full range of ski and weather reports. Save this one to your favourites! You can look at the local area report for Wanaka itself, or the specific ski field areas Cardrona and Treble Cone.
Wanaka radio
Wanaka Live is the local radio station, powered by locals with local intelligence https://www.wanakalive.com/ or 92.2fm. You can also get a range of the national radio stations and syndications.
Social media
The ski fields and Wanaka township have regular ski reports, videos, and webcams. So if you're planning to visit a particular location then browse their social media for on-location updates.
Winter events in Wanaka
The Queenstown Lakes District, which includes Wanaka, is home to several large events each year.
Matariki
Matariki is the Maori New Year, occurring around June every year, and represents a time of renewal. It's a time of sharing, forgetting your troubles and focusing on the year ahead. In Wanaka, celebrations include a hangi (a traditional Maori feast, cooked underground in a hangi pit), workshops and performances, as well as a huge fireworks display.
NZ Winter Games
An internationally regarded snow sports event, the annual Winter Games is held in Otago and includes some of the world's best winter sports athletes in:
free skiing

snowboarding

alpine skiing

cross-country skiing

curling.
Check out the schedule on the Winter Games website.
NZ Mountain Film Festival
This annual festival shows over locations in both Wanaka and Queenstown, annually in June/July. for festival details see https://www.mountainfilm.nz/
Bungy's Top Tips To Enjoy The Slopes
Wear a helmet
Especially you learners! New Zealand's ski slopes are rocky and icy, so helmets are important. Protect your noggin!
Look before you leap
It's rocky round these parts and you never know when a tree might be around the corner. Look before you leap.
First time skiing or snowboarding? Take a lesson!
Bookings are essential, especially during peak season.
Treble Cone Group Lessons

: The ski school at Treble Cone is great for children and adult learners alike. Pricing for adults starts at $223, including a lift pass, ski or snowboard rental, an all day lesson, scenic chair lift ride, express bus, and mountain shuttle.

Treble Cone Private Lessons

: If one on one learning is more your style, then accelerate your learning with a

private ski or snowboarding lesson.

Lessons on offer are 2 hour, half day, or full day, starting at $329 an hour.

Cardrona Group Lessons

: Starting at $115 group lessons are a great way to pick up skiing or snowboarding without the stress (and arguments!) of being taught by a loved one.

Cardrona Private Lessons: For when you just need that personal coaching touch, grab a private lesson with one of Cardrona's experienced instructors, details on pricing and how to book online.
Dress Warm
Layer up. Mountain conditions, especially in New Zealand, can be unpredictable.
What if the mountain is closed?
Come Bungy Jumping! With three locations across the Queenstown district, and shuttles running from downtown Queenstown, make the most of your day off and get your adrenaline fix.
Check out some of our Queenstown adrenaline-seeking bungy experiences:
Related reading:
The ultimate ski rest day in Queenstown
What to do in Wanaka in winter