New Zealand is world famous for its high adrenaline, invigorating adventures — and the country is truly a thrill-seekers playground. As the nation's biggest city, there's an almost unlimited number of fun things to do in Auckland if your primary goal is to get the heart racing.
Ready to feel exhilarated? Here are a few ideas for a memorable Auckland adventure.
1. Bungy jump off the Auckland Harbour Bridge
The quintessential New Zealand experience, bungy jumping in Auckland combines an iconic activity with an iconic structure: the Auckland Harbour Bridge. Here bungy jumpers make the 40m leap from the Bungy Pod situated underneath the bridge while traffic whizzes by overhead. You may even have an audience watching from the Auckland Bridge Climb or a nearby boat. And if you're in search of an extra buzz while you bungy, you can opt for the water-touch option and dip your head into the refreshing waters of Auckland Harbour.
If watching instead of partaking is more your style of adventure, you could always try the Auckland Harbour Bridge climb instead. This trip offers breathtaking views of the city as you climb this famous structure, with your guide giving you lots of tips and information as you make your way to the top. And with this experience being open to kids as young as seven-years-old, it's a thrill the whole family can have a go at.
2. Tour Auckland at speed aboard a jet boat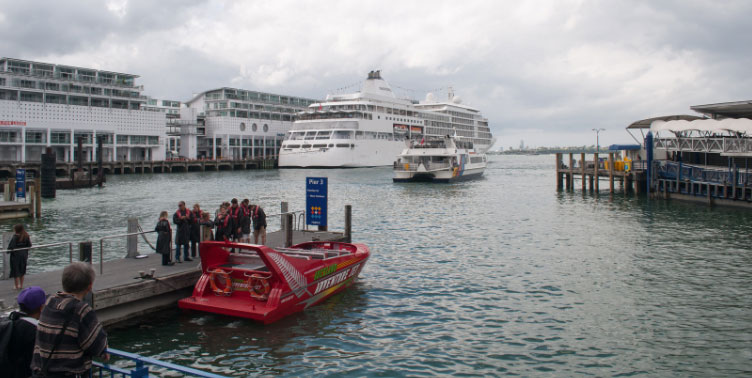 [Photo credit: D Coetzee/Flickr]
Tour buses and walking tours of the city are one thing, but if you're someone who loves to feel the wind in their hair, checking out Auckland by jetboat is probably more your speed. Auckland Adventure Jet will whizz you around the harbour, with your driver not only telling you about the city but also giving you the thrill of your life. Your 30-minute trip will see you safely aboard a boat equipped with twin V8 500 hp engines, capable of going more than 50 knots (it's impressive, trust us!), and promises to be far more exciting than schlepping around Auckland by foot.
3. Have a canyoning adventure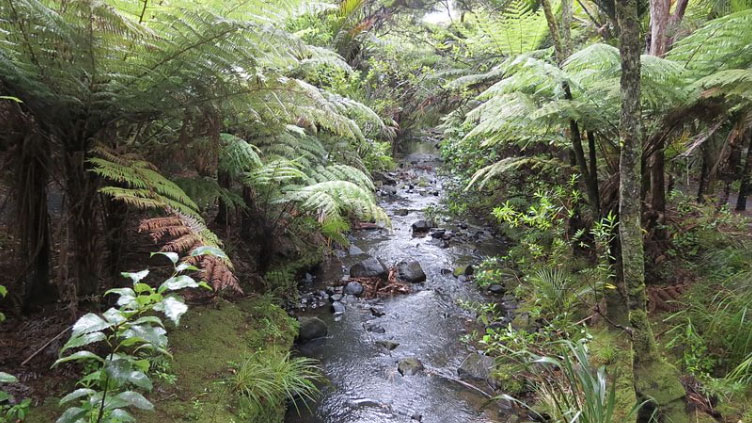 [Photo credit: Bob Linsdell/Wikicommons]
Just outside of Auckland lies the impressive Waitakere Ranges rainforest, the perfect place for a spot of canyoning. AWOL Adventures offers everything from a half day experience that's perfect for the whole family, to a full day programme that includes freestyle jumps, abseils and slipping down natural water slides. You don't need any prior experience for this trip, just a willingness to get amongst it.
4. Camp and tramp on Rangitoto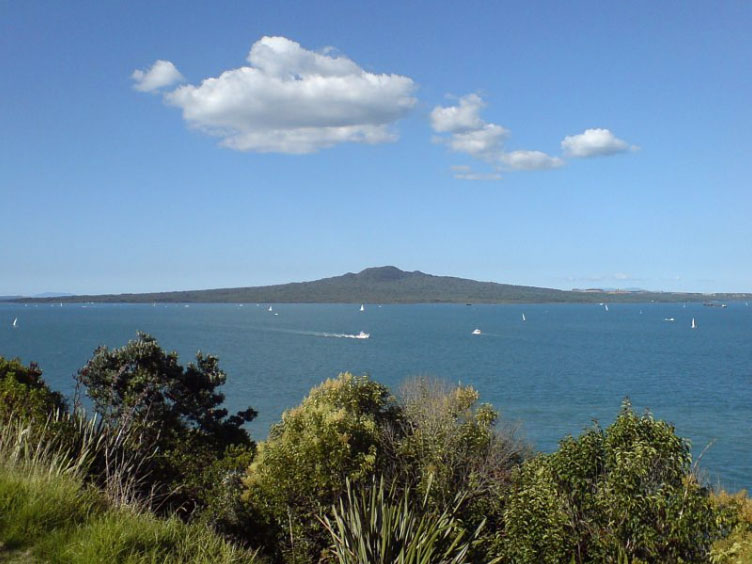 [Photo credit: Ingolfson/Wikicommons]
Just a short trip from Auckland's CBD lies Rangitoto Island, a haven for native wildlife and nature lovers. And at a sprightly 600-years-old, it's also New Zealand's youngest volcano! The island is a 25-minute ferry ride from the city, or if you're truly up for a challenge you could take part in the Rangitoto Ocean Swim, held in March each year! Once you arrive on Rangitoto you can walk the island's many tracks, kayak the coast, try to catch a fish dinner, or even camp overnight.
5. Head to Vector Wero Whitewater Park
Ready to get your heart racing? Why not have a crack at white water rafting on New Zealand's first artificial watercourse. This brand new park is in the heart of Auckland city and has the option of two white water rafting routes — as well as the world's highest man-made waterfall. Whether you want to raft, kayak or even stand up paddle board, you can do it all here. And with advanced or recreational options, there's something for every level of adventurer.
6. See Auckland from above with a skydive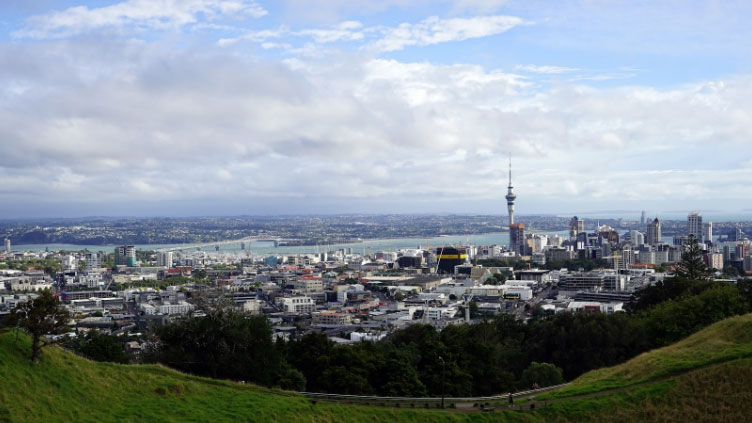 [Photo credit: Bernd Hildebrandt/Pixabay]
There's no better way to get the lay of the land than with a spectacular skydive over the city. The team at Skydive Auckland will help push you out of your comfort zone (and a plane) as you jump from heights of up to 16,500 feet, experiencing an exhilarating 75 seconds of freefall. The sights you'll see as you make your way back to solid ground will definitely leave you buzzing — a surefire holiday highlight.
7. Get dizzy atop the Southern Hemisphere's tallest building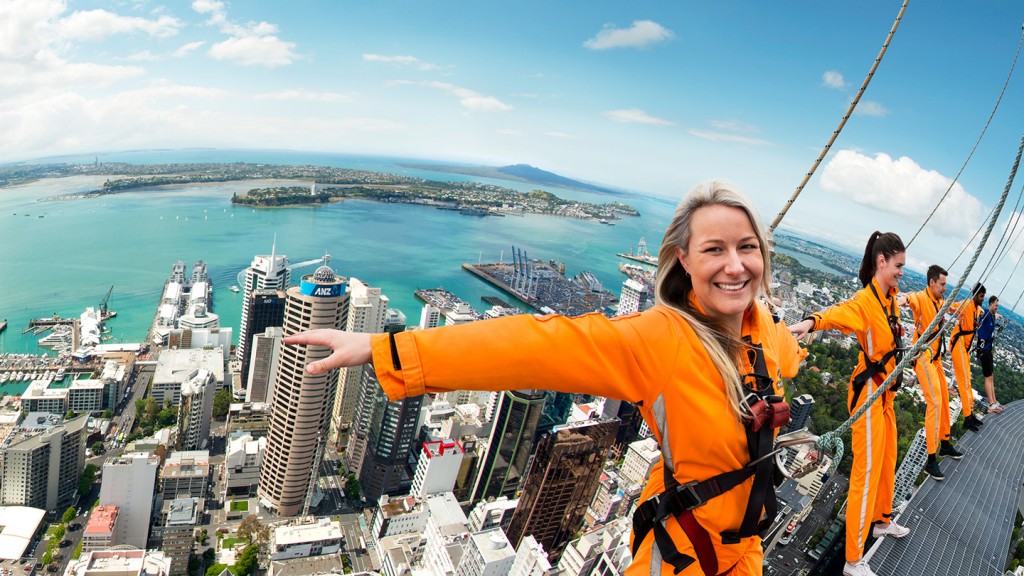 There's no way of missing the Sky Tower in the middle of Auckland — the 328-meter tall tower is the tallest structure in the Southern Hemisphere! Luckily for thrill seekers, you also have the chance to conquer this beast with the SkyWalk experience. SkyWalk takes you all the way around the tower, allowing you a 360-degree view of the city from a dizzying 192 meters.
And if still can't get enough of heights, why not live out your superhero dream and jump OFF the Sky Tower as well! SkyJump allows you to leap off the edge of the tower, dropping 192 meters to the ground at speeds of up to 85 kilometers an hour. The experience is similar to Base Jumping, but because you're attached to a wire, this Auckland adventure is totally safe and anyone from 10-years-old can give it a go.
8. Check out the famous Piha beach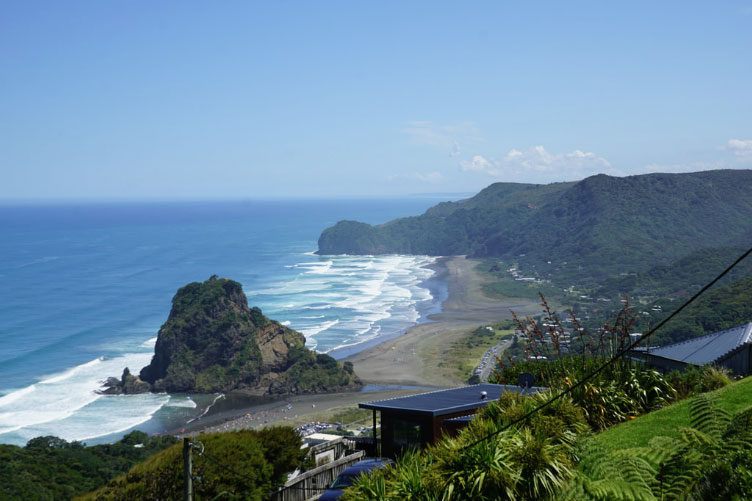 [Photo credit: thinkrorbot/Flickr]
Piha is one of the country's most famous beaches, known for its amazing suf and black sand. Here you can sit back and relax, swim between the red and yellow flags, surf, or climb the enormous Lion Rock that divides the North and South beach. If salt water's not your thing, you can also walk the nearby Kitekite track, which ends at a beautiful waterfall and swimming hole. Piha is 39 kilometers from Auckland central, and because it's on New Zealand's west coast, it's a great place to catch a stunning sunset.
9. Shred it up at Snowplanet
After so many exciting activities you may need to cool down, and there's no better place to do that than Snowplanet (see what we did there?). This indoor snow dome has a 200m long slope, complete with terrain park and beginner's area — meaning shredders of all skill levels will have fun. And if skiing or snowboarding is not your cup of tea, rent a tube or toboggan for some low-key thrills.
Still Looking For Awesome Auckland Activities?
What's On In Auckland This Week?
Things To Do In Auckland With Kids?
10 Cheap or Free Things To Do In Auckland