When you first fly into New Zealand you'll behold the rolling hills and sprawling beaches from above, just waiting for your first chance to see it up close. If you have a layover in Auckland and want to explore a little before continuing your kiwi adventure, we have the ultimate list of 10 things to do on an Auckland layover that are convenient and tenfold more fun than sitting in an airport. 
If your layover only involves you transiting New Zealand before moving on to another country, please read this immigration information to see if you're permitted to leave the airport. If you're entering Auckland and then catching a domestic flight, read on! 
Once you land in Auckland, we know you're itching to find the pinnacle of city sightseeing and lucky for you, it's not hard to spot! New Zealand's tallest building, the Sky Tower, shoots 328m into the sky and attracts visitors day after day. Its glass elevator and 360° views are something to behold, but we know how to get even better views, better photos, and better stories to take home; go beyond the glass.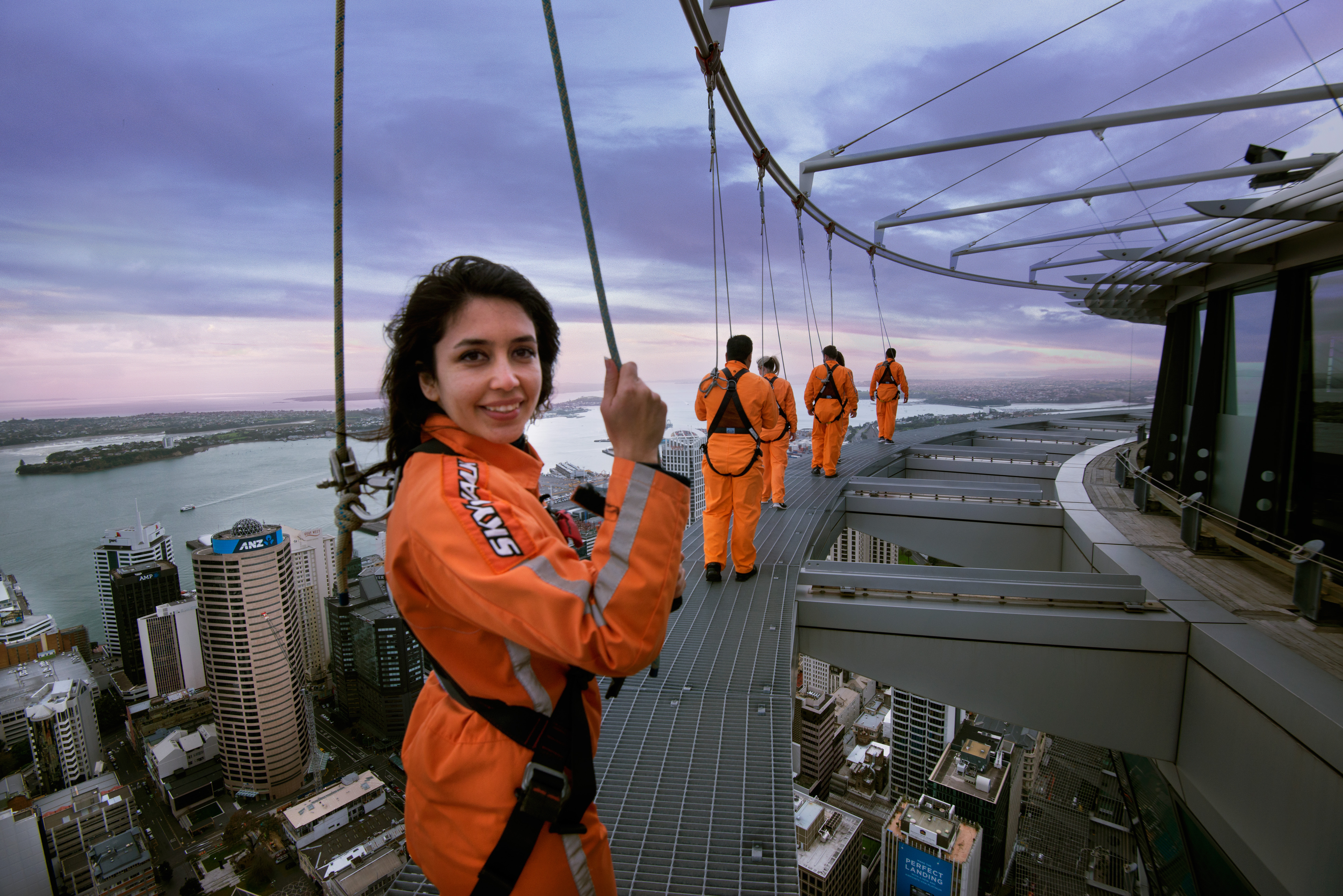 Auckland's Skyjump and Skywalk are based at the Sky Tower, combining ultimate views, dizzying heights, and bursts of adrenaline. As they're both located in the true heart of Auckland's CBD, grabbing an airport shuttle bus or Uber from the airport is the ideal way to optimize your layover.
Just passing through? Airport shuttles use the city as their most common route, so it's no problem getting back if you book a return. 
Staying a little longer? The Sky Tower is like a huge location pin marking stunning hotels, retail shops, and hundreds of restaurant options; everything you need to stay awhile in style and let the adrenaline wear off. 
The Skyjump will have you leaping from 192m above the busy city of Auckland, falling up to 85kph feet first before being slowed and lowered to the platform at street level. You'll fall for 11 seconds, rushing past 53 stories of fellow visitors as they look out from the glass and wish they were you. The feeling of stepping into the landscape itself and seeing the ground rush up to meet you is a unique feeling; a Skyjump is very different from a bungy jump so if you're heading to Taupo or Queenstown for a bungy on the next leg of your journey, this is the ultimate warm up!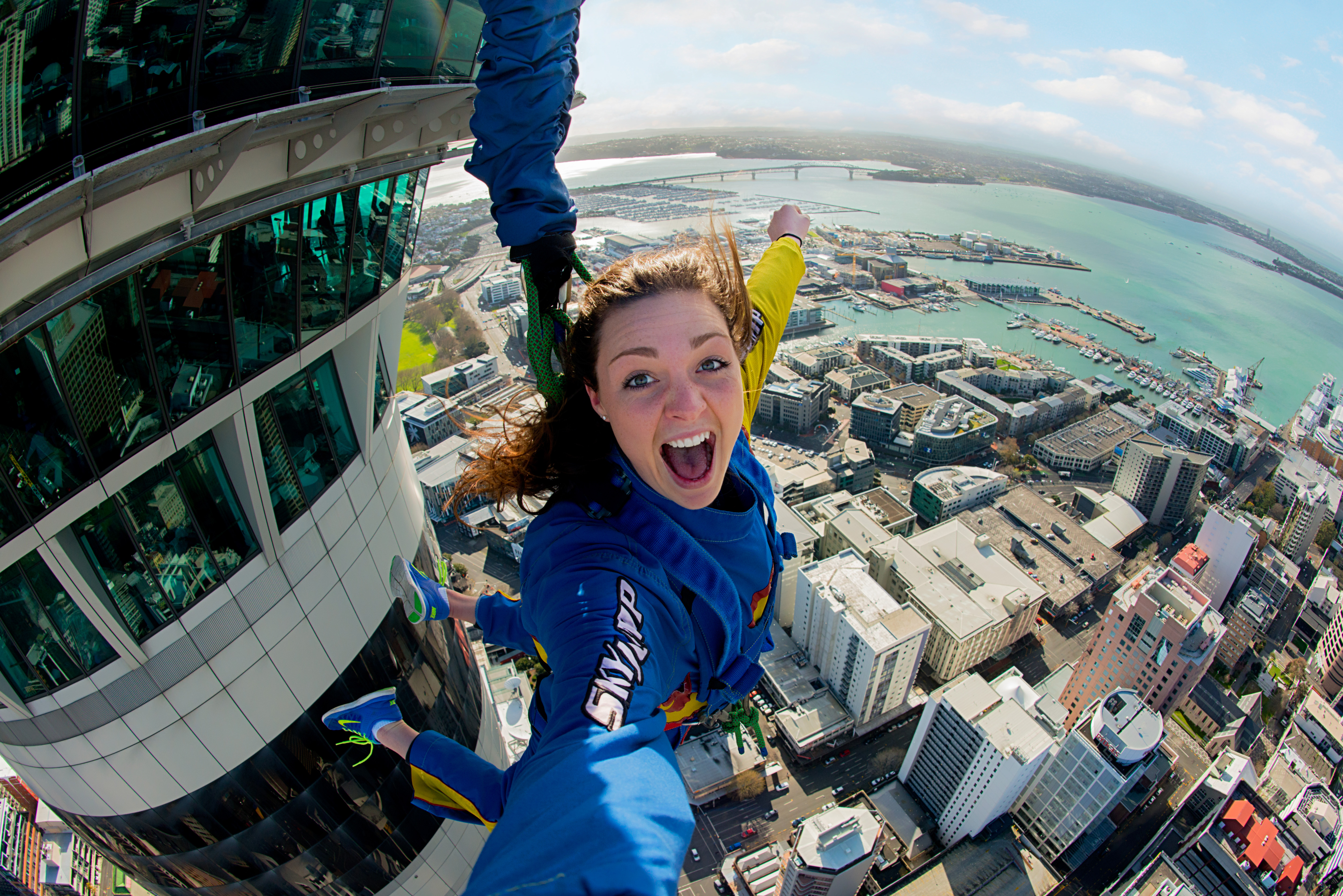 Keen to keep your feet on a solid surface? Sure, we can do that! But that's the only surface you get…The Skywalk is the ultimate sightseeing tour with no handrails, no crowds, and no glass obstructing your view. Head out onto the 'ring' outside of the tower and appreciate the stunning view of Rangitoto, the Waitematā Harbour, and Auckland City from a vantage point of 192m. You'll have the opportunity to complete small challenges like leaning out over the edge or walking backward without looking; with a little encouragement from your guide, you can take a walk around the tower and one step outside your comfort zone. 
If you're not looking forward to facing a layover at Auckland Airport with young kids, we don't blame you! Butterfly creek is the perfect activity to park to get some fresh air and see sights you'd never get on the airport's white walls! This family-friendly must-do is only a two-minute drive or 10-15 minute walk from the airport and Butterfly Creek offers a free shuttle when you purchase admission tickets. Stretch your legs around the park to experience saltwater crocodiles, unique tropical butterflies, meerkats, kiwis, a farm animal petting zoo, a train ride, and even some extinct creatures. Butterfly Creek is home to a prehistoric park where you can wander around among huge dinosaurs that move, roar, and pose for pictures. The adults can get a well-deserved coffee and relax (a necessity while traveling) while overlooking the large playground. If your layover and the time slots align, book a private animal encounter for an unforgettable stopover.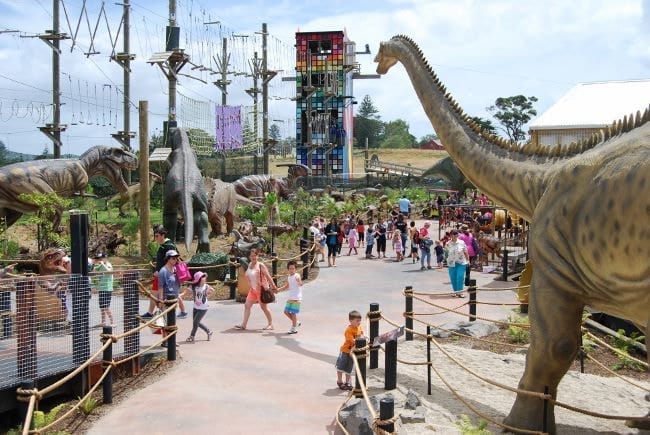 If your layover in Auckland is likely to last the night, seeing the City of Sails lit up from the water is something you can't miss. Pack a tidy dinner outfit in your carry-on and glide over the glassy waves on an Auckland Harbour Dinner Cruise. Immerse yourself in the Waitematā Harbour with dinner canapes and a welcome drink as you depart the Viaduct Basin before settling in for a three-course meal above deck. The glittering Sky Tower and glowing Harbour Bridge will complement your meal perfectly and give you a good taste of Auckland in the brief window of a layover.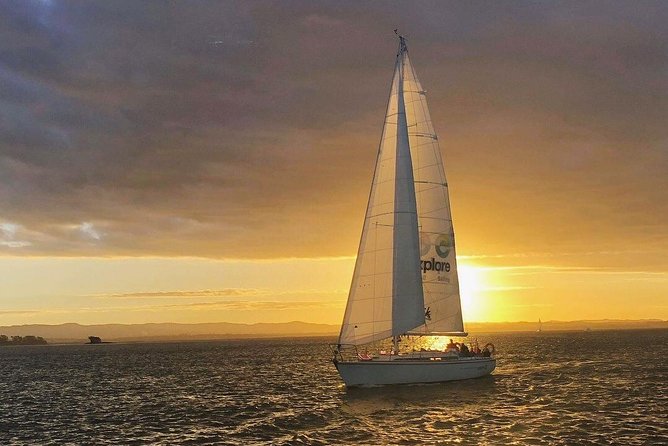 For those that wouldn't order the motion of the ocean as an entree, you can still experience the city lights with your meal if you swap cruising the tide for sitting in the clouds. Orbit 360° is the highest dining experience in New Zealand on level __ of the Sky Tower. The restaurant has floor-to-ceiling glass windows overlooking the bright city lights where you're sure to see it all; the dining area rotates 360°once every hour so every table gets the best seat in the house. With a delicious kiwi-inspired à la carte menu paired with fine wine options, this is a truly unique restaurant to visit on your trip. 
Walk the Maunga (mountains)
We know a few places where leg room is infinite and you don't have to share an armrest. If you're looking to stretch your legs during a layover in Auckland, check out Maungawhau/ Mount Eden or Maungauika/ North Head for a glimpse into history. 
Maungawhau/ Mount Eden is one of our 48 volcanic cones and the highest natural point in Auckland. Catch an Uber directly to Mount Eden and take a slight climb up to the main crater to appreciate its sheer size,, Discover the volcano's history as a traditional fortified Māori village, and hopefully spot a few sheep on the way! The tihi (summit) has fantastic views of the city. 
A short ferry ride away from the city center, Maungauika/ North Head overlooks the harbour and holds a network of historic tunnels to explore. The reserve and volcanic cone mark the northern headland of the Waitematā Harbour. In the 1880s, it was feared that a Russian invasion was advancing so Whangauika/ North Head was fortified with underground bunkers and disappearing guns to protect Auckland. You can still wander the intricate network of tunnels, but we recommend a torch to navigate the many dark corridors.
For families and anyone interested in wildlife conservation, the Auckland Zoo is the perfect way to spend a layover. Catch a taxi or Uber straight to the zoo and tailor your visit to suit your flight schedule. The Auckland Zoo not only has over 1,400+ unique animals, but also private encounters, keepers talks, educational signs, and a viewing suit into the vet hospital. The zoo truly has all you need for a layover with a gift shop, picnic areas, and five cafes/ restaurants. If you've just arrived in New Zealand, you can get your first look at a Kiwi here!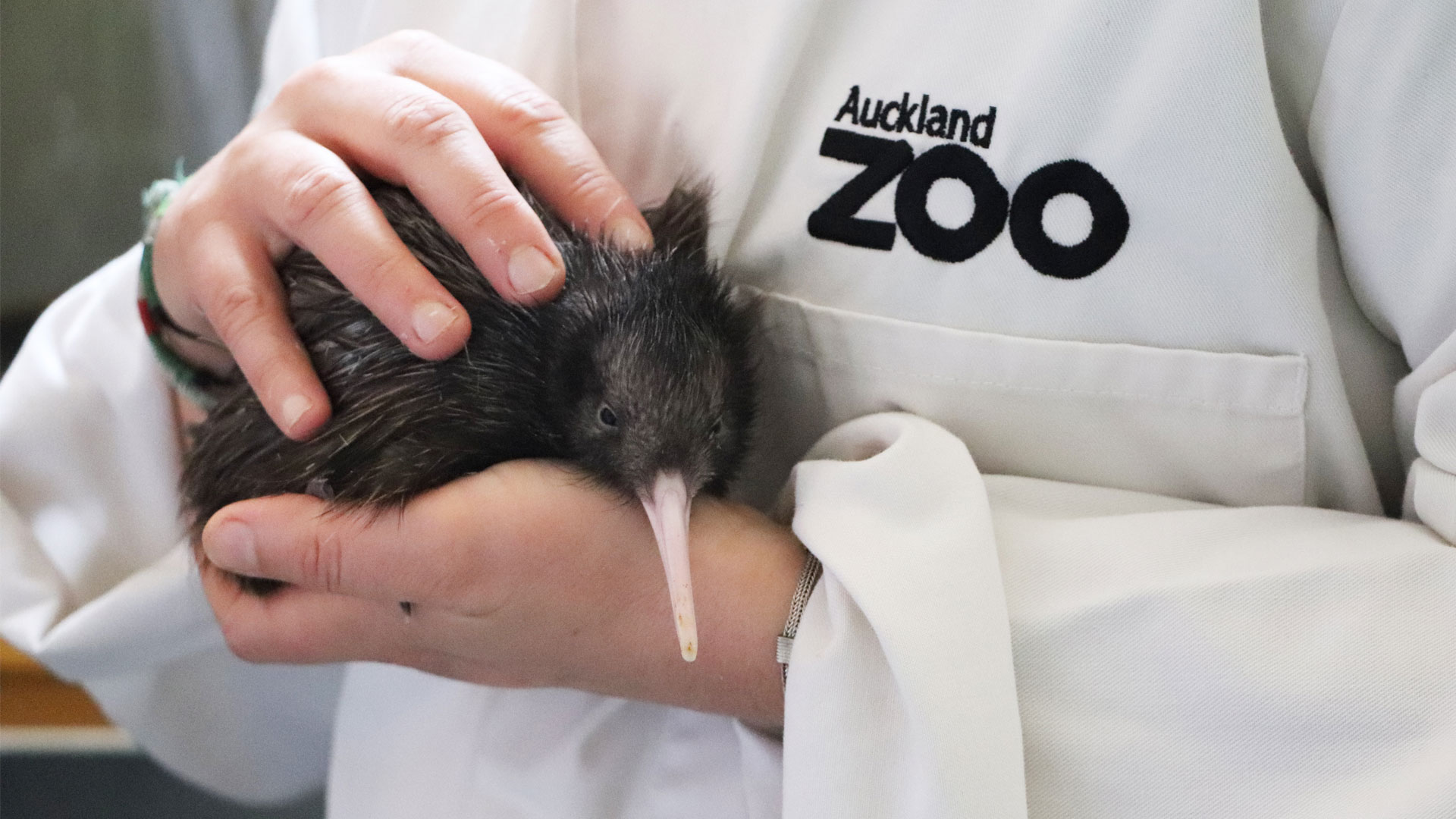 If you're trying to fill a whole day in Auckland and big cities aren't your speed, maybe escaping to an island and sipping wine in luxury is more your style. Opt for a Waiheke Wine Tour and enjoy a return ferry ride with stunning coastal views of the Hauraki Gulf and out to the Coromandel peninsula before relaxing at three or four different world-class wineries. All transport is included so you can get from A to B hassle-free, as well as fun commentary from your guide. Depending on how great the wine tastes, you may need to recover with an overpriced bottle of water or two back at the airport.
It seems ironic to spend your layover aboard another plane, but we promise it's worth it. Swap the seatbelt sign for a parachute and take the leap with Skydive Auckland. 
Auckland is the only place to experience New Zealand's highest tandem skydive at 20,000ft. Launch into the spectacular and unique views of both the east and west coasts of New Zealand as you freefall at a speed of 200+km/hr. If your flight lands early in the morning, you'll have plenty of time to clear immigration and make your way there for the 9am booking. You can find your own transport directly from the airport like Uber or a taxi. Alternatively, Skydive Auckland offers free transport from Auckland city which may be a cheaper option when combined with an airport shuttle to the CBD. 
As soon as your wheels touch down, Auckland Adventure Jet are starting their engines to take you on the fastest thrill on the Waitematā Harbour. In contrast with other jet boat trips around the country, this thrill ride highlights urban surroundings by flying past the viaduct harbour, historic Chelsea Sugar Factory, and exploring underneath the Auckland Harbour Bridge; if you're really lucky you might get a unique spectator experience of our Auckland Bridge Bungy. 
 Auckland's Unique Museums
Auckland has two unique museums with educational and interesting exhibits surrounding New Zealand's history.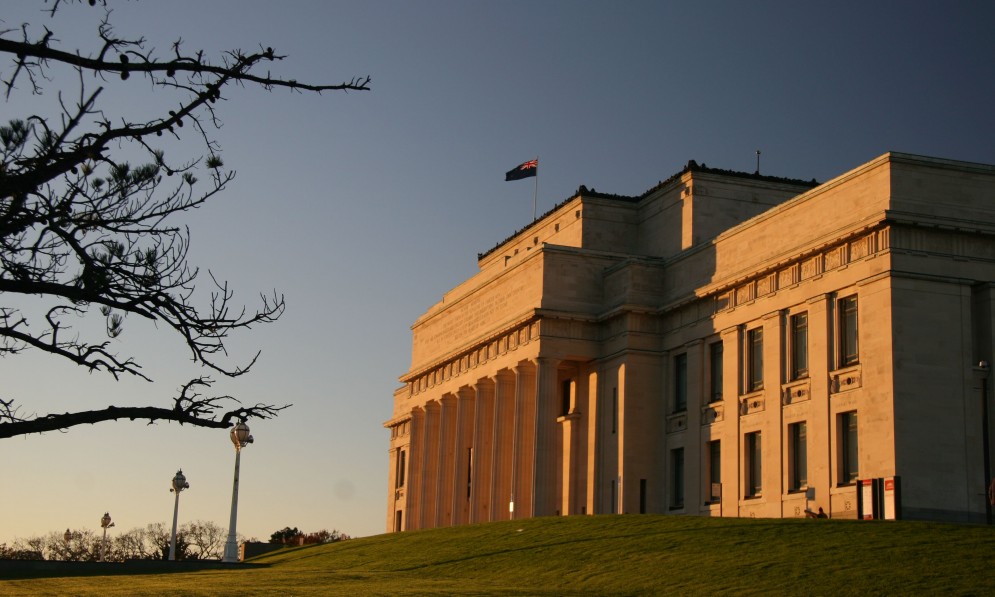 The Auckland War Memorial Museum Tāmaki Paenga Hira has very moving exhibits depicting New Zealand's contribution to various conflicts, such as The Pou Kanohi gallery, a Hall of Memories dedicated to each world war, and stories from holocaust refugees. Although history is not always pleasant, educating yourself about the country you're visiting can enrich the rest of your journey here. 
The Auckland Maritime Museum conveys New Zealand's seafaring history, from early settlers to Sir Peter Balke and America's cup victory. Marvel at the replica voyaging vessels from Oceania and interactive displays, including a traditionally-built, 76-foot baurua voyaging canoe from the Kiribati Atolls. 
When those airplane doors open we want you to say "Kia ora!" to the first opportunity you can; use this list to get a taste of Auckland and then let your New Zealand travel take flight!