If swimming, mountain biking, great food, local markets and incredible walks dominate your 'things to do list' while on holiday, then Wanaka may just be your ideal spot. Many people assume that Winter is the busy season in Wanaka, but during the summer months this stunning town comes alive, thanks to its gorgeous landscapes and warm sunny climate. Whatever your persuasion, there's plenty of things to see and do in Wanaka during Summer. So check out our Bungy Crew recommendations for the perfect way to enjoy your stay in Wanaka.
1) Discover Wanaka's Best Swiming Spots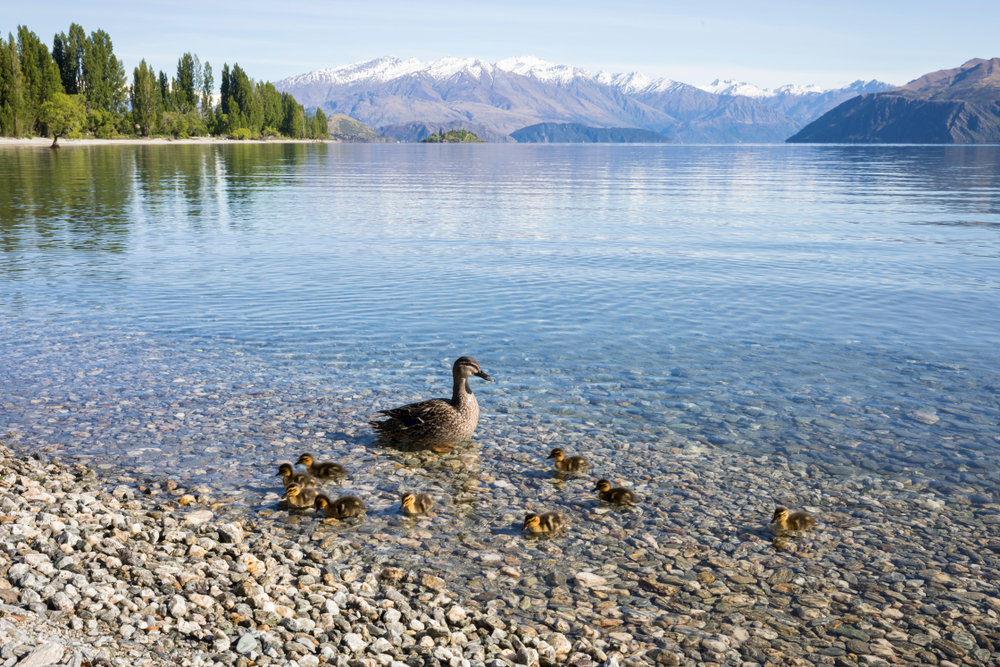 Glendhu Bay
Glendhu Bay is a pristine sandy beach set amidst the spectacular backdrop of Mount Aspiring National Park. It's accessible by car, mountain bike or hiking track.
There's also a holiday park located on the bay for family camping trips, as well as boutique accomodation for the luxury holidaymaker.
Blue Pools
As well as being a beautiful walk that is manageable for the whole family, the Blue Pools are a great place to visit if you fancy a refreshing dip. The blue pools are located where the Blue River meets the Makarora River.
You'll need to brave some dense beech forest along the way, but the walk is worth it! The sky blue pools are something to behold. Is there anything better than plunging into sapphire blue water on a hot day?
Main Beach
Main beach is the place to go if you love doing flips and bombs off the wharf. Many locals say if you haven't jumped off the main beach wharf, you haven't been to Wanaka! Just don't let anyone catch you doing a bellyflop.
2) Sample The Best Places To Eat In Wanaka
Food glorious food! There are plenty of options when it comes to eating and drinking in Wanaka, from fine dining to humble takeaways.
Cafés
For your daily coffee fix in central Wanaka, head down to Urban Grind. They offer coffee, beer, wine and a full option menu. If you're keen to venture off the beaten track, head out to Cardrona Valley and visit Florences Foodstore and Cafe. Enjoy a meal at the cafe, take in the views of Mount Aspiring National Park, then peruse the Foodstore while you sample the wares.
Restaurants
Bistro Gentil offers modern French cuisine, making the most of Otago's fresh, seasonal produce. For great slow food, head to Big Fig and enjoy tasty Middle-Eastern dining located on the lakefront. Fancy something spicy? Then Thai Siam Restaurant should meet your tastes. There's something for everyone when it comes to dining out in Wanaka!
Takeaways
For families with young children or those looking for cheap and cheerful eats, there are plenty of takeaway food options in Wanaka. Grab the kiwi classic from Erik's Fish and Chips and have a picnic dinner on the lakefront. Definitely try their deep-fried kiwifruit for dessert. Of course, there's also tasty crepes available from Charlie Brown's Crepe Truck. Two desserts never hurt anyone, right?
3) Mountain Biking
Cardrona Bike Park
If you're mad about mountain biking, you will love this lift accessed mountain bike park! Skip the uphill grind, for a picturesque lift ride. Then, enjoy lap after lap of exhilarating down hill runs on some of the longest mountain bike trails in New Zealand.
Top tip – make sure you leave some energy in the legs to tackle the famous Peak to Pub trail that descends an eye watering 1,270m from Cardona, all the way to the historic Cardrona pub for a beer afterwards. This track isn't open all the time -meet up with the hosts under the archway at 4pm, who will guide you down the 10km of epic single trail!
If mountain biking isn't for you, try your hand at mountain carting! A Mountain Cart is a German-made, alpine specialised trike, designed with comfort and safety in mind. With four cart sizes to choose from, kids can race their parents down the mountain, and those under 120 centimetres tall can ride tandem with an adult. Cardrona has three mountain cart tracks available – the longest one is just over 3 kms.
Sticky Forest
Sticky Forest Bike Track can be found amongst Wanaka's pine forest. Choose from over 20 single lane tracks that weave through the trees. There's beginner through to advanced tracks, including the legendary Crankin' Fine's uphill corkscrew. That'll get your wheels spinning!
Wanaka Lakeside Tracks
Take in the stunning views and inhale the sweet scent of the foxgloves, as you cruise along the lakeside tracks of Lake Wanaka and Hawea. These gentle tracks are great for the whole family. Take a picnic lunch and make a day of it.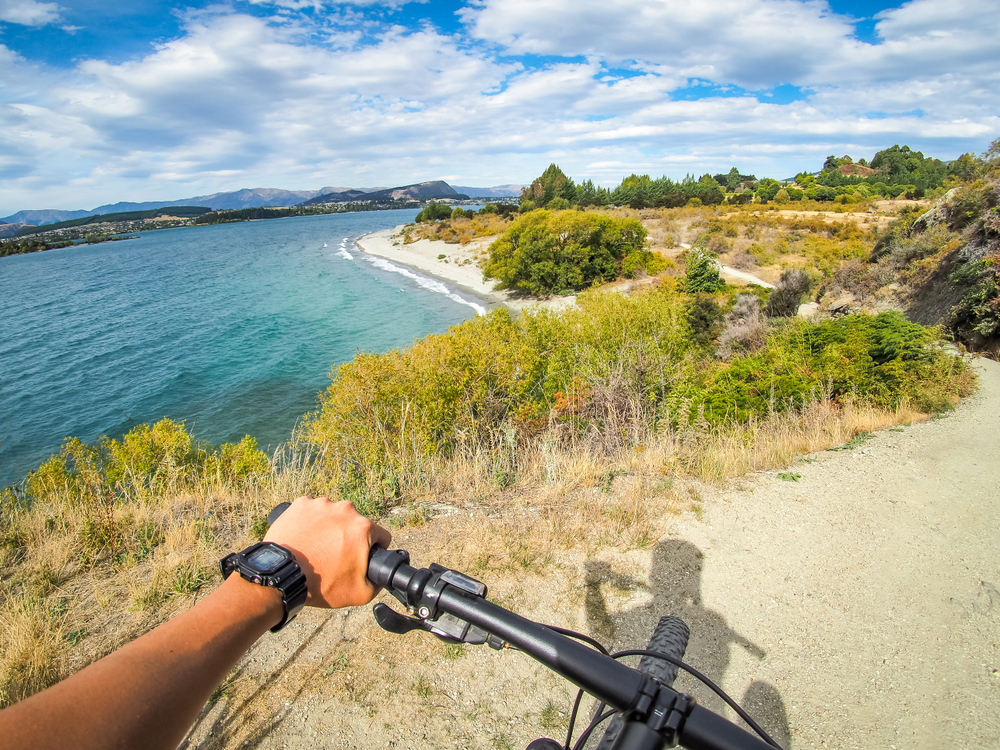 4) Walks and Day Hikes
The great thing about visiting Wanaka in summer is the amazing hiking tracks that are too risky to tackle during winter. With summers welcome reprieve, why not conquer some of Wanaka's best hikes and take in the incredible views. #nofilter opportunities a-plenty.
Roys Peak
Do you have what it takes to conquer Roys Peak's 1,578 metre summit? There's only one way to find out! This 11km track is not for the faint hearted. You'll need to have a good level of fitness – prepare yourself for a seven hour return hike. There is no water available on the track so make sure you take plenty with you.
Even in summer, the weather can chop and change. Temperatures drop quickly, so it's best to take extra layers in case it starts to cool off.
Isthmus Peak
If you'd do anything for the gram, (and a spectacular view of course) then you'll love the Isthmus Peak Track. After a 16km walk over creek banks, farm track and ridge lines, you'll reach the top of Isthmus Peak. There you will be rewarded with an amazing view of Lake Wanaka and Hawea, as well as the Southern Alps.
Rob Roy Glacier Track
If you consider yourself the next David Attenborough, and a love alpine scenery, sheer rock cliffs, native bird life and waterfalls, then this is the walk for you! The 10km hike takes about five hours return and climbs through native beech forest and alpine vegetation. Take in the stunning views of the Rob Roy Glacier when you reach the top.
5) Wanaka Summer Events Calendar
This little township comes alive in the summer months, so naturally, there's heaps of things to do in Wanaka. Think events a-plenty – from adventure racing to music festivals. Here's some events to mark in your summer calendar:
Challenge Wanaka
For the avid sports enthusiast there's the annual triathlon event, Challenge Wanaka. If there was ever a place to endure a half or full Ironman triathlon, Wanaka's picturesque landscape would be it.
Though beautiful as it may be, this race isn't for the faint hearted! Think long uphill climbs over rocky alpine terrain. If you're more of a spectator when it comes to triathlons, you won't be alone. Every year Wanaka sees over 10,000 spectators attend the world famous event and around 2,000 competitors.
Rhythm and Alps
Over the New Year's Eve period, Wanaka's Cardrona Valley transforms into campground and concert stage for Rhythm and Alps. Running from December 29 to January 1, this camping and music festival hosts over 50 live music acts and welcomes 10,000 attendees. There's also three on-site bars and over 15 diverse food options. Music revellers rejoice – you can party late into the summer night here!
Warbirds over Wanaka
Warbirds over Wanaka is a three day aviation extravaganza! Held over Easter Weekend, this world famous event gives you a good reason to head down to Wanaka for summer's last hoorah.
Beginning in 1988, the biennial event held at Wanaka Airport now attracts crowds of around 50,000 people. A far cry from the mere 14,000 in its first year! Originally organised as a way for aviation enthusiast, Sir Tim Wallis, to showcase his vast collection of WW II planes, the show now features a range of both historic and contemporary aircraft.
The most recent event included displays by The Royal New Zealand Air Force, The Royal Australian Air Force and The French Air Force of New Caledonia. There were also parachute displays, aerobatics and WW II reenactment shows featuring an original Spitfire, Yak-3, Avenger and P-40.
Top tip: If you're excited to experience Warbirds over Wanaka, it pays to book well in advance. Some hotels and motels are completely booked out two years prior, so get in quick!
Wanaka Artisan Market
While you're in town you'd be mad not to stop by the Wanaka Artisan markets. Held every Thursday from 3pm till 6pm, the markets offer fresh produce, culinary delights and crafty handmade creations.
BONUS – Visit Queenstown
Wanaka is only an hour drive from Queenstown, so it's well worth heading over the Crown Range Road to check out what's on offer. Just make sure your car's air conditioning is cranking!
If you are in the neighborhood then why not stop by and say hello! 
Bungy Jumping
Queenstown is the home of Bungy jumping. Fancy dunking your head in the Kawarau river? How about leaping off a 43 metre ledge into the water?
AJ Hackett Bungy offers three remarkable Bungy jump opportunities throughout Queenstown. There's the iconic Kawarau Bridge bungy (also known as The First Bungy Jump in the World) that you can drive to yourself and even do in tandem with your buddy.
If you think you can handle the big guns, why not try the Ledge Bungy?  Accessed by gondola and set high over Queenstown, you can take in the city views whilst plunging 43 meters towards the ground below.
If bigger is always better in your book, you can't go past the Nevis Bungy. At over 134 meters, this is the highest Bungy jump in New Zealand!
Kawarau Zipride
Zip-riding is a great option if you're travelling with a family. Children eight years and up are able to get involved, as long as they are riding tandem with an adult. The zipride is a great gateway into Bungy jumping if you want to start small. Better yet, it's located just a stone's throw away from the Kawarau Bungy, so levelling up at the last minute is always an option!
Swing
Choose from the mighty Nevis Swing or the view-tastic Ledge Swing. The Nevis, which swings out in a 300 meter arc, is one of the biggest swings in the world. Or, take a relaxing gondola ride up to the Ledge Swing before pulling the self release lever for the ride of your life!
Wanaka Climate In Summer
Summers in Wanaka can get toasty! The recorded high for January 2018 was 35°C. You'll want to make the most of the balmy weather by checking out the fantastic scenery. And if you're heading here in winter, we've got some great winter-in-Wanaka activity ideas too!
Just make sure to pack your togs for a quick cool off and slip, slop and slap on plenty of sunscreen!
Helpful Links To Plan Your Stay In Wanaka:
Check out these handy links below and add a few more items to your 'to do list' while in Wanaka:
https://www.newzealand.com/int/lake-wanaka/
10 best cheap or free things to do in Queenstown
Great places to eat in Queenstown
What to do in Queenstown in the summer
How to ski Wanaka like a local