Landing in New Zealand is like flying into the well-sun blocked arms of your fun Aunt that has an endless list of games and adventures awaiting you. 
If you're touching down at Auckland Airport, you've just found that list. 
We have collected the top destinations, cultural sites, and unique activities that lead you on a self-drive journey from Auckland to Taupō; ideal for travelers hitting the highway in a rental car. This is the ultimate New Zealand road trip itinerary to discover all the different, well-known kiwi-isms without missing out! Of course, as the adventure capital of the world, it would be rude not to pencil in some of the best adrenaline and gravity-related challenges we have on offer.
This isn't the fastest route, but it's the most fun! 
Remember: In New Zealand, you drive on the left side of the road and give way to sheep.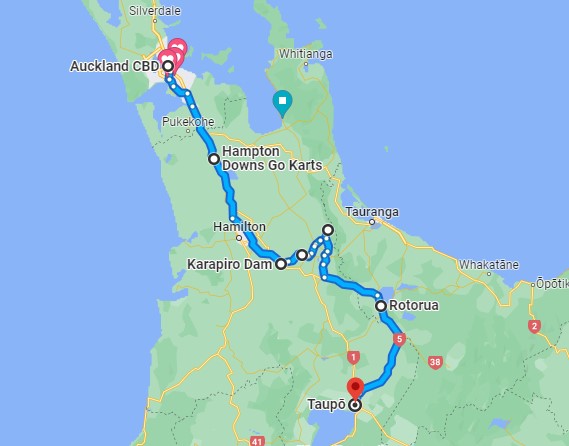 First on the list: land in Auckland and choose from the must-dos below or take your time in the city of sails to experience them all!
Start your roadie by experiencing the Southern Hemisphere's tallest free-standing fixture…from the outside! You can plunge 192m to the city below, racing 85kmph. Prefer to see the sights? The Skywalk will ensure you have no glass or walls between you and the stunning harbor views while you walk on the outside ring of the tower; no handrails, no worries. Embrace the uncomfortable and conquer this famous landmark to set the tone for your road trip. 
More of a freefall headfirst towards the ocean kind of person? Sure! Who isn't? Come and see why National Geographic just named the Auckland Bridge Bungy one of the Top 6 Things to do in NZ! 
If you're arriving at Auckland Airport, heading for the CBD will have you traveling roughly an hour in the opposite direction to Taupō. Trust us, the slight detour is worth it and you'll be back on track after some big city fun.
Rangitoto Island erupted from the ocean over 600+ years ago, making it one of the youngest volcanic islands in the Hauraki Gulf. Dominating the horizon, Rangitoto Island is almost entirely symmetrical, looking the same from different vantage points around Auckland. However, the island's best vantage point of all is the summit of Rangitoto. Accessible by a short ferry ride from the CBD, the Rangitoto Summit Track is a do-able two-hour return hike, exploring lava fields and caves along the way. 
This full-day trip collects all of Auckland's best allures; unique city views from the harbor, being immersed in 50+ islands in the Hauraki Gulf, walking through the NZ flora and fauna, and learning about Auckland's volcanic history as well as the rich Māori culture associated with this whenua (land). 
'Māori know the island as 'Nga Rangi-i-totongia a Tamatekapua' which translates to 'the day the blood of Tamatekapua was shed'. Tamatekapua was the chief of the Arawa waka (canoe) which arrived around 1350. He fought a major battle with resident iwi (tribe) on Rangitoto, leaving Tamatekapua's face bloodied and bruised' according to the Department of Conservation.
There are many more facts and legends to discover along your walk! 
Auntie's choice: moving down the country 
Hampton Downs is the North Island's hot spot for motorsport racing and fast-paced experiences. If cruising down State Highway 1 is making you hungry for speed, get it out of your system with the Hampton Downs Go-Karts. Hit their sprint track where over 500m of tarseal awaits your seriously powerful go-kart. Traveling with little ones? Two-seater go-karts are available, making it accessible for 6-10-year-olds to ride as passengers!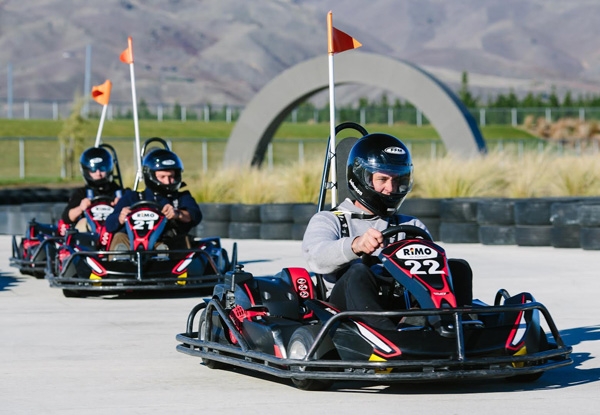 Te Ara Wai Journeys – Self-guided cultural tour  
The Te Ara Wai Journey is a self-drive tour in the Waikato region, allowing you to move at your own pace and still enjoy the 'guide' experience. You can head to the start of your chosen 'tour', open your phone and enjoy the ride.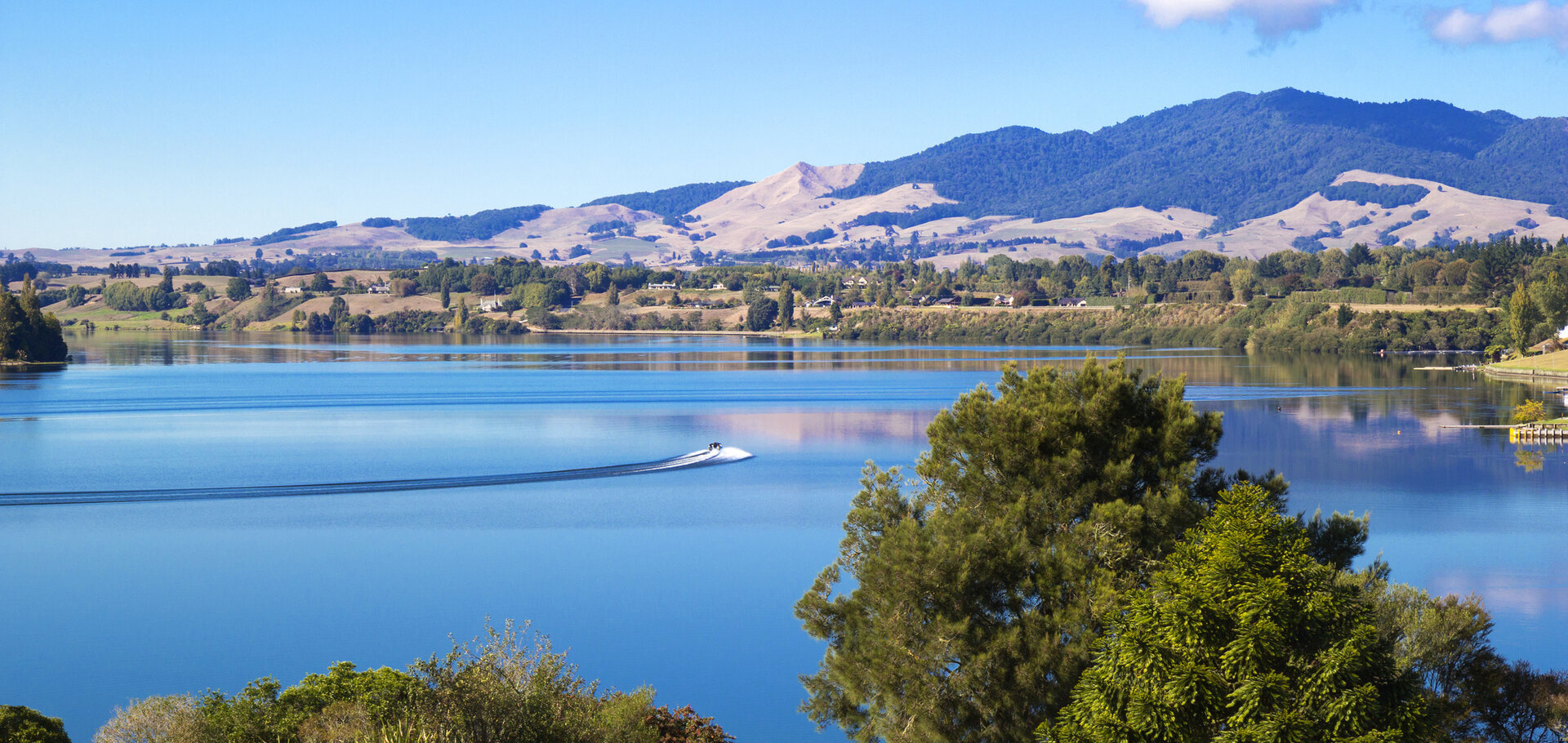 The ideal tour for your route is the 'Explore Karāpiro' where you'll learn about Karāpiro itself, a hydroelectric lake on the Waikato river, as well as landmarks that are culturally and ecologically significant to the Waikato region and the earliest tūpuna (Māori ancestors). On this route, you'll drive through fantastic rural landscapes and stretch your legs at five stops with information and directions provided by your phone.  
This is a unique, world-famous experience that needs no introduction (but we're going to do it anyway; we love talking about it). Your route is specifically designed to lead you straight past Middle-earth or, as some may call it, Matamata. The Lord of the Rings films were largely filmed in New Zealand, worked on by Wellington-based Wētā Workshop, and directed by our very own Peter Jackson. We're a proud country when it comes to the adoration of this mythical land.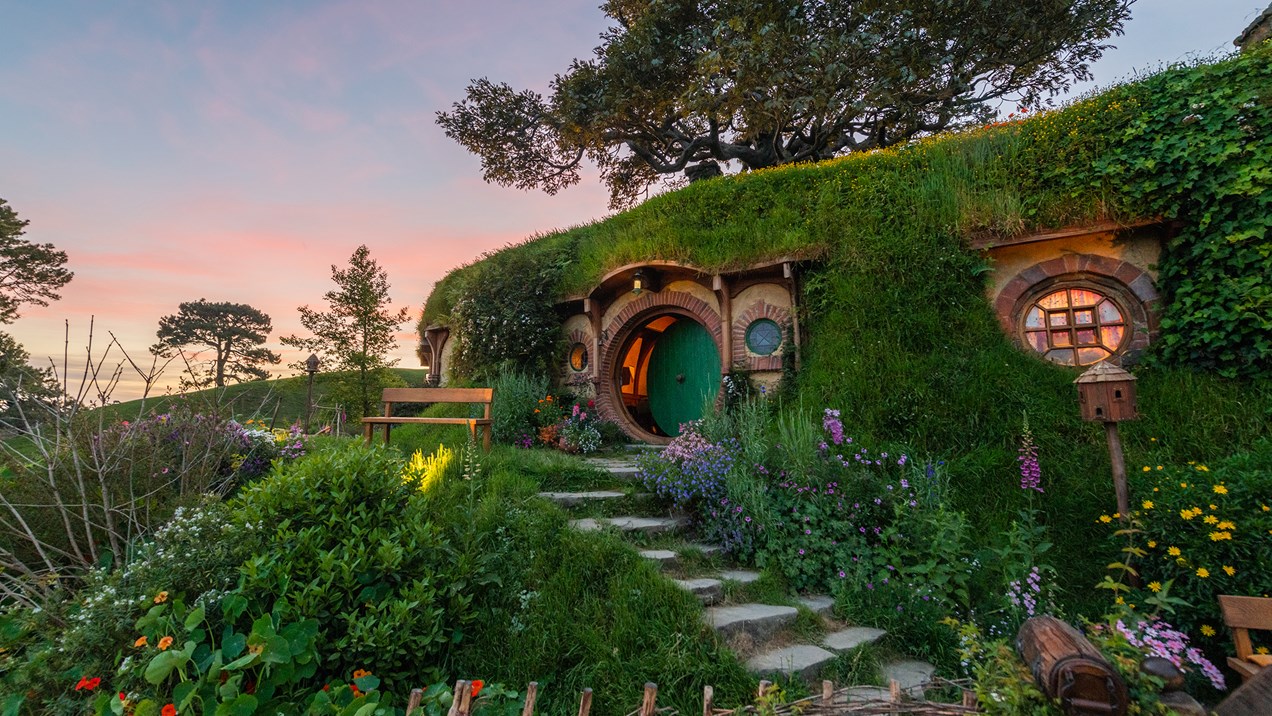 After filming wrapped for The Hobbit trilogy in 2009, 44 permanently reconstructed Hobbit Holes™ were left behind for the world to enjoy in the same fantastic detail seen in the movies. The land began as a humble sheep farm and has turned into something revered by millions; Hobbiton. 
There are plenty of different ways to experience the Hobbiton Movie Set depending on your superfan status and the time available for your road trip. Tour the grounds and Hobbit Holes, combine your tour with lunch, dine at the themed evening banquet, and much more. Discover a slice of New Zealand's movie magic at Waikato's must-see attraction!
After experiencing a man-made wonderland at Hobbiton, we also want to show you the raw power of nature in New Zealand. The Wairere Falls Track is a great mix of a typical bushwalk that dominates Kiwi's leisure time and the best photo opportunities at one of the highest waterfalls in the North Island.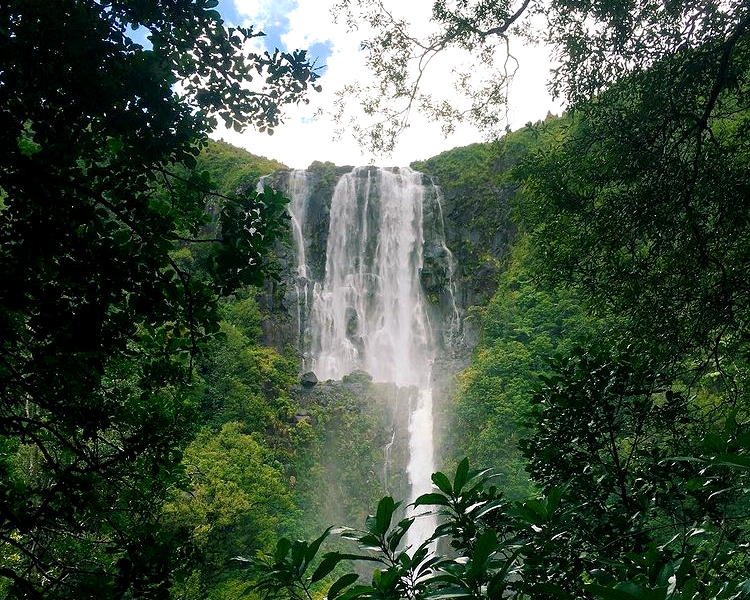 A 1.5-hour return walk will have you marveling at the huge 153m waterfall from a lookout or, if you're looking for a day hike, the 3-4 hour return track takes you to the very top of the waterfall for unbeatable views across the valley below.  
We insist you take the long way around by stopping in Rotorua, recently named on the list for Forbes' Top 50 travel destination for 2023. 
Let's address the sheep in the room because there are a lot of them here! There are more sheep than people in New Zealand, around six sheep per person for a total of 25+ million wooly friends.
Get stuck into New Zealand's true grit, farming history that we're so well known for by visiting the Rotorua Agrodome. Their Farm Tour, Farm Experience, or Farm Show options provide every opportunity to get down and dirty with many farm animals; feeding, patting, sheep shearing demonstration, and nursery visits are all on offer! 
It's usually a pretty good idea to jump in an inflatable ball and hurtle down a hill on the advice of an online article, right? Exactly. So head to Zorb Rotorua because we're telling you to!
Zorbing was invented in Rotorua New Zealand by two Kiwi blokes, yet another bucket list adrenaline activity New Zealand has pioneered! Fly down the longest Zorb tracks in the world with some splash in your sphere while beginning to understand why NZ is known as the adventure capital of the world. 
Whakarewarewa Forest, also known as 'The Redwoods', is one of the best places to visit in Rotorua if you want to immerse yourself in nature with endless activities to choose from. Weaving through Californian Redwood trees dating back to 1901 lies mountain bike tracks, hiking trails, and an otherworldly treetops walk.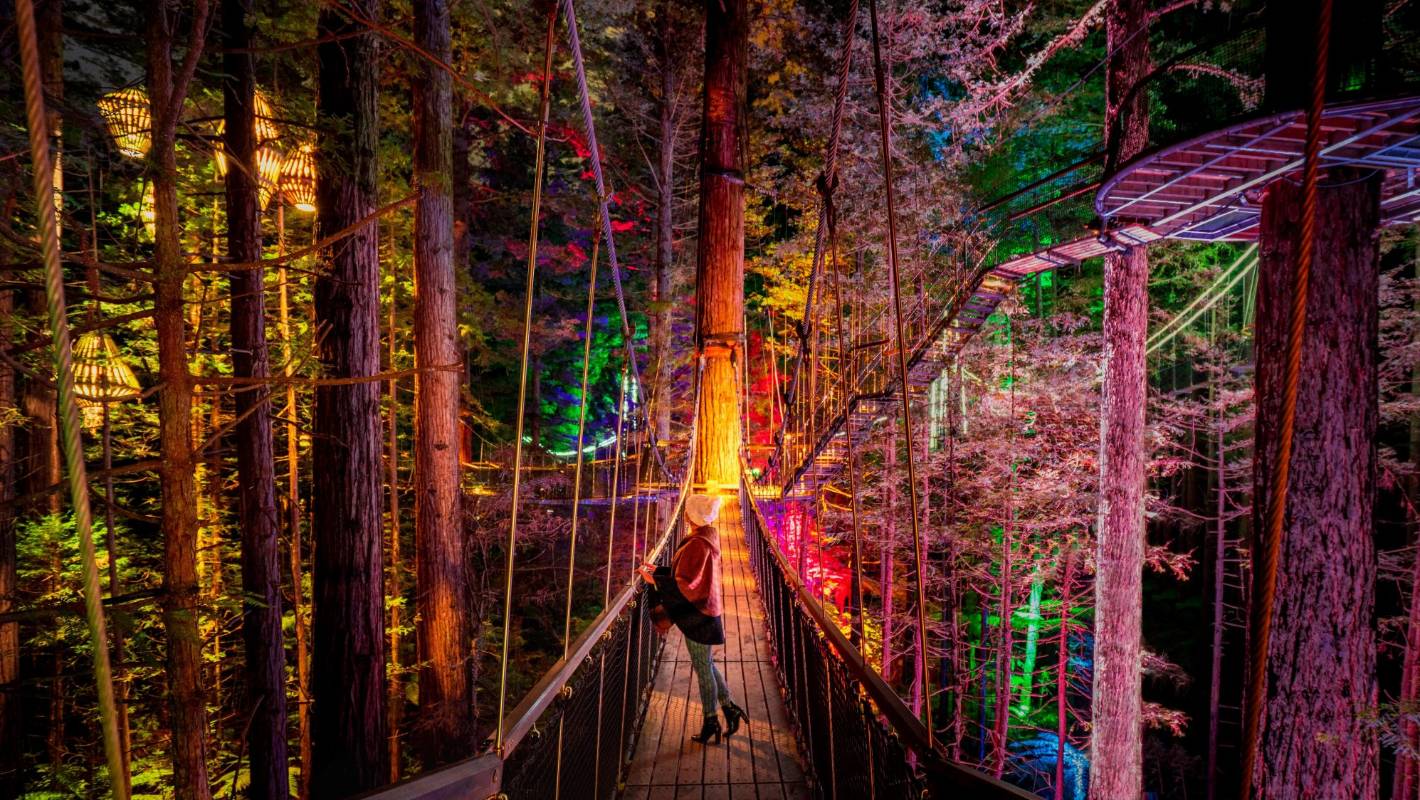 Redwoods Nightlights takes you on a journey across 28 suspension bridges that range between 9-20 metres from the forest floor. No headlamps needed for this nighttime adventure as the area is illuminated by 34 giant lanterns designed by world-renowned designer and sustainability champion David Trubridge. No harnesses or guides either! You're always completely surrounded by netted railings so you can take it at your own pace. 
If you're planning to spend the night in Rotorua, this is one of the best eco-tourism activities to check off your NZ bucket list.
If you'd like to take a step beyond the railing, tackle the suspended treetop obstacle course at the Adrenaline Forest. 
Reapply the sunblock, you're arriving in Taupō! 
You've made it! There's a reason Taupō is the ultimate destination to finish your classic, Kiwi road trip. Taupō is known for its fascinating geothermal activity. Unusual steam vents, bubbling mud pools, coloured silica terraces, and natural hot springs all bring the wonders of the underground Taupō volcanic zone to the surface.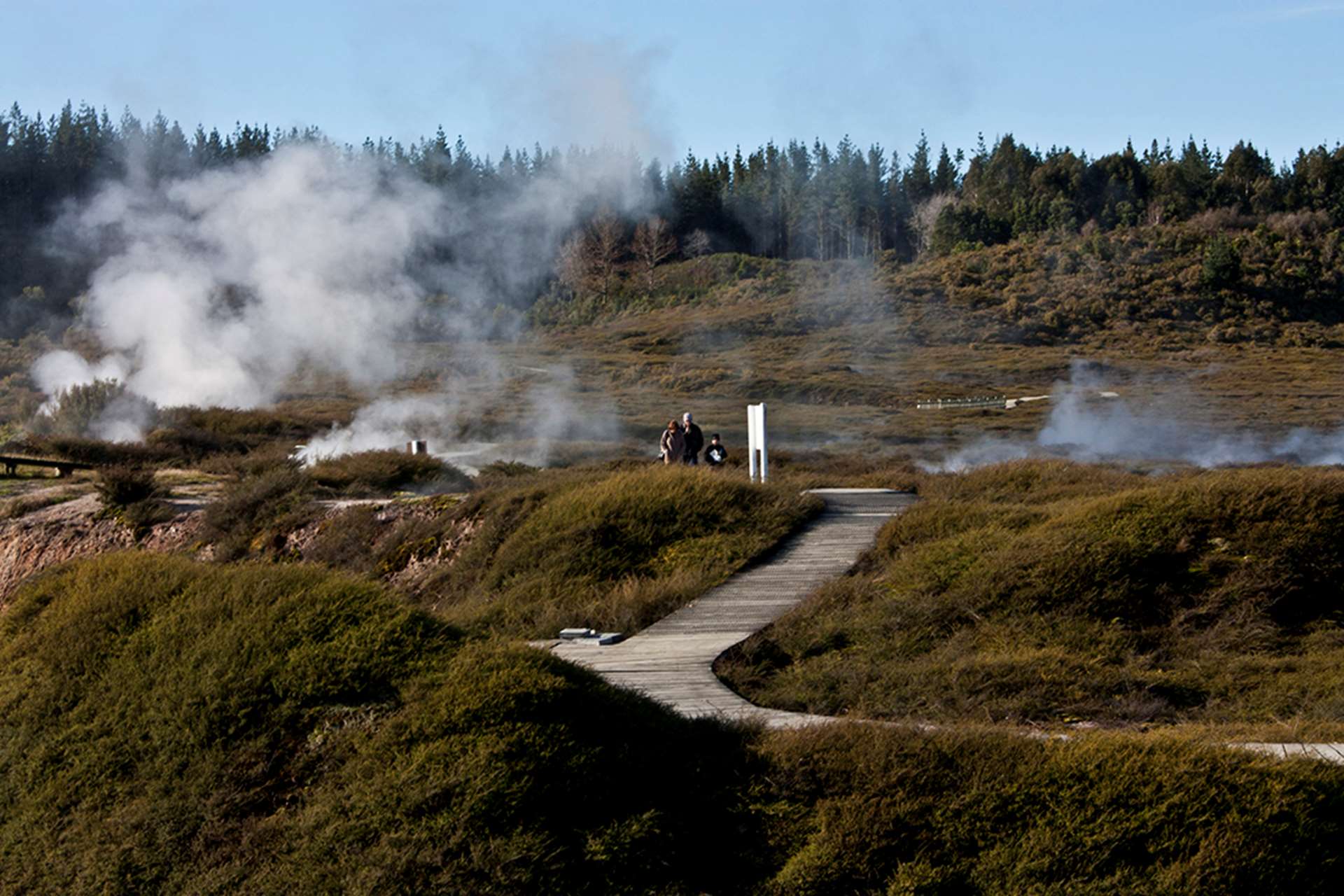 The Craters of the Moon is a series of geothermal sights just outside of Taupō where you can explore a number of these vents, pools, and geysers, including the famous Pohutu Geyser. Since its humble beginnings in 1991, the Trust and park has been committed to preserving and showcasing the natural wonder of geothermal attractions in Taupō. You can take a guided tour of the area, or explore the various walkways on your own.
Taupō boasts some of the best bike trails in the North Island and it's a huge pass-time for New Zealanders. See some of Taupō's best hot spots in the saddle of a bike rented from Taupō Bike Hire, the only bike hire company located right in the heart of Taupō's most popular trails; no road riding or bike transport required! Check out Huka Falls, Lake Taupō, Craters MTB Park, and more for the best views on two wheels.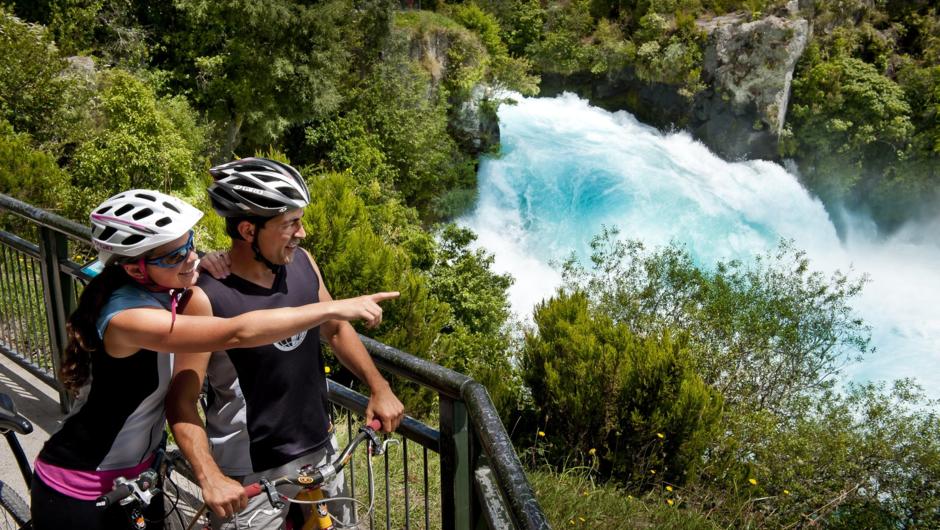 Wonders of the water 
The significance of the Waikato Te Awa (Waikato River) to local Māori iwi (tribe) cannot be understated. When Māori lived along its banks, the Waikato River provided physical and spiritual sustenance for iwi. The spirits of ancestors were said to mingle with its waters, which were used in rituals. Orators addressed it as having a life force of its own. It was a source of food and an important waka (canoe) route.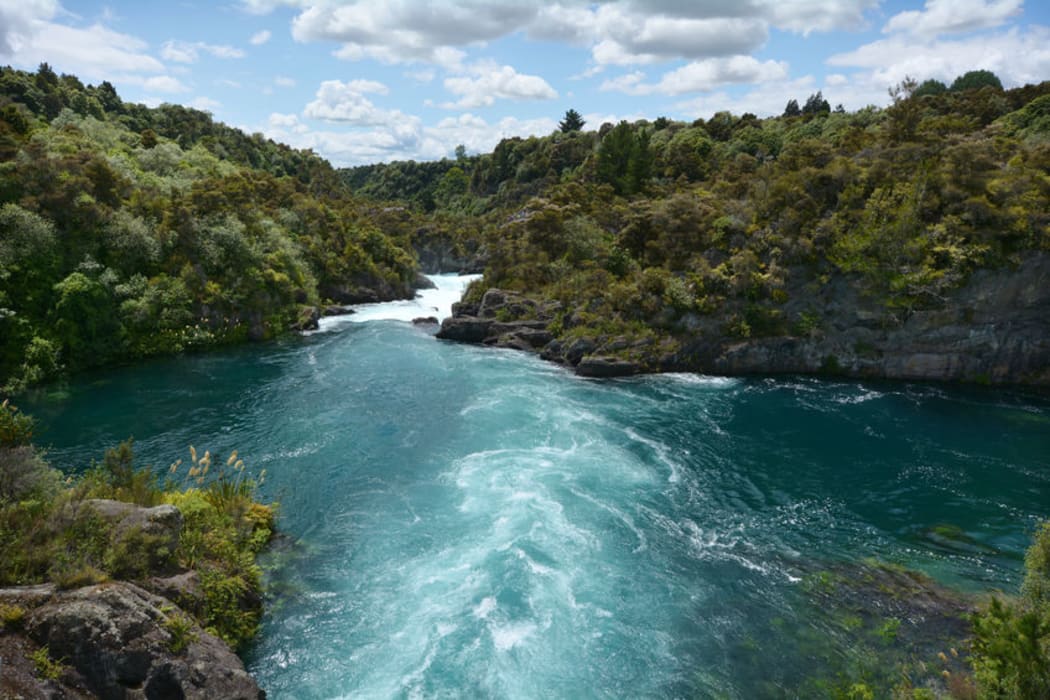 When visiting Taupō, you have the chance to mingle with this important waterway and its surrounding features. You can take a float down the Waikato River,  view the power of Huka Falls, or discover the giant Mine Bay Māori Rock Carvings via kayak or boat. 
Turn this trip into an adrenaline sandwich and wrap up your roadie with a Taupō Bungy or Swing! Leap 47m from New Zealand's only cliff-top bungy or swoop out across the water on the North Island's only adventure swing. Got passengers? The river views from the spectator platform are worth the drive. If you're a master motivator, convince them to join you in tandem for either activity. Since Taupō is a hot spot this summer, book your activity in advance to avoid disappointment.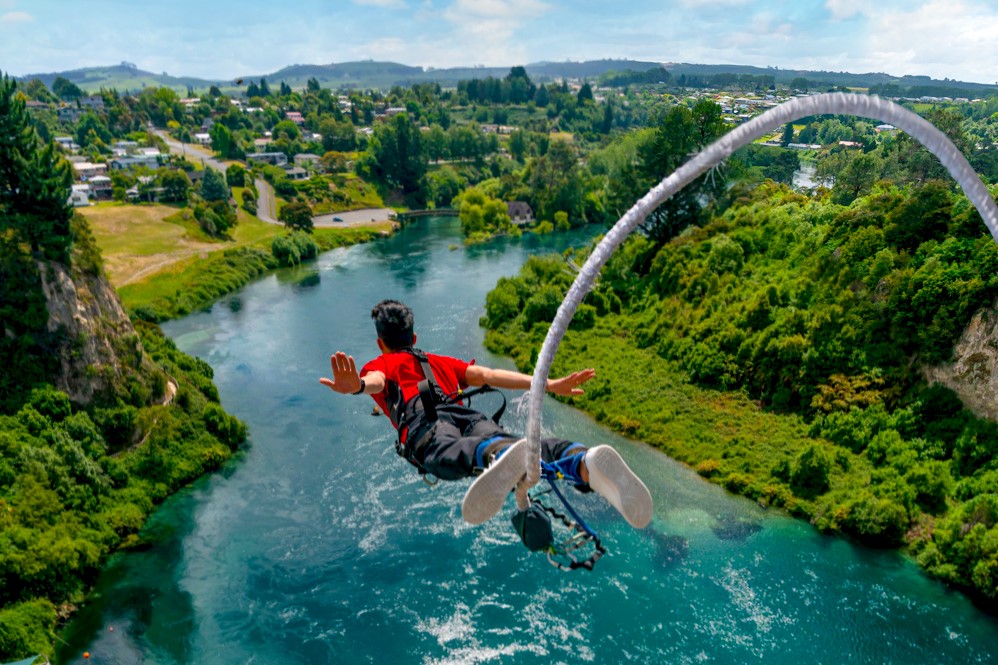 There you have it. Save this list for later before we're discovered for leaking the best road trip ideas in New Zealand. Your favorite Aunt can't wait to see you soon!