Taupō is an exciting hot-spot for a weekend getaway with so much to offer in rain or shine. From exploring natural landscapes to fast-paced adrenaline activities that will get your blood pumping faster than Huka Falls, there is no shortage of things to do in Taupō for locals and travelers alike. 
Here is our collection of must-do activities for your next trip to Taupō. 
The most refreshing and relaxing way to experience a winter day in Taupō is to contrast the crisp air with the hot geothermal pools of Wairakei Terraces. This amazing blend of natural minerals and a luxurious day spa has four pools to choose from to nurture your wellbeing; they are all adults only and heated to four different temperatures to keep everyone comfortable. Not only is it extremely relaxing, for hundreds of years minerals in geothermal pools have been known to leave skin moisturized and body nourished. 
In the silica terraces, let the environment around you pull you into its own living, breathing sense of calm. The amazing minerals in the water turn the pools a vibrant turquoise set against tranquil greenery, birdsong and geyser steam. 
As well as Taupō's stunning scenery and geothermal features, it also has some of NZ's best adrenaline activities on offer. You knew this was coming…it's time to Bungy!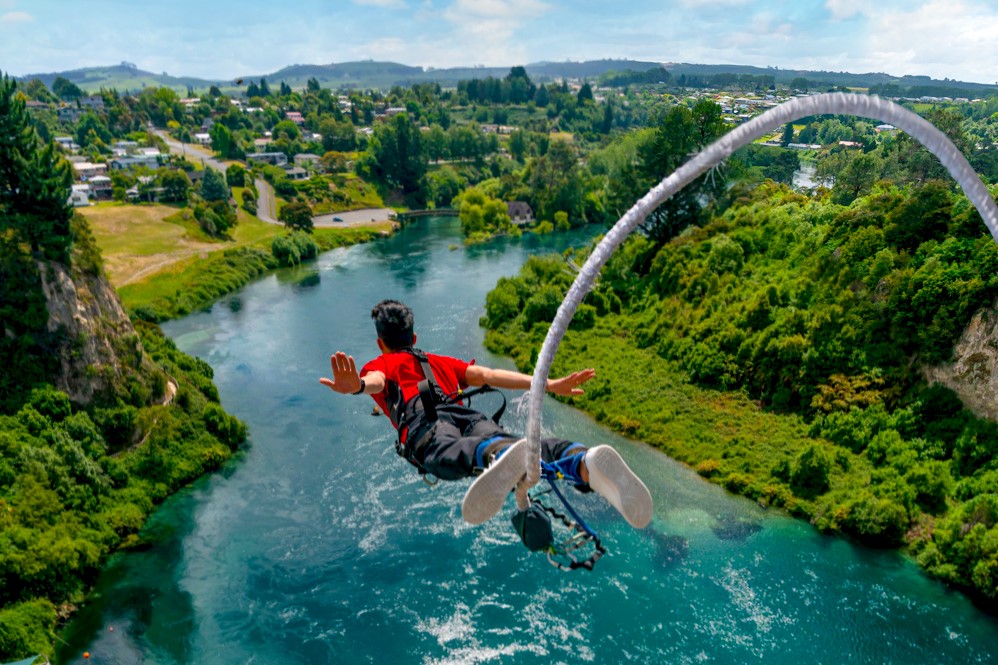 Claim your bragging rights by leaping 47m off of New Zealand's only cliff-top bungy, rushing towards the crystal clear waters of the Waikato River below. Choose to be dunked or go dry, however you take the plunge, this is an adrenaline-fuelled thrill you'll never forget. Bring your friends or family to watch on the spectator platform so everyone knows you actually did it. They also get to experience the awesome crew and the unreal spectacle of Taupō's natural beauty.
Live more and fear less on your next Taupō getaway.    
Strapping yourself in as the Hukafalls Jet gives the perfect combination of sightseeing and serious thrills. Explore the mighty Waikato River, on a jet boat that reaches an exciting 80kph. When you're not racing the river current or turning your knuckles white during 360° spins, your driver takes it slow to appreciate the gorgeous river banks and crystal clear water.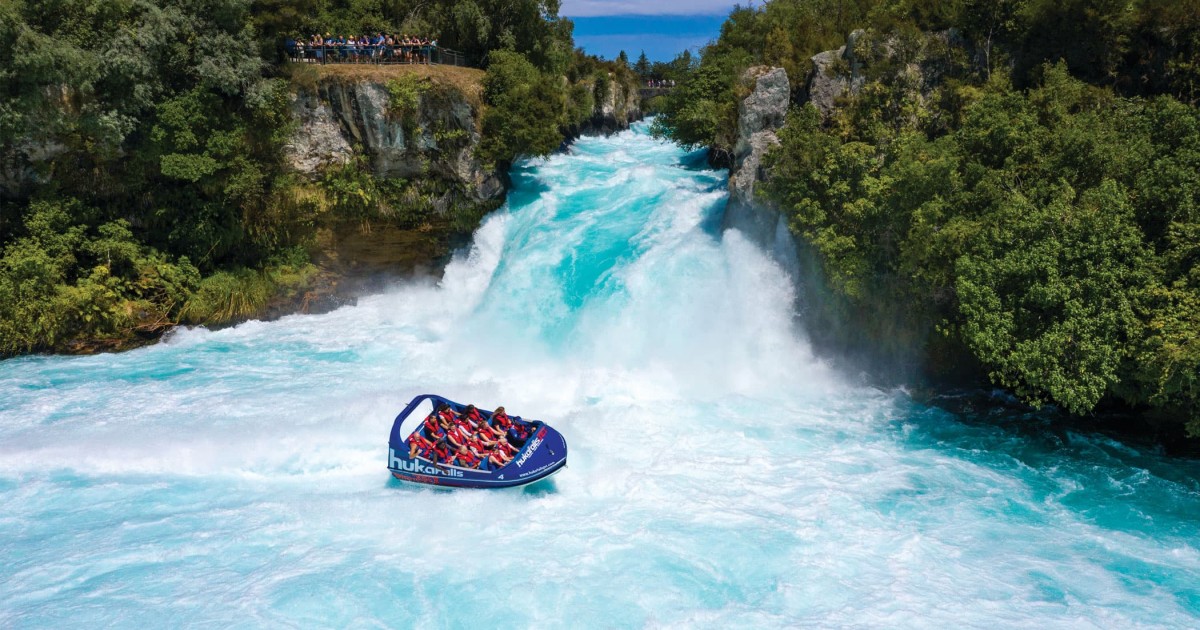 Don't let the whipping wind hold you back from this ripper of a ride. Grab your warm jacket, a cozy beanie and take on the Hukafalls Jet! 
The Dropzone (family friendly)
If the winter weather takes a turn for the worst (touch wood it doesn't) then The Dropzone has a truly endless list of family friendly activities all in one place to make your trip to Taupō as fun-filled as possible. Let the kids burn off some energy on the trampolines, challenge the family to a game of tenpin bowling, beat the clock on the ninja course or just enjoy a nice meal when you need to get off your feet! With all that and SO much more, The Dropzone is hands down one of the best family fun locations in Taupō.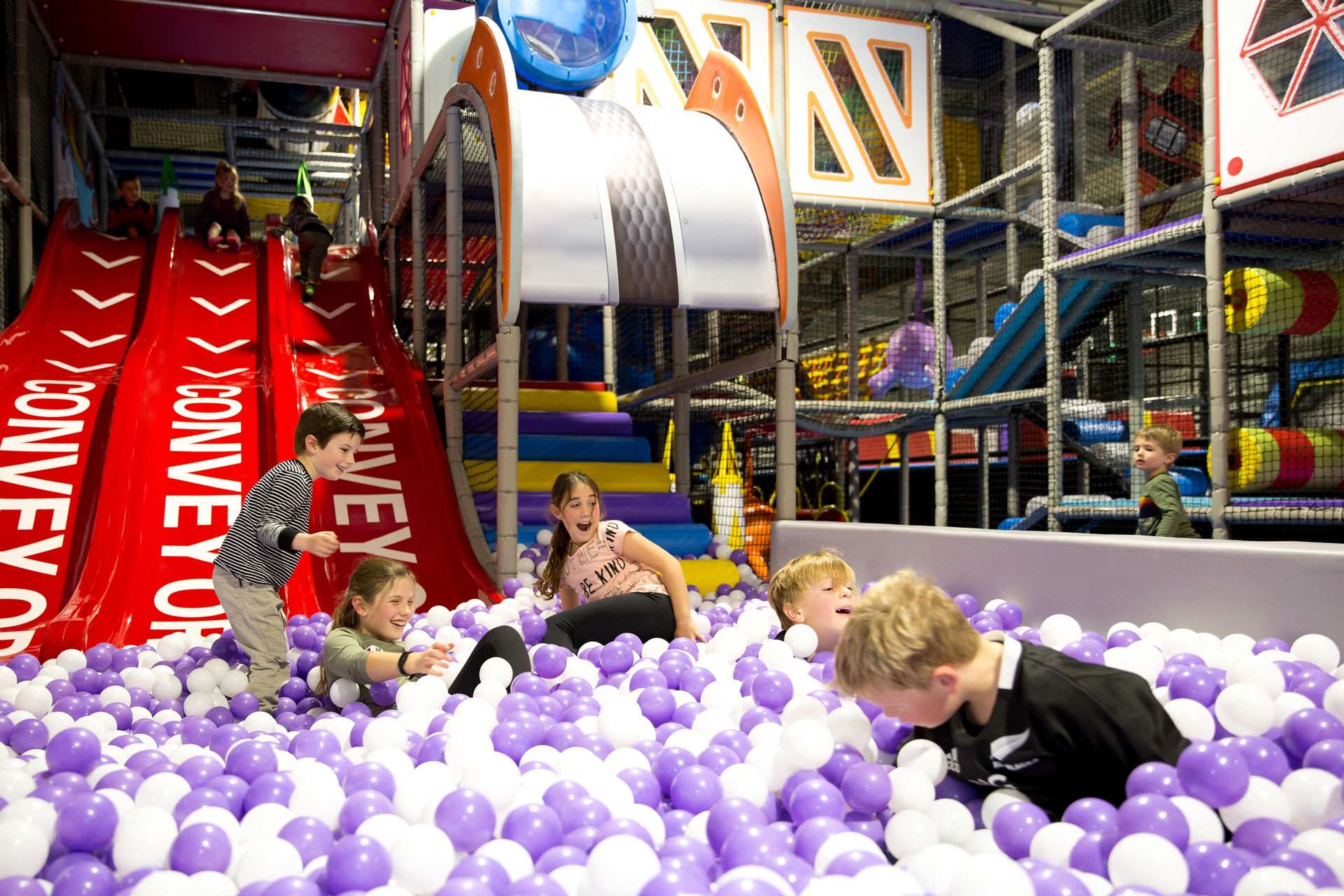 There's nothing worse on holiday than a drizzly day on the couch. Even if the weather turns wet, stop your brain from blobbing out along with the weather! There's plenty to do in Taupō on a rainy day!
Confinement Escape Rooms Taupō is ready and waiting to turn your day from flooded to fantastic. It has four awesome, completely-themed escape rooms to solve (ideally with minimum family arguments); The Candy Factory, The Hunting Lodge, the Wild Tea Party and The Cabin in the Woods. Clues, riddles, and puzzles await!. Can you make it out in time? 
Mount Ruapehu has endless possibilities for skiers, sightseers and coffee sippers alike. 
This majestic mountain has two ski areas, Whakapapa and Tūroa, that have excellent runs whether you are a seasoned pro or a little shaky in your bindings. Happy Valley on Whakapapa or Yeti's Sliding Zone on Tūroa is perfectly groomed for sledding so the kids can nurture their love of the snow as they zoom around. Catch the magic carpet back to the top of the run so the kids can reserve their energy and there's no running around after them!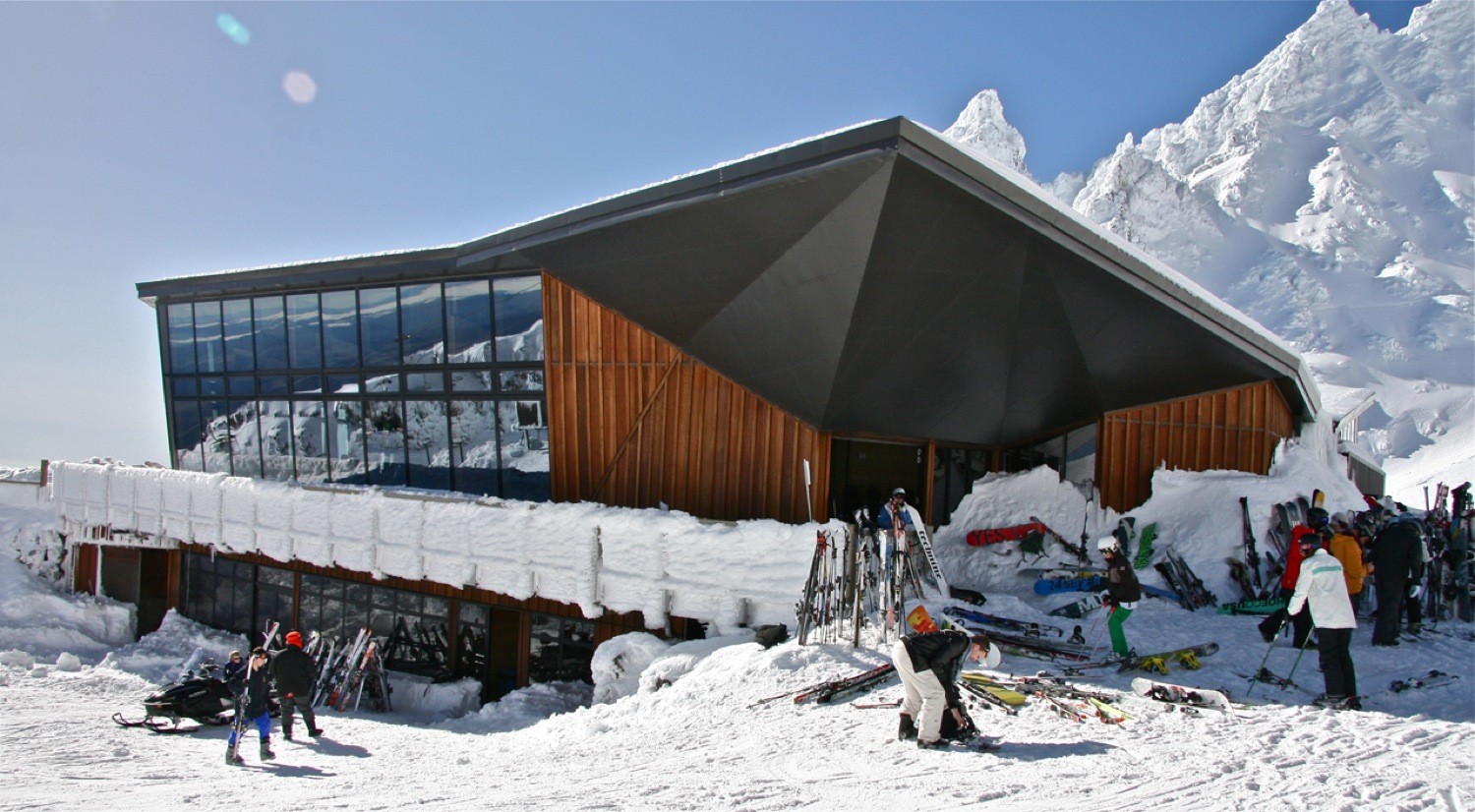 Like to glide up the mountain and be delivered straight to the coffee line? Catch the comfortable and cozy SkyWaka to Knoll Ridge Chalet to experience the highest cafe in New Zealand. Sipping your hot coffee on the huge deck and looking out at a completely snow covered landscape is a truly breathtaking experience. 
Huka Falls Lookout Track has all of the stunning views with none of the rugged trail battles you can sometimes face with highly-instagrammable NZ waterfalls. After only a 10 minute walk from your car, you can be standing in awe of the rushing rapids carrying thousands of litres of crystal clear, turquoise water. This lookout is a super accessible five minute drive north of Taupō, off SH1 on Huka Falls Road and is a suitable walking track for the whole family. A pinnacle of Taupō, you don't want to miss this powerful force of nature.
Lake Taupō Hole in 1 Challenge
Let your competitive flag fly when you tag a swing at the infamous Hole in 1 Challenge on the shores of Lake Taupō. Now is the time to put those high school golf lessons to use! Take a hit of your golf balls from the side of the lake, aiming for a floating pontoon that taunts you from the water. You can buy as many balls as you like to increase your chances of a hole in 1 across three different holes and attempt to take home a cash prize of up to $10,000! Like your chances? 
It sounds wild, absurd and even extremely frustrating but that's how kiwis like to have a bit of fun. Established in 1993, the idea was born out of a conversation in a bar and written on the back of a beer coaster. It has since rooted itself in the Taupō community by becoming the first tourism acquisition of Ngāti Tūwharetoa, a local Iwi (tribe). Now the Taupō Hole in 1 challenge is frequented by persistent locals and travelers alike that keep coming back or stopping by en-route to take a swing at the cash prize and overall satisfaction of a smooth hole in 1. 
Stretch your legs and enjoy the crisp mountain air on this incredible alpine walk leading to a thundering Taranaki Falls. This 2 hour walk offers a huge array of landscapes from dense, mossy forests to tussock, and being surrounded by mountain views while still being a suitable difficulty level for the whole family.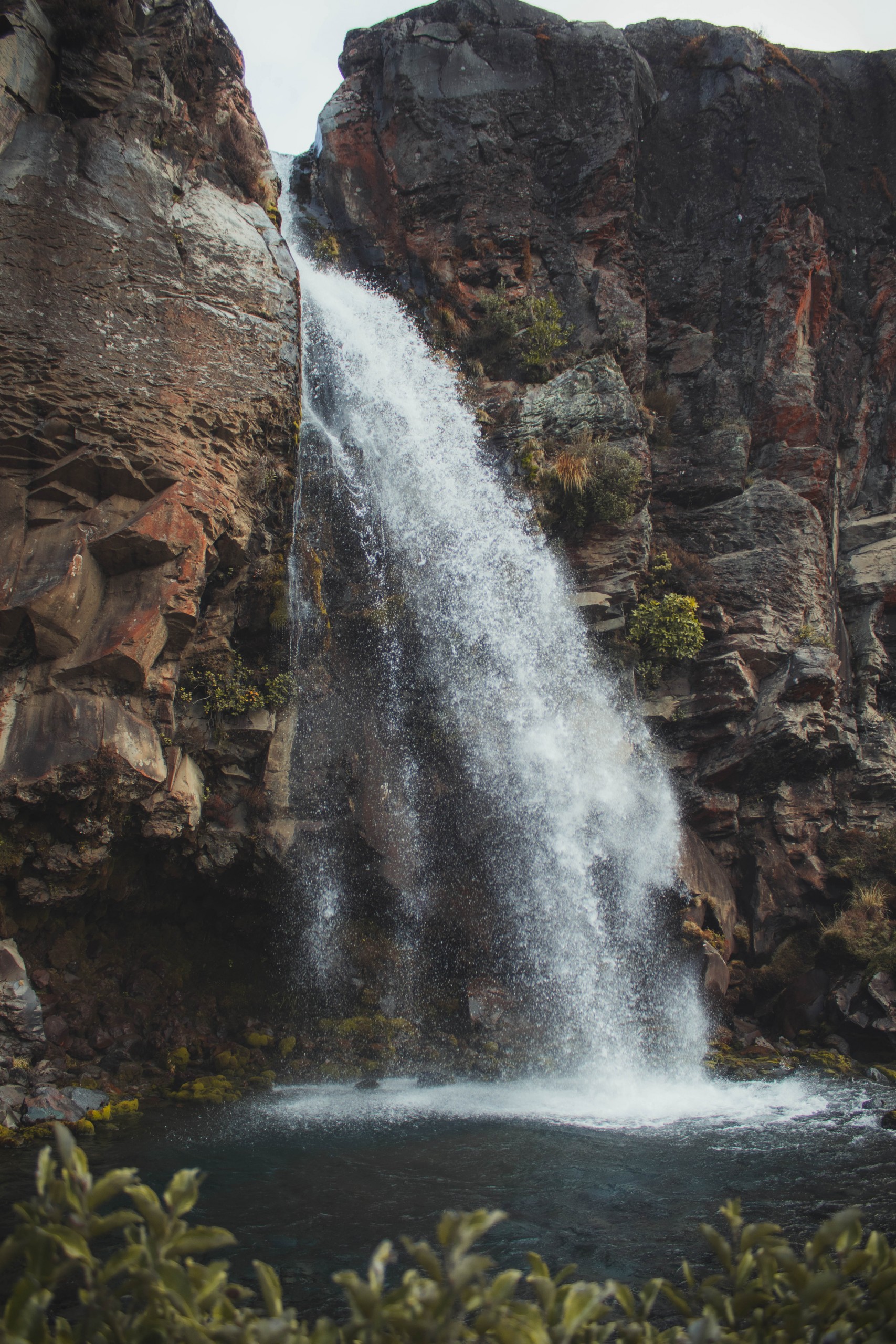 You'll cross paths with the stunning Wairere Stream a few times as you walk before finally turning the corner and seeing the massive, fast flowing Taranaki Falls dominating the landscape with a height of 20 metres. You can appreciate the view from afar or get right up close to the spray of the waterfall depending on how damp you'd like the drive back to Taupō to be! Make sure to keep an eye out for one the coolest loos in New Zealand! 
Return to the carpark a little physically tired but mentally refreshed from time spent in the amazing natural landscapes of Aotearoa. 
Tongariro River Rafting
Live life in the splash zone and send yourself down a set of river rapids oar first (not literally, that's bad oar handling). If you don't mind dipping your toes into the chilly winter river, Tongariro River Rafting is only 40 minutes from Taupō or Ruapehu and makes it well worth your time. This run has more rapids in one stretch than anywhere else in New Zealand; 60 rapids in 13km! While you'll definitely get your heart pumping white water through your veins, you'll also be able to calmly paddle through the very heart of the Great Lake Taupō region, enjoying stunning scenery that can only be found on the water. You'll experience various environments from mighty pine forests, native bush, and volcanic cliffs as well as lookout for giant New Zealand Trout swimming below you or our endangered blue ducks, the Whio.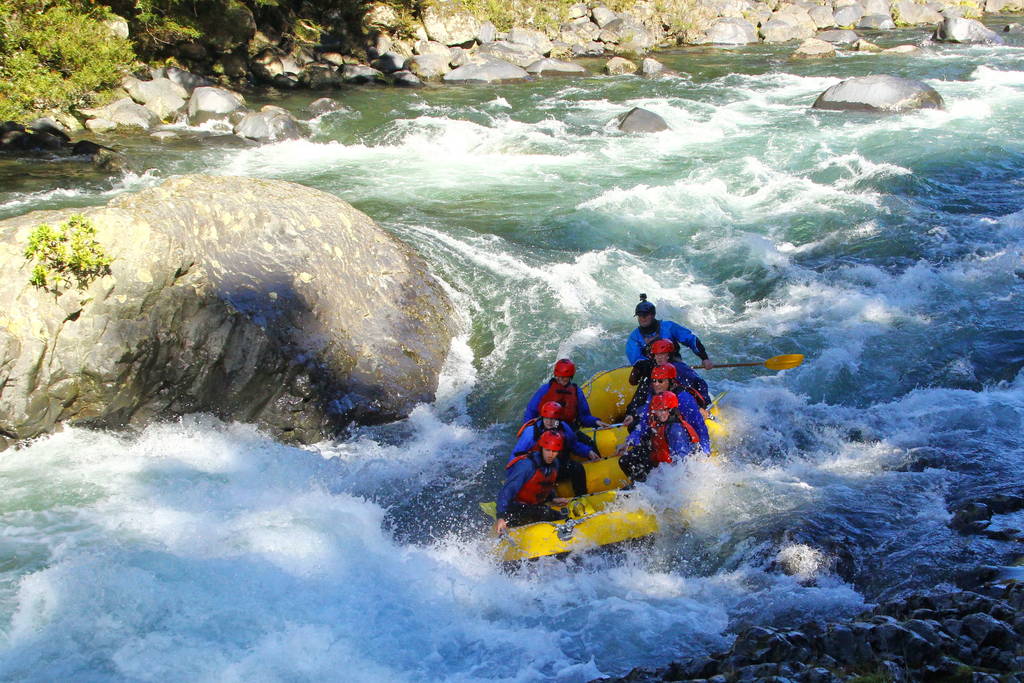 With such an oarsome combination of adrenaline and scenic rubbernecking, you should already have your wetsuit booties on and waiting!
It sounds like you've got your hands full when you plan your perfect Taupō itinerary! Forget about being bored, you won't have enough time to fit in all of the fun possibilities that await!