It's a tale as old as time; we all spend so much time remembering to put the bins out, water our plants, and transfer the wet washing to the dryer, we often forget to make a big deal out of the big beasty moments, to plan things that make us feel alive. Although guilty of this too, one thing I will always go hard for is the beauty of my own birthday. Very self-sacrificing of me. 
This year marks the momentous occasion of my 25th, a birthday that my Mum has convinced me is a big deal. So, as I cling to the fact that I will always be two years younger than my hatchback Corolla, I committed to planning a milestone long weekend that would rival the feeling of finally unlocking cheaper car insurance. 
Despite being a summer lover at heart, my birthday seems to fall in winter every year. To map out the ultimate winter long weekend in the North Island, I based my plans around one of my favourite activities ever (bungy jumping) and one endeavour on my bucket list that has been taking up precious real estate for far too long; a winter hike over the Tongariro Alpine Crossing. I had completed the crossing three times already in Spring, Summer, and Autumn, but Winter has eluded me for years. 
I arranged to sandwich the crossing between other epic activities in the area and, with my whole family in tow (it's a big deal remember), ensured there were activities to entertain everyone over the four-day getaway. The plan was in motion. 
Day 1: Taupō Bungy
There is really no better way to break up a road trip and jump into a weekend than by maxing out your adrenaline levels on day one. The Taupō Bungy is a must-do for any nearby holiday-makers and I was so pumped to return for my first bungy jump in three years. 
With the bungy site acting as a meeting point for an audience of my family, I stood with my toes on the edge knowing I had to make it look good. Even though I had a few bungy jumps under my belt, I had forgotten the intense feeling of standing on the edge. The empty space in front and below you feels huge and there's seemingly no limit to how far you can leap. I thought I sent it from the platform, however my video immediately humbled me afterwards. Regardless of the technique, the freefall feeling is the same; pure stomach flipping excitement followed by an adrenaline rush that rises with each rebound. 
Taupō Bungy had once again delivered an unforgettable experience, setting the tone for an epic weekend of adrenaline-fueled adventures.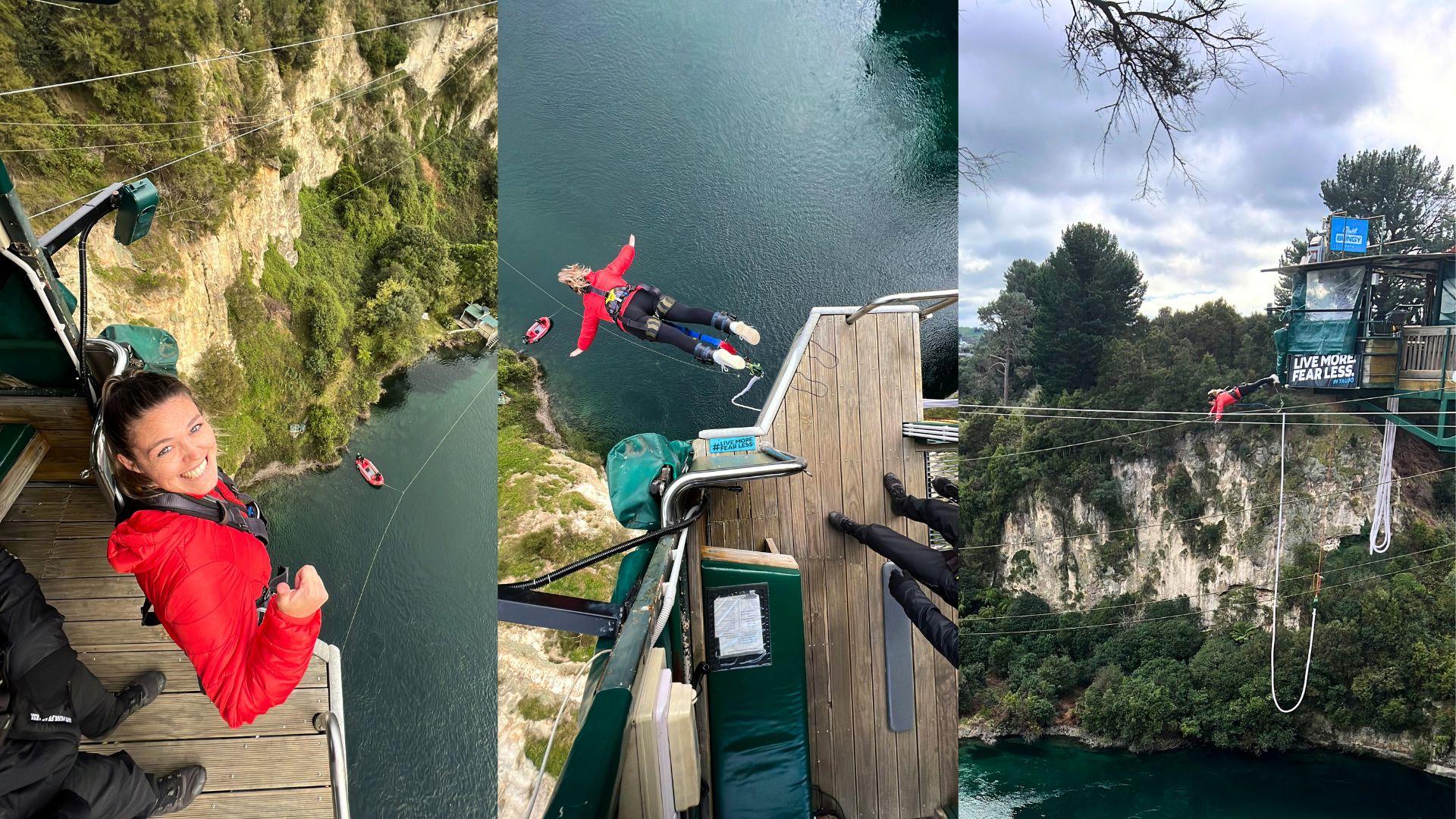 Day 2: The Tongariro Alpine Crossing
Firstly, a serious word about safety. Do not underestimate the risks of this hike. In summer months, the Tongariro Alpine Crossing is a taxing full-day hike that walkers should be well-prepared for in terms of fitness, footwear, food and water, and clothing. This gets even more serious and treacherous in winter conditions and should only be attempted with an experienced guide service unless you are very confident using crampons, an ice axe, and are avalanche trained. Personally, as someone who hikes regularly, I opted for a guide service during winter to keep myself safe. It's better to be cautious and well-prepared than to take unnecessary risks. Follow the advice of official websites. 
My Dad and I were the only ones keen enough to get up before the sun, leave our warm beds just outside of Ohakune and venture to the national park. My Dad had been completing training walks for a few months and I had been crossing my fingers. Rugged up against the July wind and setting off, our Adrift Tongariro guide explained the wintery walk ahead could be thought of in three stages. With all the knowledge of my freshly developed prefrontal cortex, I thought the same could be said for the stages of life.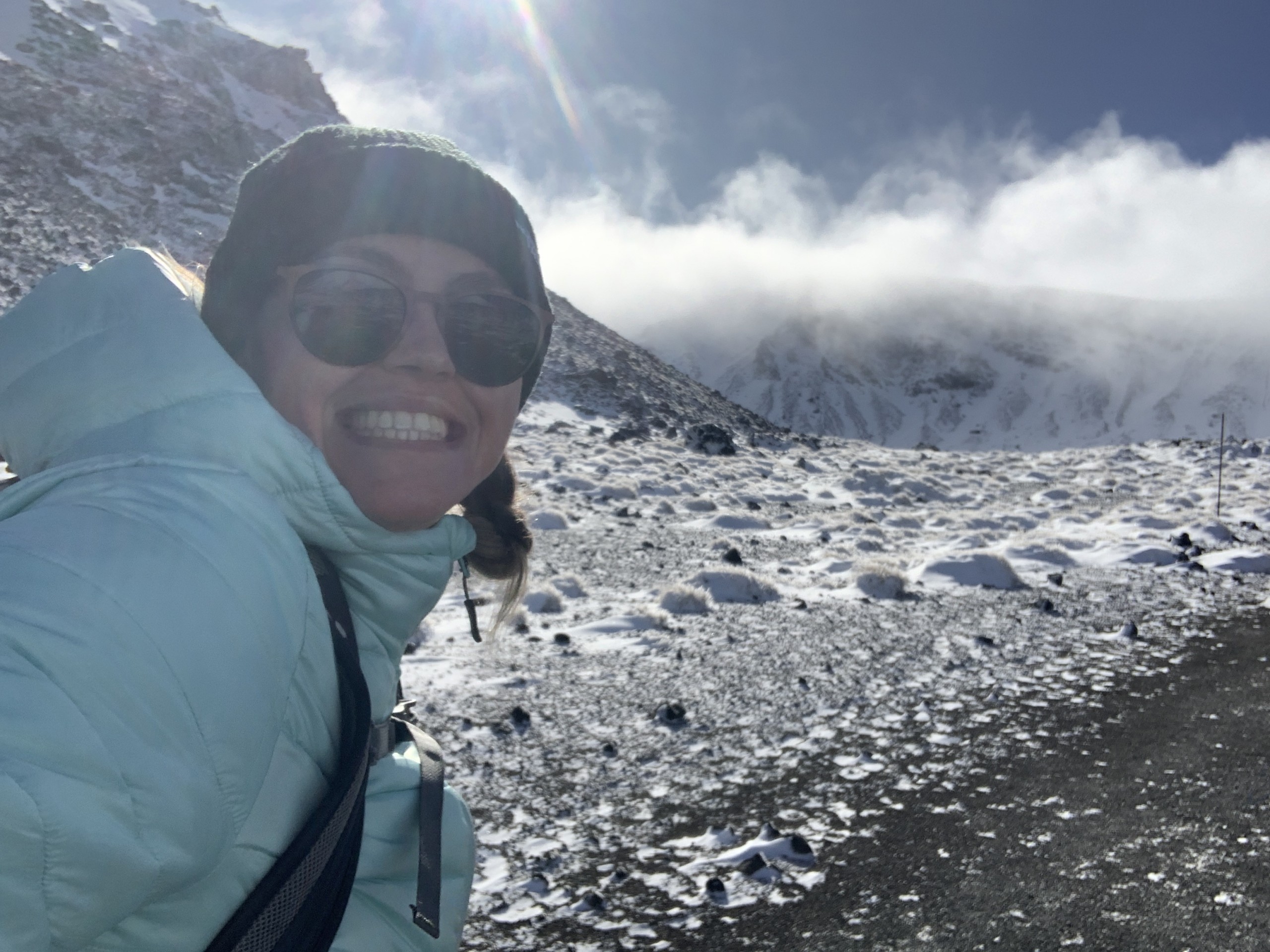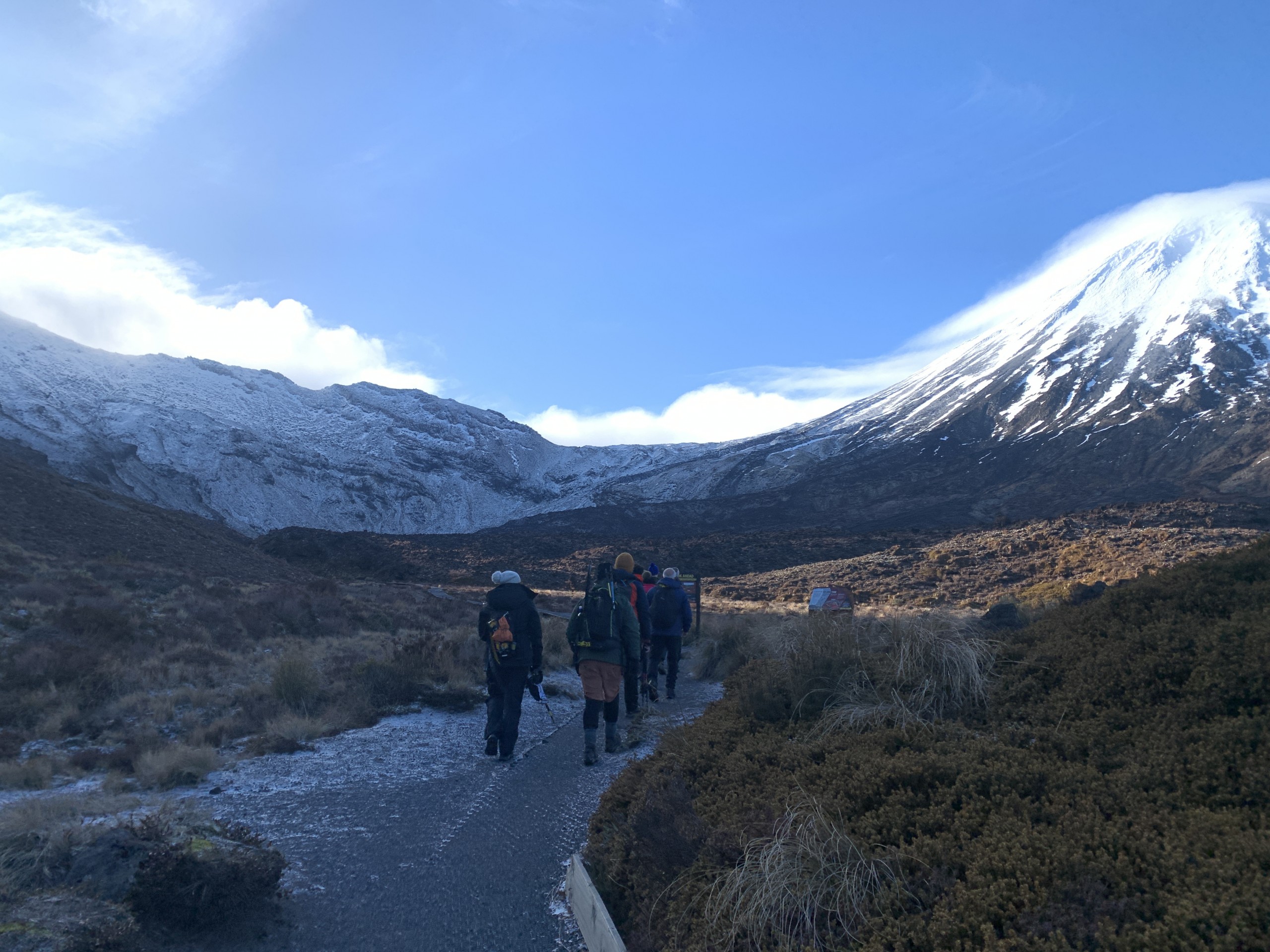 Stage one 
Stage one began with a deceptively flat track and great views of the snow-capped mountains, including Mount Ngauruhoe. My legs had little responsibility and the weight on my shoulders felt extremely manageable. With enough energy to stop and appreciate the details, I found shards of icicles in old footprints and grabbed handfuls of snow as often as I could as though there would be a shortage later on. Dad was loving it. Yet, all easy things must come to an end. To finish the first stage you have to conquer the Devil's Staircase, a gruelling climb from 1400 to 1600 metres above sea level. After a stop at the well maintained Soda Spring toilets to refuel, we began. From the bliss of a boardwalk track to being hit in the quads with around 370 steps, the test of endurance had really begun. I mustered the residual adrenaline from the bungy jump and kept on trucking.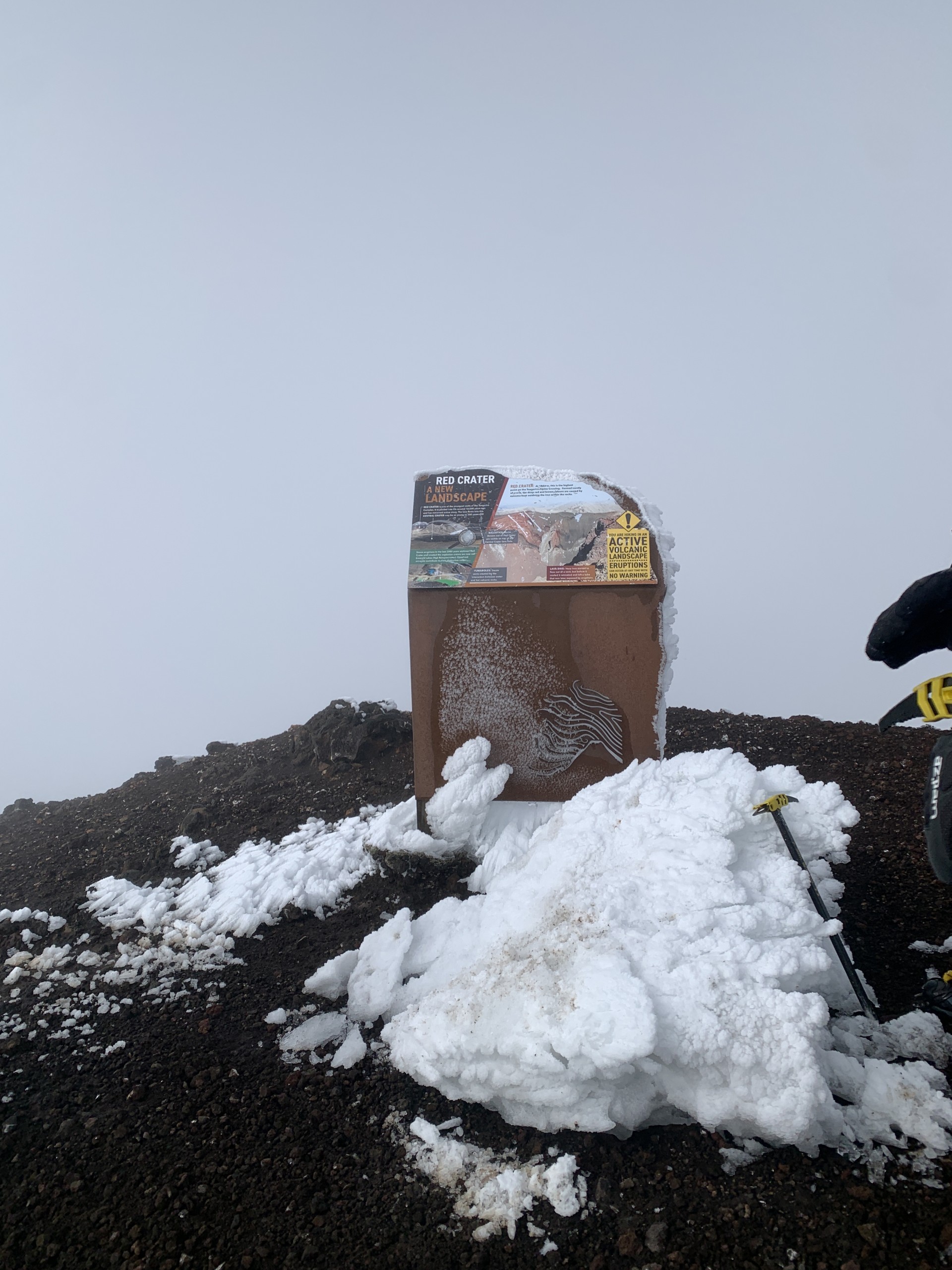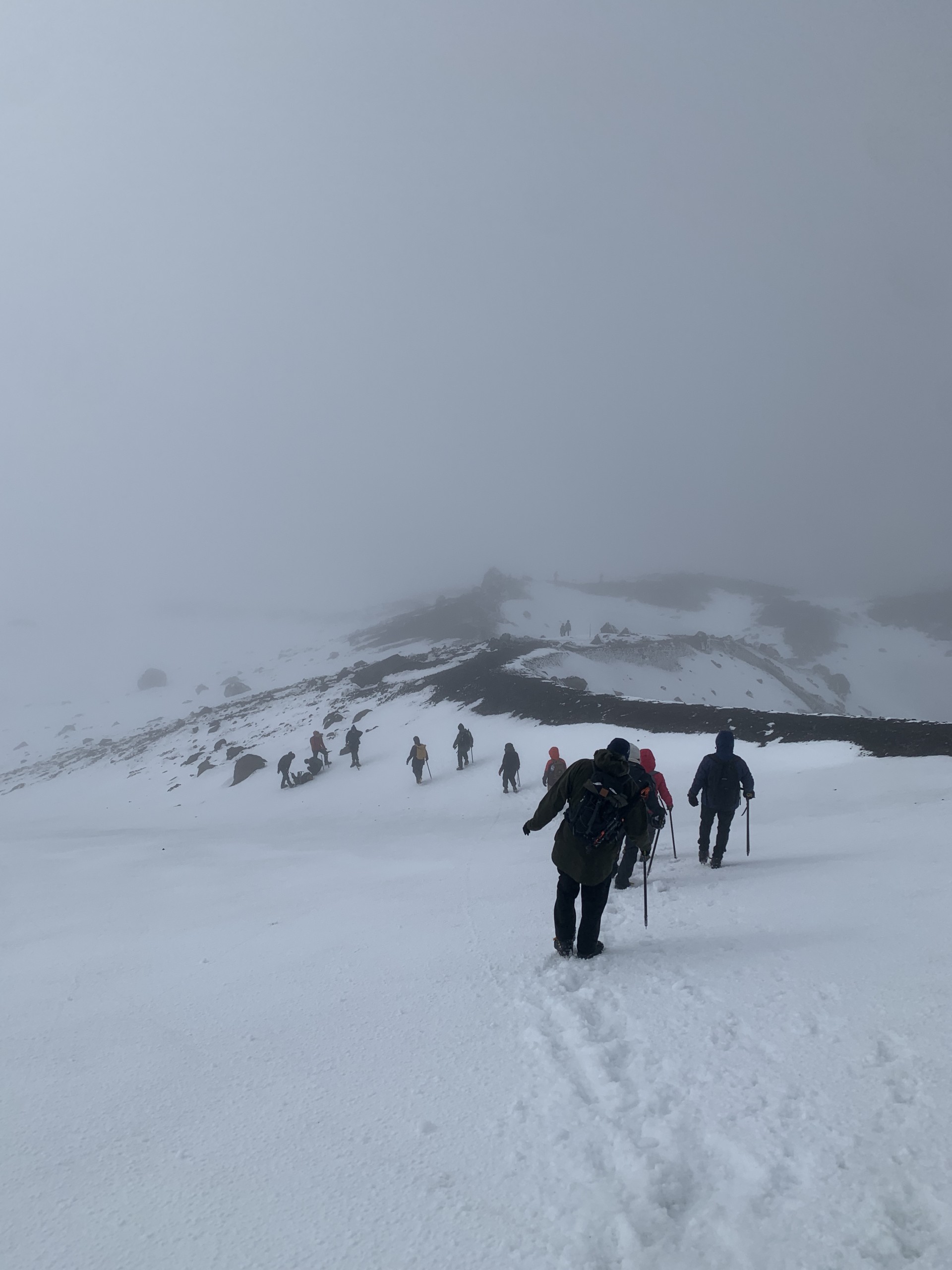 Stage Two
In stage two you reach the Red Crater, the highest point of the Tongariro Alpine Crossing at 1886m. On the final ascent to the red Crater, the clouds rolled in around us. With our crampons trudging uphill and only the steep track ahead visible, the rush of adventure I got from holding an ice axe in the middle of the mountains is exactly what I wanted from this winter crossing.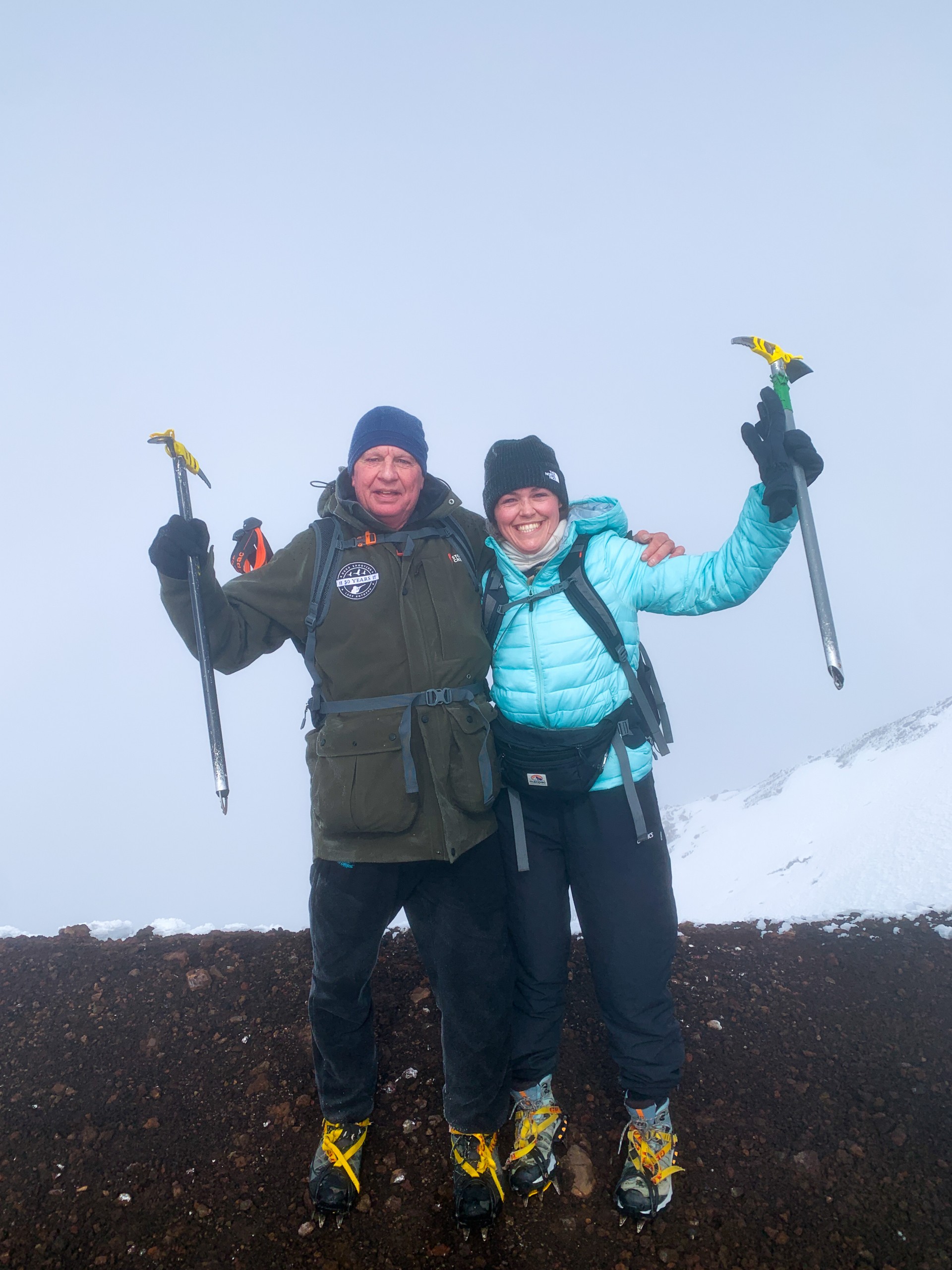 Standing atop the Red Crater was indescribable. The views were non-existent but in that moment it didn't matter. Dad and I caught our breathe and enjoyed the victory as ice blew on the wind and gathered on our clothing. I had pined over this winter crossing for years and the feeling of exhilaration in that moment was exactly why.
We descended down the other side with careful steps and enjoyed lunch beside the famous Emerald Lakes. Coleslaw wraps never tasted so good.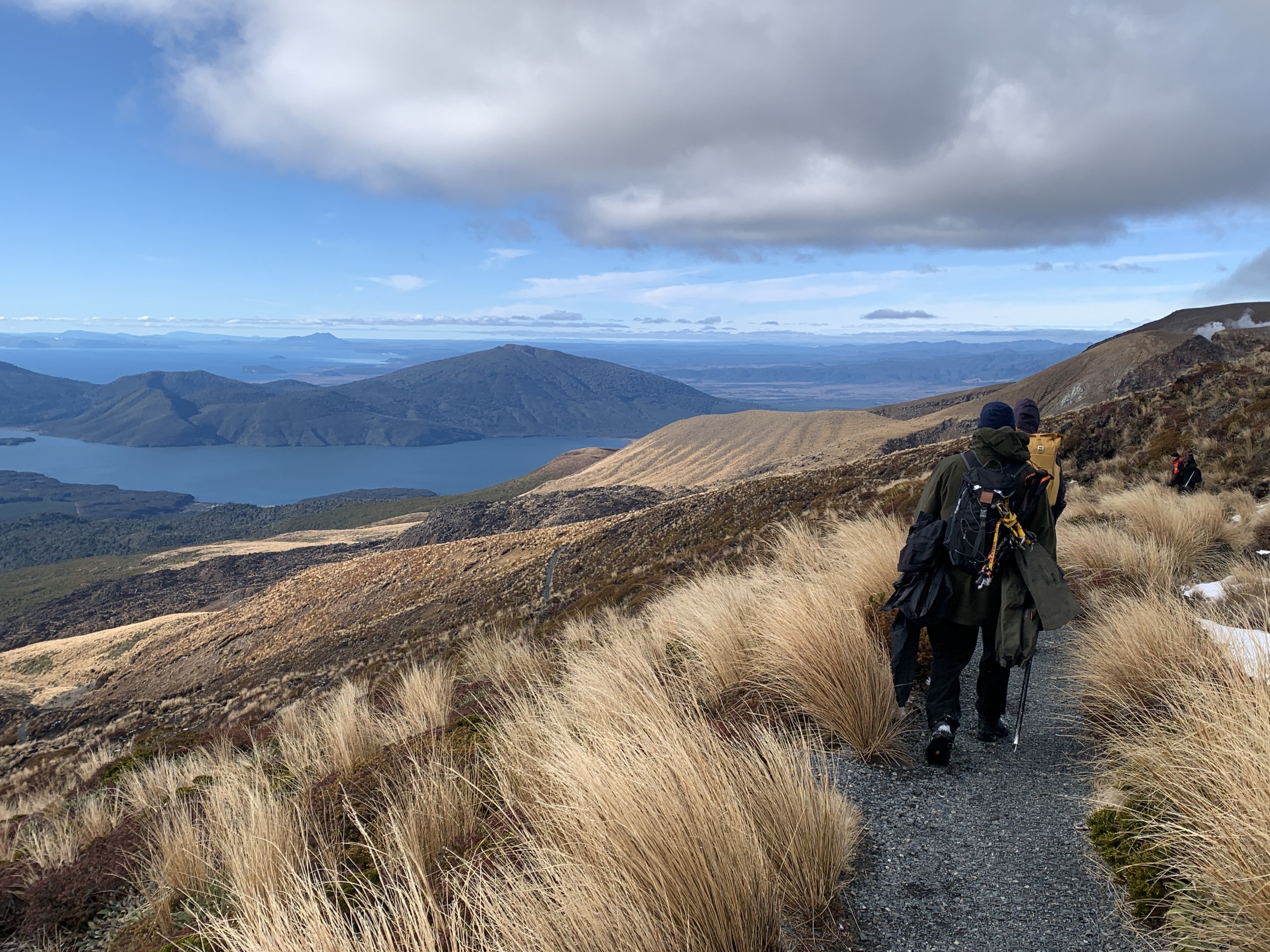 Stage Three 
Although mostly downhill, stage three is always a true test of endurance no matter how many times I do this hike. The main sights have been seen and the best snacks have been eaten, so now it's up to you to battle through the aches, keep spirits high, and make it out. After sideling some snow drifts, soaking in the emerging sun and passing on a soupy long-drop, the trees parted to reveal our bus home. 
The sense of achievement after completing this hike is an epic high; there's a reason I went back four times in all four seasons. Whatever activity I choose or challenges I face in my next season of life, this adventure has consistently taught me to keep putting one foot in front of the other, even when the clouds roll in. 
If you're not keen on such a full-on adventure or have family spending their day a different way like me, Ohakune and the National Park is still the perfect place for a long weekend getaway. The kids had a great time at the Ohakune Carrot Park and the adults were thoroughly entertained by a soak in our accommodation's hot tub, local gift shops, and the long list of short walks in Ohakune and Raetihi.
Day 3: Mountain Day
A trip to these mountains wouldn't be complete without a visit to Mount Ruapehu. The mountain boasts two ski areas, Whakapapa and Tūroa. If your legs are functioning well enough after the hike to jump on the runs, power to you. If not, you can spend your day the way I did; throwing snowballs and leisurely sledding at the Tūroa ski field. If you're staying closer to the Whakapapa ski field, their sightseeing passes to ride the Sky Waka gondola offer the perfect opportunity to enjoy the mountains with a hot coffee but minimal leg work. Exploring Mount Ruapehu can include all ages and is a great family bonding day!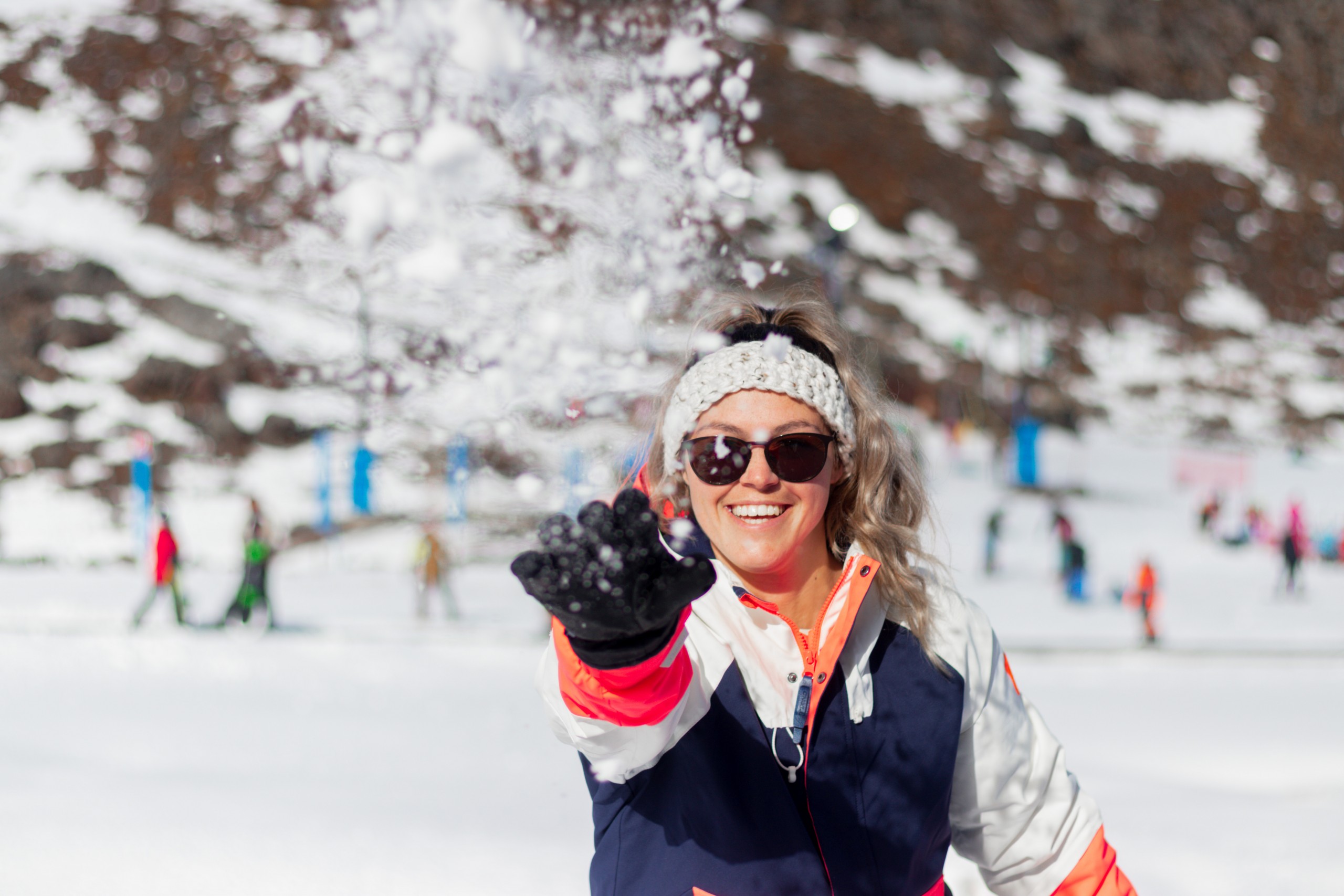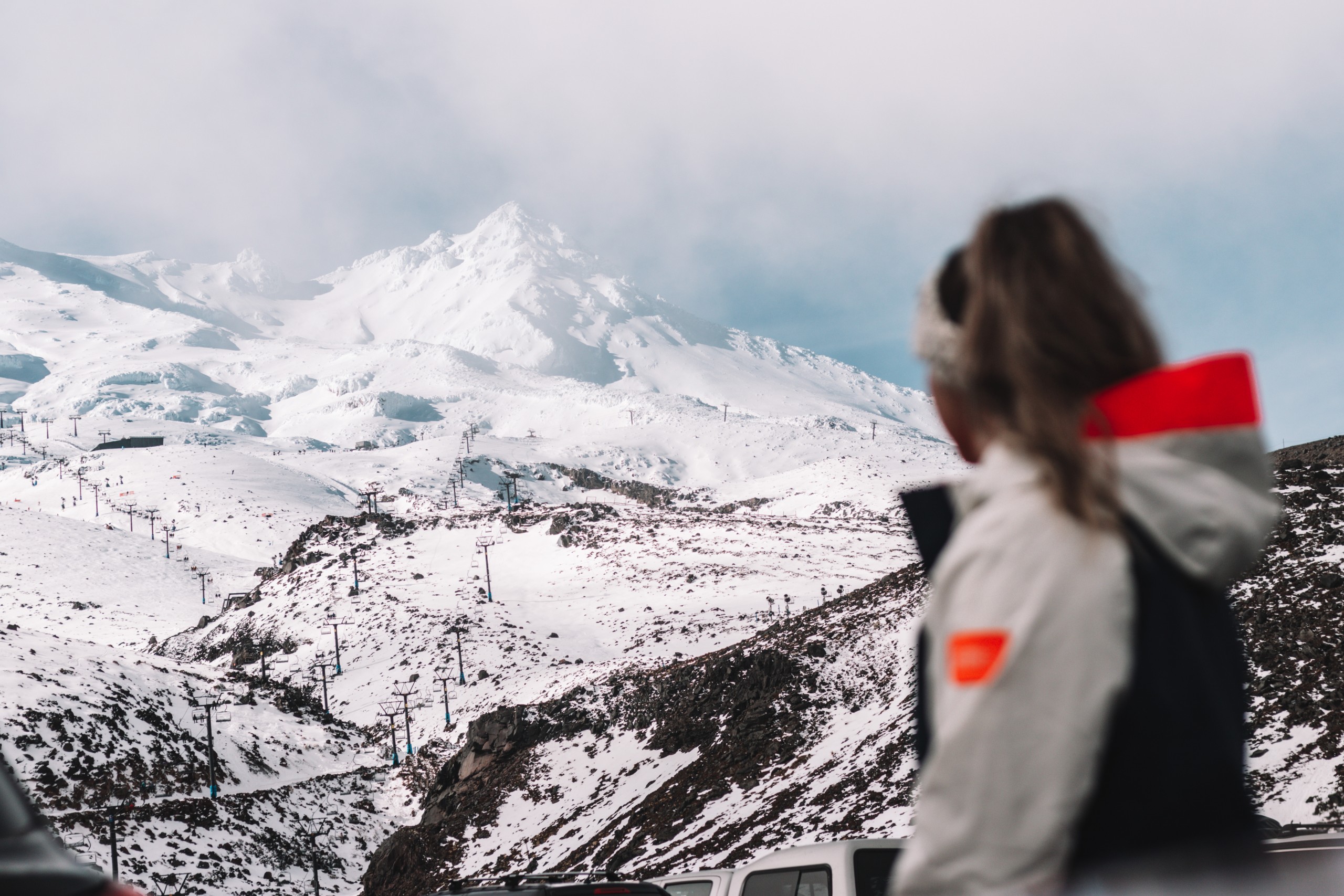 Day 4: An alpaca stop 
On our return journey to Auckland I opted to round out my birthday trip with one of my favourite activities outside of hiking; feeding alpacas. I'd be lying if I said I hadn't been to this exact alpaca farm before. Perfectly located on the main route between Auckland and the national park, Nevalea Alpaca farm is the ultimate wholesome way to round out any occasion.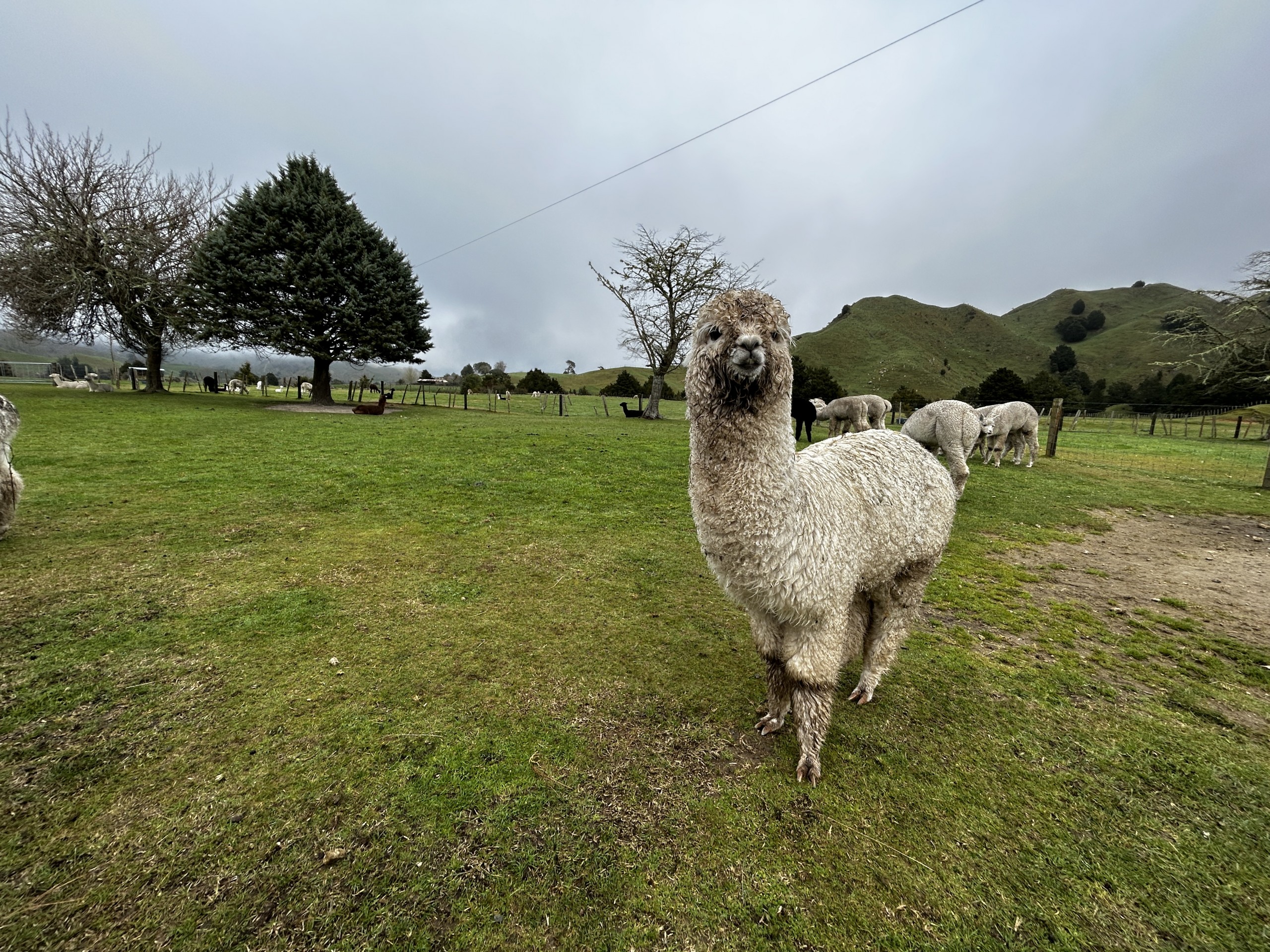 So, this is your reminder to break free from monotony and embrace the big beasty moments, celebrate your own milestones and make yourself feel alive in whatever way works for you. Cheers to celebrating my own birthday in style and mild pain; the memories of this long weekend will keep my adventurous spirit alive and kicking.
Cheers to celebrating my own birthday in style and mild pain; the memories of this long weekend will keep my adventurous spirit alive and kicking.