Looking for things to do in Auckland at night to round out your itinerary? Whether you're after something to eat, drink or watch, Auckland has all your night time activities covered.
From dining at quality restaurants to relaxing in a chill bar, or making the most of your waking hours with a night time activity, you're sure to find it in New Zealand's biggest city.
Here are a few ideas to keep your evenings occupied while you're enjoying Auckland.
1. Have a laugh at the Classic
New Zealanders are light-hearted bunch, and the comedy scene has experienced a boom in recent years thanks to comedians like Taika Waititi and Flight of the Conchords. If you're keen to have a laugh with the locals, head along to the Classic, the home of live New Zealand comedy. The Classic holds regular events year-round, and also hosts a few comedy festivals, so there's bound to be something worth chuckling over when you're in town. To check out what's on when you're in Auckland, check their website.
2. Find a bargain at the night markets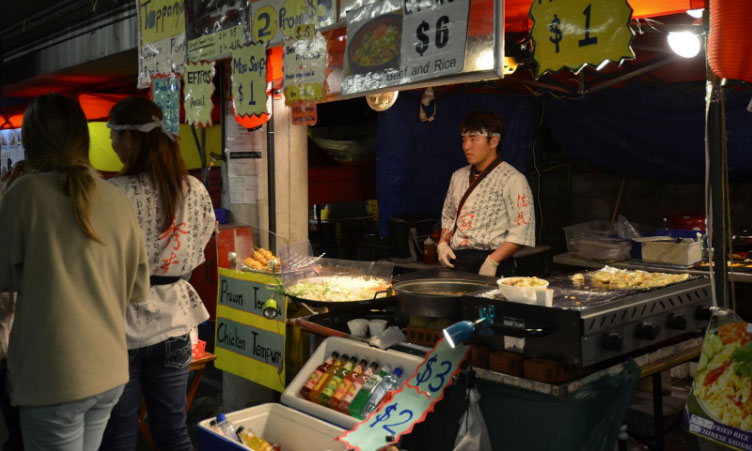 [Photo credit: Jamjar/Flickr]
Want dinner and a show that won't break the bank? Head to the Auckland Night Markets and you'll get all that and more. These undercover markets run six nights a week in seven locations all across Auckland. There you'll find stalls selling food from all corners of the globe, as well as buskers and musicians to keep you entertained as you chow down.
3. Enjoy a drink at Auckland's hidden bar
Psst, I'm gonna let you in on a secret: One of Auckland's best bars is hidden downstairs, behind a nondescript door. If you want a quiet drink in a classy joint, this New York style cocktail lounge is definitely going to tick the box. After you find the Caretaker's hidden door off Roukai Lane, you'll be welcomed into a space with great atmosphere, music and drinks. Not to mention the brilliant staff — seriously, have a chat to your server and trust in them to suggest the perfect drink, you might just find a new fave.
4. Enjoy a free movie at a park
Thanks to the Auckland council, you can kick back in one of the city's lush parks and watch a free movie all through summer. The Movies in Park programme sets up a temporary movie theater in a number of different Auckland parks until March, with the films kicking off 10 minutes after sunset.
Silo Park in Wynyard Quarter also screens free movies every Friday night during summer, with the film being projected right onto the side of a 35m tall silo (see how the park got its name?). Whichever park you end up at, feel free to bring along a picnic (or grab a snack at the Silo Park markets) and enjoy the film while eating dinner.
5. Scare yourself silly at Spookers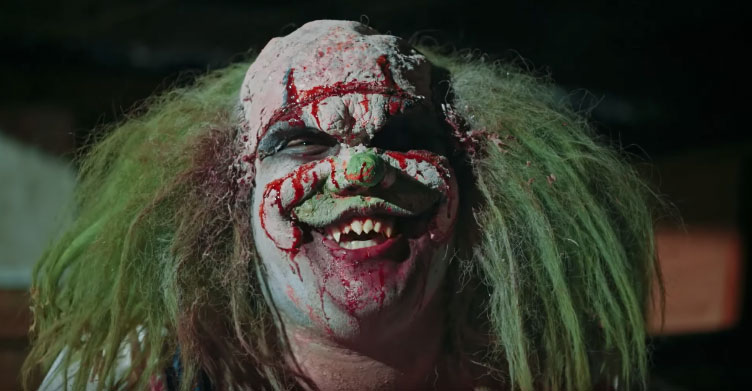 [Photo credit: Spookers/YouTube]
If you're an adrenaline junkie or horror movie fanatic then a trip to Spookers will be the ultimate nighttime experience. This haunted theme park (which is housed in an actual former psychiatric hospital), gives you the opportunity to make your way through a number of live entertainment experiences, including a terrifying haunted house, and forest filled with nasty surprises. As soon as you arrive at Spookers, which is a 40 minute drive from central Auckland, the characters will do their very best to make your experiences as unnerving and scary as possible — in the most fun way possible, of course. Spookers has even the subject of a documentary, so if you really want to prepare yourself, check it out before you go.
6. Bar hop on Ponsonby or K Road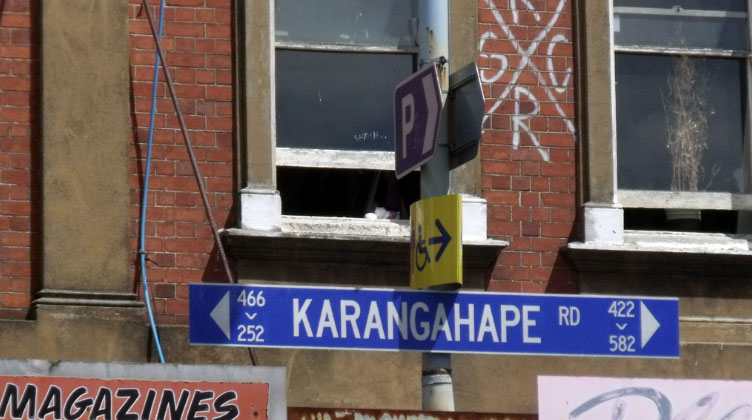 [Photo credit: Francesca Gallo/Flickr]
Auckland has a great nightlife, and going bar hopping on Ponsonby and Karangahape Road (locally known as K' Road) is a fantastic way to experience it. While the two roads intersect each other they also both have distinct styles, giving you a real feel for Auckland city.
Along upmarket Ponsonby Road, spots such as The Golden Dawn or Grand Central have menus full of tasty drinks and frequently have live entertainment. If you're after a meal with your drinks, The Long Room is sure to serve up some hearty fare, while SPQR — a Ponsonby Road institution — is bound to impress. Meanwhile, those on a budget will be spoiled for choice at the Ponsonby International Foodcourt, or try a gourmet burger at Burger Fuel or Burger Burger.
Over on K Road, which is particularly known for its eclectic and colourful community, you'll find a mix of places catering to all budgets and tastes. Peach Pit is a firm favorite, offering up super creative meals and cocktails, and further up the road Madame George will bowl you over with delicious cocktails, beer and food. If you're dying to try a New Zealand wine, you can't go wrong with Apero, a wine bar and restaurant focussed on making sure its guests are relaxed and comfortable. And for a night of food, drinks and hilarity, head along to Caluzzi's, Auckland's long running drag queen cabaret show.
7. Take the plunge with night time Canyoning
If your group is full of night owls, then AWOL Adventures' night canyoning at Piha will be suit you perfectly. After arriving at Piha, you'll have time to catch an impressive west coast sunset before experiencing this volcanic rock valley in a totally different way. You'll start by abseiling under a cascading waterfall, before exploring caves and ledges with only the light of headlamps and glowworms to guide you. While not for the faint of heart, night canyoning is an experience you'll certainly never forget.
8. See the lights of the city from the Sky Tower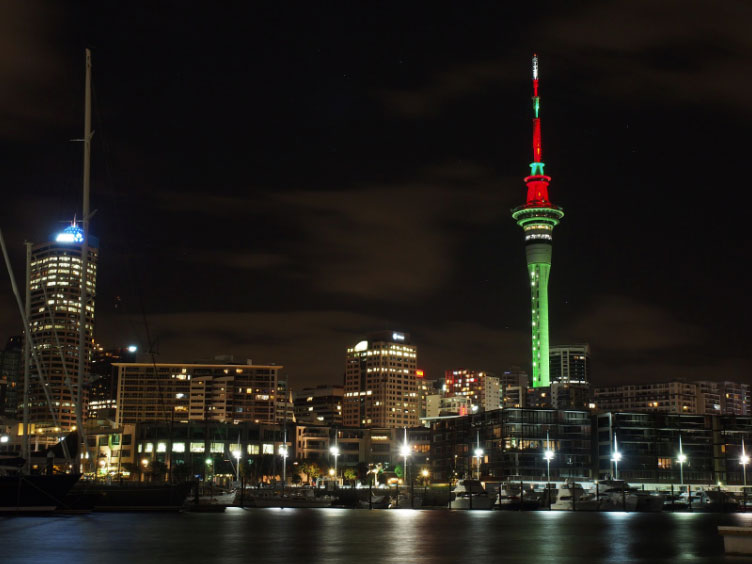 [Photo credit: Marco Klapper/Flickr]
It's impossible to miss the Sky Tower looming over the city, and you better believe the view from 220 meters high is a sight to behold. Although the Sky Tower is open from early in the morning, it's also a fantastic night activity, allowing you 360 degree views of the twinkling Auckland lights. The Sky Tower's opening hours vary by day and time of year, so check their website to see what time last tickets are sold.
Alternatively, you could always take in the view while enjoying a meal at The Sugar Club on Level 53 of the Sky Tower. With a menu focusing on small seasonal dishes, chef Peter Gordon's 'Fusion Cuisine' style combines New Zealand produce with ingredients from around the globe. Diners are encouraged to choose several small dishes — much like a degustation menu of your own design — giving you a wider range of flavours than you would normally experience in one meal. Yum, we're already hungry!
While you are at the Sky Tower don't forget to check out the 192m Sky Jump and Sky Walk.
Other Awesome Auckland Activities
Things To Do In Auckland With Kids
Outdoor Activities Around Auckland City
10 Cheap or Free Things To Do In Auckland